Metal Stamping Experiences Unprecedented Growth Thanks to Manufacturing Industry Developments, says Market.us
---
---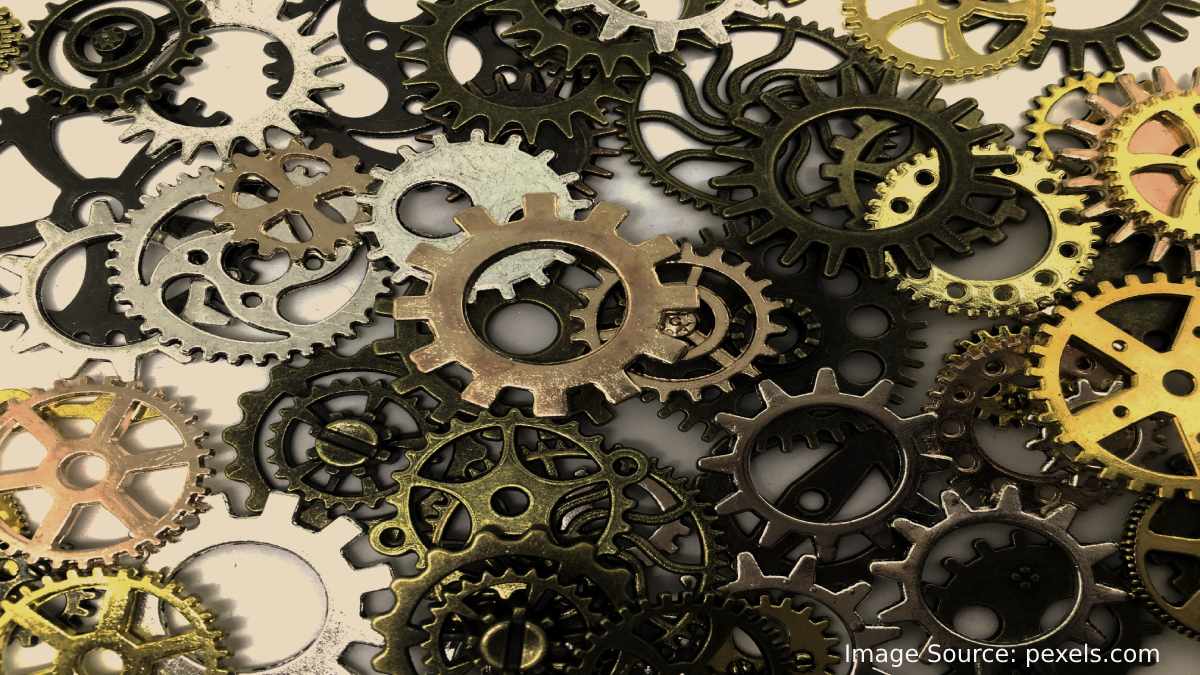 The global metal stamping market is growing rapidly, fueled by increased demand from various industries. Metal stamping is a process in which a die and punch are used to cut, form, and shape metal parts to precise specifications. As the manufacturing industry continues to evolve, the demand for high-quality metal components has increased, pushing the global metal stamping market forward.
Metal stamping has become increasingly popular in manufacturing due to its flexibility and cost-effectiveness. As a result, the demand for metal stamping has been growing steadily over the past few years, with more and more companies turning to metal stamping to fulfill their production needs.
According to the latest report by Market.us, "In 2021, the global metal stamping market was estimated to be worth nearly USD 50.64 billion, and it is expected to grow at a compound annual growth rate of 4.2% during 2022-32."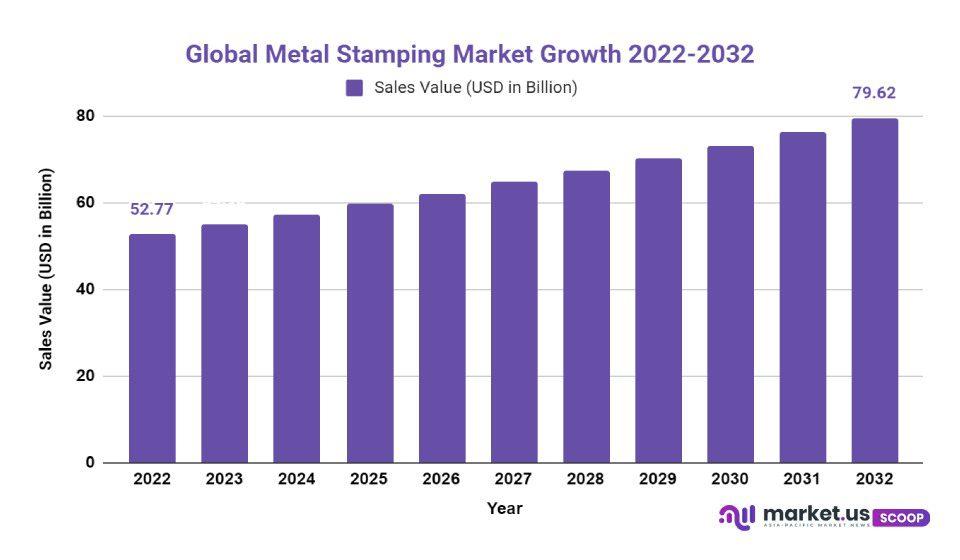 This article will discuss the latest developments in the global metal stamping market, from new technologies and applications to key players and emerging trends. It'll also provide an overview of the current market size and growth forecasts so that one can make informed decisions about potential investments. 
Anurag Sharma, a senior research analyst at Market.us, said, "The key drivers of the metal stamping market include increasing investment in automotive production, rising demand for consumer electronics, and the growth of the aerospace industry. The growing trend toward electric vehicles also creates new opportunities for metal stamping manufacturers." 
This trend is particularly evident in emerging markets. Countries such as India, China, Brazil, and Russia are quickly becoming major players in the metal stamping industry. This is due in part to the availability of skilled labor and low costs for production, as well as the growth of the automotive and electronics industries in these countries. In addition, many of these countries are also investing heavily in research and development in order to expand their capabilities in metal stamping.
In India, for example, metal stamping is widely used in the automotive industry and other manufacturing applications. The country is home to several large-scale steel mills, which are able to produce high-quality stamped components at a fraction of the cost of traditional methods. India is also home to some of the world's most advanced metal stamping equipment, allowing companies to stay ahead of the curve in terms of technology and product design.
China is another emerging market for metal stamping. The country has become one of the world's leading producers of metal stampings and components, largely due to its abundant supply of raw materials and labor. Many of the leading Chinese manufacturers are investing heavily in new technologies to improve their processes and reduce costs. In addition, China's automotive industry is rapidly expanding, driving further demand for metal stamping.
In Brazil and Russia, metal stamping is quickly becoming an important part of the manufacturing sector. These countries are investing heavily in their own steel mills and other manufacturing facilities, creating a strong foundation for metal stamping. 
Additionally, Brazil and Russia have established strategic alliances with foreign manufacturers, allowing them to tap into a larger pool of resources and expertise regarding metal stamping.
The demand for metal stamping is growing in these emerging markets as more and more companies recognize the benefits it can offer. Companies that are looking to stay ahead of the curve should consider expanding their operations into these countries and taking advantage of the opportunities they offer.
The global metal stamping market is expected to continue to grow in the coming years due to the increasing demand for metal components and parts in various industries. This growth is driven by technological advancements, increased demand from the automotive and aerospace industries, and increased production of consumer products.
Technology is playing an ever-increasing role in the metal stamping industry. Automated processes have been adopted to reduce costs and increase efficiency, leading to shorter lead times and higher-quality products. 
In addition, new technologies such as laser cutting, metal forming, and 3D printing are being used increasingly to create complex metal components with greater precision. This has opened up a range of new possibilities for metal stamping, allowing companies to create previously difficult or impossible parts.
The automotive and aerospace industries are two of the biggest demand drivers for metal-stamped components. Both industries continue investing in new technology and advanced production methods, resulting in an increased demand for high-quality metal components. 
This has created significant opportunities for metal stampers, who can capitalize on this increased demand by offering specialized services tailored to the needs of these industries.
Overall, the future of the metal stamping market looks bright. Companies that invest in the latest technologies, invest in research and development, and focus on delivering high-quality products will be well-positioned to take advantage of the growing demand for metal-stamped components. With new opportunities emerging every day, the metal stamping industry is one that promises great rewards for those who are willing to take risks and innovate.
---
---
Media Enquires
If you require any further information about a related market, please get in touch with us. we're happy to help you
+91 7008 614 496
+91 7008 614 496