New High-Tech Agricultural Drones Market Shows Promise for Increased Efficiency, says Market.us
---
---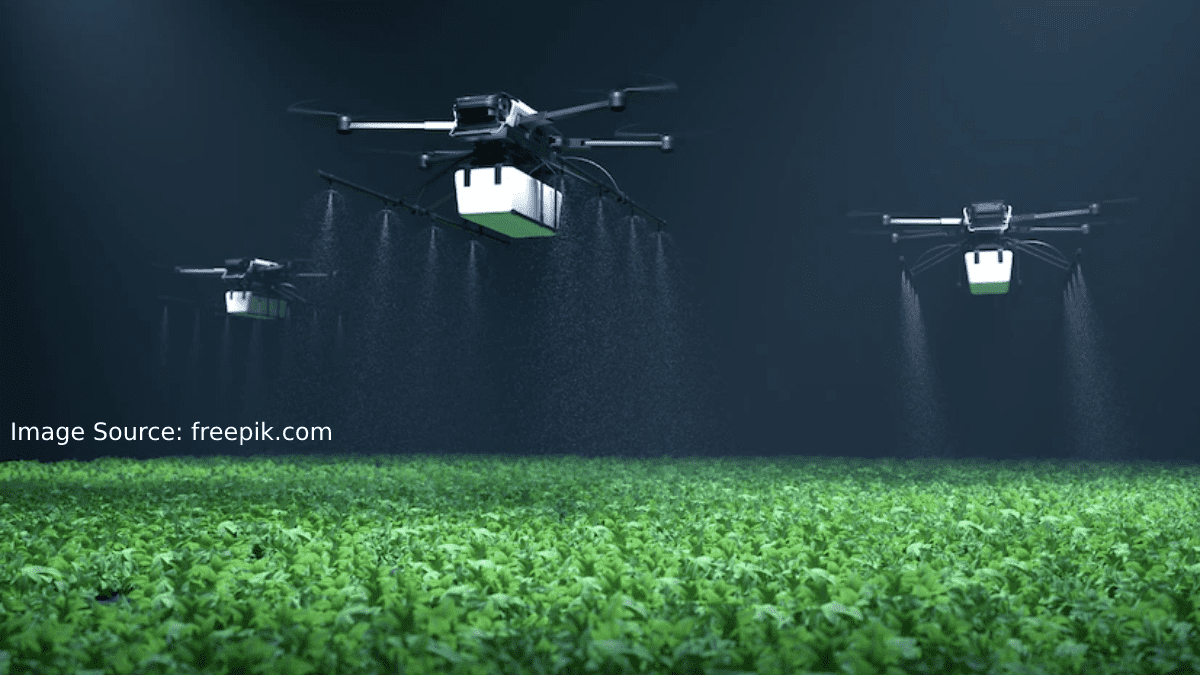 Drones were primarily used for military purposes or recreational purposes. However, recent developments in sensors and imaging processing have expanded the range and application of Agricultural drones. Drones are now more popular due to the lower costs of drones and easier access to technologies. This has allowed drones to be used in other fields, such as agriculture.
Drones offer a new source of labor at unprecedented and cost-efficient levels. Drone's future in agriculture looks promising. They are being designed to be mechanical pollinators and incorporate smart applications. This makes drones an affordable and promising technology that can address the problem of food insecurity.
According to the latest report by Market.us, " The Global Agricultural Drones Market is expected to grow at a CAGR of roughly 20.9% over the next ten years and will reach USD 12.68 Bn in 2032, from USD 1.9 Bn in 2022″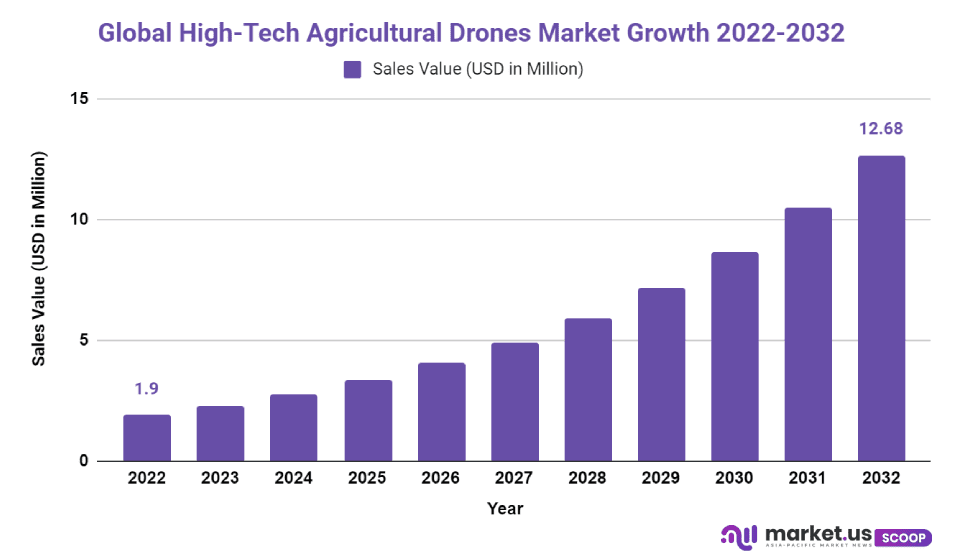 The fast-growing Agricultural Drones Market offers exciting growth opportunities for competitors. A recent report by Market.us highlights some key strategies companies can adopt to benefit from the latest industry trends.
Anurag Sharma, a senior research analyst at Market.us, said, " Drone use on small and large farms will increase in popularity within a few years. Drones can collect information from farms to help improve agronomic decisions. This is what is commonly called precision agriculture. From offering security to spray applications, this tech has become a boon to the farmers."
Drones (also known as UAVs) and the Internet of Things, remote sensing technologies (noninvasive methods of information gathering) are becoming popular tools in water resource management and agricultural management.
Specialized instruments mounted on drones and satellites can now provide high-resolution information on hydro-meteorological variations at the Earth's surface as well as capture hydrologic processes on the ground. With the increased use of technology that can assist farmers in keeping their farms viable, we are seeing a shift in farmers' approach.
It has many benefits for farmers. Drones for agricultural purposes have been gaining popularity. They can be used to perform many tasks, including sprinkling pesticides, taking photos of farms using GPS technology, and giving inputs about water levels and fertilizers. Drones can improve field practices in areas such as crop health assessment, soil analysis, irrigation, and soil. Drones for agriculture can spray up to 60% faster than manual spraying, and they save 30-50% on chemicals. They can also conserve up to 90% of the water used in agriculture.
Planting seeds is one of the newest and least common uses of drones in agriculture. While drones are primarily being used in the forestry industry, there is potential for wider use. A team of two operators can plant 400,000 trees per day, while ten drones can make it more efficient.
Drone security is an important industry that is growing fast, in addition to agriculture. It is also very useful for farm management. Drones can be used to monitor far-reaching areas of farms without the need to travel. This saves time and allows for frequent monitoring of difficult-to-reach areas. Instead of hiring more security personnel, drones can be used to inspect the perimeters and fencing of valuable crops such as cannabis.
The Ministry of Agriculture and Farmer Welfare announced revised guidelines for the "Sub Mission on Agricultural Mechanization (SMAM)" scheme. This is a step to make drones more accessible to farmers. These guidelines will help make this technology more affordable by providing financial assistance for the purchase, hire, and demonstration of drones. Financial aid and grants will be available until 31 March 2023.
Many agrotech companies have developed innovative models to ease farming practices. Focus is now given to wireless platforms like drone technology to enable real-time decision-making regarding field mapping, crop health monitoring, yield monitoring, irrigation scheduling, harvesting management, and field mapping to increase agricultural productivity.
Climate change has caused economic and human losses that have increased, particularly in the poorest countries. This has led to greater inequalities worldwide, which makes it more urgent for innovative agriculture.
---
---
Media Enquires
If you require any further information about a related market, please get in touch with us. we're happy to help you
+91 7008 614 496
+91 7008 614 496