New Manufacturing Era Begins with Demand for 3D Printing, Organizations Embracing the Benefits, says Market.us
---
---
The Global 3D Printing Materials Market is driven primarily by rising demand from the global producing sector for analysis and development. Market growth is expected to be driven by the rising demand for 3D printing and the increasing demand for high-quality materials in various industries, including automotive and parts and defense.
3D printing is highly desirable for production and reduces errors, which is expected to drive market growth. The market growth is impeded by factors such as the high cost of 3D printing materials, and the fact that the products made with 3D printing are not as strong as those made using traditional molding and casting methods.
According to Market.us' research, "The 3D printing materials Market size is expected to be worth around USD 17.77 billion by 2032 from USD 1.62 billion in 2021, growing at a CAGR of 24.30% during the forecast period from 2022 to 2032."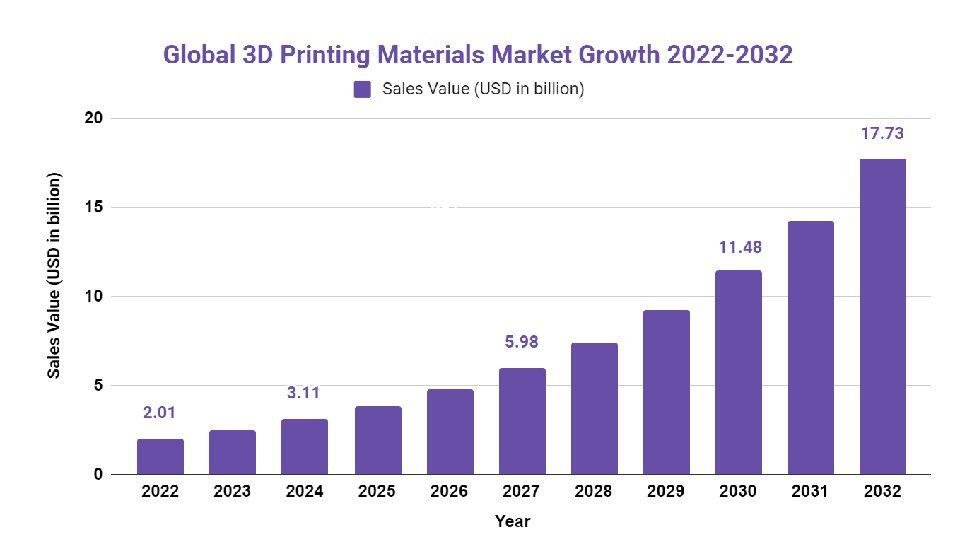 Anurag Sharma, the senior research analyst at market.us, said, "3D printing has many advantages, including reduced waste, design complexity, cost-effectiveness, improved design modification, and lower costs. Manufacturers from many sectors have taken to 3D printing for their manufacturing needs. Food, footwear, jewelry, medicine, and music are all using 3D printing to create new products at lower costs. 3D printing technology is gaining popularity due to its ability to reduce weight, improve strength, decrease inventory, and allow for mass customization. This will in turn increase its demand."
Click here to check 200+ pages of an in-depth market analysis report on the 3D Printing Materials Market.
3D printing can greatly benefit the development of consumer goods as well as electronics. 3D printing is revolutionizing the way electronics are made through prototyping. It allows companies to prototype their own electrical devices and PCBs. This reduces the need for external PCB fabrication. 3D printing and other materials allow for greater design flexibility in electronics industries. 
A variety of consumer products are now being made using 3D tools and materials, such as eyeglasses and a carbon fiber bike, mascara brushes and helmet liners. Manufacturer flexibility and better CAD tools make it possible to create any product form. 3D printers offer advantages in terms of both material and process for prototyping.
Because it is faster and cheaper than traditional printing and allows for mass production, 3D printing has been adopted in many industries around the world. Different countries around the world are supporting the adoption of 3D printing in different industries. 
In 2018, for example, the UK announced a USD 150 million investment in the Advanced Manufacturing Research Centres in Rotherham and Sheffield. In 2016, South Korea announced an additional investment in 3D printing in order to adopt it in different sectors.
Although 3D printing makes it easier to create products, it can be costly due to the high cost of materials. This is a major barrier to market growth. 3D printing requires higher purity and composition standards. This is why 3D printing costs are so high. Metal materials used for 3D printing are on average USD 500.0 per kilogram. This makes them extremely expensive to use in general applications due to their high end product costs.
Increase in 3D Printing Technology Adoption in Healthcare Sector Augments 3D Printing Materials Market Valuation
The healthcare sector is embracing bio-based materials. The sector can use 3D printing technology to create surgical tools, prosthetics and patient-specific replicas for bones, organs and blood vessels. The future growth in implant demand and the increase in medical procedures will likely fuel 3D printing technology. Market expansion is expected to be driven by this.
The demand for dental prosthetics will also rise due to macroeconomic factors like unhealthy eating habits, which can lead to tooth decay and even tooth loss. The 3D printing market is expected to grow for medical purposes, such as hip replacements and knee implants. Doctors and surgeons can print models of surgical equipment to perform complex operations.
---
---
Media Enquires
If you require any further information about a related market, please get in touch with us. we're happy to help you
+91 7008 614 496
+91 7008 614 496