New Technology Advances the Power of Heavy Vehicle Starter Motors Industry, says Market.us
---
---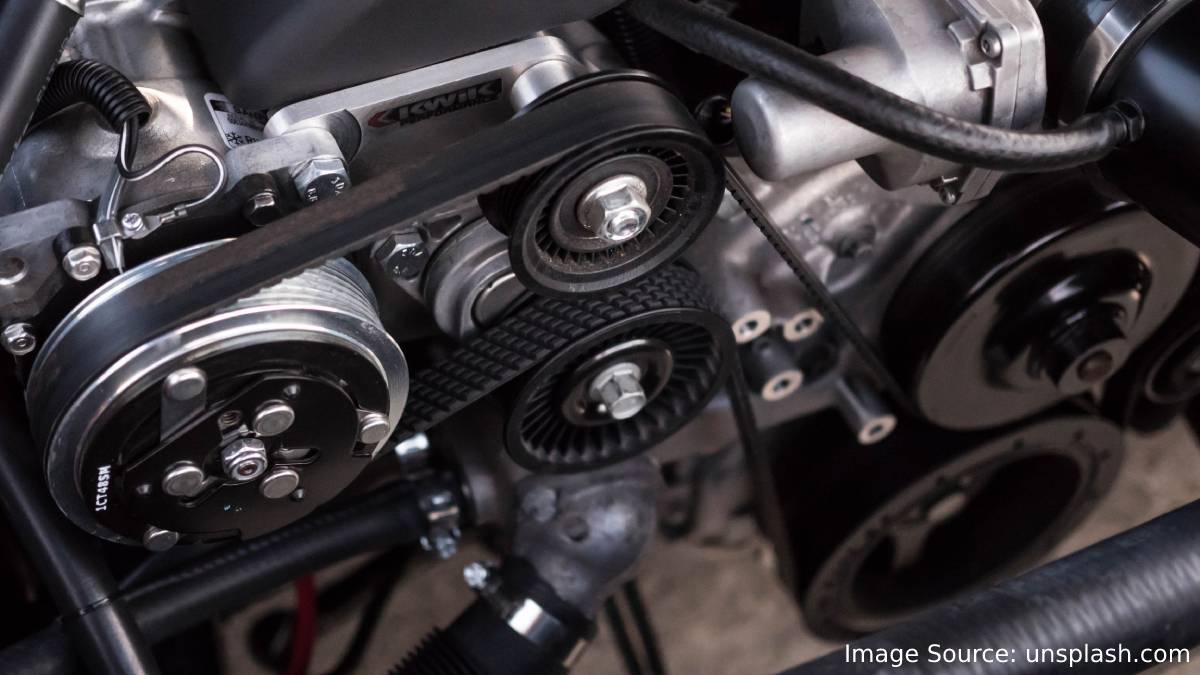 A large starter motor is required for any engine with a maximum capacity of 3 L. This is especially true for a compression-ignition engine (CI). The engine must be turned at a minimum of 100 rpm. The starter motor must also be driven at high speed. It must have a strong drive system. The starter motor turns the engine on by engaging it and turning it over. The crankshaft ends have a flywheel with a ring gear around its edge. The pinion fits into the grooves on the ring gear when it is attached to the starter.
According to the latest report by Market.us, "In 2021, the global Heavy Vehicle Starter Motors market was worth USD 32.55 Million. It is projected to reach USD 67.11 Million by 2032, with a 6.8% CAGR during the forecast period (2022-2032)."
The automotive industry has seen a rise in demand for advanced features. These include climate control systems and power steering systems. This has led to an increase in motor applications in automobiles. It has also been a major driver for the market's expansion. 
Consumers in the developed world are increasingly looking for better convenience, safety, comfort, and security in their automobiles. High-demand features include steering-mounted controls and heads-up displays, advanced infotainment systems, gesture control systems, and central controllers.
Before the introduction and use of heavy vehicle starter motor technology, older automotive engines were started using various techniques, such as wind-up springs, gunpowder tubes, or human-powered systems. These starters can convert the electrical energy stored in the batteries into mechanical energy to start modern engines, thanks to the advent of advanced technologies like electric, floundering drive, and gear reduction.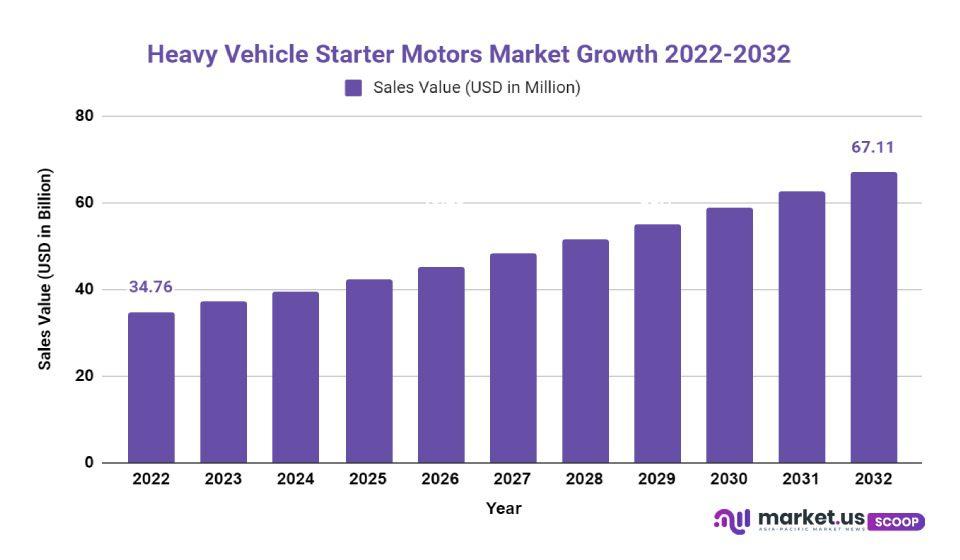 Comfort, luxury, safety, and security are all desirable features. The global automotive market has witnessed an increase in electronic components and software content. This combination of components and content provides drivers with the most up-to-date technology-based infotainment and telematics systems. 
Gaurav Yadav, the senior research analyst at Market.us, said, "Safety and convenience features such as automatic high beams, blind-spot warning systems (LDWS), and automated emergency braking (AEBS) that detect pedestrians or cyclists are increasingly popular in today's market. These factors are expected to drive heavy vehicle starter motor demand."
As people become more concerned about the potential dangers of climate change and the rising pollution levels in major cities, there has been a significant demand for electric cars in recent years.
Due to the recent rise in gasoline and diesel prices, people are looking for more fuel-efficient vehicles. The increase in demand is accelerated by the depletion of fossil fuel resources and the increasing trend for businesses to make the most of their oil reserves. These factors lead to an increase in demand for fuel-efficient technologies. This leads to a surge in demand for heavy vehicle starter motors.
The most commonly used type of traction motor in electric vehicles is the one that drives the battery. The development of Heavy vehicle starter Motors is a result of an expanding market for electric vehicles. Additionally, although electric motors are already common in internal combustion engines (ICE), they are becoming more popular in electric vehicles. These developments are driving the growth of the market.
These cranking motors also find applications in new automotive Heavy Vehicles, such as hybrid and electric ones. This will increase the global sales of starter motors for Heavy Vehicles.
The demand for starter motors is growing due to the rising demand for automobiles and the acquisition of key players. The integration of the starter market will be possible with the introduction of new technology for auto start-stop. This will improve fuel efficiency and reduce emissions.
Mobility services enable people who cannot afford a car to travel stress-free. These costs are reduced by ride-hailing services such as Uber and Lyft, which allow for better utilization. This results in less traffic and lower pollution. Digitally-enabled ride-hailing and car-sharing services make it easy to manage your travel needs in the most efficient way. 
One mobile app can handle all aspects of the ride-hailing and sharing process, from trip planning to payment. In the next few years, Uber and other ride-hailing apps will play a major role in this area. This will reduce the amount of time and money required to travel. This trend is expected to decline the Heavy Vehicle Starter Motors (HVSM) market. In recent years, ride-sharing apps have grown in popularity.
Uber, for example, has expanded its ride-hailing services to 30 additional cities to expand its global reach. Lyft offers free rides for patients. Lyft also invests in partnerships. The most prominent is healthcare transportation. This provides new mobility options to non-drivers, such as the elderly, young and disabled, and the ability to transport people without a car.
---
---
Media Enquires
If you require any further information about a related market, please get in touch with us. we're happy to help you
+91 7008 614 496
+91 7008 614 496