Paint Protection Film Market Set to Boom Alongside Automotive Industry, says Market.us
---
---
The automotive industry has come a long way in recent years, with technological advances producing more efficient, stylish, and durable vehicles. However, even the most well-designed vehicles are susceptible to scratches, chips, and other types of damage from the environment. This is where paint protection film comes into play. 
The paint protection film is a clear, durable material applied to a vehicle's exterior to protect the paint from environmental damage. The market for paint protection film has grown significantly in recent years as more and more consumers seek to protect their investments and maintain the appearance of their vehicles. 
This blog will explore the trends and drivers of the paint protection film market, offering insights into the competitive landscape and future growth potential.
According to the latest report by Market.us, "The Global Paint Protection Film Market size is expected to be worth around USD 371.12 million by 2032 from USD 236.7 million in 2021, growing at a CAGR of 4.60% during the forecast period from 2022 to 2032."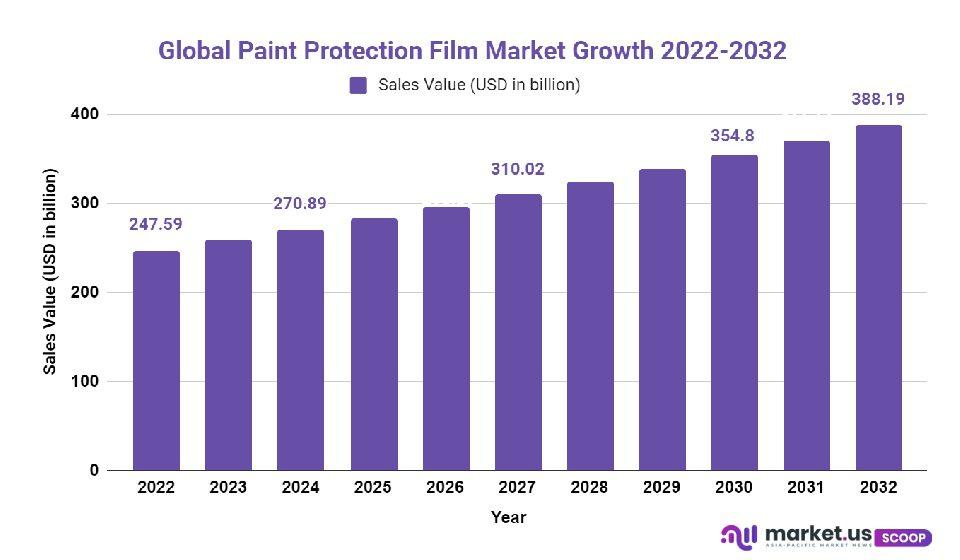 Gaurav Yadav, a senior research analyst at Market.us, said, "The paint protection film market will continue to grow due to the increasing use of thermoplastics. Market value will also rise due to the presence of high-income countries with large numbers of automobiles. Market growth will also be supported by the expansion of the automobile industry."
Market share for paint protection films is increasing in many market sectors, such as automobiles, aircraft, ships, and boats. This is expected to make the market more reliable and help it grow. 
Over the next few years, the market for paint protection films is expected to grow due to the development of novel technologies that can make durable films resistant to adverse atmospheric conditions. Paint protection films will be more in demand due to rising consumer spending, especially in developing countries.
Market growth for paint protection films will be driven by the growing popularity of specialty films laced with an extra coat. Additional demand will be generated by an increasing market for paint protection films that are DYI (do-it-yourself) products. It will be driven by innovative solutions from prominent players.
The rising demand for vehicles that meet a higher standard of living can explain the rapid growth of the automotive industry. This will help to develop the market and cater to the growing number of customers in the 2032 forecast.
The forecast period will increase consumer spending on high-end luxury cars, especially in developing countries. This is likely to drive up demand for paint protection films. PPF demand is growing due to changing trends in using PPF in mid-priced vehicles such as SUVs and passenger cars. This is due to the availability of low-cost PPF and greater awareness.
 According to OICA, China was responsible for 35% of worldwide passenger vehicle sales in 2017. India's automotive sector still has plenty of growth potential. The country's automotive industry saw an 8% increase in production in 2018 compared to the previous year. This will result in paint protection film being in high demand within the automotive industry.
Global automotive industry sales have seen a dramatic increase in volume and sales. Automotive sector sales will continue to rise due to the development of hybrid or petroleum-based fuel vehicles, autonomous driving, and the latest mobility services. 
The global automotive industry is expected to thrive in India, China, Brazil, and Brazil. The market will become more competitive due to increasing safety and environmental regulations. This will increase sales. The market will also benefit from tighter carbon regulations in major economies to promote clean and green automotive technologies.
Due to rising demand in emerging countries like India, China, and Japan for four-wheelers, the automotive sector will see a rise in demand for paint protection films in the paint protection market of over 16000 square meters by 2027.
 In the next few years, cars will be more prevalent in major regions like North America and Asia Pacific. Global and regional players are planning to expand their reach into India. This will increase the demand for automobiles and lead to a rise in paint protection film consumption in Asia.
North America will experience significant growth at 4.6% CAGR due to an increase in vehicle sales and the aging of fleets. The market growth will be driven by several factors, including the development of the manufacturing sector, multinational Original Equipment Manufacturers (OEMs), as well as supportive government regulations.
---
---
Media Enquires
If you require any further information about a related market, please get in touch with us. we're happy to help you
+91 7008 614 496
+91 7008 614 496