Payment Gateways Set to Revolutionize Money Transactions, Thanks to Digital Transformation, says Market.us
---
---
Payment gateway is an online money operation gateway that connects merchants and customers through digital mode. A payment gateway confirms the customer's card details safely, ensures enough funds will be available in the bank account, and finally enables merchants to get paid. 
Payment gateway, in short, is an online interface that allows money transfers between customers and merchants. Any business can benefit from online payment options. They allow for secure and smooth payments, which reduces the chance of financial losses caused by late payments.
According to market.us, " the Payment Gateways Market  is projected to grow by USD 190.80 Billion by 2032 with a CAGR 21.50%."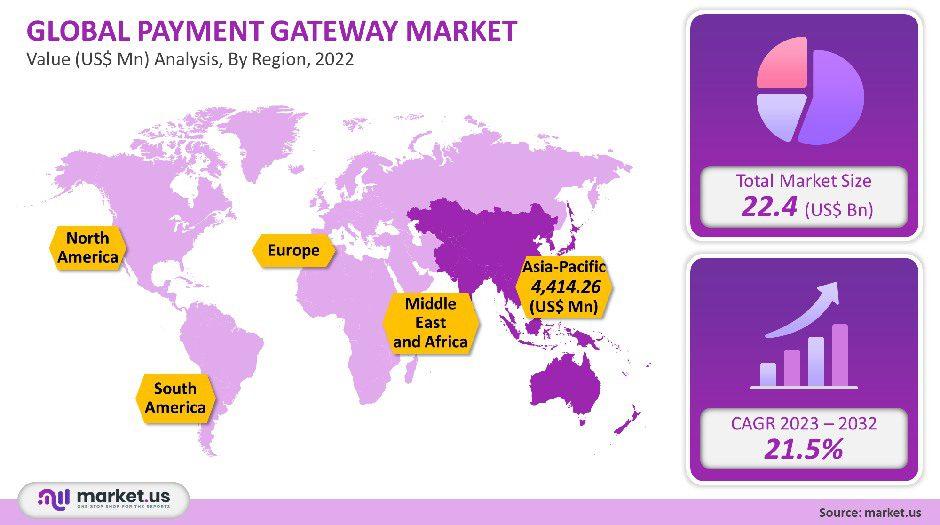 Anurag Sharma, the senior research analyst at market.us, said, "Growing digital transformation of businesses around the globe represents one of the important key factors that boost the market growth. A rising technological advance has enabled financial service providers to offer new digital services to their customers."
Click here to check 200+ pages of an in-depth market analysis report on the Payment gateway market.
Also, along with the growing tourism and travel industry, creates a positive outlook on the market. Many banks have teamed up with retailers to offer cashback, retain customers, and attract new customers. These cashback offers, combined with high-speed Internet access and expanding broadband, are expected to drive the market's growth in the coming years.
The retail sector is being affected by several trends, including cashless economy, mobile banking and instant payments. Payments process becomes easier because of online payments, and it is more suitable for consumers, who get benefits from shorter lines, faster moving queues, and cash on hand issue elimination.
Global Payment Gateway Market is Seeing a High Brink by Startups
The ORF report states that digital innovation is being driven by start-ups as well as a few young entrepreneurs. In 2020, 55,200 start-ups were founded in the Indo-Pacific region. As a result of intra ASEAN investments, mergers and acquisitions, digital start-ups have been growing in the region. With a focus on innovation and digital ecommerce and the operation by major players, intraregional connectivity and investments are significantly strengthening. 
In addition to this, large players that have large consumer bases are diversifying their service offerings on their platforms by entering new markets. Grab has, for instance, expanded its financial services. Gojek, an Indonesian ride-hailing unicorn that is based in Singapore, Vietnam and Thailand, offers more than 18 lifestyle and financial services.
Governments Are Launching Several Initiatives in Support of Payment Gateway Market 
Many initiatives have been launched by the Government of India to promote digital payments. Digital India, Unified Payments Interface's (UPI) launch and the 14444-helpline number are all examples of initiatives that have helped to accelerate the shift towards digital payment. These initiatives promote digitalization and raise awareness about the benefits of using new technologies. 
Australia and Singapore have also launched digital payment initiatives. The Monetary Authority of Singapore (MAS), which is responsible for the COVID-19 pandemic, has urged people and businesses to use digital financial services, ePayments and to minimize their visits to Financial Institutions (FIs) in order to attain elevated safe distancing.
As more companies procure goods and services around the world, cross-border trade has increased Year-on-Year. Digital payment vendors cannot take advantage of this opportunity because of the lack of universal payment systems, lack of standards and differing government regulations across countries. Different countries have different data storage and payment regulations. Cross-border payments are difficult because of these regulations and compliances. 
Additionally, domestic payment infrastructure is not built for cross-border payments.
To promote digital economies, countries around the globe use ICT technologies. Different government initiatives are taken to digitize payment processes. Digital payments are a key growth driver for any country's economy. It can increase productivity and economic growth, improve transparency and tax revenue, expand financial inclusion and create new economic opportunities.
---
---
Media Enquires
If you require any further information about a related market, please get in touch with us. we're happy to help you
+91 7008 614 496
+91 7008 614 496