Personalization in the Cosmetic Market can be a Major Game Changer for the Industry, says Market.us
---
---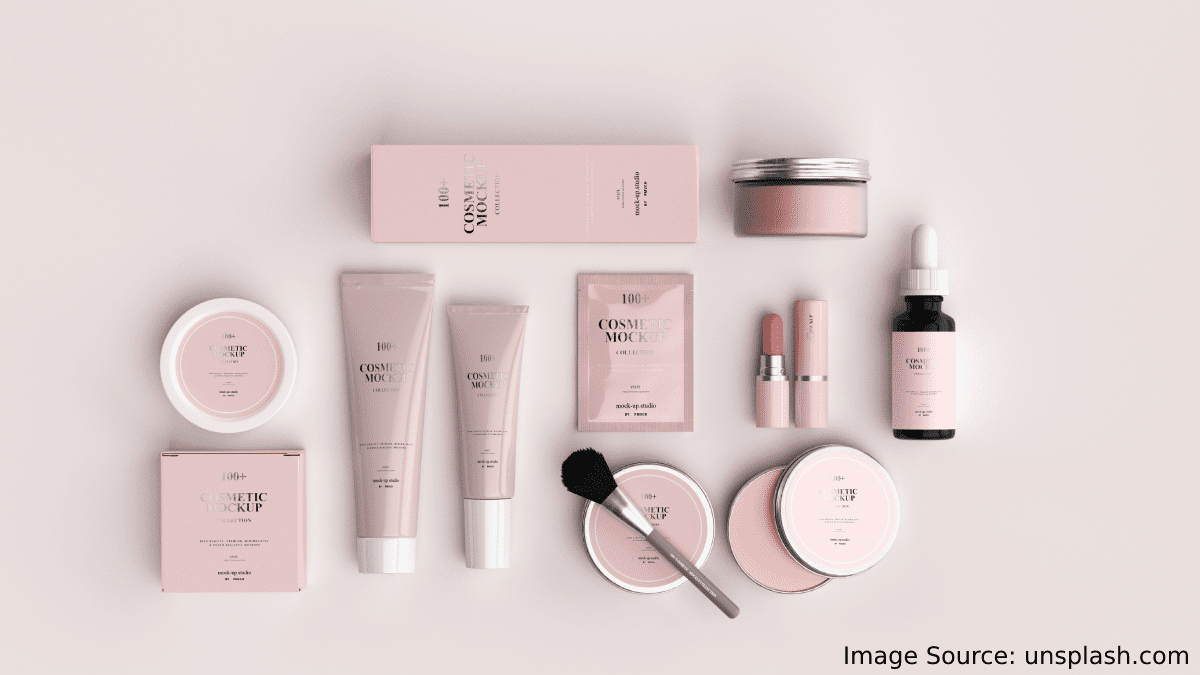 Rising awareness about health, hygiene, and grooming are becoming prevalent among consumers. A busy lifestyle, changing eating habits, irregular sleep patterns, and changes in routines and eating habits all contribute to increased concerns about our bodies and well-being. Beauty products can improve the appearance of your body and make you more attractive. These are the main factors behind a boom in product demand among both young and old.
According to a report by Market.us, "The Global Cosmetic Market is projected to be USD 287.94 Bn in 2022 to reach USD 415.29 Bn by 2032 at a CAGR of 5.2%."
Recent demand for personalized skin and hair care has prompted cosmetics manufacturers to include personalization and/or digitalization in their products to increase sales. For Instance, L'Occitane Group has announced that its Duolab personalization range will be available in February 2020. The countertop device features artificial intelligence (AI) and is available in various colors. This device allows one to assess their skin and provides a customized cream for face care. This will support the cosmetics market growth over the next few years because of increased awareness and technological advancements.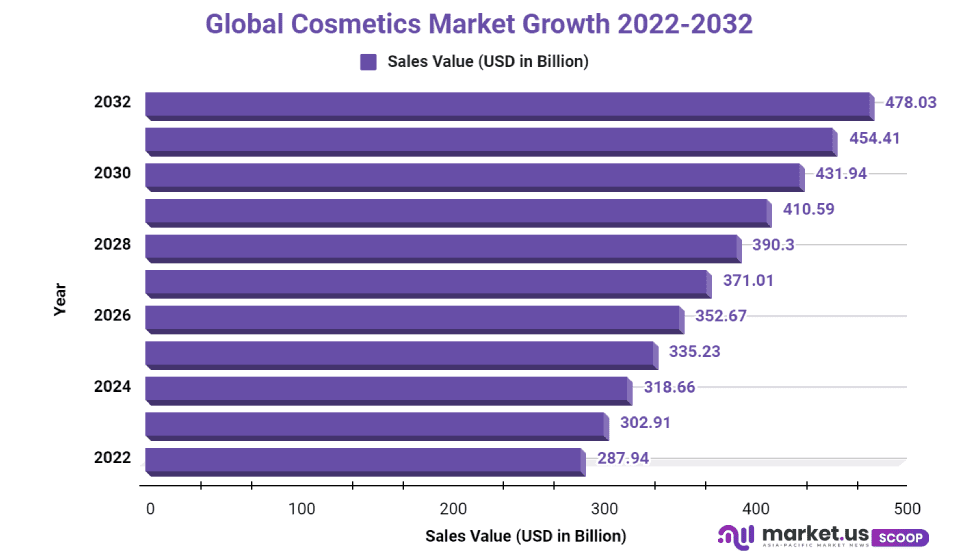 Anurag Sharma, the senior research analyst at market.us, said," The demand for skincare and makeup products had increased dramatically in recent years. Both men and women can use it to improve their appearance. The growing demand for anti-aging creams and serums and the creation of innovative tools and packaging also attract consumers. The new trend of personalized products for specific people based on hair type, skin texture, and eye color is also gaining popularity. Manufacturers are trying to attract consumers' attention by creating sustainable packaging and chemical-free goods to meet every customer's needs."
Products demand will also be boosted by the rising popularity of sun care products and night skin repair creams, as well as refreshing fragrances and hair colors. According to the Canadian Dermatology Association's "Sun Safe Behavior Survey 2018", the number of people using sunscreen all year has increased from 17% in 2015 to 26% by 2018. Market Growth Driven by Sustainable Cosmetics.
Due to their non-toxic and safe ingredients, products formulated with natural ingredients are growing in popularity. The growing awareness about sustainability is expected to increase the demand for eco-friendly products. This can be attributed partly to consumer awareness about the harmful effects of synthetic chemicals on health and the environment. According to the Organic Beauty and Wellbeing Report 2018 by the Soil Association Certification, in the U.K., the organic personal-care market experienced a growth rate of 7% in 2018.
In addition, vegan products are becoming more popular as they don't contain any animal-derived ingredients. Manufacturers also focus on sustainable packaging solutions to attract more people and reduce their carbon footprint. These include paper-based, recyclable, and refillable packaging options.
The growing demand for natural and organic products is expected to drive the cosmetics market over the forecast period. Consumers are increasingly becoming aware of the harmful chemicals used in conventional beauty products and their side effects, such as skin irritation and allergies. This has led to a preference for natural cosmetics, which are perceived to be safer and more gentle on the skin.
Moreover, the increasing popularity of social media platforms has created a new platform for celebrities and influencers to promote cosmetic brands and products. This has resulted in a significant increase in sales of cosmetic products through online channels.
Cosmetic products have many synthetic chemicals, such as preservatives, pigment molecules, and other additives. They can cause serious side effects such as allergic reactions and the formation of black spots, acne, or discoloration. This is due to the continual deposition and accumulation of toxic chemicals in the skin from prolonged exposure.
These factors are influencing consumer preference for cosmetic surgeries. They can permanently change their appearance and help reduce the use of beauty products. This will likely limit the growth of the cosmetics industry due to increased customer awareness about the potential side effects of cosmetics.
---
---
Media Enquires
If you require any further information about a related market, please get in touch with us. we're happy to help you
+91 7008 614 496
+91 7008 614 496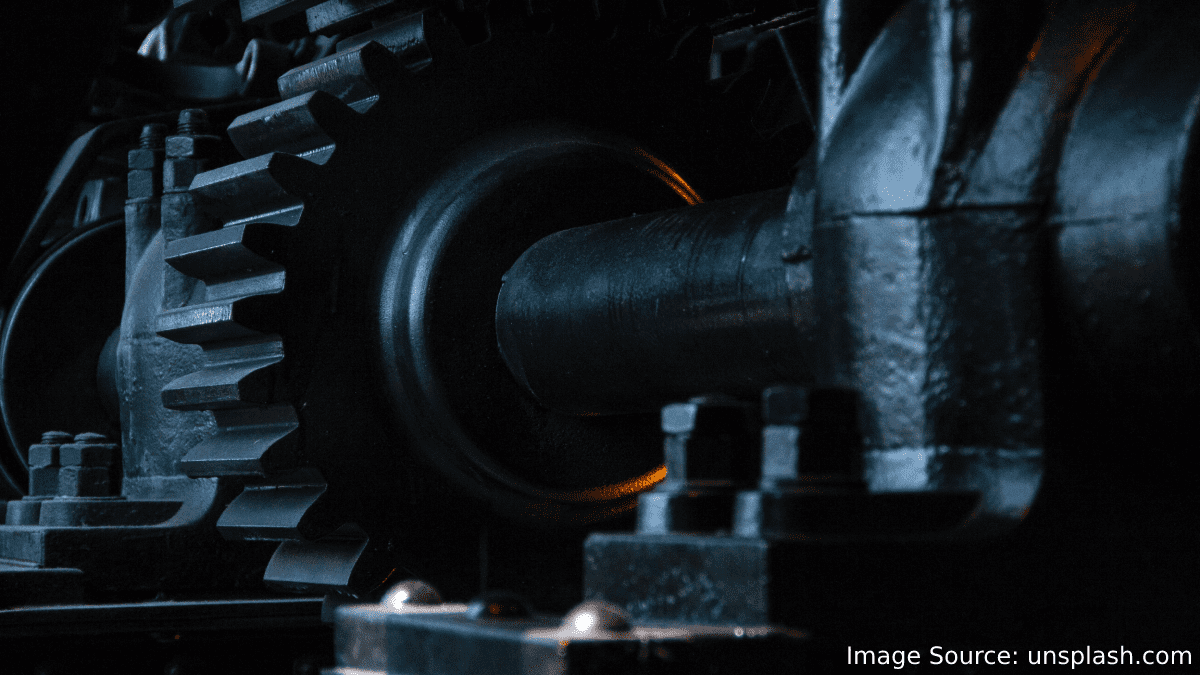 The Manufacturing Sector Finds Untapped Potential in the Gear Motors Market, says Market.us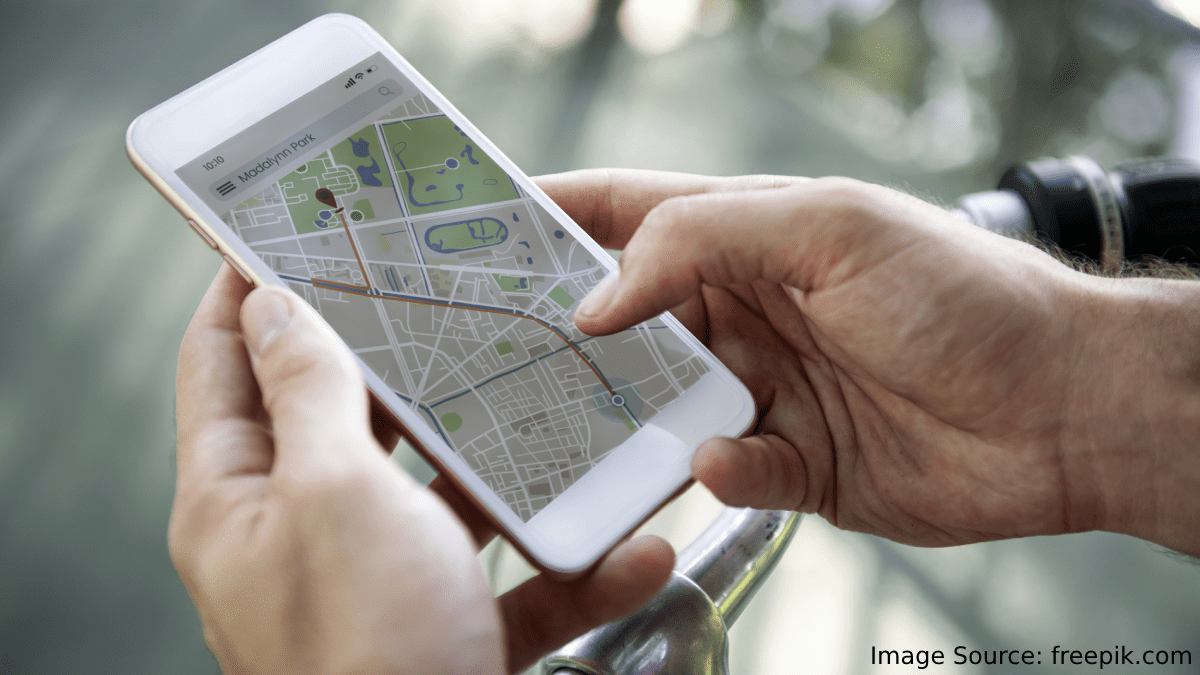 The Surge of Growth in GPS Tracking Devices in the Automotive Industry Spurs Innovation, says Market.us