Phosphate Fertilizer Market Thriving Amid Decreased Arable Land and Increased Government Incentives, says Market.us
---
---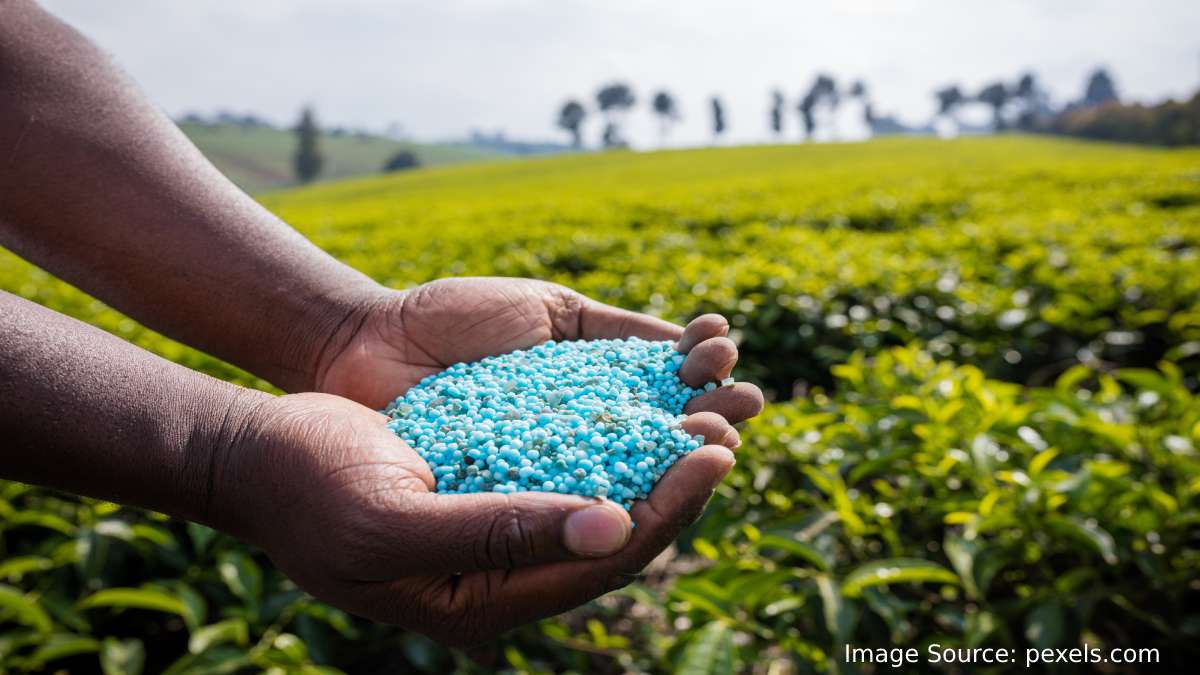 Major areas of application are agricultural products such as fruits, vegetables, and cereals. Phosphorus fertilizers are used in many grains to promote root growth, increase crop quality, and improve stalk strength. The most important global source of phosphorus is phosphate rocks. 
The United States is the largest producer and consumer of phosphate rock globally. These rocks are used primarily for the manufacture of the product. A significant driver of the market's growth is the rising global appetite for food.
According to research by Market.us, "The Phosphate Fertilizer Market size is expected to be worth around USD 113.4 billion by 2032 from USD 65.14 billion in 2022, growing at a CAGR of 5.7% during the forecast period 2022 to 2032."
The phosphate fertilizer market is thriving due to the continuing decline in arable per capita and the relatively lower crop production. The increasing demand for phosphate fertilizer is due to the government's increased promotion of fertilizer-grade phosphate for higher-quality crop production. Phosphore fertilizer sales are being driven by emerging agrarian economies such as India and China, whose major part of their economy is driven by agriculture.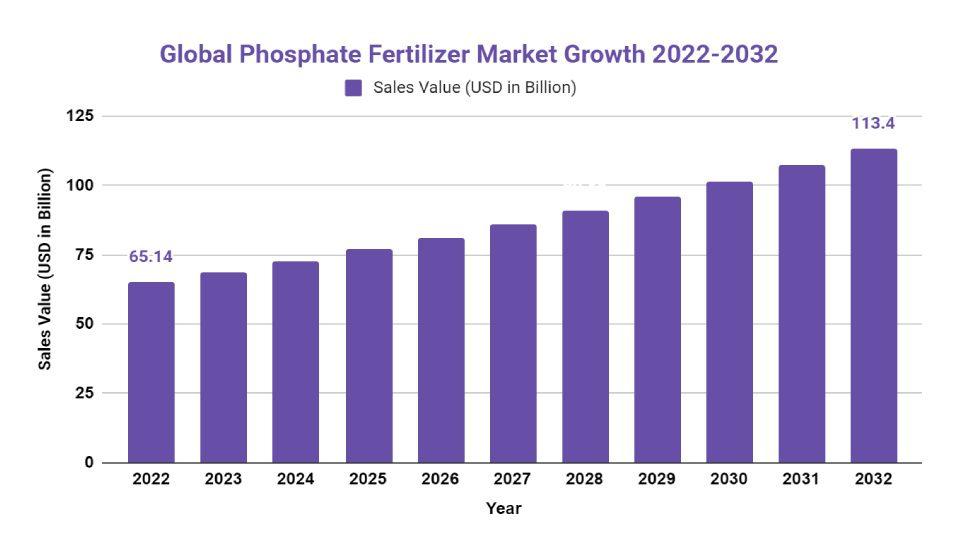 Gaurav Yadav, a senior research analyst at Market.us, said, "The decline in arable land per capita in many countries, including India, China, and the United States, is one of the major factors that has driven up the demand for phosphorus fertilizers. Phosphorus fertilizers can increase yield. Because there are fewer people and less land available for agriculture, the demand for food production must be met by higher agricultural yields."
The world's population continues to grow, driving increased demand for high-quality agricultural products and machinery. This is so more people can be fed with the ever-increasing population. Both the world's arable and agricultural land is shrinking rapidly, driving up the demand for high-quality fertilizers like DAP/MAP/NPK. 
In the coming years, it is expected that there will be a rise in innovation in irrigation and agricultural technologies as well as increased use of drip or sprinkler irrigation to help with the market growth for phosphatic fertilizers.
The covid-19 and organic crop movement have limited the phosphate fertilizer market. End users are now more aware of organic foods and have started to look twice before purchasing any crop-based product. This reduces the need for phosphate fertilizer.
The structure and operation of the global phosphate fertilizers market have constantly been changing due to the absence of free trade and market regulations that regulate the demand and supply of phosphate rocks. 
They are managed and controlled by government regulations and state-owned companies. In this way, increased government intervention to address material changes in the global phosphorus fertilizers market can harm both the demand and the supply of phosphate rocks.
The global phosphate fertilizer market is witnessing a rapid rise in demand, driven by the surging population and growing need for food security. As countries around the world strive to feed their citizens, the need for more effective farming and fertilizer methods has become a priority. 
To meet this demand, manufacturers are developing innovative new products that help farmers increase crop yields and reduce input costs. The major phosphate minerals are apatite, fluorapatite, and sylvite. Apatite is the most commonly used form of phosphate.
In recent years, the trends in phosphate fertilizer have been shifting towards more organic forms and more efficient methods of application. This article will explore the various trends in phosphate fertilizers and their implications for farmers and the agricultural industry as a whole. 
For decades, the standard form of phosphate fertilizer has been triple superphosphate (TSP), which is a mixture of phosphoric acid, calcium oxide, and aluminum oxide. Typical applications of TSP follow a basic pattern, the fertilizer is applied to the soil in a dry form, then watered in with a sprayer.  
---
---
Media Enquires
If you require any further information about a related market, please get in touch with us. we're happy to help you
+91 7008 614 496
+91 7008 614 496