Plastic Pails is an Efficient and Durable Packaging Solution for Various Industries, says Market.us
---
---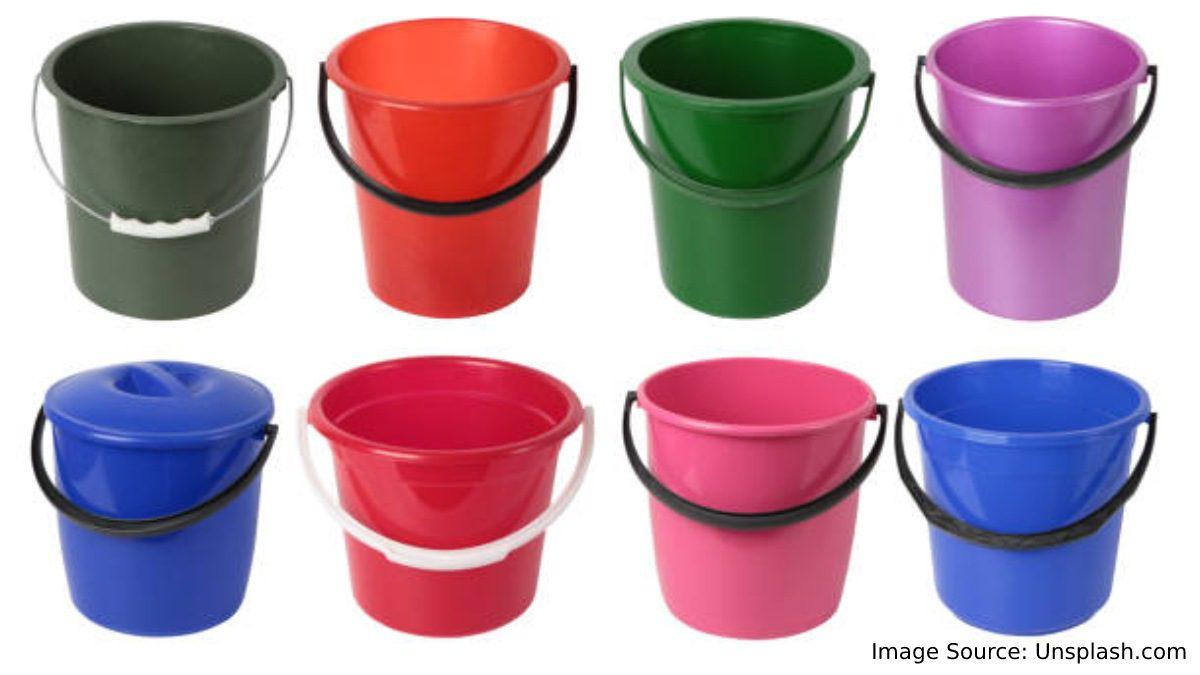 Plastic pails are storage and transportation containers made of plastic used for various goods, including food, chemicals, paint, and other materials. They usually have a round or square form, a sturdy body, and a snug-fitting cover to protect the contents. Plastic pails are a common option for many sectors since they are affordable, lightweight, and sturdy.
They can be produced from several types of plastic, including high-density polyethylene (HDPE) and polypropylene, and come in a range of sizes, from tiny 1-gallon pails to big 5-gallon pails (PP). Plastic pails have the benefit of being reusable. They are more environmentally friendly than single-use containers since they can be cleaned and disinfected to make sure they are safe for reuse. At the end of their useful lives, plastic pails can also be recycled, lowering their environmental impact even more. 
Food and beverage, pharmaceutical, paint, chemical, and agricultural industries all employ plastic pails as flexible packaging solutions. Plastic pails are frequently used for solids, powders, granules, and liquids storage and transportation. Plastic pails are used to transport and store a variety of goods in the food and beverage business, including sauces, oils, syrups, and juices. Dry items like grains, nuts, and seeds are also transported and stored using them. 
According to Market.us, "In 2023, the Plastic pails market was valued at USD 1.123 Billion. The market is expected to grow at a 4.5% CAGR during the forecast period (2023-2030)".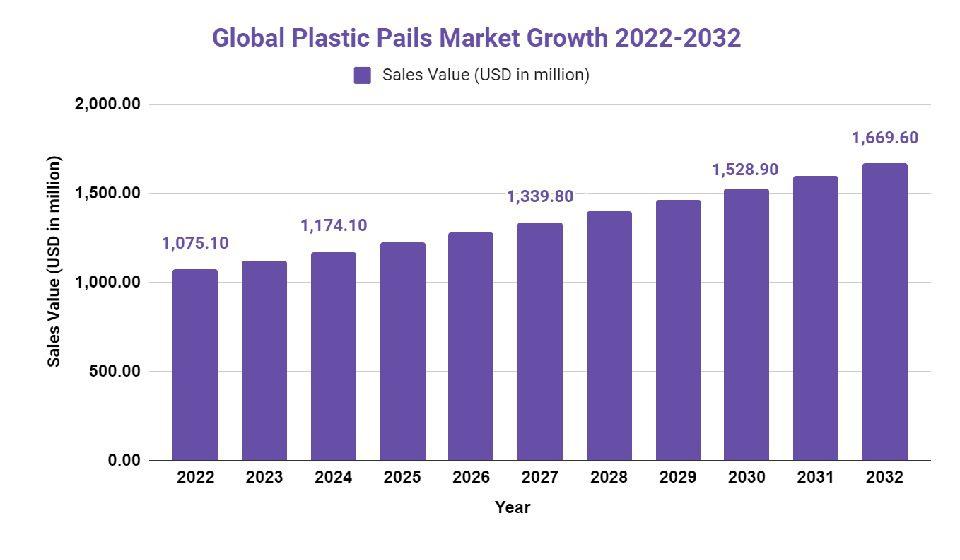 Gaurav Yadav, senior research analyst at market.us said, "Plastic pail usage is still changing and adapting to emerging trends across numerous industries. A lot of manufacturers are looking at using recycled plastic to make plastic pails. This lessens trash while also lowering the carbon footprint associated with the manufacture of plastic pails. With features like ergonomic handles and tamper-evident closures that make them simpler to use and more secure, plastic pails are being created to be more user-friendly." 
Plastic pails are an effective marketing tool since they may be imprinted with business logos or another branding. Also, personalized pails enhance brand identification and help products stand out in the industry. The desire for smaller package solutions is rising as sustainability and waste reduction become more popular trends.
They are frequently composed of high-density polyethylene, which is chemically inert and robust, making them perfect for storing and carrying medicinal items. Plastic pails are used to store and carry a variety of goods, including solvents, acids, and other dangerous chemicals, in the paint and chemical industries. Plastic pails' sturdy design and tamper-evident lids help to guarantee the products are carried and kept safely.
Plastic pails are used in numerous sectors due to a number of factors. Their strength and durability are two important features. Plastic pails are sturdy and resilient to a variety of outside influences, making them perfect for storing and carrying goods like food, chemicals, and paint. 
The adaptability of plastic pails is an additional motivating factor. They are adaptable to a wide range of demands because they come in a number of sizes and shapes. They are a sensible option for a wide range of applications across numerous industries because to their adaptability. Comparing plastic pails to other container kinds, they are also more affordable.
Plastic pail's airtight lids and tamper-evident closures aid in preserving the products' quality and freshness during storage and transit, Plastic pails are used in business to carry and store large quantities of chemicals, pills, and other medications.
They are cheaper for many firms since they are easier to manufacture than metal or glass containers. Plastic pails can be cleaned and sanitized, extending their cost-effectiveness to reuse and lowering the frequency of replacement. Their sustainability serves as another key motivating aspect. When plastic pails reach the end of their useful lives, they can be recycled to have less of an impact on the environment. Also, they may be reused, which lessens the trash produced by single-use containers. 
As a result, plastic pails are a greener alternative to various other kinds of containers. Plastic pails are lightweight and convenient to handle and transport. They are therefore a sensible option for many applications, particularly those that need a lot of mobility or transportation. Plastic pails are a common choice across many industries due to their dependability, adaptability, affordability, sustainability, and ease of use.
The emphasis on sustainability, user-friendliness, customization, and product safety is what's driving the newest trends in plastic pails. Manufacturers are responding to these developments by creating cutting-edge designs and materials that satisfy their customers' changing needs. 
Despite their many benefits and current popularity, plastic pails are constrained in many industries for a variety of reasons. Despite being recyclable, plastic pails contribute significantly to the amount of plastic garbage that pollutes the environment. This has brought about a shift towards more sustainable solutions and increased scrutiny of plastic packaging. Certain plastic pails might not be appropriate for certain goods, especially those that are delicate to heat, light, or chemicals.
Furthermore, certain plastic pails could contain dangerous chemicals that seep into the products and endanger people's health. Due to the rising need for environmentally friendly packaging, substitute materials including paper, cardboard, and bioplastics are seeing more and more competition. These materials address some environmental issues related to plastic packaging while also providing advantages similar to those of plastic pails. Prices for plastic pails might fluctuate as a result of variations in the cost of raw materials, which makes them less predictable and more expensive than other packaging choices. 
When compared to other types of packaging, plastic pails may have fewer design and color options, even though they can be customized with branding and logos. These impediments highlight the necessity for firms to thoroughly assess their packaging requirements and weigh the benefits and drawbacks of plastic pails before making a choice. 
As a result, it will be possible to make sure that the packaging choice chosen is the best fit for the goods being carried or kept, while also taking sustainability, health, and safety considerations into mind.
---
---
Media Enquires
If you require any further information about a related market, please get in touch with us. we're happy to help you
+91 7008 614 496
+91 7008 614 496