Popularity of Functional Gummies Explodes with Supplement Industry Expansion, says Market.us
---
---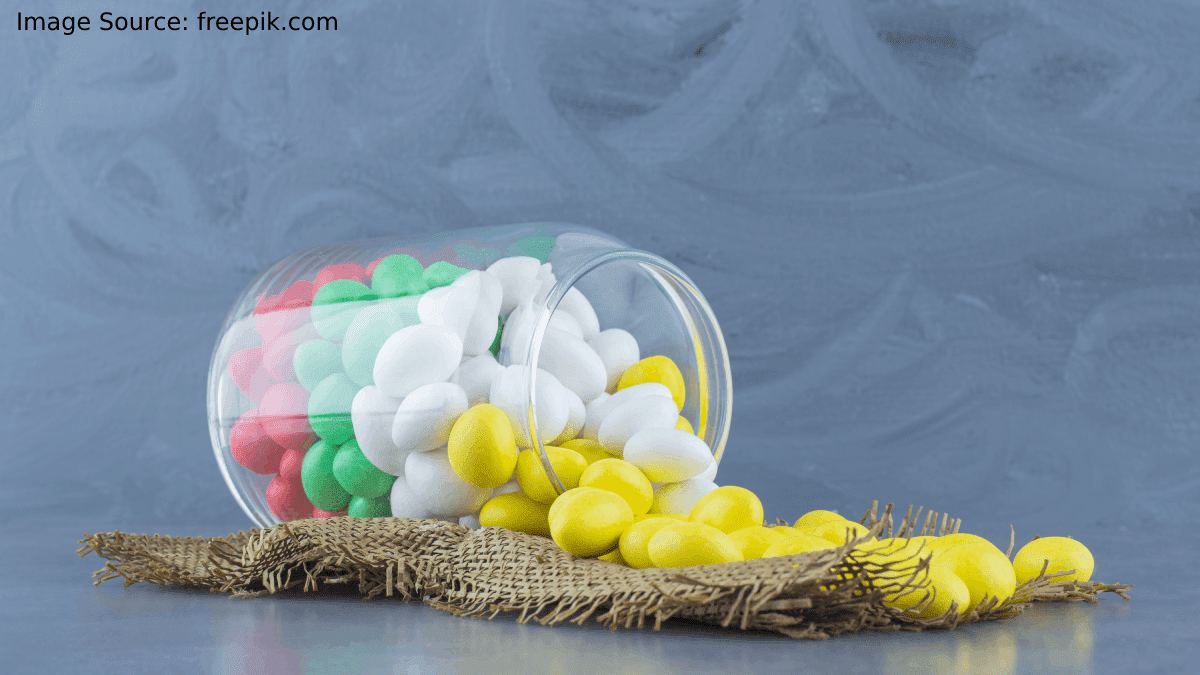 Due to the increasing demand for Functional Gummies which is easy-to-consume forms of supplements, the market is experiencing significant growth. A hectic lifestyle and increased incidence of Cardiovascular Diseases (CVDs), and other heart issues have been a result of rapid technological and social changes. Preventive health measures are driven by the desire to live longer, healthier lives.
According to Market.us, "The Functional Gummies Market is estimated to reach USD 25886.09 Million by 2032, up from USD 8561.2 Million in 2022. It will grow at a CAGR 11.7% over the 2023-2032 forecast period."
Gummies are more gel-like than tablets and have a soft texture that is easy to chew. Functional Gummies are available in many flavors. These factors all contribute to market growth and increase product demand around the world.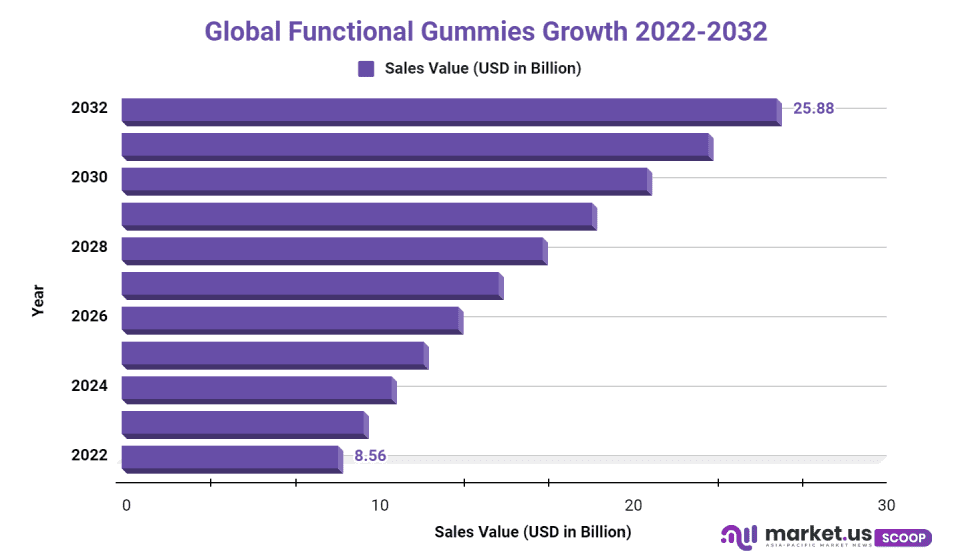 Anurag Sharma a senior research analyst at Market.us, said, " Gummies have seen a significant increase in popularity due to the expansion of the dietary supplements industry in the country and healthy lifestyle changes resulting from increased awareness about preventative healthcare."
To appeal to consumers who want nutrition, several brands such as Nature Made and Abbott Laboratories offer vitamins and mineral-infused gummies with different flavors such as orange, blueberry, strawberry, and orange.
Gummies also have more sugar than other forms of dietary supplements. This means that they are higher in calories. Therefore, customers who are concerned about their health prefer supplements that have low or no sugar.
There are many substitutes available, including soft gels, lozenges, and tablets. This is likely to limit the market growth. Gummies also have a shorter shelf life than dry powders and pills. This may hinder product sales.
Other factors that are driving interest in vitamin supplements include rising healthcare costs, an aging population, increasing awareness about healthy eating habits, and growing healthcare costs. Gummies can be a convenient way to deliver vitamins to children who may not want other forms of supplements.
According to the Interactive Nutrition Facts Label from the U.S. Food & Drug Administration (FDA), zinc is important for immunity, taste & smell, and other functions. This will likely increase the demand for zinc supplements in a short time.
Protein gummies will be in demand due to the rising popularity of protein diets. Gummy formats will be limited by the increasing penetration of protein powders and bars, protein-energy balls, and cookies. Market players are now focusing on high-protein gummies in a variety of flavors and shapes to support this segment's growth.
According to the USDA Foreign Agricultural Services (USDA), confectionery products rank among the top 10 most popular packaged foods in Canada. This market is expected to grow by double-digits in the future. Gummy brands have the opportunity to capitalize on the growing demand for confectionery products and offer differentiated fortified gummies.
The market has seen steady growth due to the high prevalence of Type-2 diabetes in Europe. Low-calorie and low-sugar chewables are expected to be popular. This can help prevent obesity and other diseases such as diabetes. HARIBO, for example, launched fruit gummies in January 2018 that contained dextrin. This lowers the sugar content by 30% compared to traditional HARIBO gummies.
Consumer preference for botanicals has been shifting with the rise of organic and clean-label products. Due to their anti-inflammatory or anticancer properties, consumers are willing to spend more on supplements that have such health claims.
In the coming years, the kid's market is expected to experience significant growth due to increased product demand. In the next few years, the segment will see significant growth due to the growing interest of parents in natural supplements and their willingness to spend more money on children's health and wellness products. Network marketing and direct selling are also non-store-based channels.
This segment is driven primarily by the increasing sophistication of consumers and the growing penetration of eCommerce. To connect with their diverse customer base, key manufacturers have opened new distribution channels. This has led to increased product sales through nonstore-based channels like online shops and other e-retailers such as Amazon, 1mg, and others.
In 2019, wellness products accounted for 36% of all direct-sold products worldwide. Direct selling presents the potential for gummy supplement brands. Due to the lockdowns in place in different regions to restrict the spread of the disease, direct sales suffered a drop in sales.
Online channels provide a quick and easy solution. With the increasing penetration of smartphones and other e-commerce sites, the segment is expected to grow.
---
---
Media Enquires
If you require any further information about a related market, please get in touch with us. we're happy to help you
+91 7008 614 496
+91 7008 614 496