PVC Stabilizer Market Growth Drives Investment Opportunities, Thanks to Its Versatile Applications, says Market.us
---
---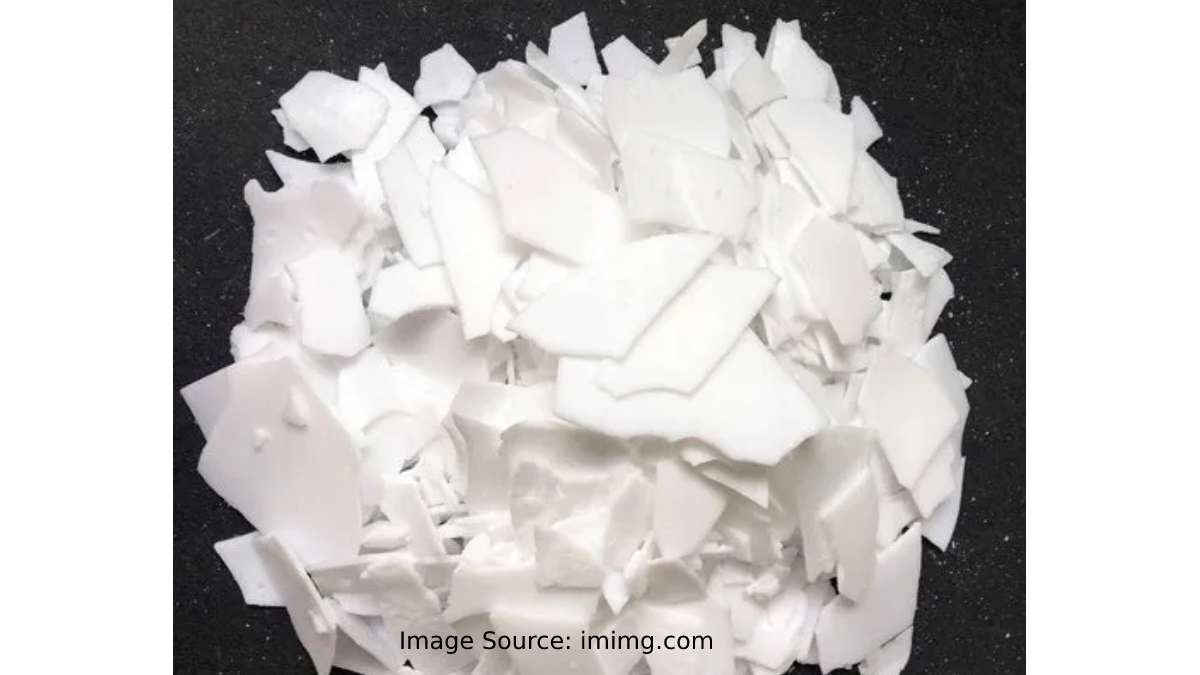 PVC stabilizers can be either organic or inorganic substances that are added to PVC to enhance its properties, such as strength, durability, heat sensitivity, and so on. PVC stabilizers can be used to increase the value by changing its chemical or physical properties or strengthening its mechanical properties. This makes it more suitable for use in end-use applications.
PVC stabilizers can be used in many applications, including pipes and fittings, semi-rigid and rigid films, coatings and flooring, window profiles, wires and cables, and coatings & floors. PVC stabilizers can also be used to improve the heat stability, melting points, and lubrication of PVC. This allows plastics manufacturers to produce higher output and lower costs without compromising the quality of their final products.
According to a report by Market.us," The Global PVC stabilizer markets will reach a market value of USD 12.03 billion by 2032, with an expected CAGR of 9.8%. In 2022, the market value will be USD 4.3 billion."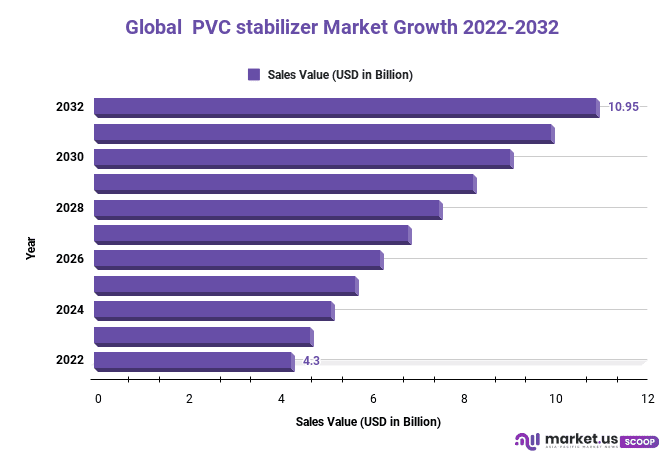 Market.us senior analyst Anurag Sharma said, " The market value will rise due to factors such as rising electric vehicle demand, rising automobile market, and increasing use of plastic film and sheets. Market growth is expected to be boosted by the growing demand for medical devices and the expansion in the construction sector."
They also mentioned various market developments and significant investments made in research and development activities. The emerging wood-plastics market will further expand the lucrative opportunities for market players over the 2022-2032 forecast period. The future growth of the market for polyvinyl chloride (PVC) stabilizers will be further boosted by introducing bio-based organic stabilizers and new renewable PVC products.
The most common thermoplastic polymer, polyvinyl chloride (PVC), is used in many industries. It is a very fragile material with a natural white color. It is a synthetic resin made from vinyl chloride polymerization. Vinyl chloride monomer can be polymerized to make PVC.
The majority of production is done using suspension polymerization. PVC is stabilized to improve its functional characteristics, prevent degradation, allow processing, and increase resistance to heat and weathering. They also have a significant effect on the physical properties of final products.
PVC flooring solutions have proven to be highly effective and cost-effective in a variety of private and public sectors, including residential, commercial, school, hotel, and commercial areas. PVC flooring is durable, easy to install, can be cut in many thicknesses, and can be recycled easily. The benefits of PVC flooring are becoming more widely known, which will help propel the polyvinyl chloride market (PVC) stabilizer market.
The rapid growth in construction and manufacturing is one of the key drivers of the PVC stabilizers industry. An increase in dependence on LPG imports also drives the market growth. Because it can stop the decomposition of polymers, it can lead to market growth. PVC stabilizers are known for improving the weather resistance and heat aging of polymers. These are key attributes that are driving global market growth.
High volatility in crude materials and fluctuating prices for raw materials will hinder the growth of the polyvinylchloride (PVC) stabilizer market. PVC prohibitions in green building construction will be a detriment to the polyvinylchloride (PVC) market. The decrease in lead stabilizer applications will also impact the polyvinylchloride (PVC) rate and stabilizer market growth.
Asia-Pacific is the largest market for PVC stabilizers and the dominant consumer. China accounts for the largest consumption of PVC stabilizers in the Asia-Pacific. India is second due to its rapid growth in the construction industry.
The global market for PVC stabilizers based on lead is dominant. This market segment includes metal mix, tin, and calcium. However, the Europe market is relatively mature and has seen the lowest CAGR over the past few years. Manufacturers continue to work on improving PVC stabilizers. The organic stabilizer is a new product that is expected to replace lead-based PVC stabilizers in Europe and North America.
---
---
Media Enquires
If you require any further information about a related market, please get in touch with us. we're happy to help you
+91 7008 614 496
+91 7008 614 496