Restaurant Management Software Market To Be The Future of Dining Out, says Market.us
---
---
Restaurant management software is needed due to the increasing demand for restaurant-specific software such as billing, payment processing, and inventory management. Large restaurants favor combining solutions such as Point of Sale (POS) or custom Enterprise Resource Planning.
These systems provide advanced tools that enable efficient restaurant operations and allow you to analyze the data for further analysis. Due to their increasing availability in major cities around the world, restaurant management software is growing in popularity.
Many restaurants and packaged food services have turned to online sales channels to meet consumer demand due to the pandemic. The market will grow if POS systems are installed to identify trends and customer preferences.
According to Market.us, "The Global Restaurant Management Software Market size is expected to be worth around USD 16,254.45 million by 2032 from USD 4,088.40 million in 2022, growing at a (compound annual growth rate) CAGR of 14.80% during the forecast period from 2022 to 2032."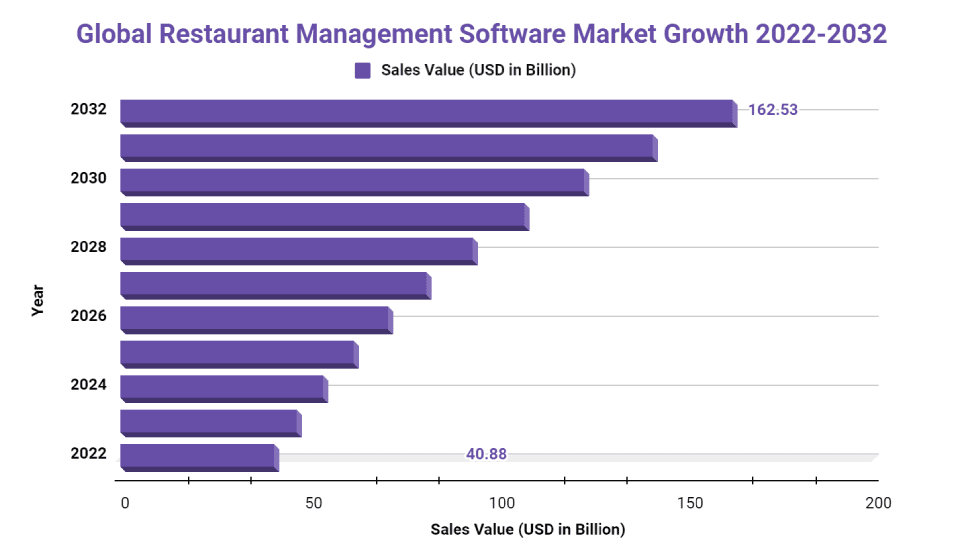 Gaurav Yadav, a senior research analyst at Market.us, said, "Technological innovations in the restaurant industry and increasing demand for restaurant-specific software such as billing, payment, and inventory management will drive market growth. Modern order-processing technologies have made it easier for restaurateurs to streamline their order management.."
Kitchen Display System, a digital menu board that displays orders in order of priority, is called Kitchen Display System (KDS). It can also indicate special diet requirements. This system communicates directly and tracks delivery times with the restaurant's Point-of-Sale System.
This system allows improved communication and long-term operations. These developments will fuel the restaurant management market for the future.
Point of Sale technology (POS) is used by restaurants, bars, and food service businesses to track sales and inventory. Customers can place orders on touchscreens. Restaurants invest the most in IT technology and POS tech.
Restaurant owners are constantly looking for new ways to increase guest satisfaction. Mobile POS systems, for example, allow employees to spend more time talking to customers than they do in the kitchen and admin areas. Restaurants can create a culture that's optimized for customer service and better culture. With the growing adoption of mobile pos systems, this industry will continue to grow.
Restaurants can increase product demand and streamline business operations by using POS solutions. These solutions can reduce billing time, and allow you to monitor order completion times. These solutions also help to prevent orders from being made during peak hours.
Revel Systems implemented Revel Enterprise in Lou Malnati's Pizzeria in Chicago in November 2021. Lou Malnati's Pizzeria was capable of integrating many best-of-breed technologies such as e-commerce and payroll systems to improve its functionality.
This solution allowed new employees to be trained in just minutes. In a competitive labor market, they had quick access to reports and easy access to information. This POS system is increasing demand for restaurant management software in the future.
Due to the increasing use of credit and debit cards, there is a greater demand for strict regulation.
Staff can now secure sensitive business information and management can take over the situation to prevent data breaches. Service staff can provide a better customer experience through mobile and tableside solutions via tabletops, iPads, and tabletop kiosks.
These software solutions allow restaurant owners and managers to improve customer service, lower costs, and increase profits.
PostMates and GrubHub are great tools for restaurants looking to expand their online presence. These tools allow restaurants to increase their online presence and attract new customers. Restaurant review sites can help improve restaurants' reputations.
Software and apps for food service are continually improving. Restaurants must adapt to changing business environments. To stay ahead, they need management software. This will increase the market growth.
Customers can expect personal and personalized services from restaurants due to their increasing smartphone penetration. Restaurant owners can provide excellent customer service by leveraging cloud-based technologies such as artificial intelligence, virtual assistants, and the Internet of Things.
KFC, Pizza Hut, and Domino's have voice-activated ordering systems and chatbots to improve customer service. Customers can place orders using voice commands via mobile apps that integrate with virtual assistants such as Alexa or Google Assistant.
These innovative innovations have enabled these restaurants to increase customer engagement and retention as well as provide a more personalized customer experience that will engage customers for longer periods of time.
---
---
Media Enquires
If you require any further information about a related market, please get in touch with us. we're happy to help you
+91 7008 614 496
+91 7008 614 496