Retailers Leveraging Latest Point-Of-Sale Terminal Technology for Increased Efficiency and Multitasking, says Market.us
---
---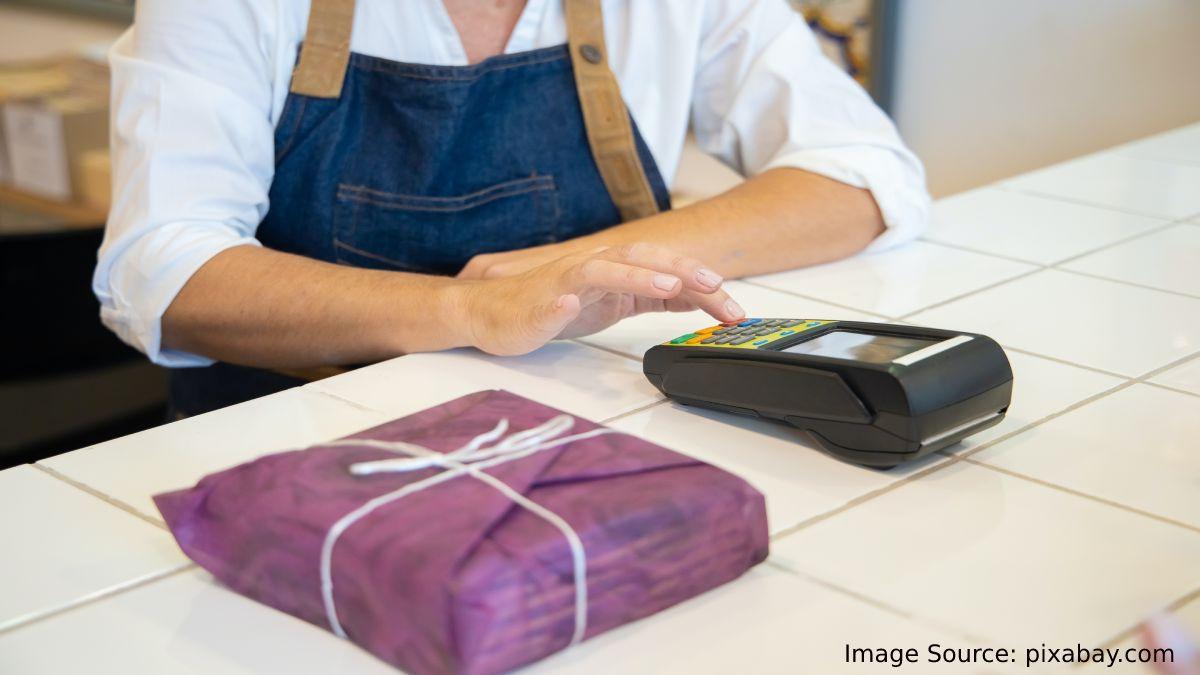 Retail point-of-sale (POS) terminals are one of the most important components of any modern retail business. They are the digital interface between businesses and their customers, allowing for transactions to be made quickly and easily. POS terminals have evolved significantly in recent years, with features such as credit card processing, customer loyalty programs, and inventory tracking becoming more commonplace.
The retail point-of-sale (POS) terminals market has continuously grown over the last decade. With advancements in technology and changes in consumer behavior, it is now an essential component of any retail business. These terminals provide retailers with an effective way to process purchases, track sales data, and manage inventory from anywhere in the store.
With the influx of technology into almost every aspect of our lives, it is no surprise that Point-of-Sale (POS) terminals have become an integral part of the retail industry. POS terminals are used to process cash and non-cash payments from customers in a store or online. This article will focus on the market size of retail POS terminals, including current and future trends. It will discuss the key market players and their strategies for success in this sector. 
According to the latest report by Market.us, "The Global Retail point-of-sale (POS) Terminals Market is expected to grow at a CAGR of roughly 9.2% over the next ten years and will reach USD 59.07 Bn in 2032, from USD 24.5 Mn in 2022″
The retail point-of-sale (POS) terminals market has seen a surge in growth in recent years. This is due to the rise of online shopping, increased demand for convenience, and the need to streamline transactions. As the marketplace becomes increasingly competitive, businesses are exploring ways to gain an edge over their competitors using POS terminals. This article will examine how these terminals affect retailers' global market share.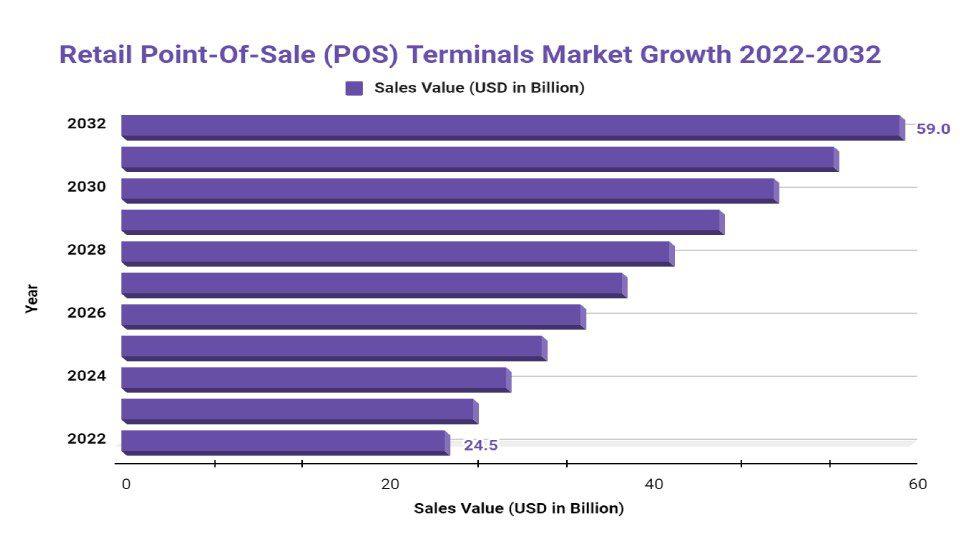 Click here to check 200+ pages of in-depth market analysis reports on the Retail Point-Of-Sale (POS) Terminals Market.
Gaurav Yadav, a senior research analyst at Market.us, said, "The retail industry is quickly evolving, and a critical component of this evolution is the increasing reliance on point-of-sale (POS) terminals. As businesses look to modernize their payment systems and gain access to more customer data, POS terminals are becoming indispensable tools in the competitive retail landscape. This article will explore current trends in the retail POS terminal market, including the growth of new technologies, changing consumer preferences, and more."
The retail point-of-sale (POS) terminals market has shown tremendous growth over the past few years due to its ability to streamline the business process of retailers. The POS terminal provides a convenient, secure, and efficient way for retailers to manage their sales operations. The report will also explore the factors that have led to the significant growth in this sector and provide an overview of the key players in this space.
The retail sector is rapidly changing in response to technological advances, with point-of-sale (POS) terminals emerging as a core component for many businesses. Keeping up with the latest developments and trends in POS technology can be overwhelming, yet necessary for any business looking to remain competitive. 
The retail market is becoming increasingly competitive, with businesses of all sizes looking for ways to stay ahead of the competition. To do this, they must keep up with the latest technology trends to maximize profits and enhance customer service. Point-of-sale (POS) terminals are one such technology that is rapidly gaining traction in the retail sector.
As the retail industry continues to evolve, businesses are constantly looking for new and innovative ways to stay ahead of their competition. This article will focus on some factors restraining the retail point-of-sale (POS) terminals market growth. The POS terminals market is a rapidly growing sector with new daily advancements. However, there are certain barriers that retailers must consider before investing in these systems.
The retail Point-of-Sale Terminals market is rapidly evolving and shows no signs of slowing down. In today's digital world, customers expect a seamless checkout experience when shopping in stores, which has led to the development of advanced POS technologies. With the rise in demand for these terminals, businesses have been investing in them to provide their customers with an efficient way to complete their transactions. 
The retail point-of-sale (POS) terminal market is a rapidly growing sector that has seen tremendous growth in the last decade. Retailers increasingly turn to POS terminals to streamline operations and optimize customer service. As the use of POS terminals increases, so do the various advantages they offer retailers. This article will explore the benefits that POS terminals can provide to retailers, including increased efficiency, improved security, and enhanced customer service.
In today's competitive retail landscape, retailers need to evaluate the advantages and disadvantages of technology investments to remain competitive. One such investment is the use of point-of-sale (POS) terminals. While POS terminals offer many benefits, some drawbacks must be considered before deciding whether to implement a POS system. This article will provide an overview of the potential drawbacks of investing in retail point-of-sale terminals, including cost, complexity, and security issues. 
---
---
Media Enquires
If you require any further information about a related market, please get in touch with us. we're happy to help you
+91 7008 614 496
+91 7008 614 496