Revenue Soar Amidst Surging Demand for Airsoft Guns in Shooting Clubs, says Market.us
---
---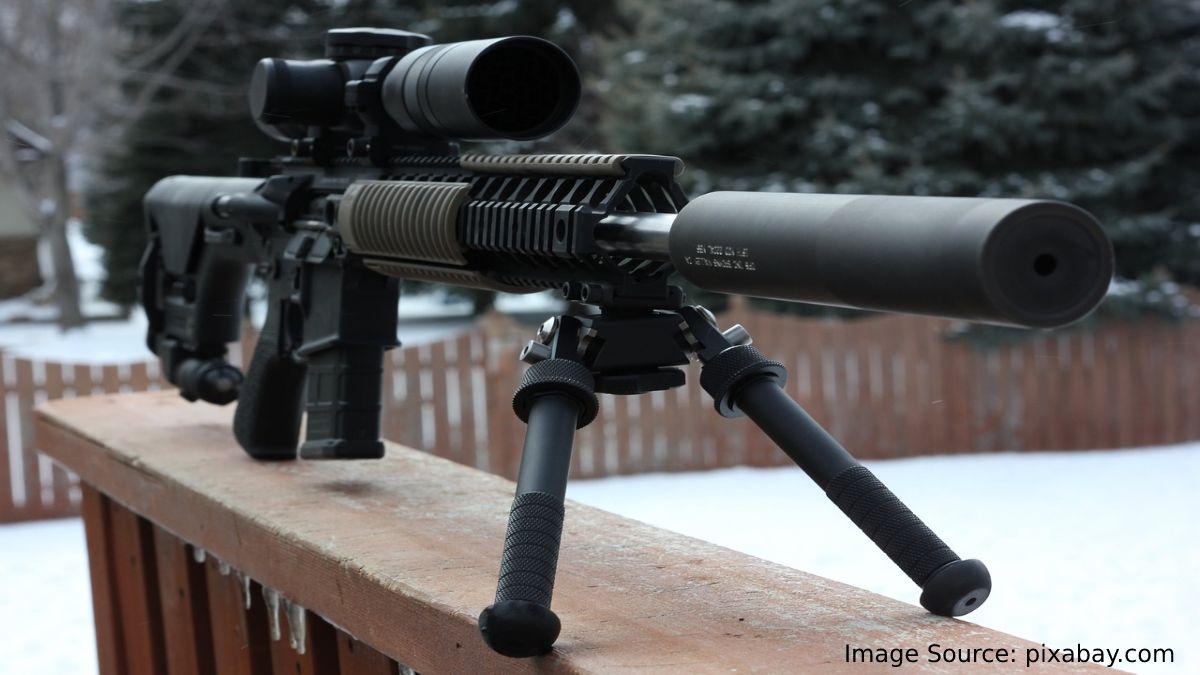 Airsoft guns are a replica of toy guns utilized in airsoft games. They are smoothbore, low-power air guns that launch non-metallic projectiles frequently referred to by the informal term "BBs," typically made out of biodegradable or plastic materials.
Airsoft gun powerplants are engineered to have lower power ratings for muzzles. They have considerably less power of stopping and penetration than traditional airguns and generally are safe for competitive sports and leisure when the proper safety equipment is in place.
According to research by Market.us, "The Airsoft Guns Market size is expected to be worth around USD 4.11 billion by 2032 from USD 1.94 billion in 2022, growing at a CAGR of 7.8% during the forecast period 2022 to 2032."
Airsoft guns are mostly used in police, sports, and military training. Owners of airsoft guns and their enthusiasts across various nations must be part of an established group. Due to the increasing usage of airsoft guns, different countries have set rules and guidelines regarding the use of airsoft weapons.
Anurag Sharma, a senior research analyst at Market.us, said, "There has been a rise in shooting clubs worldwide in the past few years. This trend is fueling the development of airsoft guns, which are increasingly considered an alternative to conventional guns. Airsoft guns are getting more popular due to their realistic look as well as their accessibility and security features."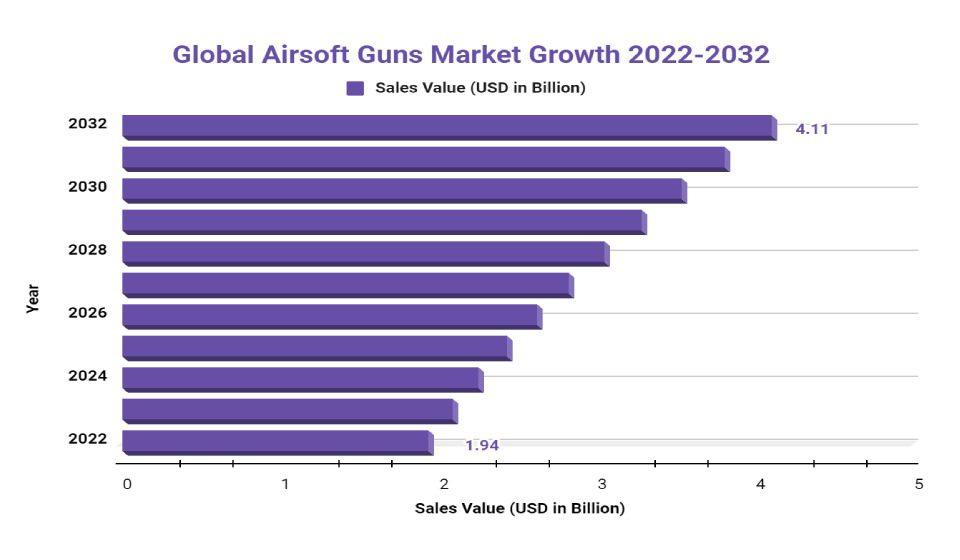 Click here to check 200+ pages of in-depth market analysis reports on the Airsoft Guns Market.
Airsoft guns are a secure and economical method for shooters who enjoy recreational shooting to sharpen their skills and engage in shooting practice. Airsoft guns are typically powered by compressors that use air. These guns are powered by the same CO2 cartridges of 12 grams as well as .12g Blasts that are used in paintball guns. Airsoft guns cost more than paintball guns.
The internet has revolutionized how consumers interact with businesses in the past decade. It has become an integral part of people's lives, providing access to information, entertainment, and services. As a result, consumers' increased internet use has positively impacted online sales channels, giving rise to the airsoft guns market. Airsoft guns are popular among hobbyists and collectors alike, offering realistic replicas of real-life firearms at much lower costs. 
The market for airsoft guns is growing rapidly, seeing more people purchasing airsoft guns each year. However, the past few times have seen a decline in market development as the public becomes more aware of the dangers of guns. Handling these guns could result in serious injuries to persons or property and have grave consequences for those affected.
It's been noted that major brands offer discounts, member benefits, and cash-back services on their websites. The market for airsoft guns seems to increase its appeal for the younger generation, who like ongoing trends. The airsoft shooting sports culture is growing among the younger generation of countries in the developing world like China, India, Brazil, and Mexico, where the percentage of smartphones used is also quite high.
Shooting has been gaining popularity in recent times because of its many advantages. Shooting is a sport anyone of any age can enjoy as it promotes physical discipline, enhanced focus, and improved eyesight.
Many are getting interested in shooting sports, from shooters who own guns to those who are recreational shooters. A major and exciting new trend is the increasing participation of college and high school students in national-level shooting sports. Various factors drive this development, including increasing levels of competition and innovation, access to shooting ranges, and increased exposure via media channels.
---
---
Media Enquires
If you require any further information about a related market, please get in touch with us. we're happy to help you
+91 7008 614 496
+91 7008 614 496