Revolutionizing Animal Care Through Veterinary Software Technology, a report by Market.us
---
---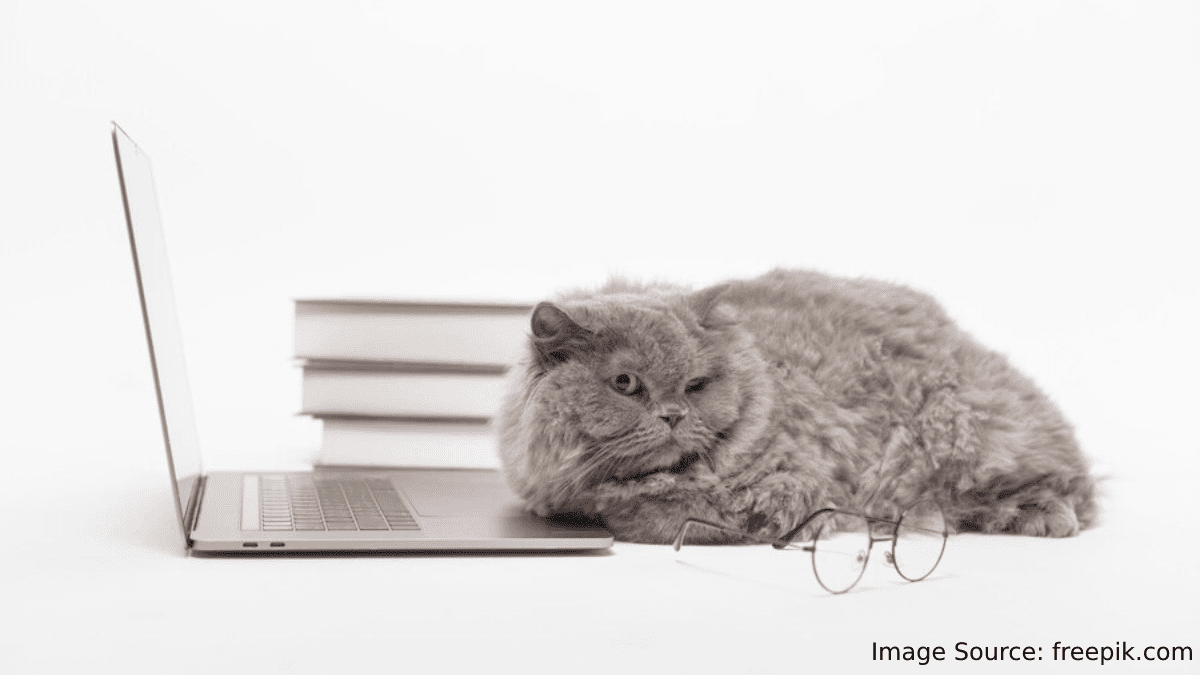 Veterinarians use Veterinary software to streamline their daily operations and complete back-office functions such as accounting. It helps in the management of patient information, scheduling, and managing treatments. It also improves communication and client relationships. It helps to simplify the process and increase the efficiency of the veterinarian team by collecting data and creating reports. Additionally, it encourages sustainable practices through a reduction in paper usage.
According to the latest report by Market.us," The Global Veterinary Software Market size is expected to be worth around USD 941.71 million by 2032 from USD 465.5 million in 2022, growing at a CAGR of 7.3% during the forecast period from 2022 to 2032."
The report highlights the key trends shaping the Global Veterinary Software Market in the upcoming years. This report provides qualitative and quantitative analysis in terms of market dynamics, competitive scenarios, opportunity analysis, recent developments, market growth, etc., for the forecast year up to 2032.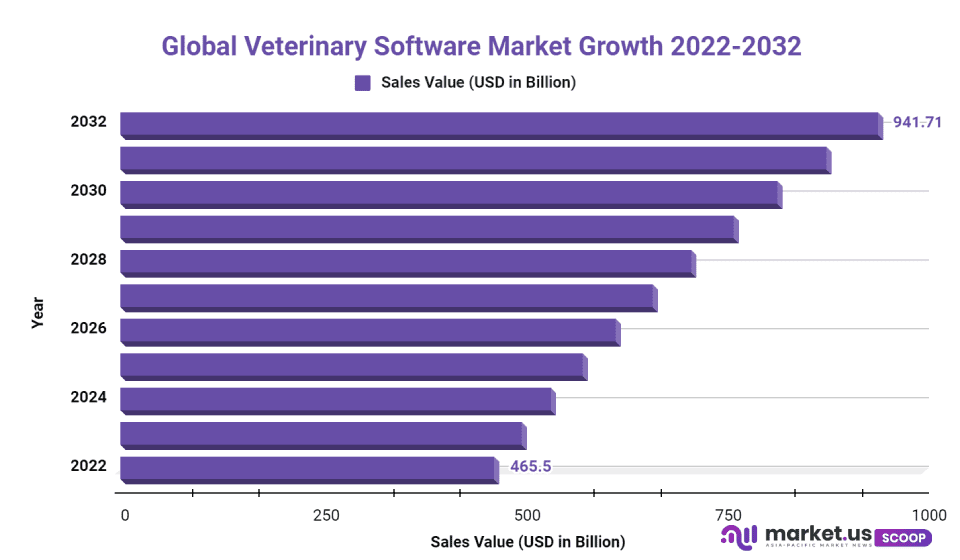 Gaurav Yadav, a senior research analyst at Market.us, said, "Advanced veterinary practice management software is currently used in veterinary hospitals. Smaller versions of the software are used in smaller clinics. The adoption of software solutions is expected to increase in the veterinary sector in the next few years due to increasing awareness about the benefits and increased clinical visits by pet owners. The increase in pet ownership is impacting the animal health sector. Another growth driver is a growing emphasis on safety and efficiency in livestock production."
The increasing number of pet owners and the rising risk of contracting chronic and infectious diseases in companion and livestock animals have positively affected the market for veterinary practice management software.
According to the American Veterinary Medical Association's data, there are approximately 68,000 private-practicing veterinarians in North America and 22,000 in the United Kingdom. The forecast shows that this number will rise. This will fuel the demand for these solutions to manage operations in reference laboratories and clinics.
Similar results were seen in 2020 when pet ownership increased to 70% in the U.S. from 67% households. According to the Insurance Research Council (a third of Americans adopted pets during the COVID-19 pandemic), 30%, or almost one in three, adopted a pet.
Innovative technology has the ability to improve patient care. This is one of its greatest benefits. This is possible because veterinarians can identify potential health issues earlier. This can result in better outcomes for patients. New technologies allow vets to monitor their patients closely and detect potential problems earlier.
Innovative technology is also making a difference in surgical procedures. Vets can perform complicated procedures more comfortably and with less risk, thanks to new equipment and minimally invasive techniques. These procedures are also less invasive, and patients often recover faster.
Most laboratory tests, which were once only possible at reference laboratories, can now be automated within the practice by countertop analyzers. The results are available in minutes, not days. Radiographs and ultrasounds are also automated. Previously, the vets used to carry a film and put it up against X-ray film view boxes or ultrasound images printed onto paper. This process has now been streamlined; now, the radiograph or ultrasound images can be downloaded within seconds from any device connected to the internet.
The rapid interest shown by veterinaries in software management for veterinary healthcare has led to innovative products being developed by the major players.
For instance, in October 2020, Airvet, one of the leading veterinary telemedicine/telehealth platforms, announced the closing of a USD 14 million Series A funding round led by Canvas Ventures and several major veterinary industry leaders. This will allow the company to meet the rapidly increasing demand for its telemedicine platform by both pet owners and veterinarians.
More than 125,000 professionals use IDEXX Cornerstone at North America's top veterinary hospitals. Cornerstone's integration with many apps, services, and products is what makes it so popular. This allows practices to fully integrate with their lab equipment, imaging system, and client app.
To maintain their competitive edge, the companies have been investing heavily in R&D to develop veterinary software. The established players invest in imaging software to increase their presence in the global market and adopt strategies like mergers and acquisitions. Hence new players need to employ similar or more advanced technologies in order to gain a competitive advantage.
---
---
Media Enquires
If you require any further information about a related market, please get in touch with us. we're happy to help you
+91 7008 614 496
+91 7008 614 496