Rise of Packaging Industry Offers Exciting Prospects in Plastics Process Equipment Market, says Market.us
---
---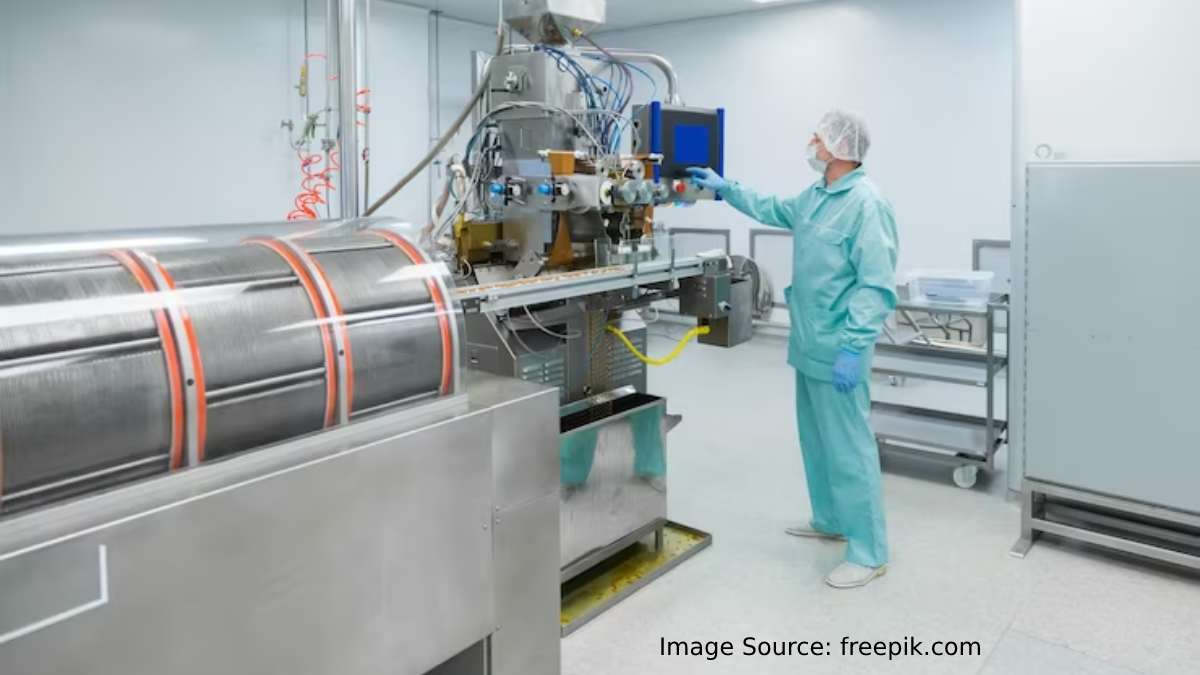 In recent years, plastics have become an integral part of both manufacturing and packaging. Plastic processing has seen a rise in popularity in both the packaging and industrial sectors due to increased demand. Different types of plastics can be processed by different machines during the manufacturing process. Plastic processing is a good choice because it is contaminant-free and toxin-resistant. This has led to an increase in the market for plastics processing machinery.
Plastic processing refers to the conversion of raw plastic material into semi-finished products. The plastic primary processing machinery (also known as plastic molding machine) is used to make plastic semi-products. While plastic secondary machinery is used to reprocess and process plastic semi-products, products such as compression and rotational molding machines, printing, and thermoforming machines are also adopted.
According to the latest report by Market.us," The Plastic Processing Machinery market will reach USD 5.28 billion in 2023, and USD 3.14 billion by 2033, registering a CAGR of 5.28%."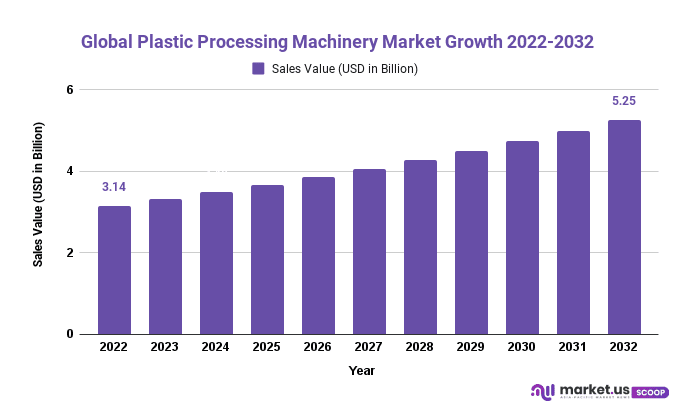 Anurag Sharma, a senior research analyst at Market.us, said," Manufacturers face fierce competition, which means that they need to differentiate their products with appealing packaging. This results in a high growth rate for high-quality, complex packaging products. These factors will drive the global plastic processing machinery market over the forecast period."
The market is growing due to the increased demand for plastics from the packaging industry. The high consumption of packaged food drives the market demand for plastic processing machinery. The plastics processing machinery market is not only driven by the packaging industry.
The medical industry, which uses plastics to make artificial limbs and prosthetic tools, also contributes substantially to its growth. The market's growth is expected to be positively impacted by the high demand for plastic processing in the manufacturing and packaging industries.
They also said injection molding is widely used to produce large quantities of plastic parts. Companies increasingly prefer this processing due to its many benefits, including lower scrap rates, reduced production costs, higher strength, and the possibility to use multiple types at once.
These machines are used in many automotive applications. They are increasingly used to make automotive components like bumpers, interior panels, and dashboards. Automotive manufacturing has seen a significant increase in demand due to regulatory interventions that aim to improve fuel efficiency and reduce carbon emissions.
Plastic processing machinery market growth will be driven by the increasing importance of lightweight materials in the automotive industry. The automotive segment is a major market share for plastic processing machinery. Plastic processing machines are used to produce a variety of components for vehicles, such as their exterior body panels and bumpers, spoilers, or dashboards.
Plastic processing machinery can be used to create plastic packaging in many forms and applications. You can use it to make food and beverage containers, body care packaging, and packaging for household chemicals. The market for packaging products is expected to grow in the future due to increased consumption in the healthcare, cosmetics, and personal care industries.
Plastic processing machinery can include extrusion machines and blow molding machines, as well as injection molding machines. Plastic processing is a popular use of injection molding. It has the advantage of being able to produce identical products in large quantities. New injection molding processes including gas-assisted injection molding, foam injection molding, co-injection molding, and multiple-component injection molding create a high demand for injection molding machines for producing plastic products.
Plastic compounds will have a lot of opportunities in the packaging industry, which is growing at an incredible rate. These machines are used to make these materials suitable for use in industrial, commercial, and paper packaging.
The Plastic Processing Machinery Market has seen tremendous growth in recent years due to factors like the advancement of global trade and the increasing disposable income of consumers from developing countries. Technological advances, increased demand for lightweight and durable products, and growing demand by end-use industries have all contributed to this market's success.
---
---
Media Enquires
If you require any further information about a related market, please get in touch with us. we're happy to help you
+91 7008 614 496
+91 7008 614 496