Rising Automotive Transmission Market Pushes Innovation to Unprecedented Heights, says Market.us
---
---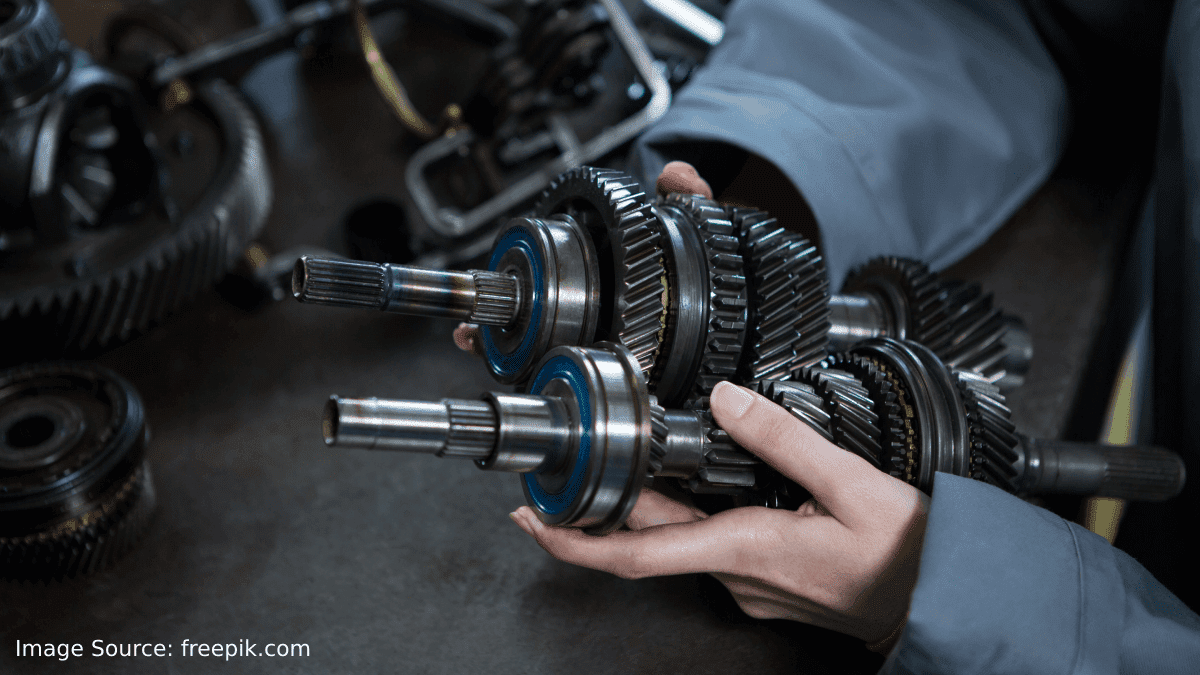 Automotive Transmission is an instrument that provides different gears or drives ratios between an automobile's engine and its drive wheels. The primary function is to allow the vehicle to accelerate from rest at a broad range of speeds while the engine works within its maximum efficiency range.
There are two main types of transmissions: manual transmissions, which the driver moves by hand after disengaging its foot-operated clutch, and automatic transmissions, which shift automatically with no driver action.
According to the latest report by Market.us," The Global Automotive Transmission Market size is expected to be worth around USD 242.35 billion by 2032 from USD 143.23 billion in 2022, growing at a CAGR of 5.4% during the forecast period from 2022 to 2032."
The report highlights the key trends shaping the Global Automotive Transmission Market in the upcoming years. This report provides qualitative and quantitative analysis in terms of market dynamics, competition scenarios, opportunity analysis, recent developments, market growth, etc., for the forecast year up to 2032.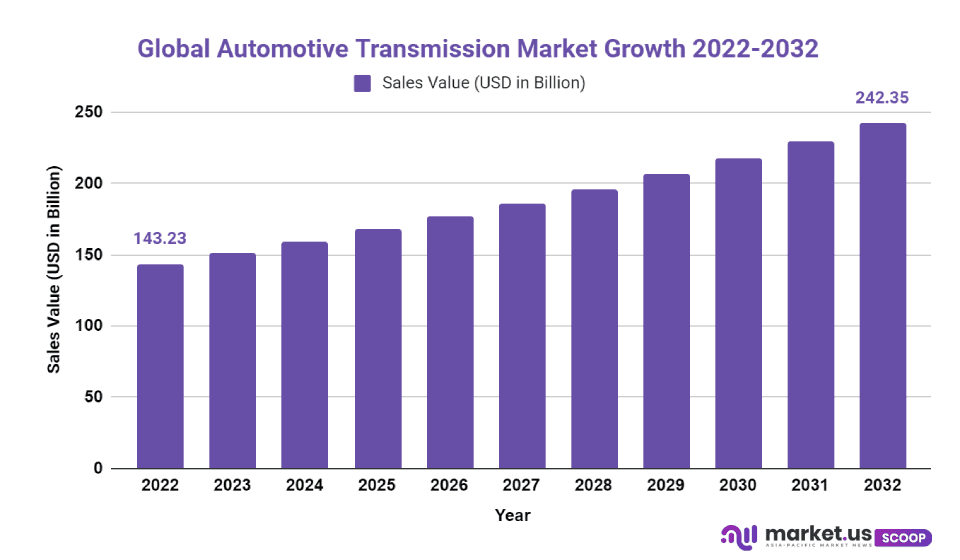 Gaurav Yadav, a senior research analyst at Market.us, said," The industry's component manufacturers are working hard to offer cost-effective solutions that don't compromise vehicle performance. They use various growth strategies to meet the increasing demand for transmission systems in the automotive industry. With the advent of automatic and electric vehicles, the key players need to give special attention to this field."
General Motors says that with increasing environmental concerns and strict fuel economy norms, the number of cars equipped with manual transmissions may decrease, leading to a greater demand for automatic transmissions. The region's governments are trying to encourage the sale of alternative fuel vehicles by offering tax deductions, incentives, and fuel-efficient cars. This is expected to increase the demand for auto-automatic transmission.
China has also proposed a dual credit system, which ties mandatory emission norms to increase NEV passenger car production. This is applicable to importers and manufacturers of more than 30,000 conventional automobiles each year. Credits equal to 10% of the conventional car production were needed until 2019, which also included efficiency in the gear-changing mechanisms.
Personalized design is causing a significant breakdown in vehicle categories, especially for passenger cars. This has led to significant diversification in the gearbox design, individualized solutions, and competition concepts. For Example, Automatic, Manual, automatic manual transmission (AMT), dual-clutch transmission (DCT), and hybrid drive.
AMT is a European success story in heavy commercial vehicles. They have gone from semi-automatic design and fully automatic transmission. Integrating sub-modules or peripheral parts into an automotive transmission creates compact, lightweight, and more reliable combinations.
The demand for vehicle electrification is increasing as the emphasis on fuel efficiency continues to rise. New design and development possibilities for automotive transmission systems are expected to be available with hybrid EVs, battery-powered vehicles, and fuel-cell electric vehicles.
Manufacturers are exploring the possibility of introducing manual transmissions to the electric era. Dodge's electric muscle car will feature an "eRupt" manual shifting component. Toyota and Ford have filed patents for completely unnecessary electronic manual transmissions. It's unclear if those patents will be used in production cars or if buyers would like them.
Due to the increased effort by governments and automotive OEMs to electrify cars, it is becoming more important to adapt the transmission system. This is expected to reduce demand for passenger car transmissions over the forecast period.
To maintain their sales figures, automakers and dealers need to be innovative, flexible, and creative in their approach. This was a time when R&D was suspended. It opened the door to new ideas and research that would change the industry's standards for many years. The increasing demand for electric cars will result in significant changes to the supply chain model as well as the automotive industry.
---
---
Media Enquires
If you require any further information about a related market, please get in touch with us. we're happy to help you
+91 7008 614 496
+91 7008 614 496