Rising Consumer Acceptance Opening Doors to the Nutritious Edible Insects Market, says Market.us
---
---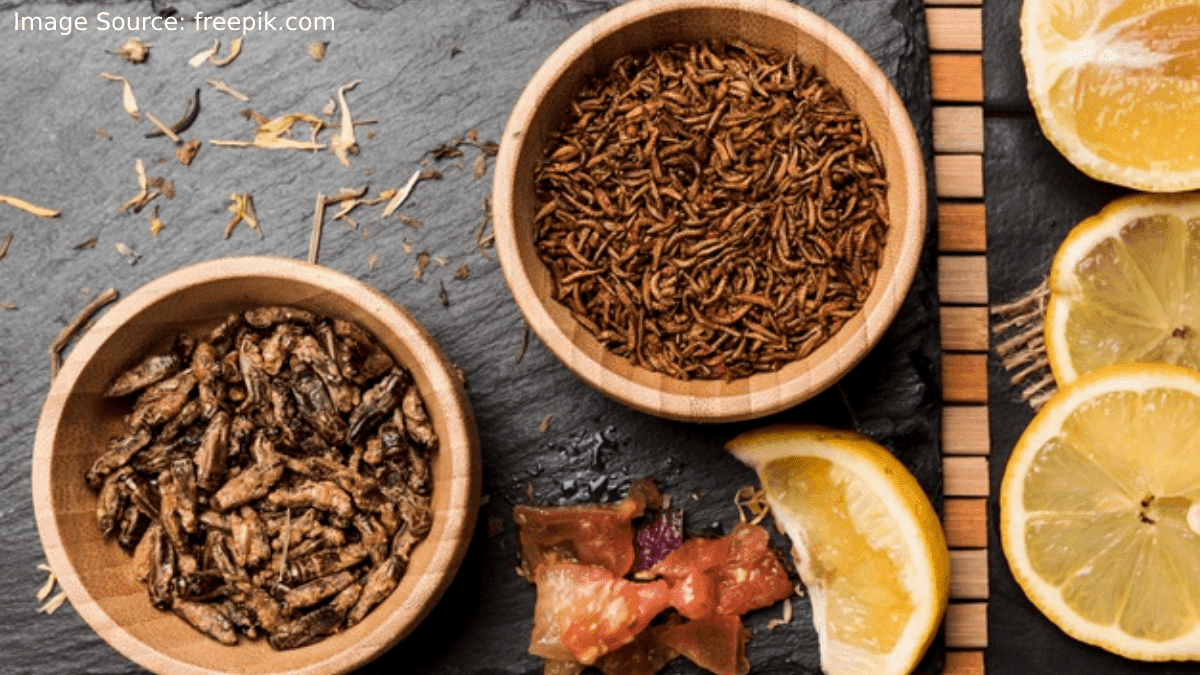 The Edible Insects in the food industry are facing significant challenges in many areas. Global consumers are growing every day, and they also demand new products. Recent research has shown that the current food production system cannot be sustained over time. Therefore, it is essential to develop new production methods. The new food trends focus on natural products that are sustainable in production and have a favorable nutritional profile for consumers' health.
Food insecurity is a growing problem due to a rapidly increasing population. Nutritious food sources are constantly being sought out and are currently being evaluated. Edible insects are a protein-rich product that is becoming more popular in North America and Europe. The European Union is taking steps to standardize insect food sources by establishing safety regulations that allow them for sale to humans.
According to the latest report by Market.us, " The Global Edible Insects Market is expected to grow at a CAGR of roughly 17.70% over the next ten years and will reach USD 913.31 Mn in 2032, from USD 179 Mn in 2022."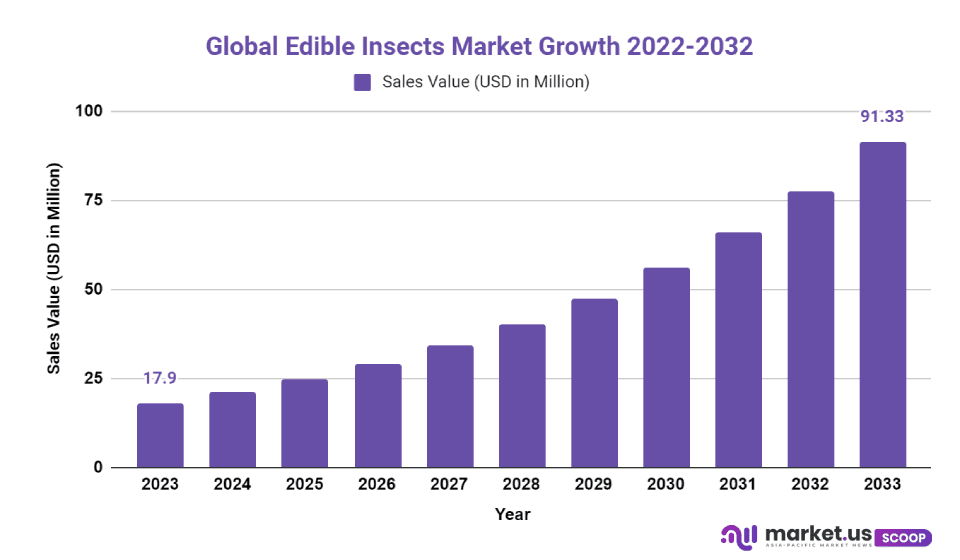 The fast-growing edible insects market offers exciting growth opportunities for competitors. A recent report by Market.us highlights some key strategies companies can adopt to benefit from the latest industry trends.
The edible insects market report provides an in-depth market overview, analysis, market size, market players, forecasts, market segments, and geographies. The market's leading competitors' revenues, profiles, and market shares are also mentioned.
Anurag Sharma, a senior research analyst at Market.us, said, " Rapid urbanization and a growing population will likely accelerate the market's growth. The main sensory factors influencing the acceptance of insect protein-based products are taste, texture, appearance, and smell. These are just a few of the factors that influence consumer acceptance."
Although most of the world's population eats insects in one form or another, edible bugs are becoming more popular in Europe and the USA. Amidst growing interest in sustainable food sources and a rising trend towards alternative protein, edible insects are the center of media and industry attention.
Many parts of the globe, including South Africa, Indonesia, Mexico, and Thailand, have bugs as a food source. People who live in these areas are more likely to eat insects whole. However, research has shown that processing insects can make people from Western cultures less inclined to eat bugs.
There are more than 1,900 species of edible insects that are eaten around the globe. They are a healthy part of many countries' diets. For Instance, Red dye carmine is obtained from the red-colored cochineal insects that live on prickly pear and cactus cacti. It's used in many food products, including yogurts, cupcakes, candies, and coffee. The source of red dye is the pigment carminic acid.
The product is expected to be in high demand due to the increased farming of insects and the lower cost of seafood due to the restrictions placed by many countries on the fishery. These invertebrates are gaining popularity due to their low price, high nutritional benefits, and minimal farming costs. This will positively impact the market growth. Insect farms are relatively cost-effective from a business perspective. They also have lower overhead and production costs than conventional livestock.
Asia-Pacific will account for the largest market share in the edible insect industry. Market growth in Asia-Pacific can be attributed to several factors, including established commercial farming markets in Thailand for edible insects, large production, a positive attitude towards eating insects as food, a lack of regulatory barriers, and key market players. Red palm weevils in Asia are a highly prized delicacy and are a favorite of many countries.
Regulations set by governments and other edible insect associations help to gain confidence. They provide safety and hygiene assurance. These regulations provide guidelines for producing insect protein-based products and the types of insects that can be used. They also specify the substrates that should be used to rear the insects.
---
---
Media Enquires
If you require any further information about a related market, please get in touch with us. we're happy to help you
+91 7008 614 496
+91 7008 614 496