Rising Demand in Wireless Microphone Market Driven by Cutting-Edge Innovations and Trends, says Market.us
---
---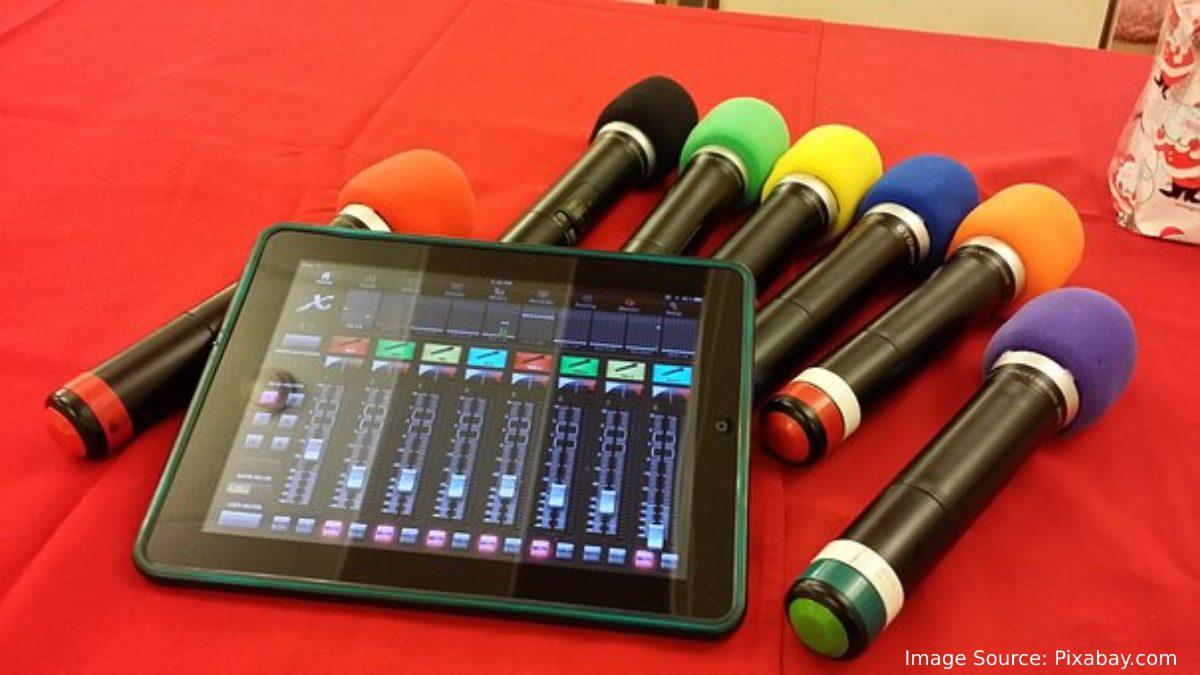 The wireless microphone market is a dynamic and growing segment of the audio industry, playing a critical role in enhancing the audio quality and versatility of a wide range of applications. From live events and performances to presentations, podcasts, and more, wireless microphones are essential tools for delivering clear, dynamic audio to audiences.
For businesses operating in the audio industry, investing in wireless microphone technology is an excellent way to stay ahead of the curve and meet the evolving needs of customers. With a range of innovative and high-quality products, businesses can improve their operational efficiency, increase customer satisfaction, and capture a share of the growing market for wireless microphones.
According to the latest report by Market.us," The Global Wireless Microphone Market is expected to grow at a CAGR of roughly 9.8% over the next ten years and will reach USD 4.56 Bn in 2032, from USD 1.79 Bn in 2022."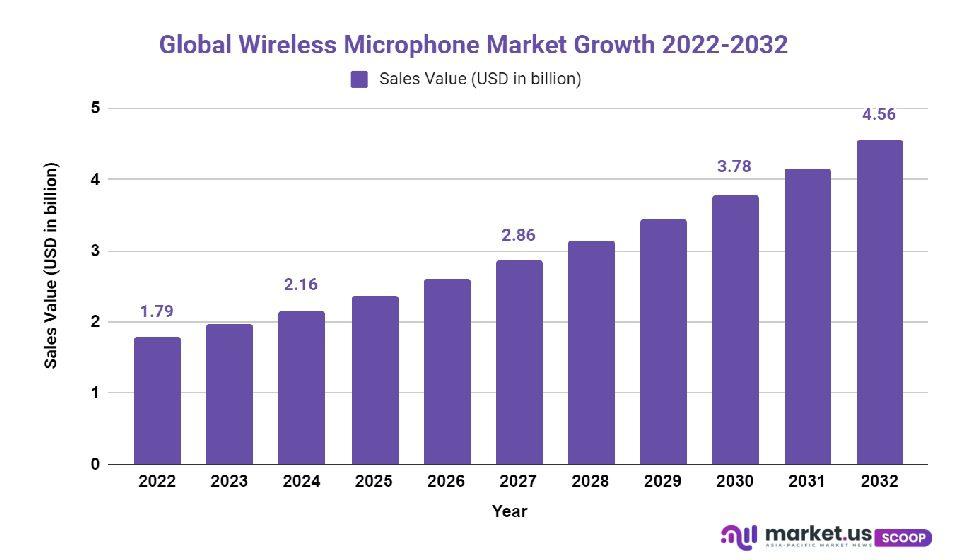 The fast-growing Wireless Microphone Market offers exciting growth opportunities for competitors. A recent report by Market.us highlights some key strategies companies can adopt to benefit from the latest industry trends.
The report highlights the key trends that will shape the Wireless Microphone Market going forward by giving information on the size of this fast-growing market development, drivers, trends, and which regions and segments are most important.
Anurag Sharma, a senior research analyst at Market.us, said," The market for wireless microphones is growing at an impressive rate. It is driven by advancements in technology, the increasing demand for high-quality audio, and the growing popularity of wireless audio products. Whether you're looking to expand your product portfolio, improve your competitive position, or take advantage of new market opportunities, the wireless microphone market is an exciting and rewarding space to be in."
The wireless microphone market is currently experiencing significant growth, driven by a number of trends and advancements in technology. One of the key drivers of growth is the increasing demand for wireless systems in professional audio applications, including live events, presentations, and TV and film production. The convenience and mobility offered by wireless microphones have made them an attractive alternative to traditional wired systems, leading to their widespread adoption in various settings.
Additionally, advancements in wireless technology, such as increased range, reliability, and battery life, have made wireless microphones even more versatile and user-friendly, further driving growth in the market. The integration of digital features and functions, such as frequency coordination and remote control, has also contributed to the increased popularity of wireless microphones.
Recent market developments include introducing advanced wireless microphone technologies, such as frequency-agile and digital wireless systems, which offer improved audio quality, increased range, and reduced interference. Additionally, advancements in battery technology have enabled longer operating times and greater reliability for wireless microphones.
Market.us has segmented the Wireless Microphone Market based on the following parameters:
By type, the market is segmented into Handheld, and Clip-on. The market share of the handheld segment in wireless microphones was 45% in 2022. This is due to its flexibility in positioning a handheld wireless microphone relative to its environment at all times. It also helps the presenter speak in an accurate spot.
In terms of Application, this market research report is further divided into Performance, Entertainment, Class/Training, and Conference/Meeting. The increasing use of wireless microphones in the music and film industries will make the entertainment segment the dominant market for wireless microphones by 2023. Between the 2022-2032 forecast period, the entertainment segment will see an 8.6% CAGR.
The major market players involved in the wireless microphone market are Shure Incorporated, Sennheiser Electronic GmbH & Co. KG, Sony Corporation, Samson Technologies Corporation, Audio-Technica Corporation, Rode Microphones Pty Ltd, AKG Acoustics GmbH, Bose Corporation, and many others.
Launching new and innovative products to cater to the changing needs of customers. They also aim to expand their market presence by entering new regions and countries. Along with that, they are also forming partnerships and collaborations with other companies to expand their product offerings and increase their market share.
In conclusion, the wireless microphone market is growing due to the increasing demand for wireless systems in professional audio applications, advancements in wireless technology, and the integration of digital features and functions. These trends are contributing to the continued growth and expansion of the market and positioning it for continued success in the future.
---
---
Media Enquires
If you require any further information about a related market, please get in touch with us. we're happy to help you
+91 7008 614 496
+91 7008 614 496