Robotics Prosthetics Revolutionizing Quality of Life for Disabled, Leading to Rising Demand, says Market.us
---
---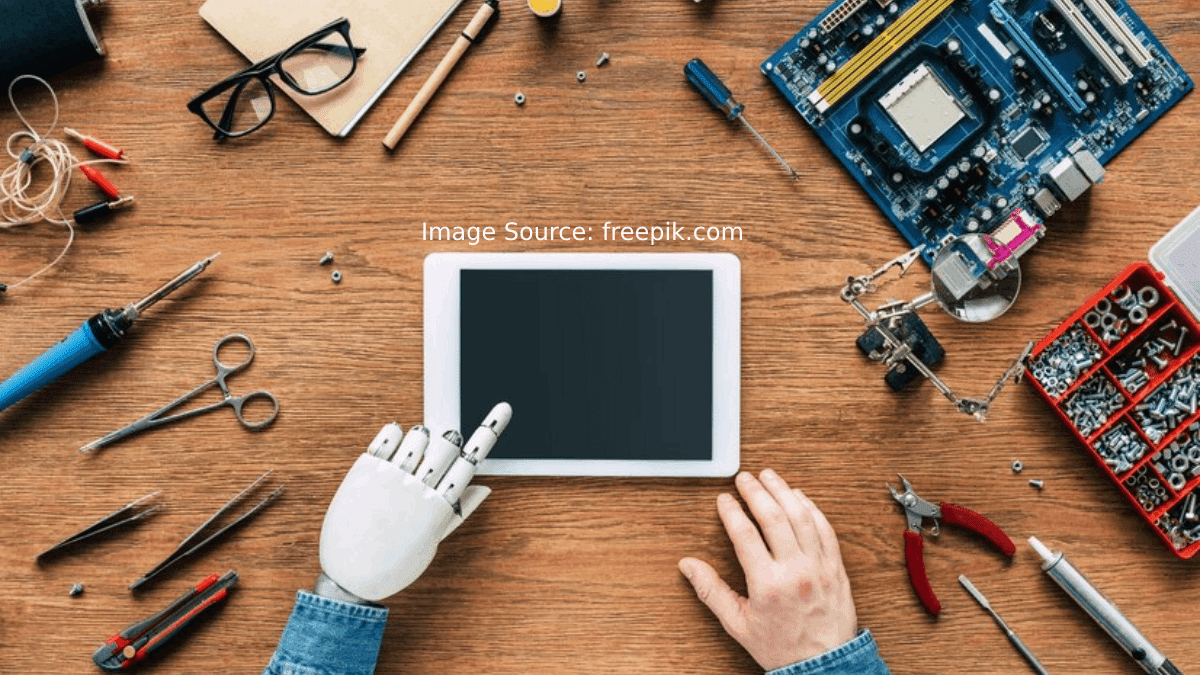 Robotics Prosthetics is a type of artificial limb that enhances the person's ability and life. Advanced Robotics Prosthetics can help to restore the normal capacity of missing limbs. Fake limbs can now be controlled by PC, brain, and sensation using cutting-edge innovation.
This Robotics Prosthetics Market is growing rapidly due to increasing interest in cutting-edge innovation, a developing geriatric population, and an increase in the prevalence of various illnesses.
As technology advances, the market for robotic prosthetics is growing. The most sought-after robotic prosthetics are those that aid people with disabilities in their daily activities, such as walking and climbing stairs. Robotic prosthetics can also be used to control wheelchairs remotely. This allows people to live a more normal lifestyle.
According to research by Market.us, "The global Robotic Prosthetics Market was valued at USD 1.38 billion in 2022. It is expected to grow at a 9.2% CAGR and reach USD 3.32 billion between 2023 and 2032."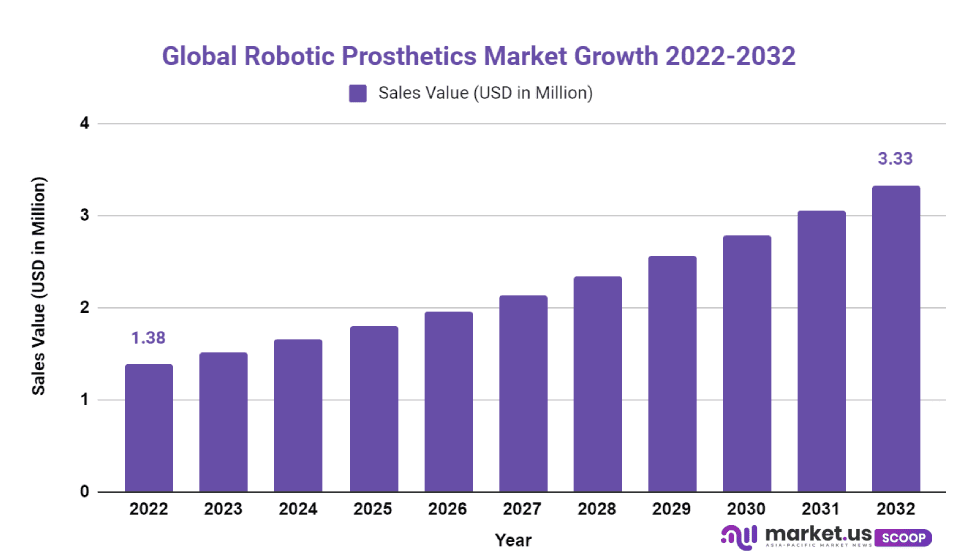 Gaurav Yadav, a senior research analyst at Market.us, said, "This market is driven by high innovation rates in robotics, including 3D printing and artificial intelligence. There has also been an increase in demand for custom-made bionic prostheses. Robotic prosthetics are being sought after due to high rates of amputation from injuries, chronic diseases, and congenital disorders."
According to Research in the United States, there are currently 2.1 million people living with limb loss. Amputation is often caused by chronic diseases such as diabetes, vascular conditions, and cancer.
An increase in the incidence of amputations due to vascular diseases, obesity, diabetes, and other conditions has increased market growth. This business was founded due to the increasing demand for robotic technology and government initiatives such as the Amputee Coalition (Centers for Disease Control), which support the acquisition and cost of prosthetic devices for amputees.
The market for robotic prosthetics is expected to grow from 2022 to 2029 due to an increase in leg amputations caused by cardiovascular disease, combat deaths, tumefaction, and intrinsic abnormalities.
Rising Demand for Robotic Prosthetics
This market will see significant growth due to the rising number of amputation cases on a global basis, major advancements in robotics, and many initiatives undertaken by various governmental organizations.
The growth of robotic prosthesis markets is being driven by the rise in ulcers, increased connectivity technologies like Bluetooth, microprocessor controllers, and robotic technology improvements. This has also led to an increase in stroke and other vascular diseases.
According to the American Academy of Physical Medicine and Rehabilitation (AAPMR), approximately 30,000-40,000 amputations in the United States were reported in 2019.
This has increased the demand for robotic prostheses. The market is also growing due to rising health awareness, government initiatives, and rising limb amputations caused by cardiovascular disease.
The high price and inadequacy of robotic prostheses may impede the market growth. Robotic prostheses have high costs due to technological advancements. However, the potential for market growth in the robotic prosthetic market is great.
The Robotics Prosthetics Market can be divided into MPC Prosthetics or Myoelectrical Prosthetics. MPC Innovation dominated the market in 2020. It is expected to grow at a rapid pace over the estimated timeframe.
Myoelectrical prosthetics will be the fastest-developing section in the timeframe. The Myoelectrical innovation is expected to lead to a greater portion of development in the estimated time.
---
---
Media Enquires
If you require any further information about a related market, please get in touch with us. we're happy to help you
+91 7008 614 496
+91 7008 614 496