Robots in Automation Are Now Increasingly Demanding Industrial I/O Modules, says Market.us
---
---
Safety IO devices are vital because of the need for reliable and efficient infrastructure in dangerous environments. The IO devices are used in the industry to optimize the automation process. Because these modules are integral parts of the input/output control systems, they reduce the time and cost of installation and, therefore, the need to use third-party mapping and relay equipment.
The increase in hazardous areas has led to a rise in safety IO module demand. The increasing number of accidents in these areas has led to the development of industrial regulatory standards. This has driven the market growth.
According to Market.us, "The Industrial I/O Modules market is expected to reach USD 3.1 billion by 2032, up from USD 1.76 billion in 2022. It will grow at a CAGR 5.8% over the forecast period 2023-2032."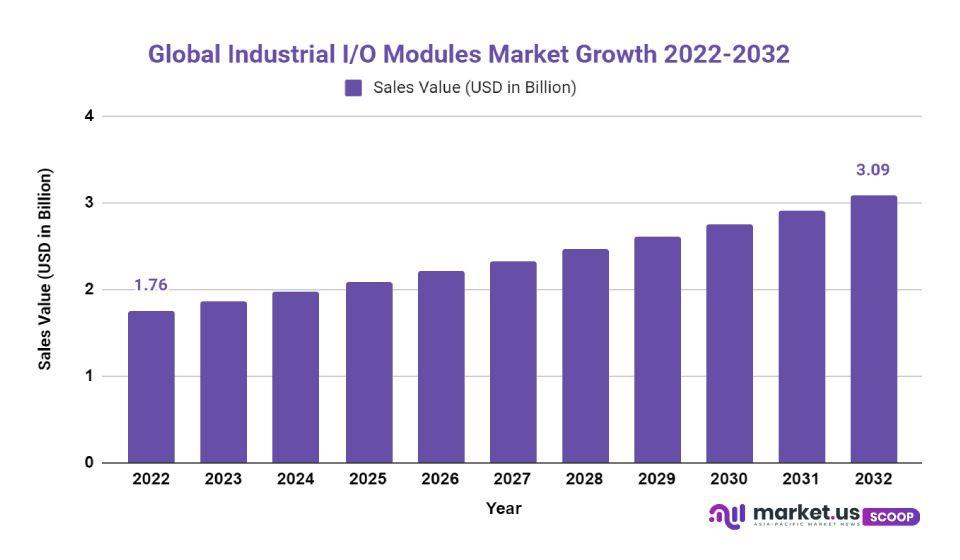 Gaurav Yadav, a senior research analyst at Market.us, said, "This growth is due to the increasing focus on power grid projects and the growing adoption of distributed control systems & programmable controllers in various industry verticals. Industrial networking is incomplete without I/O modules. They connect various systems, processes, and devices."
They make sure that obsolete equipment and peripheral devices are not merged using industrial standards. They allow data exchange between peripheral devices and the organization's network.
Increasingly, I/O modules are used because of the deployment of robots in the automotive, electrical, and electronic industries. The increasing use of artificial intelligence internet-of-things, coupled with a greater focus on industry 4.0, is another reason.
There are several factors that will change the outlook for the global Industrial I/O Modules market in the future. These include the growing trend towards automation and data sharing in industrial processes, as well as an increase in the use of communication modules in manufacturing technology.
You can also detect a failure at the IO or field device level, and enhance operator protection. These modules are now more suitable for use in hazardous areas due to their improved safety parameters. The future will see more technological advancements that will improve the safety of IO modules.
Safety IO modules offer all the benefits of a traditional distributed IO safety system. These modules allow one to monitor and control their safety devices.
The IO module is a mediator between the controller's device and another device. It monitors the information exchange between peripheral devices. An IO module can also be used to connect a programmable controller to other devices, especially field devices.
The Programmable Logic Controller, also known as the Programmable Logic Controller, may not have an IO module but instead integrate input and output ports. These ports are usually connected to actuators and sensors.
With a 36% share in 2021, the programmable Logic Controller I/O segment dominated the Industrial I/O Modules Market. This is due to the increasing use of modern technologies in supply chain management, growing acceptance of robotics, AI & IoT, and increasing automation in industrial sectors.
The market is also being aided by a shift to upgrading industrial production standards and increasing connectivity requirements for I/O modules. PLC I/O can identify and correct errors quickly, even when there is no human involvement.
PLC remote I/O modules can be run independently and are compatible with serial buses. These modules allow for flexible setup, low-cost data acquisition and monitoring of equipment, industrial process control, and environmental monitoring. The integration of IIoT technology with industrial modules increases cybersecurity, improves performance, and ensures connectivity.
Softing Inc. created manager AWS IoT SiteWise in November 2020 to offer seamless connectivity between Rockwell PLCs, and AWS IoT SiteWise cloud computing services for large-scale industrial analysis. The softening manager, a CompactLogix PLC module, plugs directly into the PLC chassis. It provides secure and direct transactions between the PLC & the cloud – there is no server, coding, or protocol translation.
Distributed control systems improve the safety of the vehicle's system and decrease the likelihood of traffic congestion, injuries, or accidents. These factors will have a significant impact on the Automotive market within the Industrial I/O Modules Market.
---
---
Media Enquires
If you require any further information about a related market, please get in touch with us. we're happy to help you
+91 7008 614 496
+91 7008 614 496