How plant-based cheese is taking over supermarkets
---
---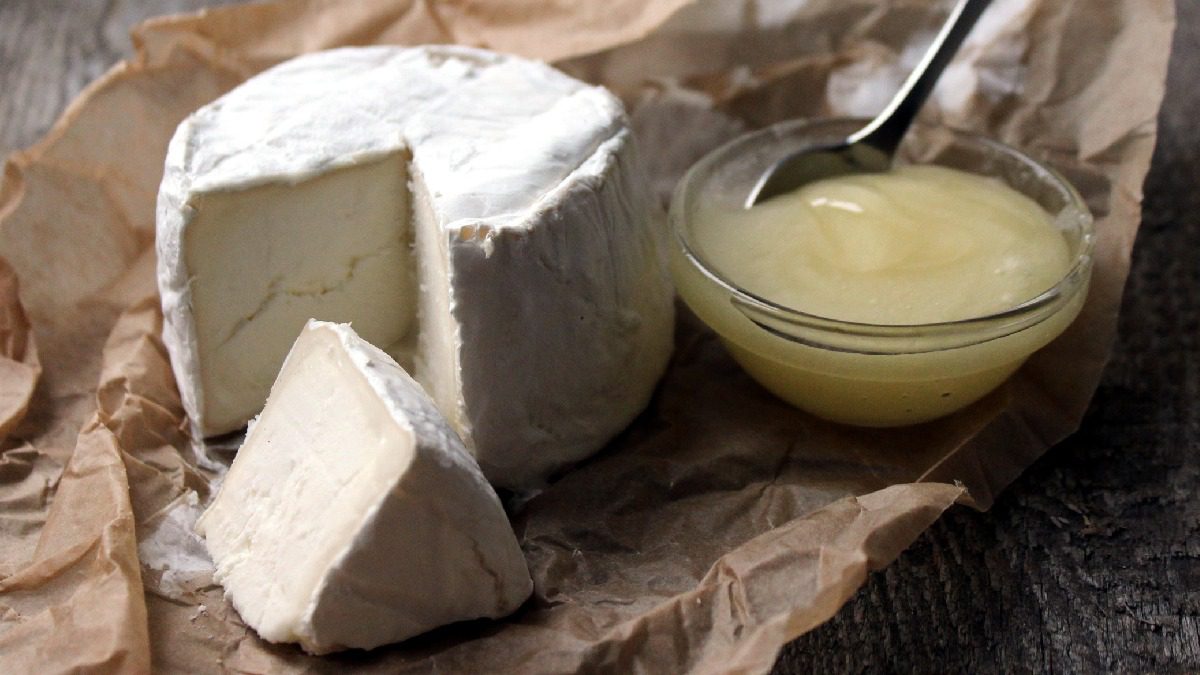 Healthy snacks are a growing market that positively influences the demand for specialty and handmade cheeses made with clean-label ingredients. Functional cheese, which is nutritionally rich, has seen a rise in demand due to healthy eating habits. Cheese is rich in protein, omega-3 fatty acids, and minerals. Healthy snacking is a growing trend that has driven demand for cheese, both in the retail and wholesale sectors.
According to market.us, "The Cheese market is projected to grow by USD 194.77 Billion by 2032 with CAGR 4.2%.
Anurag Sharma, the senior research analyst at market.us, said," The natural processing method of cheese attracts customers' interest in the fresh, handmade specialty, natural, and artisan cheese varieties, and it is premium and safer. Because of safety and nutritional benefits, clean-label milk is more popular. Organic milk products are becoming more popular because they contain no harmful content(chemicals) like conventional milk. It increases the demand and market growth of the organic cheese market."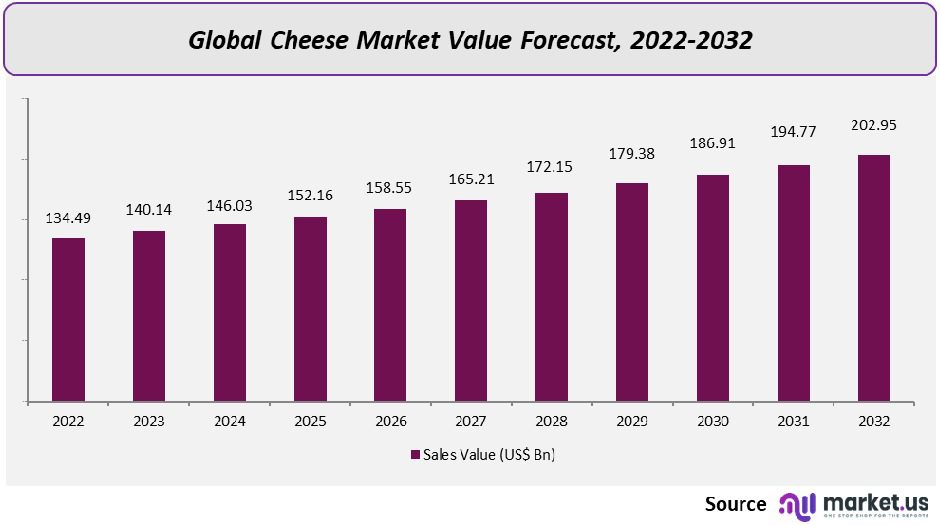 The demand for plant-based cheese from cashew, almond, and soya milk has increased significantly due to the increasing popularity of vegan diets. According to the Good Food Institute Inc. survey, plant-based cheese sales in the United States increased by 18%, while dairy sales increased by only 1%.
The rise of fast-food conglomerates is driving the cheese market growth. Fast food chains have created a culture of burger and pizza consumption all over the globe. Both are bound with cheese and sold at sponsored prices, which attracts buyers to the dishes. The biggest achievement of the cheese industry's movement was reaching the Asian market, where cheese was almost non-existent.
The Cheese market is being driven by two factors: urbanization and an increase in disposable income. The world is moving towards an incredible expansion of urbanization. This means that the number of families with more cash is increasing, leading to more frequent shopping trips and a greater demand for colorful goods.
People are turning to home cooking as they see cheddar as a good source of protein and fats, a new wave in wellness that has swept the world.
Because of the fast-growing sector, to develop products like powders and creamers, leading food service processors is necessary. In recent years, people have been interested in trying new cuisines and flavors. Mexican and Italian cheese varieties are getting used in different varieties. Flavored cheese is a category having flavors like fruit, spiced, and herbal, which meets consumer demand. 
Innovations and new developments in the cheese industry bring novel products to the retail marketplace. Chuckling cheese company launched gin flavored product in 2019 to capitalize on the growing demand for flavored cheese in the United Kingdom.
Diabetes and obesity are linked to excessive fat intake and increasing lifestyle-related diseases affecting the industry. As per the Global Diabetes community, U.K., In 2018, 415 million people were living with diabetes worldwide. And it is estimated to rise to an increase of 642 million by 2040.
To prevent such diseases and maintain overall health, consumers prefer low-fat foods. 
Although cheesemaking is an old craft, modern trends and techniques are giving new life to this favorite food. Products that contain lower sodium and can even be made without dairy are now available.
In America, 90% of people eat cheese. Both adults and children, whenever they snack throughout the day, they like to eat cheese.
In the cheese category, cheddar, mozzarella, and goat cheese have been long-standing favorites. The cheese industry is also getting reshaped because of a countrywide shift towards healthier foods.
Processed, natural, and imitation cheese are the three main categories in the retail cheese market. Each category can be divided into many subcategories, consisting of different types and groups of cheese. Innovations and advances in the development of new flavors of cheese, as well as artisan cheese varieties, will increase the market demand. 
To meet consumer demand for specialty cheddar, Aldi, a U.K. supermarket chain, came up with a new artisan cheese brand in 2020. The increasing popularity of premium product types is expected to increase market growth in the forecast period.
---
---
Media Enquires
If you require any further information about a related market, please get in touch with us. we're happy to help you
+91 7008 614 496
+91 7008 614 496