Secure Document Destruction Demand Bolsters Steady Growth in Paper Products Shredder Industry, says Market.us
---
---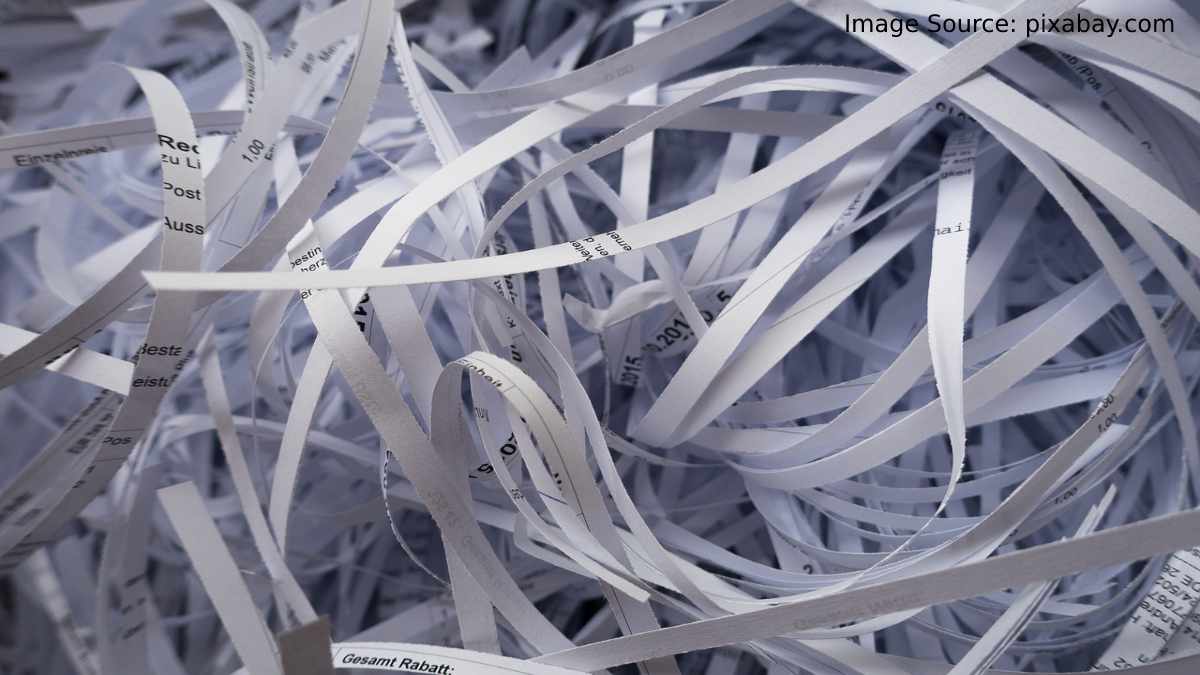 A paper products shredder is a machine that is used to shred paper-based materials into small particles or strips. It is commonly used to destroy sensitive or confidential documents, credit cards, and other paper-based materials. 
Paper shredders come in a variety of sizes and styles, from small, personal shredders for home use to large industrial shredders for commercial and government use. They are designed to securely destroy paper-based materials, making it difficult or impossible for anyone to reassemble the shredded documents.
According to the latest report by Market.us, "The Global Paper Products Shredder Market is expected to grow at a CAGR of roughly 7.6% over the next ten years and will reach USD 4.58 Bn in 2032, from USD 2.2 Bn in 2022."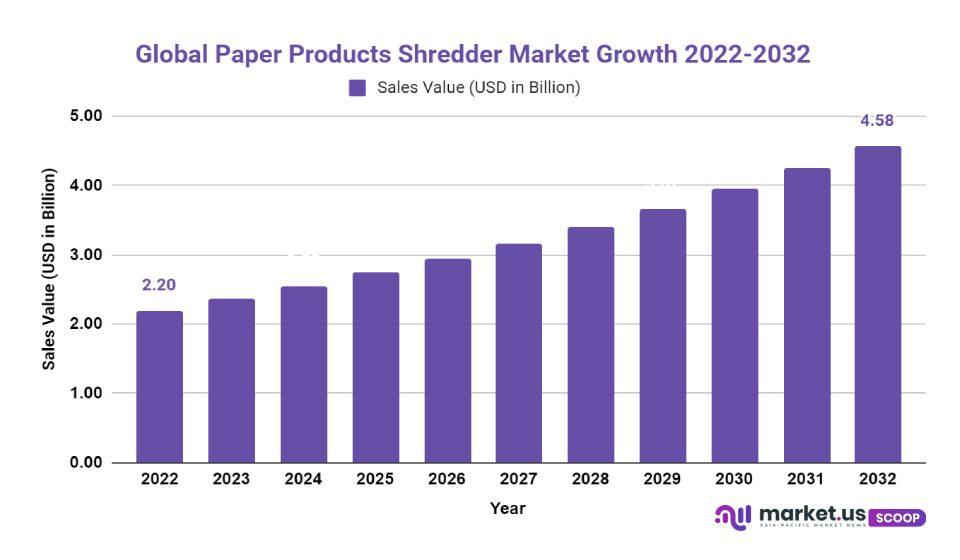 The fast-growing Paper Products Shredder Market offers exciting growth opportunities for competitors. A recent report by Market.us highlights some key strategies companies can adopt to benefit from the latest industry trends.
The report highlights the key trends that will shape the Paper Products Shredder Market going forward by giving information on the size of this fast-growing market development, drivers, trends, and which regions and segments are most important.
Gaurav Yadav, a senior research analyst at Market.us, said, "The market is driven by increasing demand for secure document destruction, particularly in the business and government sectors. The growing need for data security and the increasing adoption of digitalization has also driven the market for paper product shredders." 
Additionally, the rise in identity theft and fraud has led to increased regulations and laws requiring businesses to destroy sensitive and confidential information, which has also contributed to the growth of the paper products shredder market.
The paper products shredder market is expected to grow at a steady pace in the coming years, driven by increasing demand for secure document destruction and growing regulations for data security. 
The advent of new technologies, such as cloud storage, and the increasing adoption of digitalization, are also expected to drive the market for paper product shredders.
Some companies constantly innovate and develop new technologies to improve their products, increase efficiency, and reduce costs. This can include developing more secure shredder technology, such as micro-cut shredders, and incorporating features such as automatic oiling and jam prevention. 
Furthermore, many companies are also increasing their focus on sustainability and developing eco-friendly shredders. Another trend is seen in companies that are expanding their product lines to include other office equipment, such as paper folders, binding machines, and laminators. 
Market.us has segmented the Paper Products Shredder Market based on the following parameters:
By type, the market is divided into Strip Cut, Cross Cut, and Micro Cut. The Cross Cut type of paper shredder is the major application segment in Paper Products Shredder Market. This is due to the balance between security and cost. They provide a high level of security and are more affordable than micro-cut shredders, making them a popular choice for offices and homes.
In terms of application, this market research report is further divided into  Commercial Paper Shredders and Office/Residential Paper Shredders. It's worth noting that the commercial paper shredder segment is the major segment in terms of market share and revenue. 
This is due to the large-scale usage of commercial paper shredders in various industries, such as government, finance, and healthcare, which require the shredding of large volumes of sensitive documents and information.
The Asia Pacific region is expected to grow at the highest CAGR during the forecast period due to increasing demand from developing countries such as China and India. 
The North American region is also a major market for paper shredders due to the presence of major players and the increasing adoption of shredders in various end-use industries such as government, banking, and healthcare. 
Major players profiled in the report include Vecoplan LLC, Zhengzhou Huahong Machinery Equipment, Widesky Machinery, Franssons, Allegheny Shredders, WEIMA Maschinenbau GmbH (Germany), Zhangjiagang Sevenstars Machinery, Fellowes Brands, Kobra Shredder, and Krug & Priester GmbH & KG.
These companies have a significant presence in the market and offer a wide range of paper shredders for various applications and industries. Some of these companies have been developing new and advanced shredder technologies, expanding their product lines, and increasing their global reach through collaborations, partnerships, and acquisitions.
---
---
Media Enquires
If you require any further information about a related market, please get in touch with us. we're happy to help you
+91 7008 614 496
+91 7008 614 496