Smart, Interactive Tech Enhancing Customer Experience with Exposure of Digital Signage, says Market.us
---
---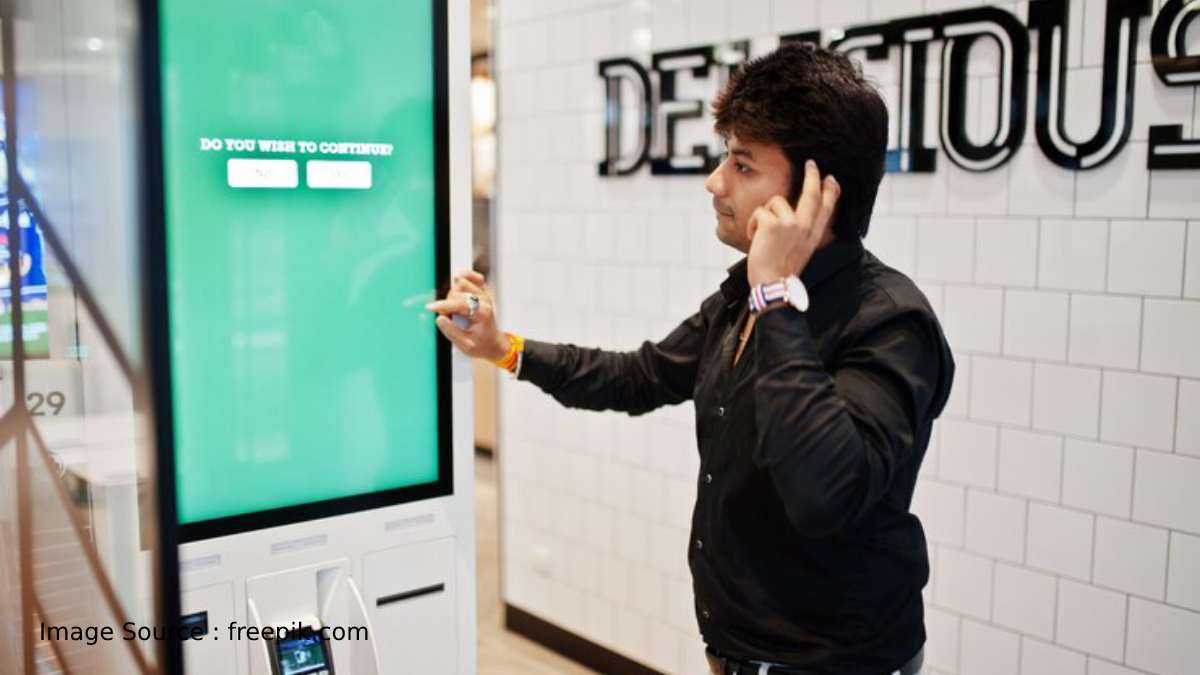 Over the years, display technology has evolved and matured. Businesses, engineers, designers, architects, and other professionals no longer need to locate wall space to house one or more screens. The wall can now be the display. Digitalized display technology, which is a new type of display technology, allows for information to be displayed in a digital format. This includes motion and images. It can also help promote businesses more effectively.
According to the latest report by Market.us," The Global Digital Signage Market is expected to grow at a CAGR of roughly 6.7% over the next ten years and will reach USD 49.73 Mn in 2032, from USD 26 Mn in 2022."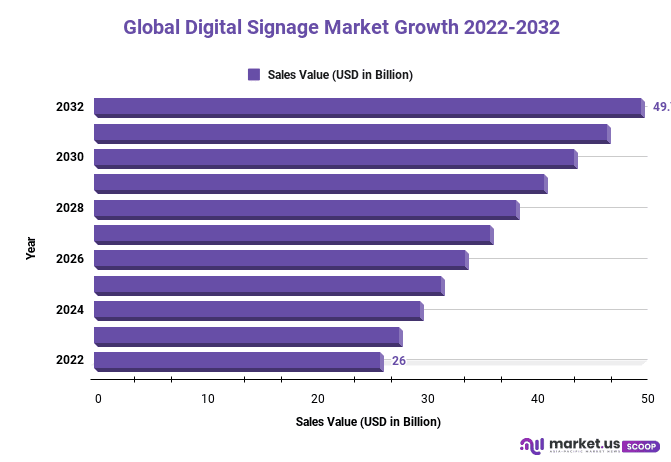 The report highlights the key trends shaping the Global Digital Signage Market in the upcoming years. This report provides qualitative and quantitative analysis in terms of market dynamics, competition scenarios, opportunity analysis, recent developments, market growth, etc., for the forecast year up to 2032.
Gaurav Yadav, a senior research analyst at Market.us, said," Digital Signage is an area that companies have yet to explore. Smart, interactive technologies are being used by organizations to enhance customer experience. This is a great way to promote one's business; the only limitation is your imagination. The main objective is to attract the target audience's attention and surprise the entire world."
Digital Signage vendors provide a variety of ways for consumers to interact with information provided by entertainment and advertising companies. Both retailers and customers will benefit from interactive digital signage and touchscreen technology that accelerates digitalization.
The evolution of OLED, UHD, OLED, and LCD fuels the industry's growth. This technological advancement has increased the reach of digital ads to the intended audience. LED-based displays can be produced using manufacturing advancements and miniaturization. They are crisper and more accurate than flat-panel commercial displays as well as consumer televisions. Adopting these advanced technologies in display systems will help boost the digital signage market.
The demand for 4K digital sign displays with embedded software, media players, and other features is increasing as it provides customers with an affordable Ultra HD digital signage solution. This will also drive demand. The development of new products, such as leak detector systems and home monitoring systems, will drive product demand.
Retailers can use a market to create a pleasant shopping environment. It will encourage information-driven shoppers to look around, pause and then purchase products or services. Digital signage allows retailers to project images and videos to promote products and grab viewers' attention. Retailers can arrange displays and create content to create an artistic, dynamic atmosphere.
The Cisco IBSG survey found that over 40% of shoppers believe digital displays like video walls can make a difference in what they buy. Retailers have seen a rise in brand awareness and sales by using digital signage to communicate relevant information to customers near the point where they are buying.
For Instance, Ebebek was a mother and baby product retailer based out of Turkey. Phygital Mind, a retail specialist based in Istanbul, used large-format interactive kiosks to offer a new concept for customer experience. Interactive touch screens are key to this experience. They make information and products easily accessible to customers and associates in stores.
Smart, interactive technologies are being used by organizations to enhance customer experience. Touchscreen software and interactive digital signage are helping to accelerate the digitalization of retail businesses. This is a win-win situation for both customers and retailers.
Interactive technologies such as touch screens, tables, and video walls are very much becoming a reality. Smart retail solutions also include payment options and self-order terminals.
Many businesses have been embracing the integration of digital signage and biometric technologies in recent years. Using this integration, many companies have created products that track heat and help with gaze tracking. Gaze tracking technology can locate a densely populated area, indicating a greater number of customers. This is a powerful marketing tool that helps vendors track consumer behavior.
"The Highest Goal" was a campaign launched by Adidas in Tokyo. The interactive projection was placed 200m above the ground. To throw the football, users had to download an App. This campaign was very popular and was covered by international media outlets.
There is an increasing demand for advanced products that need digitized information management and guidance, which can be accessed remotely. This will be one of the major drivers for the industry's growth over the forecast period. Large display screens provide the required quality information to large audiences.
Digitized display technology provides digital information, including motion and images, to draw customers. This makes it more effective than traditional methods of reaching customers.
---
---
Media Enquires
If you require any further information about a related market, please get in touch with us. we're happy to help you
+91 7008 614 496
+91 7008 614 496