State-of-the-Art Solutions In the Digital Pathology Market For Combating Rising Chronic Conditions is in Demand, says Market.us
---
---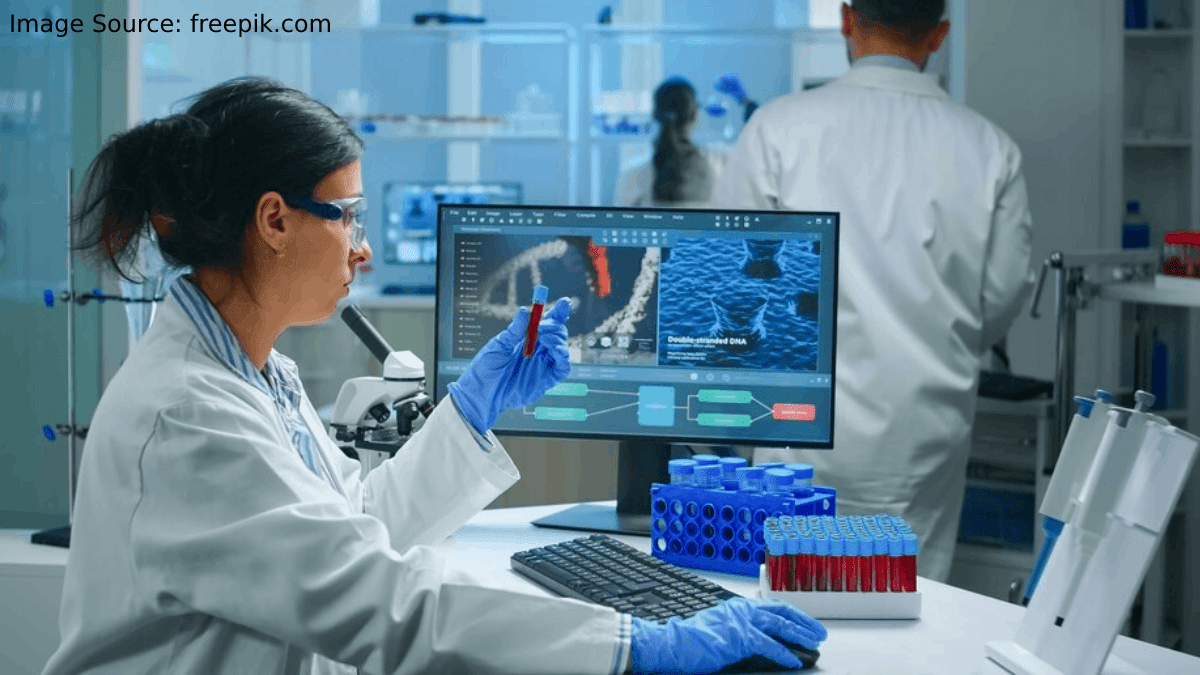 Digital pathology, a sub-field within pathology, focuses on data management using information from digital specimen slides. Digital pathology uses glass slides to convert them into digital slides, which can be managed, shared, analyzed, and viewed on a computer monitor.
The practice of Whole-Slide Imaging, which is also known as virtual microscopy or pathology, is growing. It has many applications in diagnostic medicine. With the success of Artificial Intelligence and Machine Learning, the goal is to make it easier and more affordable to diagnose, prognosis, and predict diseases.
Digital pathology and virtual microscopy are two of the most commonly used terms in modern pathology. Digital pathology is increasingly being used in the treatment and management of chronic and infectious diseases such as cancer, heart disease, and hepatitis.
According to research by Market.us, "The Digital Pathology market in the world was USD 1 billion in 2022. It is expected to reach USD 2.06 billion by 2032. This projection represents a 7.5% increase in CAGR over the 2022-2032 period."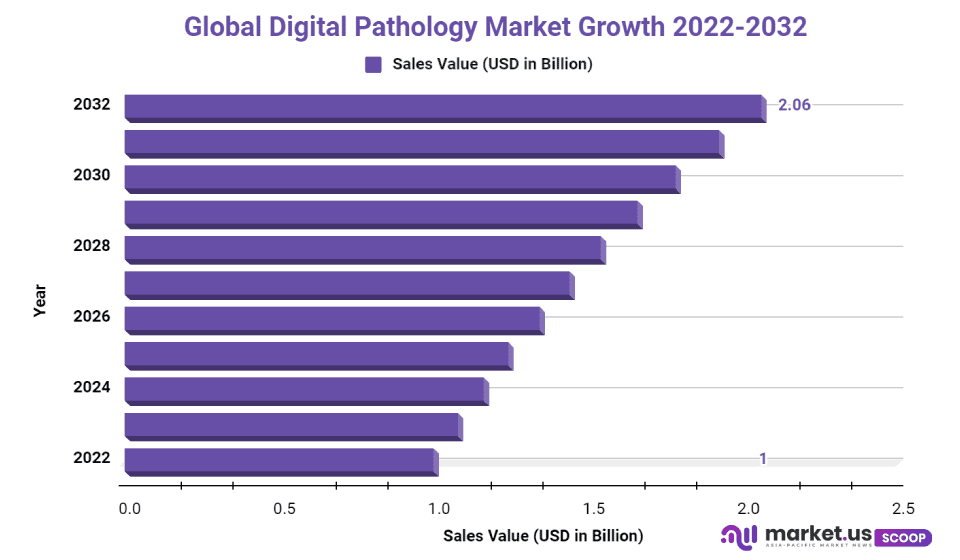 Anurag Sharma, a senior research analyst at Market.us, said, "The global digital pathology market has seen a significant increase in cancer incidence, a rise in demand for accurate diagnosis, and the development of new digital pathology systems by many key players."
Medscape published a report that chronic diseases are associated with a higher mortality rate. The rise in cardiovascular diseases is the main reason for the need to develop advanced diagnostic solutions.
As the number of cardiovascular and chronic diseases increases, so does the demand for pathology systems, which is driving the market growth in pathology.
The market has been driven by a greater focus on workflow efficiency and demand for quicker diagnostic tools for chronic diseases such as cancer. Digital pathology will be more in demand due to the rising incidence of chronic conditions.
This will increase the clinical urgency to adopt pathology. It will improve existing diagnostic imaging methods for patients and reduce the high costs associated with traditional diagnostics. The demand for advanced diagnostic technologies will also increase due to the growing number of elderly patients who are susceptible to chronic diseases.
Increased use of pathology to improve lab efficiency. Digital pathology can be used to reduce costs and decrease turnaround times. The government declared social distancing and lockdown in response to the COVID-19 pandemic.
These restrictions have raised the demand for pathology solutions as they can be used to diagnose the primary diagnosis and view the results. A large number of pathologists are now using pathology to increase their business.
As digital pathology services become more available, healthcare organizations are beginning to explore this field as a new way to improve their workflow. The pathology market is an ever-evolving industry, as technology continues to progress and improve.
In recent years, there has been a major shift from traditional pathology techniques to digital methods. This change has enabled the industry to take advantage of new trends in the field, such as improved accuracy and ease of use.
AI-based tools such as clinical decision support systems (CDS) aid in streamlining hospital workflows and improving patient care. Roche announced in October 2021 that it had entered into a contract to work with PathAI, an international leader in AI-powered technology for Pathology. The development and distribution agreement will see the two corporations jointly create an embedded image analysis workflow to aid pathologists.
---
---
Media Enquires
If you require any further information about a related market, please get in touch with us. we're happy to help you
+91 7008 614 496
+91 7008 614 496