Urban rail transit system comprises the railway transport system functioning within urban and sub-urban areas, and includes metros, sub-urban trains, trams, etc. This system is generally operated by associated governing authorities; however, in several countries, it is operated by the governing authorities along with privately-owned companies. Urban rail transit system plays an important role in transportation sector, especially in densely populated cities and countries. Thus, safety of large number of commuters travelling daily is of prime importance and is also one of the objective of urban rail transit system.
"Global Urban Rail Transit Market (by Rail Transit Type, and End User, and Region) Forecast: 2020 to 2029" – a recently created and published report by analysts at Market.us. The global urban rail transit market was valued at US$ 0.14 Billion in 2019. The global market is projected to reach a value of US$ 0.22 Billion in 2029, and register CAGR of 4.7% over the 10-year forecast period.
Driver and Restraints: Global Urban Rail Transit Market
Rapid urbanization, increasing global population and need for economical and safe mode of transportation are among the major factors expected to drive growth of the global urban rain transit market. For instance, as per the World Bank, around 54% of the total population live in urban areas and this is expected to increase exponentially on yearly basis. In addition, increasing number of on-road vehicles and inclining fuel prices across the globe are other major factors augmenting demand and use of railway transportation. Moreover, increasing technological advancements such as autonomous rail transit types and with enhanced safety and time-saving benefits is attracting higher number of passengers to use this public mode of transportation. Also, considering the increasing pollution levels by on-road vehicles, and comparatively lesser emissions by rail transit systems has prompted the government of various countries to focus on development of railway infrastructure. This, in turn, is projected to fuel growth of the global urban rail transit system market.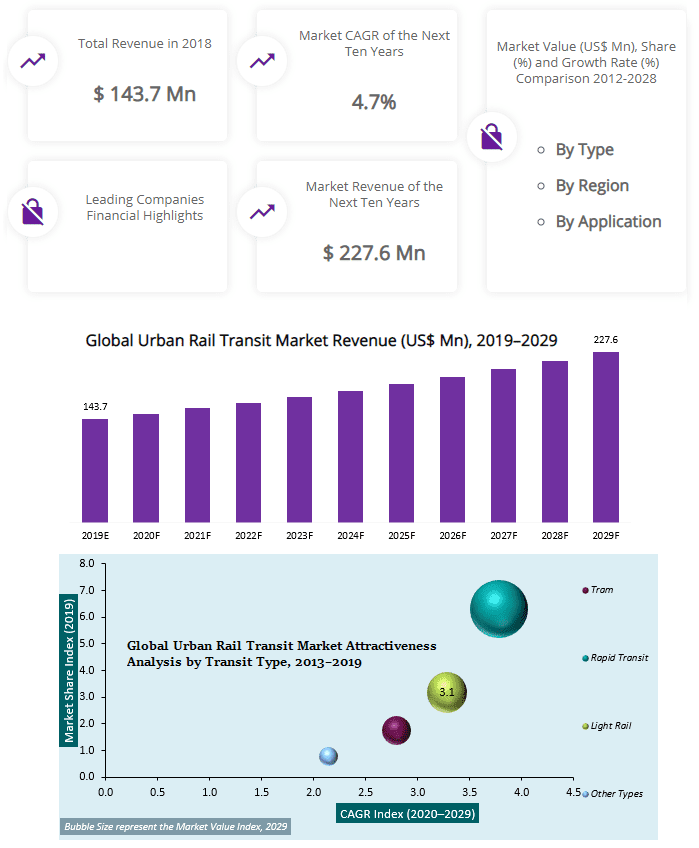 Segment and Region Snapshot: Global Urban Rail Transit Market
By Device Type: The rapid transit segment is expected to account for majority revenue share in the target market. The rapid transit segment is also projected to register the highest compound annual growth rate over the 10-year forecast period. The light rail segment is expected to account for second-highest revenue share in the global market with attractive index of 3.1. in 2019. By End User: The student segment is expected to account for highest revenue share in the global market, followed by the commuter segment.
By Region: Europe urban rail transit market is expected to dominate in the global market in terms of revenue contribution. The North America and Asia Pacific markets are expected to account for significantly higher revenue shares in the years to come. In addition, the Asia Pacific market is projected to register comparatively higher growth rate over the next 10 years, owing to One Road One Belt (OBOR) global development strategic movement initiated by China, aiming at enhancing connectivity between among several countries across various continents such as Asia Pacific, Europe, and Africa. This is expected to offer lucrative revenue opportunities to players operating in the global market.
Major Key Players profiled in the reports are Siemens Aktiengesellschaft, Knorr-Bremse AG, Hitachi Ltd., CAF (Construcciones y Auxiliar de Ferrocarriles), PESA Bydgoszcz SA, Thales Group, Wabtec Corporation, Alstom S.A, Bombardier Inc., Mitsubishi Electric, Robert Bosch GmbH, Bharat Forge,Stadler Rail, PC Transport Systems.