The Evaporated Milk Market to Expand as Consumers Consider it as the Perfect Substitute, says Market.us
---
---
A number of factors, such as the downstream application sector's extensive scope, high nutritional value, lengthy shelf life, and affordable pricing, can be attributed to the market's expansion. A rise in the usage of evaporated milk in household environments is also ascribed to shifting gastronomic preferences.
Evaporated milk is fresh milk that has been compressed to remove 60% of its water content. Unsweetened condensed milk prepared from evaporated milk is popular with consumers. Because of its extensive use in a variety of end uses, such as food and beverage goods including shakes, coffee, and others, evaporated milk demand is rising in the market. This made evaporated milk, which was especially well-liked prior to refrigeration, a trustworthy substitute for perishable fresh milk since it could be easily transported to areas lacking in safe milk production or storage.
According to Market.us' research, "The market for evaporated milk is valued at USD 6.29 billion and is projected to expand at a CAGR of 2.1% in 2022, and it is projected to reach USD 7.74 billion by 2032."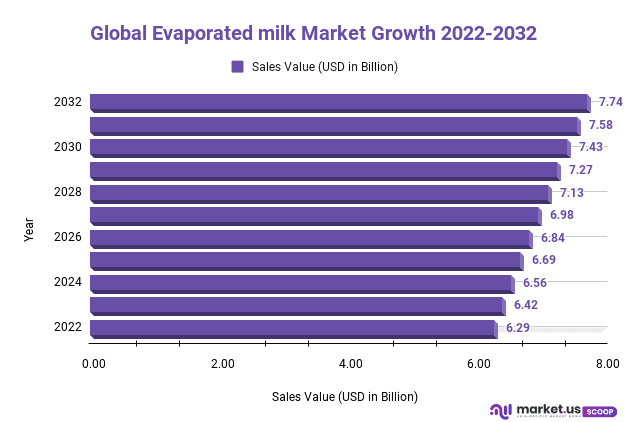 The report highlights the key trends shaping the Evaporated Milk Market in the upcoming years. It gives information on the size of this fast-growing market. Along with an in-depth analysis of which regions and segments are major game changers.
Anurag Sharma, a senior research analyst at Market.us, said, "The global food and beverage market is expanding quickly. This is increasing consumer demand for healthier versions of common food items like milk. There are several uses for evaporated milk in the industry. It can be found in savory sauces, coffee, creamy soups, chowders, porridge, and smoothies. During the projection period, it is projected that the rise of the food and beverage industry, along with all these applications, will drive the market."
The market for evaporated milk is seeing an increase in demand for evaporated milk for residential uses. Demand for evaporated milk is expanding in the food and beverage industry. A considerable increase in demand for evaporated milk has also been observed in the bread and confectionery sectors. The food and beverage sectors generally employ evaporated milk to process food and make milk-based beverages. Additionally, it is added to baby food. The market for baked products and milk-based confections is seeing an increase in the demand for evaporated milk. Additionally, it is used in baby food.
When traveling, hiking, or camping, evaporated milk is a practical choice. Generally speaking, this product does not require refrigeration and has a much longer shelf life. It is also simpler to carry because it is light, clean, and doesn't need special packaging for containers. But as evaporated milk is a by-product of regular milk, particular changes in the prices of the products upstream will affect how much it costs to produce evaporated milk. This might significantly affect market expansion.
The demand for dairy-free evaporated milk is rising due to the growing veganism trend in industrialized and developing nations. Consequently, chances for increasing industrial demand will be created.
Since the highest rates of evaporated milk production and consumption occurred in North America and Europe, where businesses like Nestle S.A. and O-AT-KA Milk Products Cooperative are located, it is reasonable to assume that demand will rise during the projected period.
In addition, Asia Pacific saw a significant boom over the past few years due to population growth and expanding food sectors. The projection period is expected to see an increase in the consumption of evaporated milk due to rising awareness and urbanization in the Middle East and Africa.
The food and beverage industries are experiencing a rise in the demand for this milk as well. When making milk-based beverages and in the food industry, evaporated milk is frequently used. In response to the rising demand for organic products, manufacturers are creating new evaporated milk products.
To meet the needs of a diverse consumer base, this milk is provided in a variety of container designs. The market is expected to grow as a result of these factors. The expansion of the market can also be related to the demand for milk from nations with scarcity and bad quality of the product.
It is expected that regular milk price fluctuations will hamper industry expansion. Additionally, compared to ordinary milk, evaporated milk includes more protein and lactose per volume. As a result, those who are lactose intolerant cannot consume it. This further limits market expansion. There is a rising demand for dairy-free evaporated milk on the global market as a result of the expanding veganism trend in both developed and developing nations. Consequently, opportunities to increase industry demand are produced.
---
---
Media Enquires
If you require any further information about a related market, please get in touch with us. we're happy to help you
+91 7008 614 496
+91 7008 614 496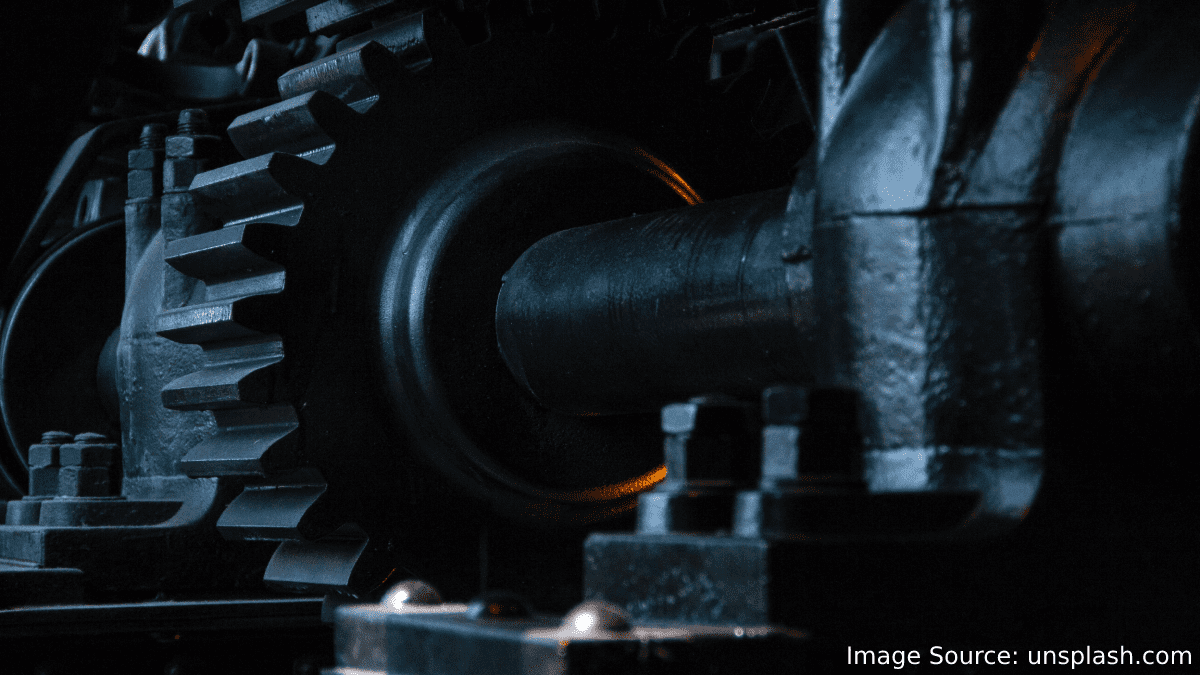 The Manufacturing Sector Finds Untapped Potential in the Gear Motors Market, says Market.us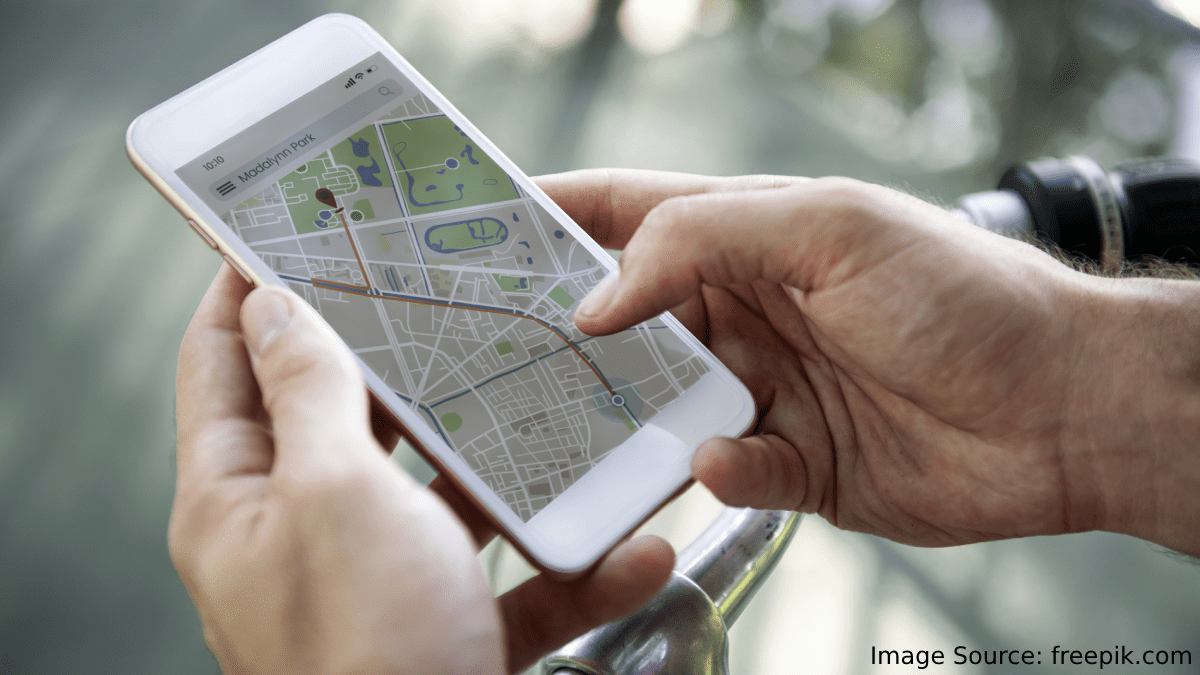 The Surge of Growth in GPS Tracking Devices in the Automotive Industry Spurs Innovation, says Market.us