The Future is Here as Action Camera Market Embrace Cutting-Edge Technology
---
---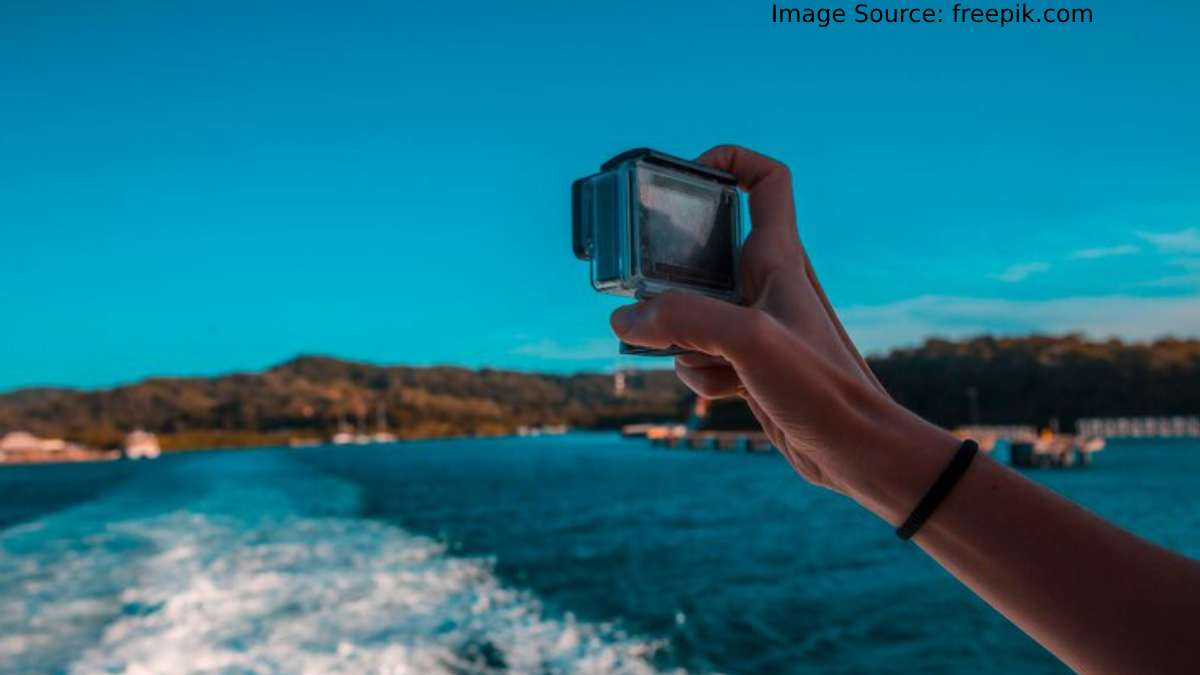 Action cameras are the ultimate tool for capturing life's most thrilling and adventurous moments. Whether you're skydiving, surfing, or just exploring new terrain, action cameras provide a compact, durable, and high-quality way to capture the experience.
The action camera market is growing rapidly, driven by increasing demand for high-quality and versatile cameras that can keep up with our active lifestyles. With advancements in technology, the quality of action cameras has improved significantly, making it easier than ever to capture high-definition video and photos in any environment.
From amateur photographers to professional videographers, action cameras are a must-have tool for capturing life's most exciting moments. Get ready to immerse yourself in the world of action cameras and discover the endless possibilities they offer!
According to the latest report by Market.us, " The Global Action Camera Market was valued at USD 5,292 million in 2021. It is forecast to experience a 15.9% CAGR over the forecast period up to 2032."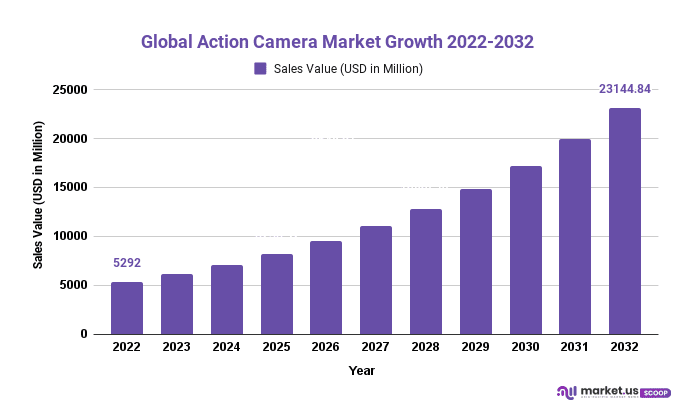 The fast-growing Action Camera Market offers exciting growth opportunities for competitors. A recent report by Market.us highlights some key strategies companies can adopt to benefit from the latest industry trends.
The report highlights the key trends that will shape the Action Camera Market going forward by giving information on the size of this fast-growing market development, drivers, trends, and which regions and segments are most important.
Gaurav Yadav, a senior research analyst at Market.us, said," The action camera market is experiencing explosive growth, driven by a range of factors, including the increasing popularity of action sports and outdoor activities, advancements in technology, and growing demand for high-quality and versatile cameras."
The trend of capturing and sharing life's experiences on social media is also contributing to the growth of the action camera market, as consumers look for the best way to share their adventures with friends and followers.
Action cameras are now more accessible than ever, with a wide range of options available at different price points to suit every budget. Advancements in technology have also made action cameras more user-friendly, with features such as waterproofing, high-definition video, and improved image stabilizationisation. These improvements are making action cameras a popular choice not just for extreme sports enthusiasts, but also for travel enthusiasts and families looking to capture their holiday adventures.
With the roll-out of 5G networks, action cameras are expected to become even more connected, allowing for real-time streaming and the transfer of large files quickly and easily.
AI is playing an increasingly important role in the action camera market, with companies incorporating AI-powered features such as image recognition, tracking, and stabilizationisation into their products.
With the rise of e-commerce and online shopping, the action camera market is becoming more accessible to consumers around the world, making it easier for people to purchase the cameras and accessories they need to capture their experiences. The growth of the action camera market is expected to continue in the years to come, driven by the continued popularity of action sports and outdoor activities, as well as advances in technology and growing demand for high-quality and versatile cameras. Get ready to capture life's most exciting moments like never before!
Market.us has segmented the Action Camera Market based on the following parameters:
By Resolution, the market is divided into Standard Resolution, HD, Full HD, and Ultra HD. Because Ultra HD (UHD), has many advantages for the user, there is a high expected CAGR for this segment.
In terms of Distribution Channels, this market research report is further divided into Retail and Online. As consumers prefer to inspect the camera and its features in person, the largest share is held by retailers.
By Application, the market is divided into Recreational Activities, Sports, Emergency Services, and Other Applications. Market share in the Sports segment is higher than the rest. This can be attributed both to an increase in adventure sports and increased media exposure.
The main key players in the action camera market include GoPro, DJI, Sony, Yi Technology, Olympus, Garmin, SJCAM, Insta360, Akaso, TomTom, and many others.
These companies are at the forefront of innovation and technology in the action camera market, offering a wide range of products with cutting-edge features and technologies to meet the diverse needs of consumers. From high-definition video to waterproofing and image stabilizationisation, these companies are constantly pushing the boundaries of what is possible with action cameras.
Whether you're a professional videographer or an amateur photographer, these key players are providing the tools and technology needed to capture life's most exciting moments.
---
---
Media Enquires
If you require any further information about a related market, please get in touch with us. we're happy to help you
+91 7008 614 496
+91 7008 614 496