The Surge in Skin Ailments Driving an Increase in Prescription Dermatological Drugs Industry, says Market.us
---
---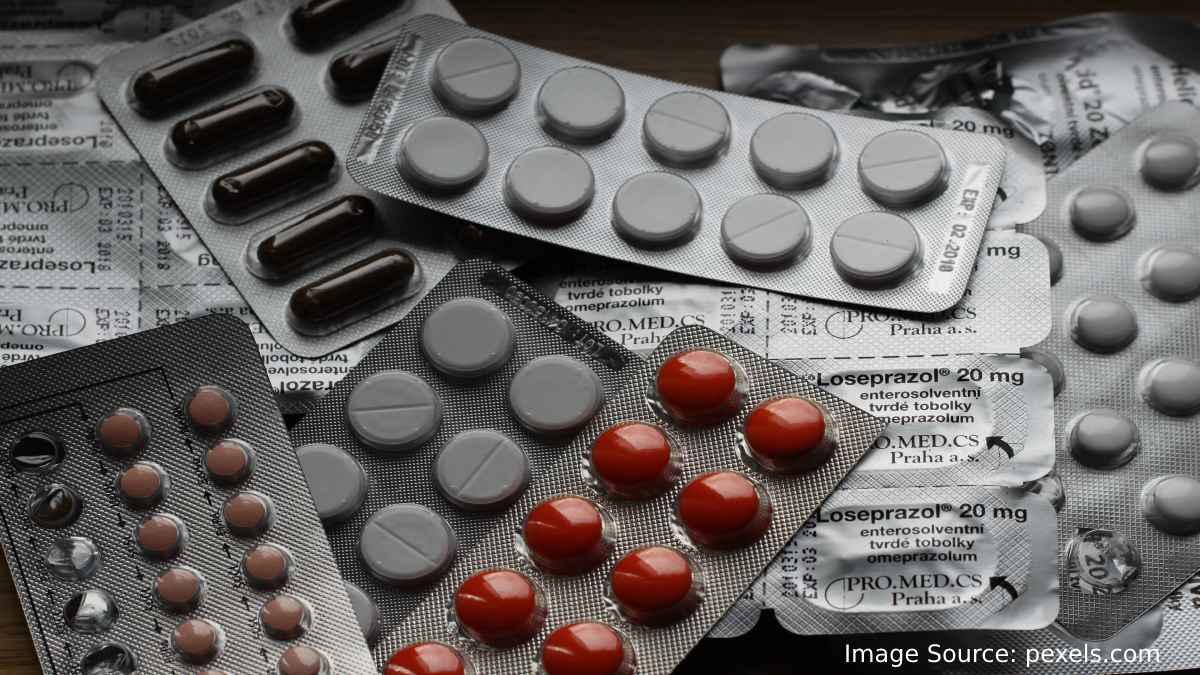 The Prescription Dermatological Drugs market is expanding rapidly because it deals with dermatology, a treatment area that treats skin, hair, and nail diseases. The most common conditions include psoriasis and eczema. Prescription Dermatology drugs can be used to treat skin, hair, and genital diseases.
Corticosteroids and retinoids are the most common dermatological drugs. Market growth is expected to be driven by factors such as the increased availability of medical resources to diagnose and treat skin diseases. 
According to Market.us' research, "The Prescription dermatological drugs market size was valued at USD 17.5 billion in 2021 and is expected to expand at a compound annual growth rate (CAGR) of 13.2% from 2022 to 2032."
There are many reasons skin and related issues can occur, such as improper body care, excessive sweating, eating hot foods, and wearing restrictive clothing. The market is seeing increased medication sales used to treat skin conditions. The industry can benefit from increased public awareness of hair and skin infections. 
As a result, the popularity of OTC medications (over-the-counter) has increased. Hormonal fluctuations are a major reason many teenagers and young adults have skin problems like irritation, acne, and excessive sweating.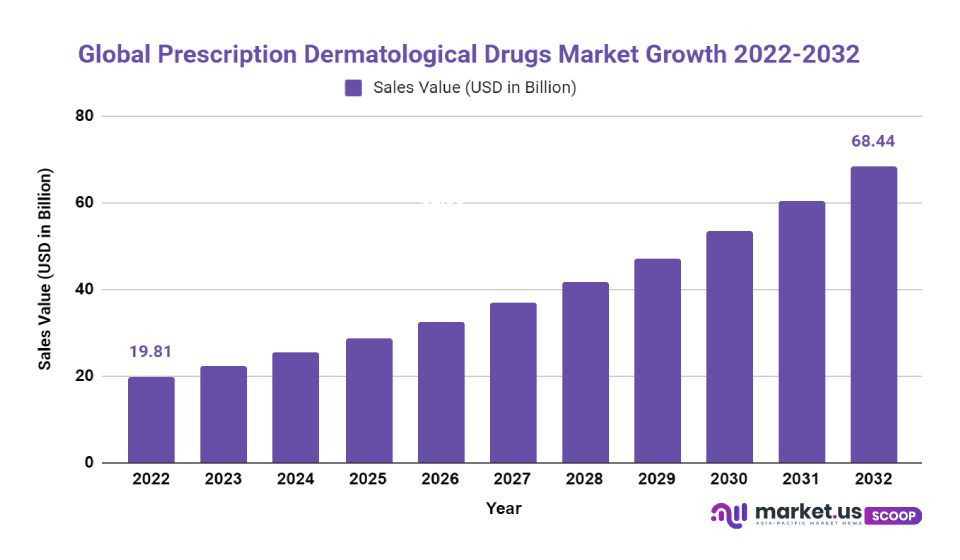 Prescription dermatological medication regularly applied topically as an anti-inflammatory and cleanser will continue to drive the market. Industry leaders are investing more in R&D to create and test new medications. This is due to the increased demand for affordable, innovative, and cost-effective medications. 
The pharmaceutical industry is expanding due to increased skin cancer and other diseases. The industry will not grow to its full potential due to various adverse effects, inappropriate use of prescription dermatological medication, and governmental restrictions and guidelines.
Market.us senior analyst Gaurav Yadav stated, "The development of dermatological pharmaceuticals markets is fuelled by the loss in human skin's ability function properly with aging. This leads to many skin diseases. Our bodies experience additional problems as we age, such as slower wound healing, higher sensitivity to UV radiation, decreased susceptibility to infection, and reduced subcutaneous fat. The number of skin conditions that can be diagnosed has increased dramatically, resulting in a greater demand for dermatological medication."
The global dermatology drug market will likely see more innovation and customer-centric products. Sanofi, for example, received FDA approval in May 2020 for its drug Dupixent. It is intended for children 6-11 years old and protects them against atopic dermatitis. Cosmedix also announced in March 2020 the launch of Correct Rapid Relief, a product that treats acne. Market growth will be supported by marketing strategies such as the launch of a website, increasing awareness campaigns, and advertisements via TV and social media.
Asia-Pacific and Europe dominate the Prescription Dermatology Drugs market because of rising skin disease awareness, a growing patient pool with a wide variety of dermatological conditions, and the willingness of patients to pay for high-end medications in these areas. Poor food, pollution, unhealthy lifestyles, smoking, drinking, and other factors contribute to a large share of dermatological infections in emerging nations. 
The lack of knowledge and the higher percentage of illiteracy among low- and mid-income countries have decreased prescription dermatological treatments. The negative side effects of these products also restrict the market. The US FDA has warned about the dangers of using certain over-the-counter medications that can cause severe allergic reactions. This will likely result in a decrease in product acceptance, affecting the market value of Prescription dermatological medicines.
---
---
Media Enquires
If you require any further information about a related market, please get in touch with us. we're happy to help you
+91 7008 614 496
+91 7008 614 496