The Surging Popularity of Convenient Seafood Dishes is Driving the Growth of the Canned Tuna Market, says Market.us
---
---
The industry will be driven by shifting consumer preferences for seafood in different cuisines due to its richness in essential proteins, vitamins, and minerals. Tuna tastes very different from other seafood, so it is in high demand around the world.
The popularity of seafood has increased over the years due to its rich taste and nutritional benefits, as well as the fact that it is less carbon-intensive than beef and other meat products. Tuna is still one of the most popular seafood products in the world.
The tuna industry has seen a paradigm shift in recent years due to increased production and price competition as well as changing technology and shifting consumer demands.
Market.us reports that the global canned tuna market will be worth USD 11.89 billion in 2027. It is forecast to grow at a compound annual rate (CAGR), of 4.7% over the forecast period.
The factors driving market expansion and influencing consumer behavior are high product demand and increasing output. Canned tuna is popular because it's an affordable source of protein. It is also found in almost 70 countries around the globe. Tuna contains a lot of vitamin B12, which is essential for the creation of DNA.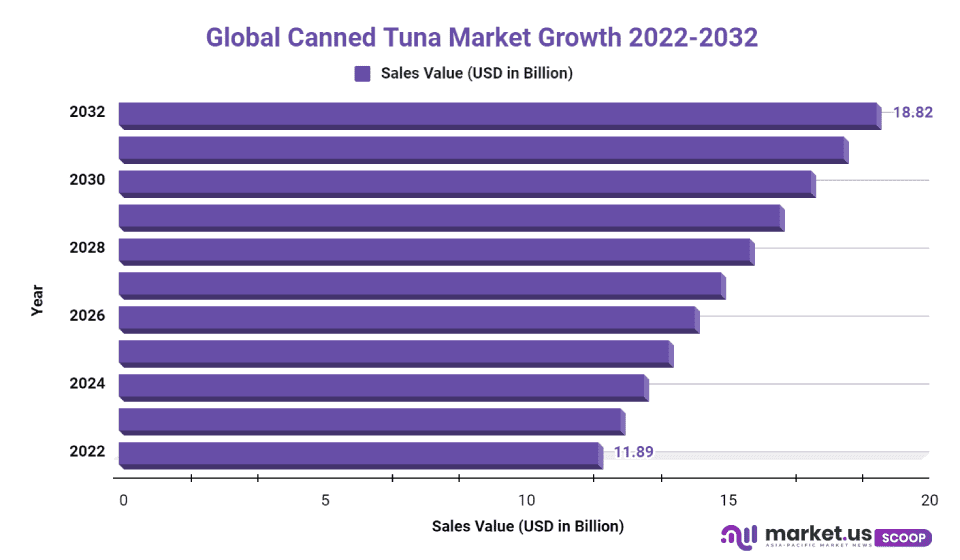 Gaurav Yadav, senior research analyst at market.us said, "The high level of omega-3 fatty acids in tuna fish helps to lower the levels of low-density lipoprotein (LDL), cholesterol, and omega-6 fatty acids that build up inside the heart's arteries. Omega-3 intake is linked to lower heart attack and cardiovascular disease rates. Tuna also contains a lot of vitamins and minerals, including vitamin B6, iron, iodine, and potassium."
While canned tuna is still in high demand in western markets, Asian consumption patterns, especially in Southeast Asia, show that canned tuna is preferred to fresh/frozen seafood when it's available. This preference pattern is limiting the market's growth, particularly in South Asia where there is a large consumer base and demand for inexpensive seafood and protein.
The market growth could be negatively affected by the fact that consumers in the west are increasingly choosing organic and plant-based products as their main diet. The market growth in seafood will be limited by the growing awareness and vegan culture.
According to statistics from the 'GLOBEFISH, a product trading and marketing branch of FAO Fisheries and Aquaculture Department Thailand, Ecuador, and China were the top exporters of canned and processed fish. The largest importers of canned tuna were however the United States, Japan, Australia, and Egypt.
The demand for canned foods, particularly tuna, increased dramatically in the United States during the COVID-19 pandemic. This product is also the most affordable and has a longer shelf life. These consumer trends will likely boost demand during the forecast period.
The global COVID-19 pandemic is likely to impact the market's current state. Many production units have been shut down in many countries, resulting in a decrease in availability and lower purchasing power for consumers. This has adversely affected the sales performance of processed food products. Different governments have established new regulations and rules for the purchase and consumption of food and beverages.
The market is being threatened by rising product prices and a decrease in stocks in many emerging countries. The market is still growing as consumers rely on canned and packaged food products for their convenience and availability. Market growth is also influenced by the hygiene factor of canned goods. It is also expected to increase in the future due to increased consumption of packaged foods products.
---
---
Media Enquires
If you require any further information about a related market, please get in touch with us. we're happy to help you
+91 7008 614 496
+91 7008 614 496