The Unique Advantages of Potato Starch in Food Production Propelling Market Demand, says Market.us
---
---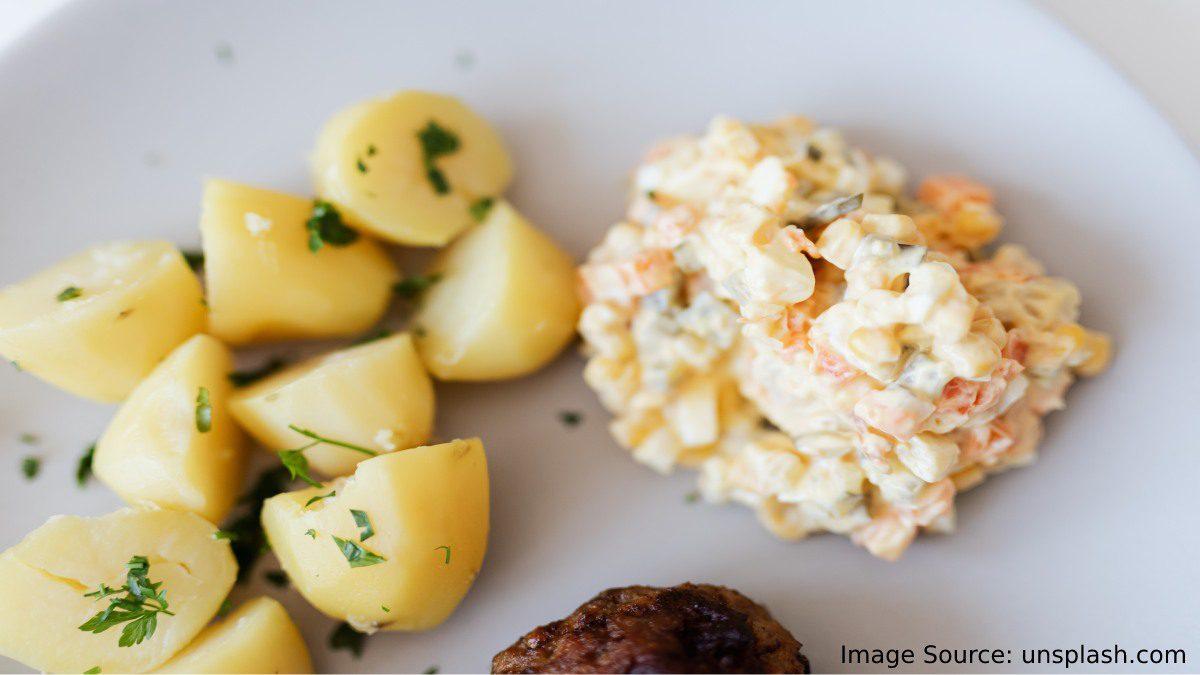 Potato starch is a fine powder made from root tubers. It contains minimal fat and protein. It has a neutral flavor and low foaming. It adds a fluffy texture to baked goods like muffins and quick bread. It is also a good source of magnesium and calcium and helps regulate blood sugar levels. Its many properties have made it a popular raw material in the pharmaceutical, food, and paper industries.
The food industry uses potato starch extensively as a thickener, binder, stabilizer, thickener, and additive in preparing potato chips. This is due to the increasing consumption of convenience foods around the world. It is also used as an excipient in pharmaceutical production and to finish and stiffen different types of textiles in the textile industry. It is used in paper and chemical industries due to its adhesive and solubility properties. 
According to a report by Market.us, "The Potato Starch Market size was valued at USD 5.07 Billion in 2022 and is projected to reach USD 7.43 Billion by 2032, growing at a CAGR of 3.9% from 2022 to 2032."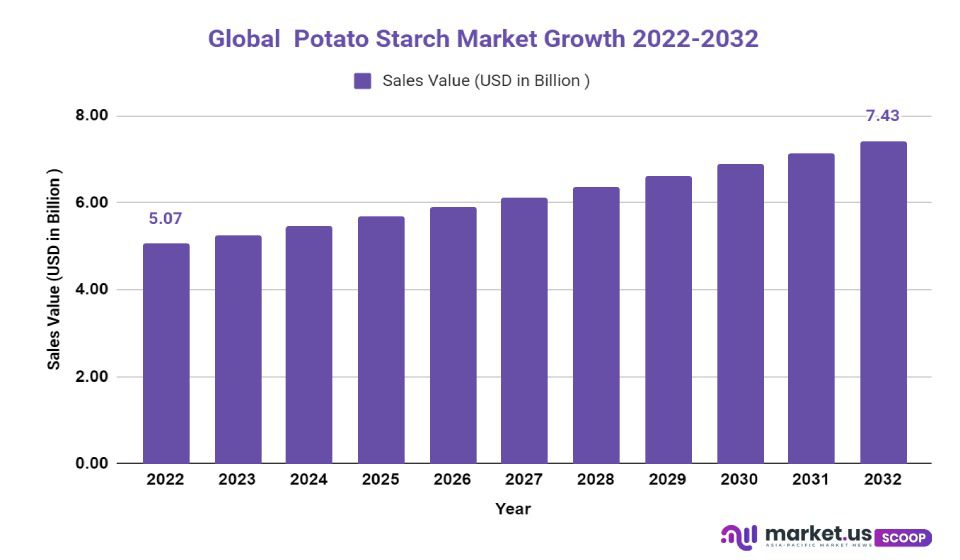 Starch is used primarily as a thickening, binding, and texturizer in foods such as bakeries, soups and sauces, confectionery, and the meat industry. Starch is becoming a popular choice for food processors as an economical and clean option. This starch will be a popular low-cost alternative to meat due to the growing demand for vegetarian options.
The rising popularity of clean labels has increased the demand for starches in the food industry. Recently, there has been a growing demand for safer, healthier, more natural products. 
Because they are easy to identify, starches are becoming more popular. Starch can be used as an additive to increase the thickness and stability of foods and beverages. Starch derived from potatoes has been proven effective in sauces, soups, and other gluten-free applications. 
Gaurav Yadav, a senior market analyst at Market.us, said," Manufacturers now use specialty enzymes, chemicals, and organic solvents to improve product quality. They are also shifting towards more efficient separating devices, such as hydro cyclone, which provides a three-phase centrifugal separator to produce defined starch granules."
A variety of potato derivatives can be used as a plant-based binding agent to improve the sensory appeal of a wide range of food products. The demand for potato-based organic starch will increase in the coming years due to the growing demand for clean-label products. The thriving global food industry drives innovation and product development by top manufacturers. Today's consumers are looking for healthy products that offer indulgence. 
Increased awareness by consumers about the health risks of carbohydrate consumption is a major restrictor to growth. Growing consumer awareness has hampered regarding the health risks associated with excessive carbohydrate intake. To reduce their risk of developing lifestyle-related health conditions like diabetes, heart disease, obesity, and cardiovascular disease, people are switching to low-carb diets. 
The Global Diabetes Community, U.K. estimates that 415 million people were living with diabetes worldwide in 2018. This number is projected to rise to 642 million by 2040. Market growth is likely to be impeded by the increasing consumption of low-carb foods & drinks to maintain good health.
Consumers are becoming more aware of animal welfare and environmental sustainability. Many sectors of the food industry are increasingly using plant-based products. Starch market growth is being driven by the growing perception that plant-based products can be safer and healthier than animal-originated ones. 
Leading manufacturers have been forced to invent and develop starch-based products due to the growing popularity of vegetarianism and veganism. The potato is used extensively to create plant-based meat substitutes, which supports the potato starch market growth.
In conclusion, the demand for potato starch is expected to increase in both developed and emerging markets due to its versatility and health benefits. Its low-cost production, easy availability, and increasing popularity will likely fuel its growth in the coming years. 
Companies operating in this industry should focus on research activities to improve product quality and expand their customer base. Additionally, they should explore innovative marketing strategies such as discount offers and promotional campaigns that can help them capitalize on current trends in the industry.
---
---
Media Enquires
If you require any further information about a related market, please get in touch with us. we're happy to help you
+91 7008 614 496
+91 7008 614 496