Unmanned Aerial Vehicles Take Flight Beyond Military Applications, says Market.us
---
---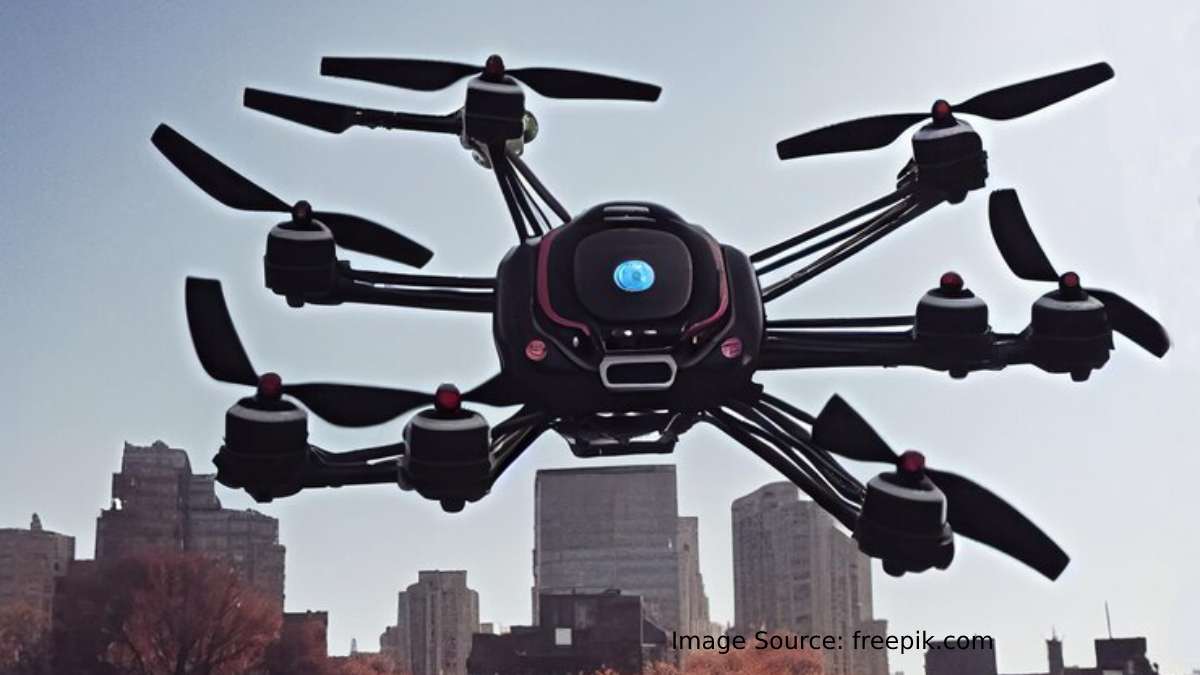 Drones are also known as unmanned aerial vehicles. They are used as aircraft structures without the assistance of a pilot. These devices are useful in wartime because they can be used without humiliation, such as being shot down or captured by the pilot. The market is driven by the rapid development of unmanned aerial vehicles (UAV), advanced analytics, and other factors.
UAVs are in high demand for defense and military applications, which drives market growth. The market is also growing because of improvements in the operational efficiency and safety of autonomous systems. Thier demand is rising as now, they're not only used for military purposes but also transportation and agriculture.
According to a report by Market.us, " The market for unmanned aerial vehicles (UAVs) is projected to grow from 26.6 billion in 2022 to 78.29 billion by 2032 at a CAGR 11.4% over the forecast period 2023-2030."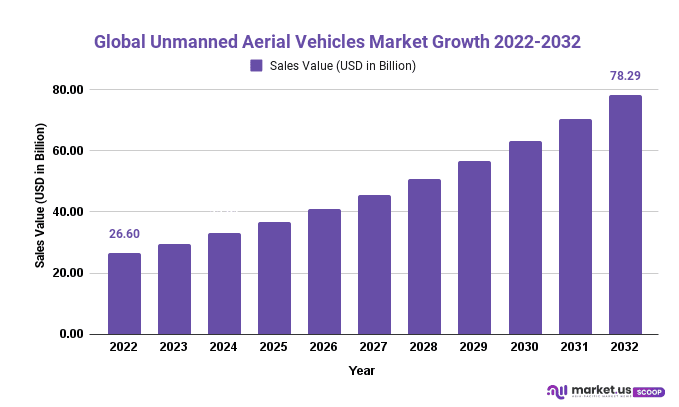 Gaurav Yadav, Market.us senior analyst, stated, "The market for unmanned aerial vehicles (UAVs) has been growing due to increasing militancy in different regions around the globe. This has led to increased demand for surveillance capabilities which is in turn fueling the adoption UAVs in many industries. Apart from military applications, this market is also driven by a growing awareness about the benefits of UAVs in various sectors, such as transportation, security, agriculture, etc."
Unmanned Aerial Vehicles (UAVs), also known as drones, are equipped with computers that can remotely control them from the ground. The advanced aerodynamic structures of these UAVs are designed to be able to perform multiple functions with the appropriate navigation system. The technology was initially designed to protect human lives from danger by being used in dangerous military missions. UAVs that are specifically made for military purposes come with missiles to ensure they hit their targets from high altitude.
The increasing demand for commercial and homeland security applications is driving growth in the civilian UAV market. The market share for military UAVs will be more than two-thirds during the forecast period.
The UAV market can be divided into North America and Europe, Asia-pacific (Europe), Latin America, Middle East, Africa, Latin America, Latin America, Middle East, Africa, and Asia-pacific (Asia-pacific). In the 2021-2030 forecast period, the highest growth rate is expected to be in Asia-pacific. China's military UVA market has the highest revenue share.
Due to the lucrative market opportunities, industry giants like Amazon, DHL and Uber have made significant investments in research & development over the last few years. UAVs are being used in all areas of photography, spy & detective and scientific as well as government.
UAVs are also used to provide life-saving products to relief camps in natural disasters. Their use has been extended to forest monitoring, surveying and aerial monitoring. The market has many opportunities to grow their business due to the increasing use of UAVs in a variety of applications.
UAV market restraint factors, which encompasses technological restraints as well as economic restraints and regulations, will limit the market's growth during the forecast period. UAV operators are facing various technological limitations such limited battery life and poor communication capabilities. Stringent government regulations also hinder the adoption of UAVs in some geographies. These factors will limit the growth of UAV markets during the forecast period.
UAVs depend on their onboard autopilots to function. It is therefore essential to create an autopilot architecture that is resistant to cyberattacks. This is an important element of the appraisal period and can have a negative impact on the market. Different countries have established strict regulations prohibiting the use of UAVs. This is expected to be a significant challenge for business development during the evaluation period.
Despite these hurdles, the unmanned aerial vehicles are in high demand due to increasing awareness of their benefits and growing demand for real-time and accurate data across various industries. The unmanned aerial vehicle market is expected to grow due to a variety of factors, including changing industrial landscapes and increasing demand from the retail sector.
---
---
Media Enquires
If you require any further information about a related market, please get in touch with us. we're happy to help you
+91 7008 614 496
+91 7008 614 496