Unprecedented Demand for Seasonal Crops Spurs Agricultural Insurance Market, says Market.us
---
---
Agricultural insurance protects farmers from losses in crop yields and sales revenue. Crop-yield insurance covers producers against crop loss or profit due to natural disasters like fire, drought, and flooding. Producer insurance can protect farmers from price drops caused by reduced demand, negative publicity, or bumper crops that overwhelm the market, lowering prices.
The global Agricultural insurance market is growing due to increasing consumer interest in insurance and innovative products. The rise in popularity of the internet and offshoring has also boosted demand for crop insurance worldwide.
According to the latest report by Market.us, "The global agricultural insurance market will be valued at USD 27830 million in 2023. It is forecast to grow at a CAGR of 4.5% over the forecast period and reach USD 43210 million by 2033."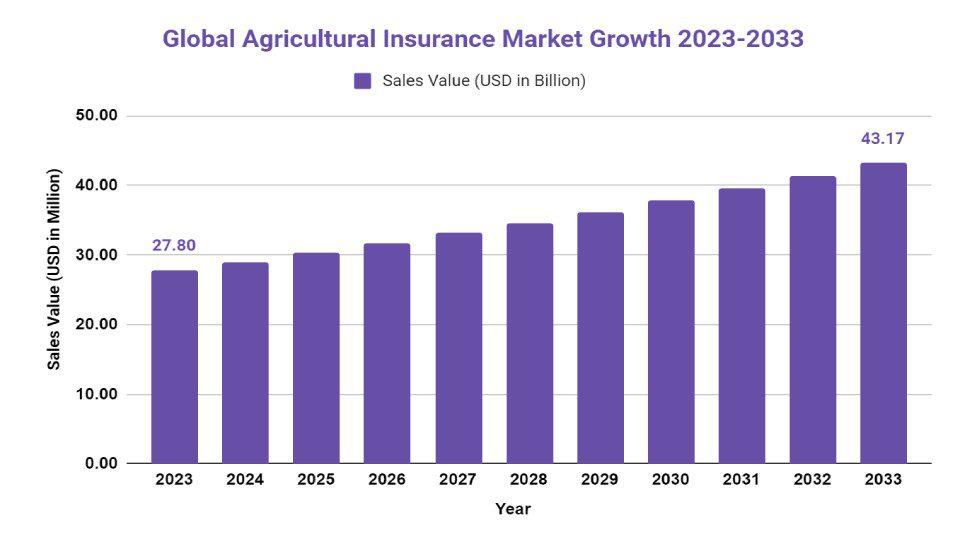 Anurag Sharma, a senior research analyst at Market.us, said, "Global Agricultural insurance markets have seen strong growth due to, among others, rising demand for crop insurance, fluctuating prices for agricultural produce, and declining import-export rates. Agricultural insurance is also being sought after due to the increasing demand for seasonal crops and farmers' adoption of new farming methods worldwide. Global crop insurance market growth is possible due to the adoption of advanced technologies and the high demand for specialty and valuable crops."
Increasing government support to protect farmers from volatility in incomes and prices makes crop insurance more accessible. Due to rising costs, decreasing agricultural land, and growing complexity, the agricultural industry is one of the most important industries in the United States and India. Numerous governments have implemented beneficial programs to support the growth of the farming industry.
A growing number of unusual climatic conditions and awareness of the availability of such coverage have led to a greater number of small-scale farmers, as well as primary and secondary players within the agricultural sector, choosing insurance to cover possible losses and failures of harvests.
It has led to many insurance companies increasing their service portfolios and offering more coverage for such situations. Market growth is driven by awareness campaigns promoting agricultural insurance to all farmers. A key factor that will continue to drive the market's revenue growth is the government's increasing support for protecting farmers against crop losses caused by natural events or other causes.
Technological advances have made it possible to boom the global Agricultural insurance industry. It has allowed for easy access to insurance and other features through the incorporation of the IT sector. For example, a solid georeferenced base of cadastral maps and its linkage to land record data can reduce the risk that the insured area is not reported accurately and make enrollment easier.
The industry's growth is enhanced by adopting artificial intelligence (AI) technology to personalize crop insurance. Artificial intelligence is used to predict yield and profit using crop-cutting experiments. It also provides many ecological insights into crop stress and health.
Knowledge about insurance products for agricultural purposes could help the global market's growth. Other factors that could impact the development of the worldwide market include the need to reduce arable land, acquire land from farmers, increasing urbanization, and develop commercial and residential projects, particularly in developing countries.
General insurance usually has a lower premium than agriculture insurance. Premiums for agricultural coverage can be higher for farmers, ranchers, and other agricultural operators. This results in crop losses, lower livestock maintenance, and less protection against natural disasters when farming is at risk. Consequently, the growth of the global agricultural market is limited by high premiums.
---
---
Media Enquires
If you require any further information about a related market, please get in touch with us. we're happy to help you
+91 7008 614 496
+91 7008 614 496