Unprecedented Expansion in Masterbatch Market Across Several Applications Transforms Plastic Industry, says Market.us
---
---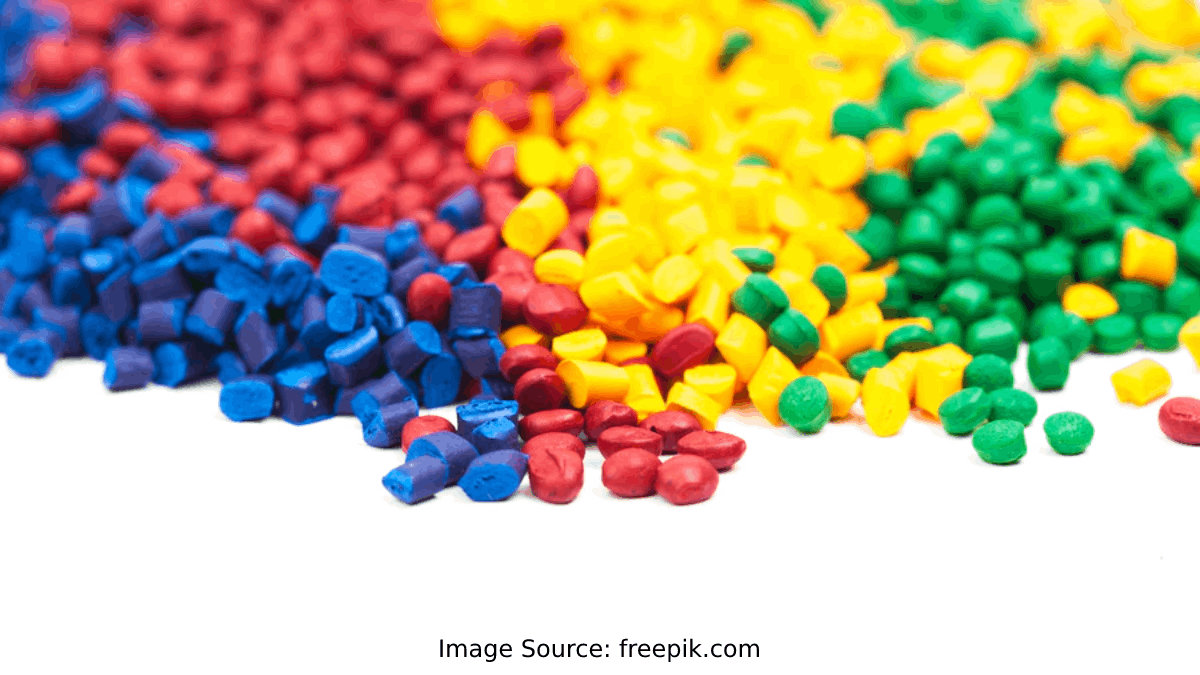 Masterbatch Market is a dense polymer blend with encapsulating additives. It is used in the plastics industry to modify the dispersion, elasticity, and aesthetic properties of the base polymer. They are used to add color and improve beneficial properties of polymers such as anti-fog, anti-static, anti-block, UV stabilizer, and flame retardant.
Masterbatch is a concentrated blend of additives and pigments that have been heated, encapsulated in a carrier resin, then cooled and pelletized. They are available in liquid and solid forms.
According to the latest research study by Market.us, "The demand for global Masterbatch Market size & share was valued at approximately USD 3,612.10 million in 2022. The market is expected to grow above a CAGR of 6.10% and will reach over USD 5,144.10 million by 2030."
Consumer packaging, automotive, construction, agriculture, textiles, and furniture are some of the major end-use sectors for masterbatch.
Depending on the color or specific functional properties, masterbatches are divided into four categories: black, white, color, and additive. Color masterbatches are widely used in the manufacture of plastics for household appliances and pharmaceutical packaging. Black masterbatches are widely used in the fields of construction and household appliances.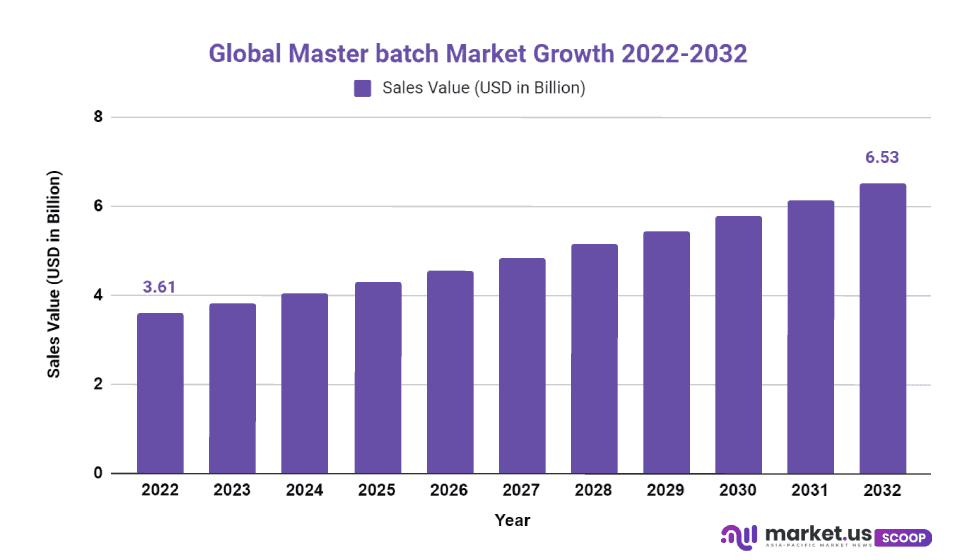 The masterbatch market is rapidly evolving due to the increasing demand for plastics in diverse industries. In modern times, the need for better quality and cost-effective materials has been rising among manufacturers, thus driving the growth of this sector.
This article discusses the current market trends and the opportunities and threats in the masterbatch industry. It evaluates potential strategies that producers can adopt to maximize their profits and gain a competitive advantage.
The masterbatch market is a rapidly growing sector as the demand for advanced materials increases across a variety of industries. In recent years, the global masterbatch market size has grown significantly due to the increasing usage of plastics in various applications, such as packaging and automotive components.
Plastics are becoming more common in both the interior and exterior of cars. In the automotive industry, there is a growing demand for lightweight materials. This encourages plastic substitution. The vehicle's most important aspect is color. The color of a vehicle adds value and visual appeal. It is also essential for design and provides versatility.
Masterbatch can be made more reliable and pliable, as well as being flame retardant and resistant to corrosion. Masterbatch color and additives are used in the automotive industry for interiors and exteriors of heavy and light vehicles, passenger cars, and two- and three-wheelers. Global demand is expected to grow due to the increasing use of plastic in the automotive sector.
This article also provides an overview of the masterbatch industry's current market size and structure. It also highlights key trends and developments that are driving growth in this sector.
The global masterbatch market is a rapidly evolving industry that offers a wide range of opportunities for manufacturers and suppliers. With the increasing demand for plastics in various industries, the need for efficient colorants to enhance the quality of end products is also increasing. Masterbatch is a concentrated mixture of pigments and additives used to impart color, texture, and other properties to polymeric materials like plastic.
The global masterbatch market has experienced significant growth in the past decade due to its usage in various industries. It offers excellent performance, cost-effectiveness, ease of coloring, and other advantages, making it an attractive option for manufacturers.
Plastics and polymeric compounds are increasingly being used in the construction and building industry. They are stronger, more durable, and last longer than traditional materials. It is a common plastics additive that is used to color or impart positive physical properties to plastics.
It is used to make PVC profiles, PVC pipe, PPR pipe, door indicators, fire extinguishers, glow signs, and water storage tank insulation foam. Plastic materials will continue to grow in the building and construction industry, which will drive the market over the forecast period.
It provides a great deal of versatility when it comes to plastic manufacturing, allowing manufacturers to create products with specific characteristics that meet the requirements of their customers.
---
---
Media Enquires
If you require any further information about a related market, please get in touch with us. we're happy to help you
+91 7008 614 496
+91 7008 614 496