Vegan and Dairy-Free Trend Spikes Cashew Milk Production, says Market.us
---
---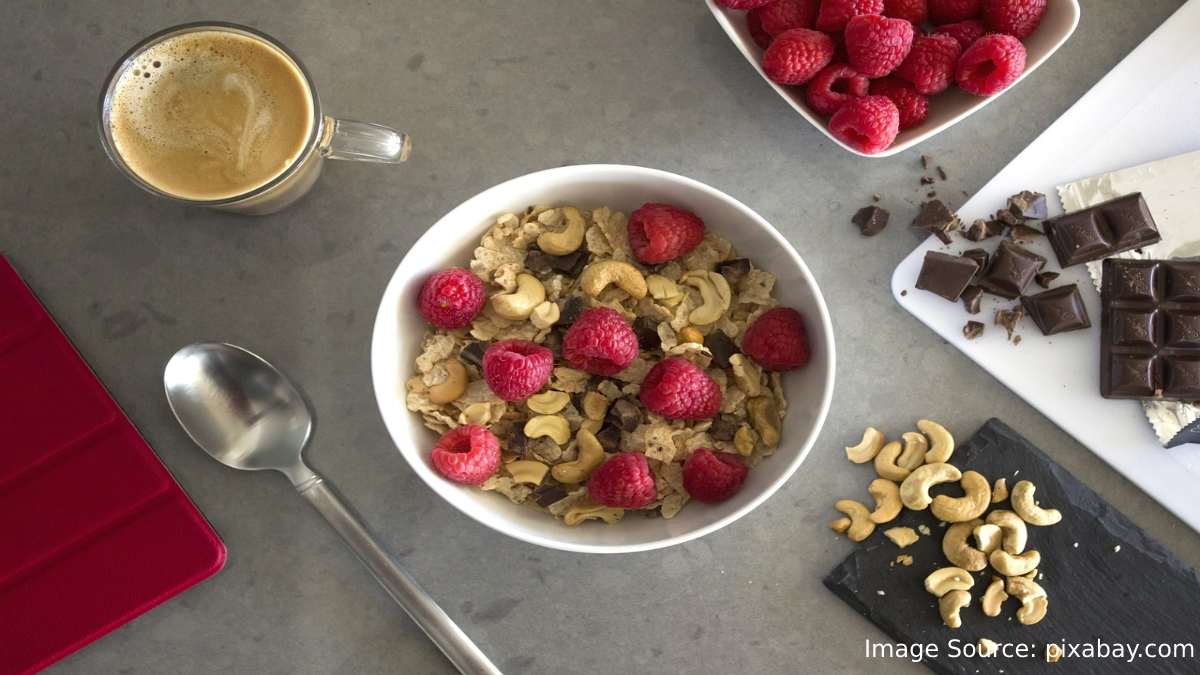 Cashew milk is one of the most popular plant-based milk on the market today. Its popularity has grown recently due to its creamy and nutty flavor and health benefits. Cashew milk is a great dairy-free alternative for people with lactose intolerance and those looking to reduce their animal product consumption.
The Cashew Milk market is booming as health-conscious consumers look for innovative dairy alternatives. The dairy alternative industry has seen a significant uptick recently, and cashew milk has been gaining traction in the segment.
According to research by Market.us, "The Cashew Milk Market was valued at USD 91 million in 2022 and is projected to reach USD 148.22 million by 2032, growing at a CAGR of 5.0% from 2022 to 2032."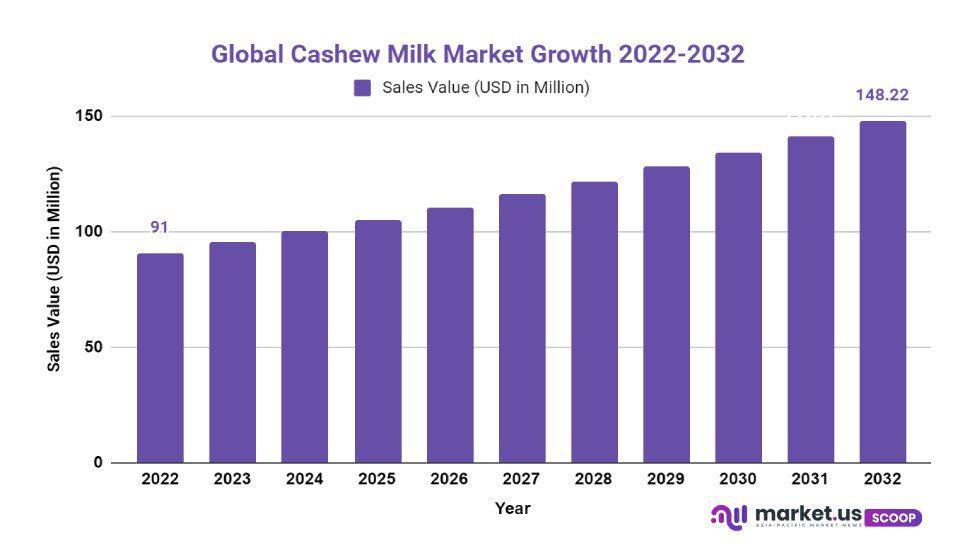 Anurag Sharma, a senior research analyst at Market.us, said, "The rising demand for plant-based food is driving the growth of the cashew market. The market is also experiencing a boom in veganism. The ever-increasing demand to eat vegan and dairy-free foods has increased the adoption of cashew-milk-based products. The cashew milk industry is increasing its export business for cashew-based cream cheese and other vegan-friendly products."
Cashew milk can be used for more than just direct consumption. It can also make other milk-based products such as creamers, creamers, and milk powders. Processed cashew milk is also lower in lactose and fiber and contains more vitamins and minerals. This makes it safer and more beneficial for those with heart conditions, blood pressure, diabetes, high blood sugar, or other health issues.
Consumers are increasingly turning to cashew milk for its potential health benefits, such as being low in calories and having an overall nutritional profile with more calcium than cows' milk. In addition, it is naturally gluten-free and lactose-free, making it an ideal choice for those following specific dietary requirements or restrictions. The versatility of cashew milk makes it a viable option for cooking, baking, and blending with other ingredients like smoothies or shakes.
Demand for healthier options such as non-dairy milk has surged significantly due to rising consumer awareness about the impact of food choices on their health and environment.
Growing consumer awareness about the health benefits of cashew milk is driving this market. These include improved heart health, iron deficiency and blood sugar control, skin health, and eye health. Cashew milk has many other benefits, including lowering cholesterol, blood coagulation, anti-cancer properties, and providing minerals and protein. It is easy to digest and is high in omega-6 fat acids, making it a popular product. 
Lactose-intolerant people are the main consumers of cashew milk and other dairy alternatives. Cashew milk is available in many different qualities and features from many businesses. The So Delicious Co offers various qualities and features of cashew milk, including non-GMO, soy-free, and gluten-free.
There are a few factors that can cause growth barriers in the market for cashew milk. High processing costs such as freeze-drying, cold press technology, and spray drying are expected to limit the growth of the cashew milk market. High packaging costs are further hindering the growth of cashew milk. Cashew milk is less calorie-dense than dairy products and contains less protein. It also has a lower level of calcium, as it does not contain certain elements, such as calcium if it isn't fortified. These factors have a negative impact on the growth of the market for cashew milk.
Recent developments in the Cashew Milk Market
Forager Project, an organic and vegan company, based in San Francisco, introduced coconut milk and coconut cashew yogurt. These are delicious, high-fat yogurts made from cashews or coconuts. Its cashew yogurt and cashew milk have made it the most popular dairy-free yogurt in America.
Natural Foods proudly announces its cashew milk powder. This is a healthier and more natural option to traditional dairy products. Cashew is a dairy-free, sweet and delicious milk that is suitable for vegetarian, vegan, and lactose-free lifestyles.
---
---
Media Enquires
If you require any further information about a related market, please get in touch with us. we're happy to help you
+91 7008 614 496
+91 7008 614 496