Wireless Connectivity Enhances Gaming Console Market Popularity, says Market.us
---
---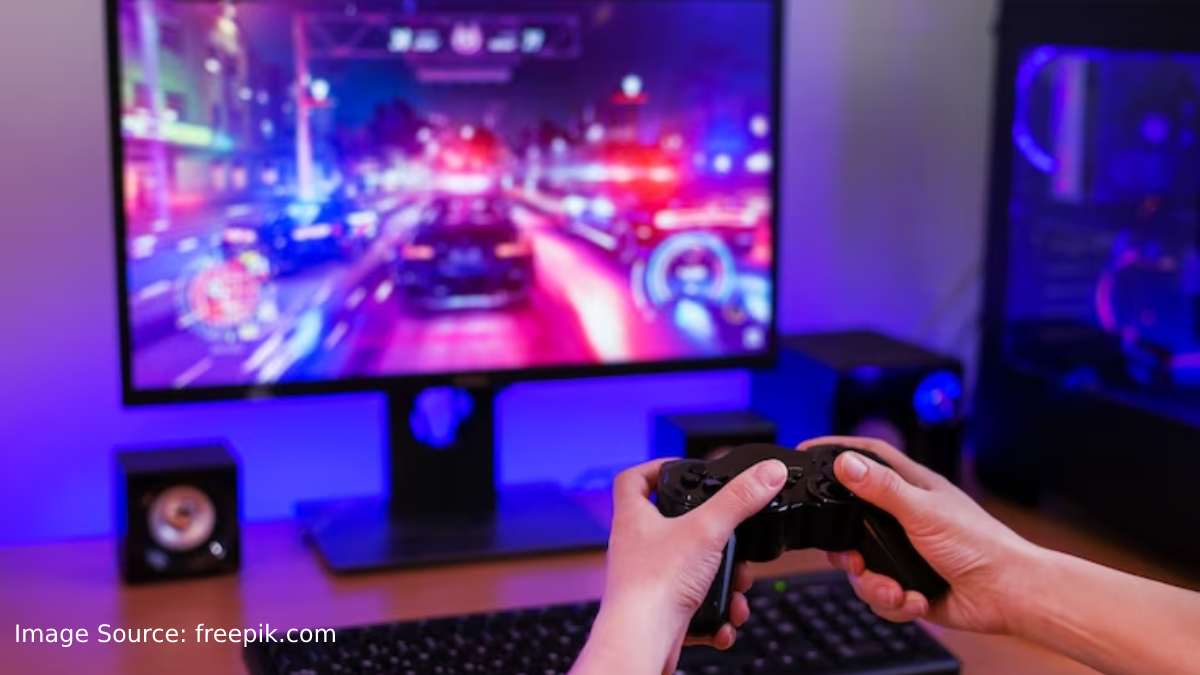 A video console is a device that displays a video game. This console is used primarily to design games for users or consumers. There are many game consoles on the market, including Wii U, PlayStation 4 Xbox, and Leap TV.
The latest trend in the gaming console market is multi-functional consoles. It also offers some advantages, such as allowing gamers to download videos, browse and listen to music simultaneously while playing video games. This is expected to positively affect the console games market growth in the future.
According to Market.us, "The Gaming Console Market is projected to reach a valuation of USD 97.20 Billion by 2032 at a CAGR of 7.1%, from USD 48.95 Billion in 2021."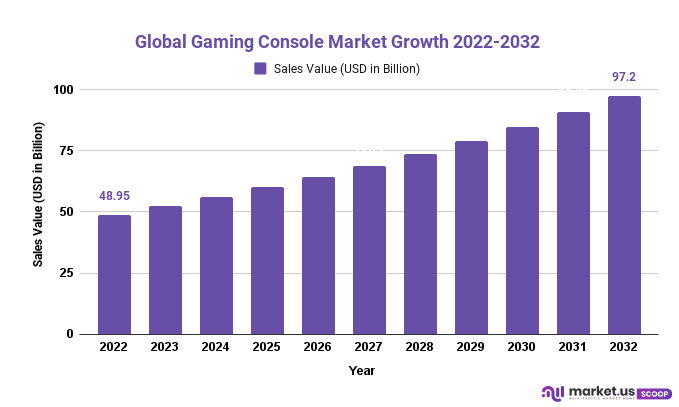 The market share for Asia Pacific will be the largest during the forecast period. Key players like Sony Corporation and Nintendo Co. Ltd have contributed to the growth of the Asia Pacific region. This growth is also due to the fact that there are almost five times more active gamers in Asia Pacific countries than in North America. China will hold a significant market share over the forecast period.
Anurag Sharma, a senior research analyst at Market.us, said, " The growing demand for 3D video games based on Augmented Reality/ Virtual Reality (VR), and an increase in e-sport tournaments around the globe is driving the growth of the Gaming Console Market. With advancements in wireless connectivity, gaming consoles are expected to be more popular. In the future, the market will be driven by smart games and apps that use virtual assistant services."
The supply chain for console gaming has been affected by the lockdown caused by COVID-19. The demand for console gaming at home increased due to this. The forecast period will see a rise in the console gaming market.
The global market is growing due to the increasing demand for multi-functional gaming consoles and the availability of high-quality sound systems. Multi-functional consoles can be used to download, listen to, and view videos. These features have led to a surge in demand for the console.
The market for gaming consoles is driven by a few things. First, console-quality gaming experiences are in high demand. This means more people are searching for consoles that offer AAA gaming experiences.
Second, as casual gamers are becoming more popular and want to be able to play their favorite games on a low-end computer or laptop. These casual gamers can get their fix with gaming consoles without having to spend a lot.
There is a growing interest in streaming and recording gaming gameplay. Many gaming consoles have built-in streaming and recording capabilities.
Market growth is expected to be driven by the rising demand for gaming consoles that are based on wireless technologies such as Bluetooth 5.0 and Wi-Fi. Sony Corporation, among others, is offering wireless-based game consoles to enhance their users' gaming experience. These consoles will allow users to improve their game-play experience without the need for wired accessories.
3D gaming is also becoming more popular all over the world. A 3D gaming console can support stereoscopic graphics on an integrated high-resolution display. 3D gaming also offers features like precise 3-D localization that enhances the user's experience and adds realism to their gameplay.
Gaming consoles built on 3D architecture will continue to grow in the market. The Gaming Console Market will be boosted by other drivers, such as the rising popularity of "massively multiplayer online games" (MMOGs) or rising global investment in gaming.
According to the UK Interactive Entertainment Association (Ukie), investment in 3D games development reached USD 2.30 Billion during 2022-2032. This advancement in 3D gaming is expected to fuel the market's growth over the forecast period.
In the 2022-2029 forecast period, market players will have lucrative opportunities due to technological advances and the development of innovative products. The future growth of the gaming consoles market will be further supported by the innovative marketing strategies used by developers and professionals to promote 3D video gaming, as well as the increasing investment in the gaming industry.
Console game manufacturers face many problems when designing console gaming consoles. These include a lack of professional testers or developers, as well as the inability to provide the necessary infrastructure. The console gaming market is also being held back by high piracy rates, fragile operating structures, and illegal access to premium games at low or no cost. Many consumers have shifted away from console gaming systems due to the popularity of mobile gaming apps.
Gaming Console Market Key Companies: 
Nintendo Co. Ltd., 

Sony Corporation (Sony Computers Entertainment Inc.) 

Microsoft Corporation 

HubSpot Inc.
---
---
Media Enquires
If you require any further information about a related market, please get in touch with us. we're happy to help you
+91 7008 614 496
+91 7008 614 496