Worldwide Demand for Diesel Generators Out-Pacing Available Supply, says Market.us
---
---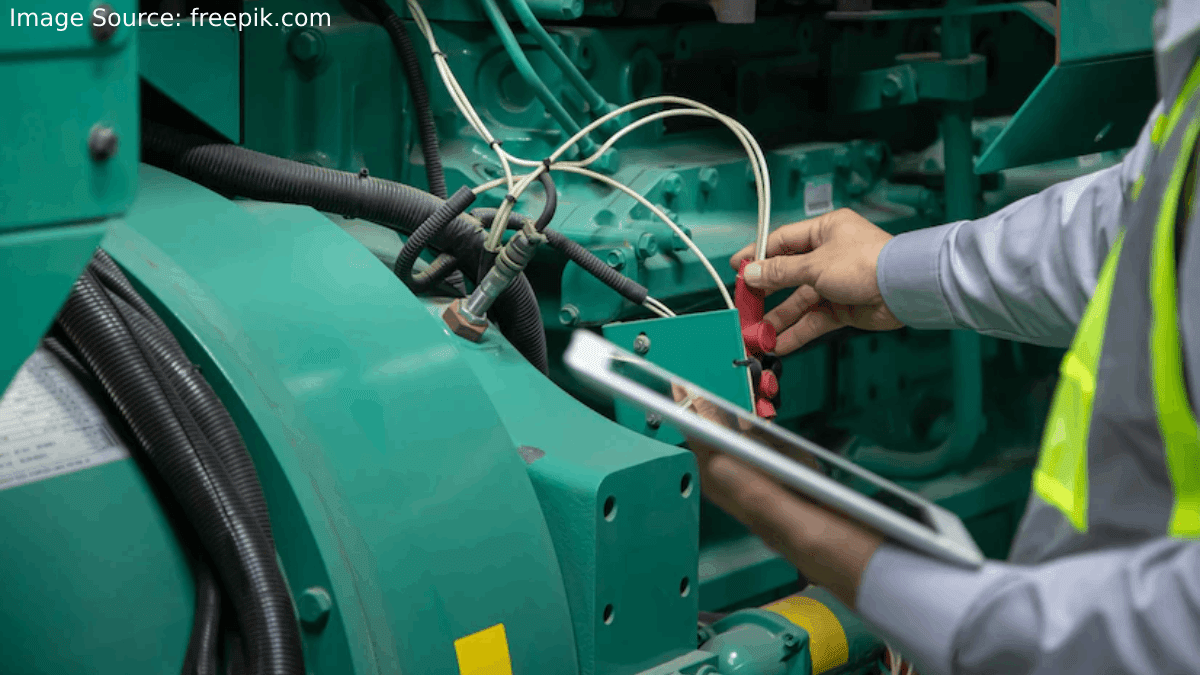 The world's increasing energy demand provided by diesel generators is out-pacing the available supply. The demand for power is being driven by factors such as population growth, infrastructure development, and rapid industrialization of emerging economies.
Diesel generators offer many advantages, including lower operating costs and higher fuel efficiency. They are more popular in developing countries, particularly in the Asia Pacific region. It has many disadvantages, including noise pollution and the emission of hazardous gas. Key players must find new ways to mitigate this effect.
According to the World Nuclear Association, the world's electricity consumption is likely to increase by two-thirds. According to the U.S. Department of Energy solar energy will become the most abundant source of energy.
According to Market.us, "The Diesel Generator Market is expected to reach USD 43959.06 Million by 2032, up from USD 18740 Million in 2022. It will grow at a CAGR of 9% over the forecast period of 2023-2032."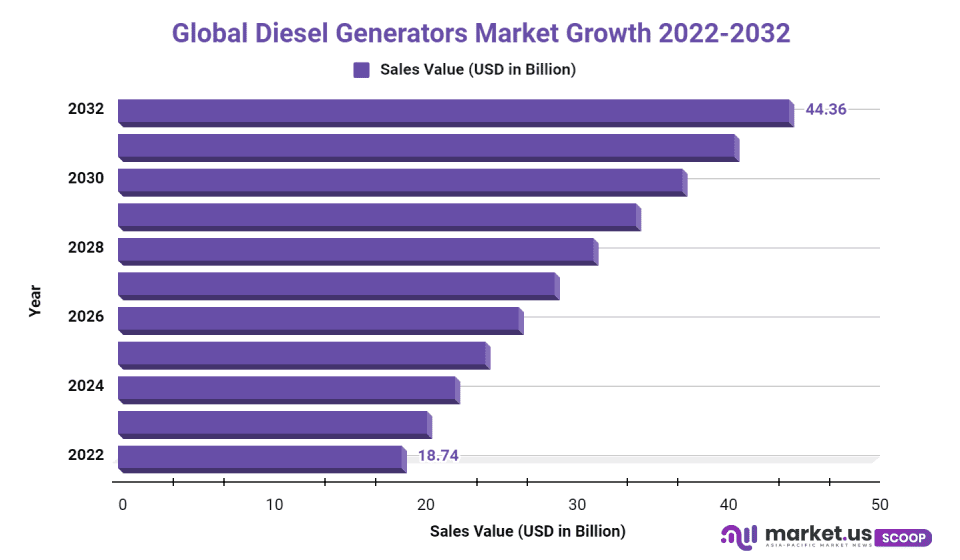 The main responsibility of solution providers in the diesel generator market is for installation, maintenance, repair, and manufacturing. End-users can be either generator dealers or small-sized companies that use generators as backup power systems.
Companies can also designate an in-house monitoring engineer who will oversee large numbers of generators used in industrial-scale operations.
Due to rising power costs across many IT-enabled services firms and data centers, as well as growing consumer awareness about the need for reliable emergency power supply, the market is expected to experience significant growth. The market is also being driven by the increasing vulnerability of grid power stations to disasters due to changing weather conditions in the region.
Stringent government regulations aimed at reducing harmful carbon emissions will likely increase the use of gas-based generators instead of diesel generators.
This trend is expected to reduce the demand for diesel generators in all end-use industries. Low operating costs and low initial investments are key factors that support the current demand for diesel generator sets.
Generators below 80 kW can be used to provide power backup in residential homes for devices like water pumps, AC units, geysers, and water purifiers. The generators' low price is expected to be a key factor in driving product demand over the next few years.
Due to the rising demand for power, manufacturing, and marine industries, which have a large need for constant power supply, the high-power generator segment will see a significant increase in growth over the forecast period. Because it is economically impossible to provide power to many remote locations, high-power diesel generators can be used to generate and distribute power.
This wide range of applications, which includes many industries, such as healthcare, telecom, hospitality, telecom, and agriculture, can explain the high growth rate.
Commercial establishments use diesel gen-sets to back up sudden power outages such as voltage fluctuations or electrical outages. If not addressed, they can lead to financial losses.
Uninterruptible power is in high demand due to the extraordinary growth in commercial and residential sectors worldwide. This has led to increased demand for uninterrupted power in both the residential and industrial sectors. Diesel generator (DG) technology, which uses crude oil to produce energy for emergency power needs, is a well-established method.
This product can be used to produce electricity using chemical energy from diesel fuel. It uses various equipment, such as control panels, control panels, and fuel tanks. Radiators and engines are also included. Commonly, DG sets can be used to power homes, schools, and factories as well as other verticals.
This segment covers the manufacturing and construction sectors, electric utilities, mining, and transport & logistics as well as oil & gas. These sectors have huge product demand due to their high power consumption.
The residential segment will experience significant growth in the future due to increasing customer awareness, increased load demand on the primary grid, and growing power outages. These are all critical factors that drive product demand in the residential sector.
In the event of an electrical outage or grid failure, diesel generators can be used as a secondary power source for households.
---
---
Media Enquires
If you require any further information about a related market, please get in touch with us. we're happy to help you
+91 7008 614 496
+91 7008 614 496