Agricultural Robots Market Meet Increased Demand for Automated Agri Solutions, says Market.us
---
---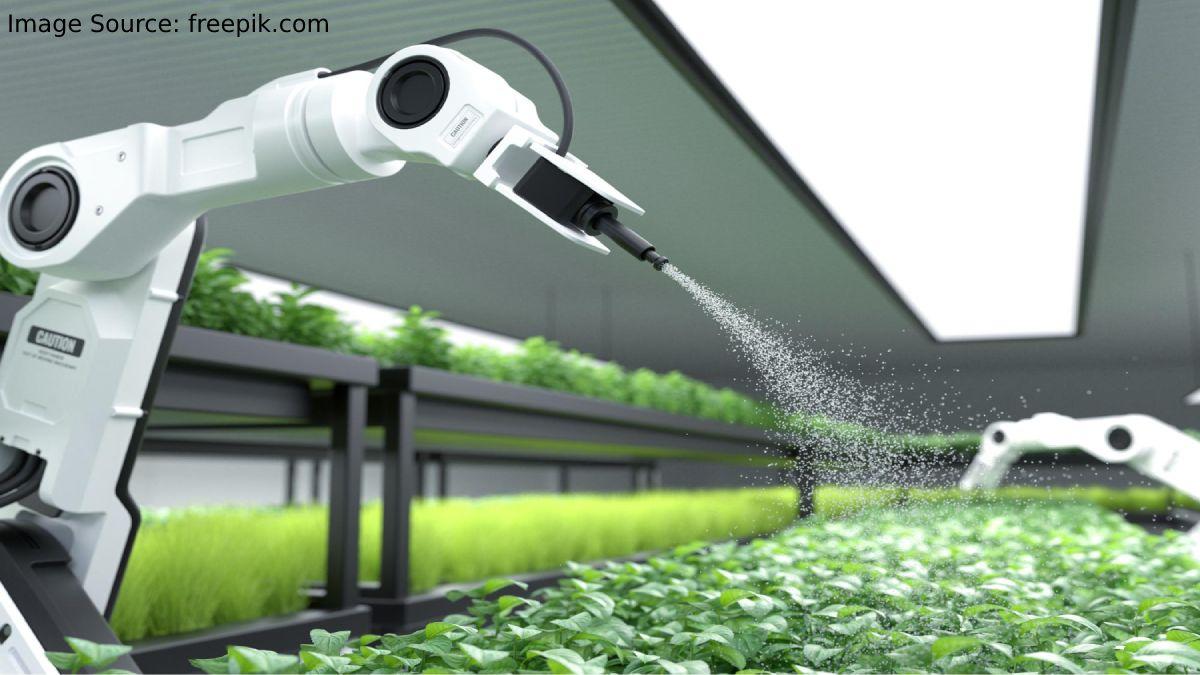 Due to the necessity of producing food products efficiently and ensuring sustainability, agricultural robots are rapidly gaining popularity among farmers. These robots can be used to accelerate farming operations with minimal human intervention. 
Different farming processes can be performed by different agricultural robots, such as field farming and dairy farming, seed sorting, and soil management. The demand for modernized, sustainable farming methods that produce higher yields will drive the global market for agricultural robots over the forecast period.
According to Market.us' research, "The Agricultural Robot Market size is expected to be worth around USD 34,676.67 million by 2032 from USD 5,070 million in 2021, growing at a CAGR of 19.1% during the forecast period 2022 to 2032."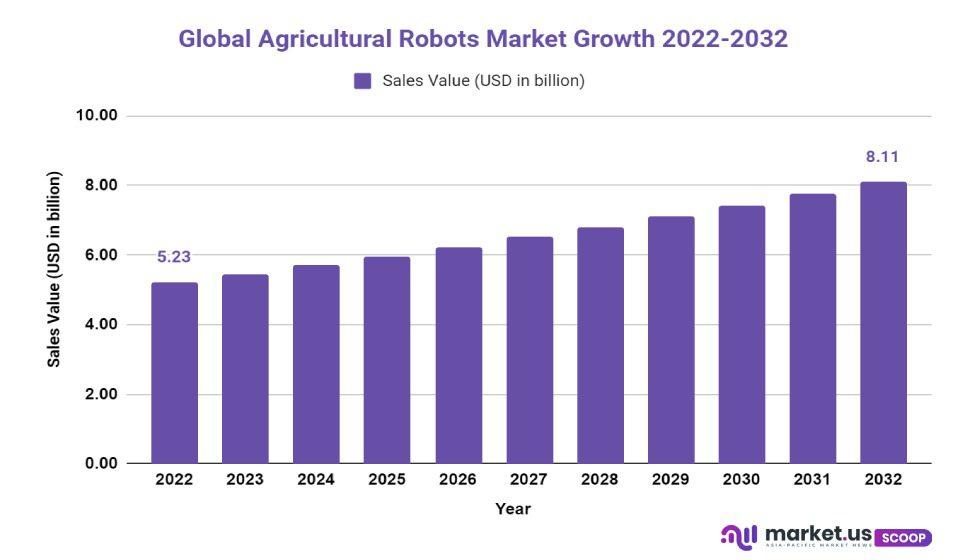 Anurag Sharma, the senior research analyst at market.us, said, "The market for agricultural robots is growing because of the increasing demand for automation in the agricultural sector. Due to strict immigration laws and decreasing agricultural employment, there is a shortage of agricultural labor in developed countries."
Click here to check 200+ pages of an in-depth market analysis report on the Agricultural Robot Market.
The demand for food is increasing rapidly due to a growing global population. Farmers are turning to modern equipment and tools, such as automated agricultural robots, in order to increase their productivity and generate more revenue. 
Governments around the globe are providing subsidies and launching initiatives to increase awareness of automated technologies among farmers. GRAPE and MARS are two examples of projects funded by the European Union to replace labor-intensive tasks using advanced automated technology. Many start-up and established agricultural businesses are investing in research and developing new agricultural robots.
Automation is encouraged by a growing population and a rising labor shortage
The increasing global population is putting pressure on the agriculture industry. This is due to the increased productivity of the current farm areas and the growing demand for it. The agricultural industry is being affected by changing demographics and urbanization. The US and UK are two examples of countries that heavily rely on migrant workers. 
According to data from the World Bank, agricultural employment worldwide has dropped by 15% over the past decade. Global labor shortage is a problem due to an aging farm population, which further reduces the availability of manual labor. Younger generations are less likely to choose farming and many children from farming families move to cities to better their career prospects. Existing farmers have been able to stay in the field for longer periods of time.
North America will see a growing labor shortage and rising labor cost that will drive sales.
North America was the dominant market for agricultural robots. The increased use of modern technology is driving the market for agricultural robots in the region. This is due to rising labor shortages, high labor cost in the region and high per capita disposable income.
The region's growth is driven by government support for agricultural robots and other technologies that enable smart farming. Participants in the agricultural robot market are investing heavily in low-cost, high productivity robots to increase yields and lower farmer costs.
The market will be affected by the high price of these robots, inability of robots to match human abilities, inaccessibility of remote areas and lack of internet connectivity. The market for agricultural robots is seeing lucrative opportunities due to government support in adopting modern agricultural techniques, monitoring the health of crops, and product launches by market participants.
Agbots are the term for agricultural robots. The continuous technological advancement equipment, machines, and applications that can be used to improve the productivity of farms around the world act as the main drivers of the global agricultural robot market. These robots are used for various functions, including picking fruits, harvesting, cloud seeding, and weed control. The purpose of their deployment is to reduce human effort.
---
---
Media Enquires
If you require any further information about a related market, please get in touch with us. we're happy to help you
+91 7008 614 496
+91 7008 614 496