Commercial Helicopter Market Takes Flight with Tourism Industry Boom, says Market.us
---
---
A commercial helicopter is any aircraft used to transport passengers or cargo. Helicopters for commercial use fly with just one or two pilots. They can land anywhere, including at airports and in urban areas.
Lightweight, medium, and heavy-weight commercial helicopters are the main types. There are two types of engines and helicopters: single-engine and multiengine. These are used for transport, oil and gas, law enforcement, public safety, and other purposes.
According to the latest report by Market.us, "The commercial helicopter market was valued at USD 5.88 billion in 2021 and is expected to expand at a compound annual growth rate (CAGR) of 5.4% from 2022 to 2030."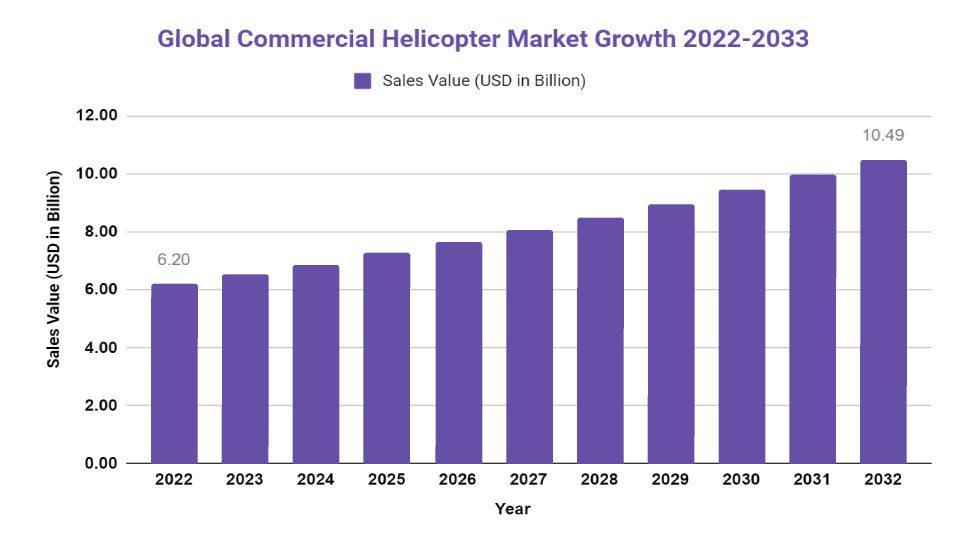 Gaurav Yadav, a senior research analyst at Market.us, said," The maret has seen a significant increase in the use of commercial helicopters to provide medical and emergency rescue services and offshore helicopter services. The tourism industry is also increasing the number of lease and purchase agreements for commercial helicopters."
Due to their growing tourism industry, emerging nations like India, Japan, China, and other countries depend highly on commercial helicopters. Strict emission standards and high helicopter costs may hinder the global retail helicopter market. Another factor that could hamper the market's growth is the high taxes imposed by most countries on commercial helicopters.
Helicopters have been around for decades and are useful in many services and applications. Helicopters can be used for transport, firefighting, rescue, military missions, and defense operations. They also have many applications in agriculture, such as crop spraying. These helicopters are remarkable because of their maneuverability and ability to operate in difficult-to-reach areas.
Market growth is affected by the need to replace old commercial helicopters. It contributes to technology upgrades and newer, more efficient designs. High maintenance costs, performance erosion, and contracted replacement cycles are a few factors influencing the market growth. Safety concerns also play a role. Professional and leisure air transport have become essential modes of transportation. The challenges of using traditional transport methods, such as roads and railways, to reach remote locations or destinations represent significant growth opportunities for the global commercial helicopter market.
Global demand is expected to grow due to the growing tourism industry. The use of commercial helicopters in offshore oil and gas exploration and transporting personnel and staff is increasing. Market growth can be impeded by stringent emission standards and high helicopter maintenance and purchase costs. The cost of commercial helicopters in many countries is high. It can limit market growth.
Helicopter manufacturers must consider speed and noise reduction when designing newer, more advanced helicopters. Operators will have new options to expand their commercial helicopter fleets through leasing companies and other options.
---
---
Media Enquires
If you require any further information about a related market, please get in touch with us. we're happy to help you
+91 7008 614 496
+91 7008 614 496