Innovative Health-Focused Dairy Snack Trends Unveiling in the Food Industry, says Market.us
---
---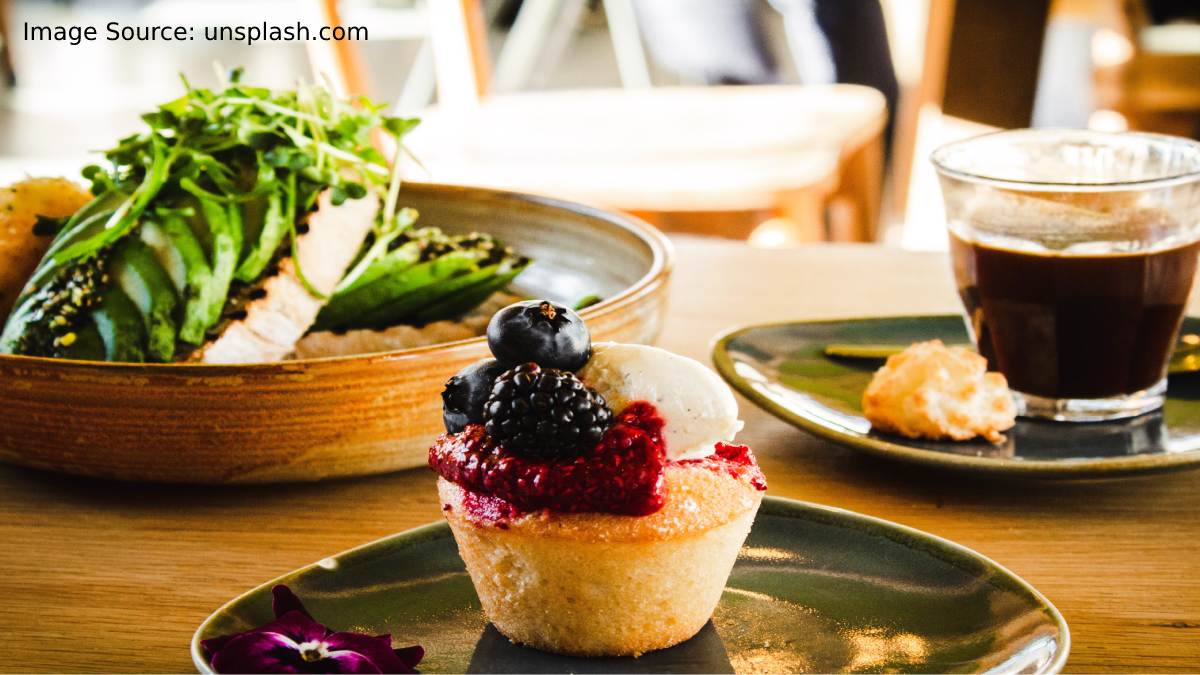 Snacking on dairy products can be a delicious and nutritious way to boost your energy levels and provide many important nutrients for your body. Dairy snacks are an easy option for anyone looking to make healthy choices, as they contain proteins, carbohydrates, vitamins, minerals, and a wide variety of other beneficial compounds. From yogurt parfaits to cottage cheese and string cheese, many dairy snack options are available that appeal to all ages.
The dairy snack market has grown rapidly in recent years, driven by increasing consumer demand for convenient and healthy snacks. Dairy-based snacks, such as cheese sticks, yogurt bars, and milk-based beverages, are becoming increasingly popular among health-conscious shoppers looking for a nutritious alternative to other snack options. With this growth comes new opportunities for dairy companies to innovate and create products that meet the needs of consumers.
According to research by Market.us, " The Dairy Snack market is estimated to grow at a CAGR of 5.16% between 2022 to 2032. It reached a valuation of US$ 240.7 Billion in 2022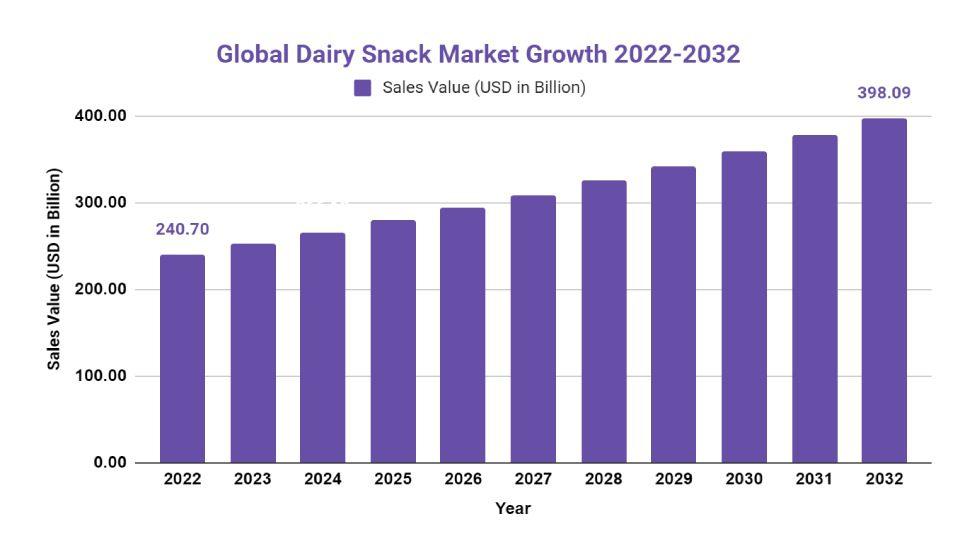 Consumers are becoming more aware of the health benefits of consuming dairy products due to the increasing consumption of protein-fortified food and beverages. Dairy snacks will be more popular due to the increasing population, urbanization, and demand for dairy products. The global dairy snack market is driven by industry innovations that help lower production costs and add additional benefits.
Anurag Sharma, a senior research analyst at Market.us, said, "The rise in ready-to-eat (RTE) milk products is driving the demand for dairy snacks. This is due to busy lifestyles, rising incomes, and a growing global population. After the coronavirus epidemic, dairy snacks such as yogurts, cheese, or ice cream are in constant demand. This could be attributed to the increased demand for comfort food. This has created strong growth opportunities for dairy producers to invent products such as powdered ingredients with a longer shelf-life."
Dary snacks offer several advantages over other types of snacks. The nutrient profile is high in protein and calcium, providing lasting energy throughout the day. Additionally, dairy-based products provide a range of flavors that appeal to all taste buds, from sweet to savory options. Finally, many dairy snack products are made with natural ingredients free from artificial preservatives or additives, making them a healthier choice than traditional processed snacks.
Rising demand for authentic, natural cheeses
The popularity of artisanal and craft cheese products is growing. They are closely tied to real cheeses and basic ingredients. Because cheese is rich in calcium, protein, vitamin D, and vitamins, consumers consider it a healthy snack. However, it also has a bad reputation for being unhealthy and high in fat. 
Cheese can be described as a "naturally functional whole food." Cheese snacks are a popular choice for healthy snacks. Cheese snacks have been popular for many years in Europe and North America. They are now very much loved worldwide. The USDA states that cheese consumption has increased by 43% over the last 25 years. You can enjoy new and unique flavors by eating specialty cheeses as a snack.
Europe leads the Global Dairy Snack Market
Europe is the largest market for dairy snacks worldwide. France, Germany, and the United Kingdom are the top markets in this region. This is due to the increasing lactose sensitivities of consumers. Asia-Pacific will, however, be the fastest-growing region during the forecast period. This is due to the region's growing population and booming middle class, rising income levels, brand awareness, westernization, and a growing middle class. The Middle East, Africa, and Asia are expected to also expand during the forecast period.
Recent Development
Nestle's R&D Accelerator was launched in September 2020 by the company to promote dairy product innovation. Nestle's R&D accelerator, located in Konolfingen (Switzerland), offers an opportunity for students and start-ups as well as scientists, to leverage its unique plant protein expertise and milk products knowledge to develop ideas rapidly.
To increase product visibility and sales, brands partner with online marketplaces such as Amazon and Big Basket. Machine learning and artificial intelligence enhance customer experience and make it easy for customers to navigate the website. 
Unilever Inc bought the holding company of graze (the UK's top healthy snacking brand) in February 2019. Graze is an online snack retailer that delivers natural food, flapjack cakes, popcorn, and other snacks to your home or office via postal mail.
New products are regularly featured on many internet portals and company websites to increase consumer awareness. Consumers now have the option to choose from a variety of dairy snacks with different brands and prices. This will positively impact the dairy snacks market over the next few years.
---
---
Media Enquires
If you require any further information about a related market, please get in touch with us. we're happy to help you
+91 7008 614 496
+91 7008 614 496