RENFE HIGH SPEED TRAINS SOON TO BE LAUNCHED IN FRANCE
Renfe, Spain's national rail operator, is ready to launch high speed rail services between Paris and Marseille via Lyon. It will then be in competition with French national railways SNCF, despite a cooperation between both rail companies on the high speed route between Paris and Barcelona.
As France slowly opens its national rail to new operators, Renfe is looking to soon launch its own high speed trains on France's busiest domestic route, linking Paris to Lyon and Marseille.
The operator is working with Spain's Ministry of Finance to set up a RENFE branch in Paris, aiming to develop transport services in France, as well as providing other complementary services or activities linked to transport, carrying out representative functions for the Spanish parent company.
The Spanish operator would be the second in France to run on a domestic route, following the launching this October by Italian rail operator Thello of the Paris-Lyon-Milan line. "With the liberalisation of passenger rail transport, Renfe is taking action in France to launch high-speed services and provide public services," Renfe said in a statement.
France is a priority for Renfe
Renfe has also announced it plans to start regional public services (in the Grand-Est and Hauts-de-France regions). Renfe underlines that the French market has high priority in its international expansion. The Spanish national rail Strategic Plan 2019-2023-2028 includes speeding up internationalisation as one of the pillars of the company's strategy.
The company continues to analyse opportunities for international growth, both in Europe and in the United States and Latin America, with the aim that 10% of the company's total revenues will come from foreign operations, both in high-speed and public services, within 10 years.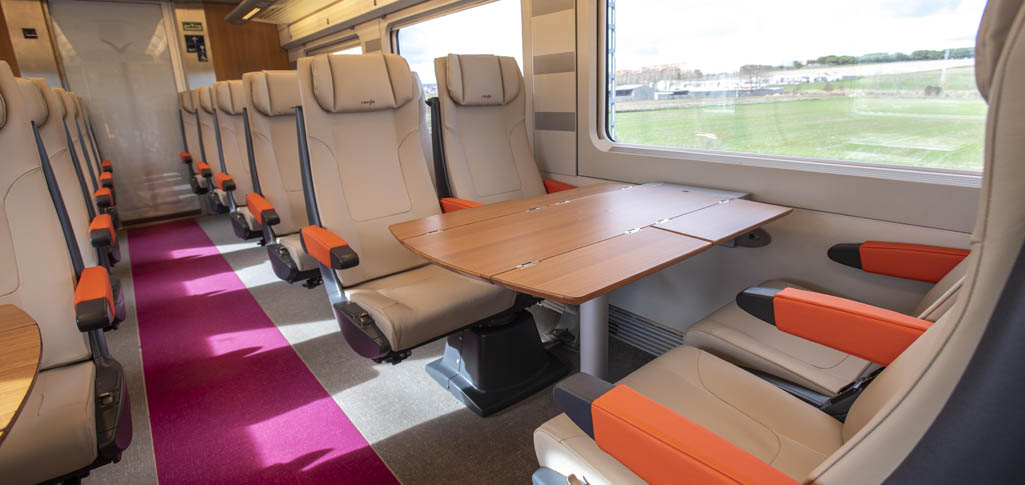 Renfe is part of a consortium of companies that already operates the high-speed line between Mecca and Medina in Saudi Arabia as well as managing the high speed line between Dallas and Houston in the USA. In Europe, Renfe acquired 50% of the capital of the Czech railway company Leo Express which can operate in Czechia, Slovakia, Poland and, in the future, in Germany.
In France, Renfe has not yet set up a timetable to start services. Neither has the company chosen the type of train and services it wants to run between Paris, Lyon and Marseille. Experts estimate that the Spanish rail company would likely put in service its AVLO low-cost service as does SNCF with Ouigo in Spain. Since May, the French public rail operator SNCF, through its low-cost brand Ouigo, has been running a high-speed service between Madrid and Barcelona, with prices starting at €9 and with stops in Zaragoza and Tarragona.
For the time being, Renfe's future competition against SNCF does not put into question other points of cooperation between both rail companies.
Renfe – SNCF in Cooperation
The two leading high-speed rail operators have been working together for 25 years to bring the best of their knowledge, experience and know-how to the benefit of international travellers, linking Spain and France with 10 frequencies per day and 19 connected destinations.
Primary high-speed train services run twice a day. The first one connects Paris to Barcelona in six and a half hours, with stops in Valence, Nîmes, Montpellier, and Girona among others. The second line goes from Lyon to Barcelona following the same route from Valence.
Each company is contributing high-speed trains (TGV Inoui and AVE models) to this project and is cooperating to establish a joint marketing, sales and production strategy for a common offer.
In order to turn this project into reality, it was also necessary to coordinate the technical aspects of three infrastructure managers (ADIF, RFF and TP Ferro).
source https://news.itb.com/topics/transport/renfe-high-speed-trains-france/
Tajammul Pangarkar
Tajammul Pangarkar is a CMO at Prudour Pvt Ltd. Tajammul longstanding experience in the fields of mobile technology and industry research is often reflected in his insightful body of work. His interest lies in understanding tech trends, dissecting mobile applications, and raising general awareness of technical know-how. He frequently contributes to numerous industry-specific magazines and forums. When he's not ruminating about various happenings in the tech world, he can usually be found indulging in his next favorite interest - table tennis.