Big Data Statistics Unveiling Hidden Patterns in the Digital Wilderness
Big Data Statistics: Big data, characterized by its three primary dimensions – volume, velocity, and variety – is a transformative force in the modern information landscape. It encompasses vast and complex datasets that outstrip conventional data processing capabilities, generating terabytes or more data at high speeds and in diverse formats, including structured, semi-structured, and unstructured data.
This phenomenon holds profound significance across numerous domains, from businesses using big data analytics to gain insights into customer behavior and optimize operations to healthcare institutions leveraging it for disease prediction and treatment enhancement and scientific research that harnesses it for data-driven discoveries.
Editor's Choice
The big data market will reach $103 billion by 2027.
Poor data quality imposes a significant economic burden on the United States, costing the economy as much as $3.1 trillion annually.
In 2020, each individual contributed a staggering 1.7 megabytes of data within a second.
Furthermore, daily data production by internet users amounts to an astounding 2.5 quintillion bytes.
Managing unstructured data is a challenge faced by 95% of businesses.
An overwhelming 97.2% of organizations are making investments in the realms of big data and artificial intelligence.
Using big data analytics, Netflix has achieved remarkable cost savings, tallying up to an impressive $1 billion annually in customer retention efforts.
Projections suggest that the world is poised to generate a staggering 181 zettabytes of data by 2025.
Global Big Data Market Size
The big data market has witnessed a continuous and impressive expansion over the years, reflecting its growing significance in the global digital landscape. In 2017, the market was valued at 35 billion dollars, marking the beginning of this upward trend.
This momentum continued as investments in big data technology surged to 42 billion dollars in 2018 and increased to 49 billion dollars in 2019.
The year 2020 saw a substantial leap, with the market reaching 56 billion dollars, and this trajectory of growth continued consistently into 2021 when the market size reached 64 billion dollars.
Projections indicate that this trend will persist, with the big data market anticipated to reach 70 billion dollars in 2022, 77 billion dollars in 2023, 84 billion dollars in 2024, and 90 billion dollars in 2025.
The market's ascent will continue, reaching 103 billion dollars by 2027. These figures underscore the enduring importance of big data in shaping industries and driving innovation across various sectors worldwide.
(Source: Statista)
Big Data Market Revenue by Segment
The big data market has expanded in size and demonstrated a dynamic composition of its revenue streams over the years. In 2017, the total revenue reached 35 billion dollars, with services contributing 14 billion dollars, hardware generating 10 billion dollars, and software accounting for 11 billion dollars.
The following year, in 2018, the market's total revenue grew to 42 billion dollars, with services increasing to 16 billion dollars, hardware to 12 billion dollars, and software to 14 billion dollars.
By 2019, the market continued its upward trajectory, reaching 49 billion dollars in total revenue, with services at 19 billion dollars, hardware at 14 billion dollars, and software at 17 billion dollars.
In 2020, the total revenue surged to 56 billion dollars, services grew to 21 billion dollars, hardware reached 15 billion dollars, and software expanded to 20 billion dollars.
This trend persisted into 2021, with a total revenue of 64 billion dollars, services at 24 billion dollars, hardware at 16 billion dollars, and software at 24 billion dollars.
Looking ahead, projections indicate sustained growth, with the big data market expected to achieve a total revenue of 103 billion dollars by 2027, reflecting the increasing importance of data-related services, hardware, and software in the evolving digital landscape.
(Source: Statista)
In the domain of revenue distribution for services in 2020, distinct sectors held varying shares of the market. Audience measurement emerged as a significant player, commanding a substantial 23.2% of the revenue share, reflecting the importance placed on gauging audience engagement and response.
Data, text, and predictive analytics followed closely, securing an 18.4% share, underscoring the demand for data-driven insights and predictive modeling.
Information technology services represented 13% of the revenue, highlighting the reliance on IT infrastructure and support.
Custom research services claimed 9.8% of the market share, signifying the need for tailored research solutions.
Syndicated research services rounded out the landscape with a 7.1% share, catering to the broader market's information needs. These revenue distributions illustrate the diverse service offerings within the industry, reflecting the multifaceted requirements of businesses and organizations across sectors.
(Source: Insights Association, 2020)
Fastest Growing Categories of Big Data By Technology
The technology landscape is marked by varying growth rates, as indicated by the five-year Compound Annual Growth Rates (CAGR) for specific segments. The non-relational analytic data store sector leads the pack with robust expansion, demonstrating a remarkable CAGR of 38.6%.
Close behind, the cognitive software platform sector boasts a substantial CAGR of 23.3%, reflecting the growing adoption of advanced AI and machine learning solutions.
Content analytics follows suit with a notable CAGR of 17.3%, while search systems exhibit steady growth at 16.6%.
IT services, a fundamental component of the technology ecosystem, maintain a healthy CAGR of 14.6%.
Lastly, the "Others" category, which encompasses diverse technological domains, shows a respectable CAGR of 9.3%. These growth rates underscore the dynamic nature of the technology sector, with emerging trends in data analytics, artificial intelligence, and content management playing pivotal roles in shaping the industry's future trajectory.
(Source: Statista)
The Volume of Data Consumed Over The Globe
The volume of data generated and processed globally has witnessed an extraordinary surge over the past decade, reflecting the digital transformation of society and business. In 2010, the world produced two zettabytes (ZB) of data, a considerable amount.
However, this was just the beginning of an exponential growth trend. By 2011, the data volume had already tripled to 5 ZB; by 2013, it had nearly quadrupled to 9 ZB.
The following years showed no signs of slowing down, with data volumes of 12.5 ZB in 2014, 15.5 ZB in 2015, and 18 ZB in 2016.
A significant leap occurred in 2017 when the world generated a staggering 26 ZB of data, marking a pivotal moment in the data landscape.
This growth continued unabated, reaching 33 ZB in 2018 and 41 ZB in 2019.
However, the most remarkable leap was observed in 2020, as data volume surged to an astonishing 64.2 ZB. This exponential increase underscores the ever-expanding role of data in our digital lives and the challenges and opportunities it presents for businesses, researchers, and society.
(Source: Statista)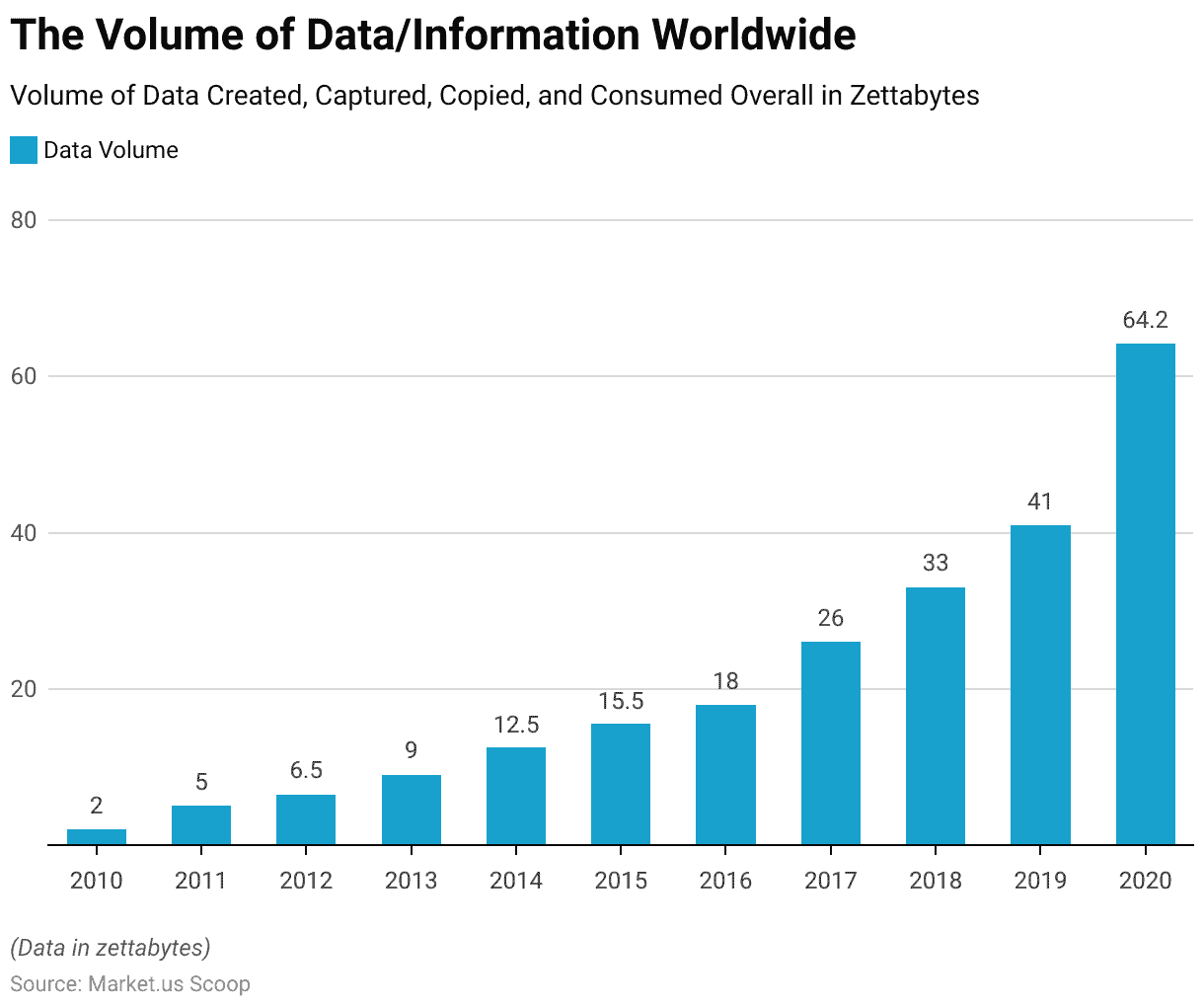 Big Data Statistics by Global Penetration
Each day, an astounding 2.5 quintillion bytes of data, equivalent to 2.5 followed by 18 zeros, is generated, approximately 2.3 trillion gigabytes.
By 2020, data creation was expected to reach a staggering 40 zettabytes, indicating a 300% increase compared to 2015.
In the past two years alone, humans have produced 90% of all the data ever generated on Earth.
In just one second, individuals collectively generate 1.7 megabytes of fresh information.
On average, users spend approximately 6 hours and 42 minutes online daily, with humanity projected to spend a collective 1.2 billion years online in 2019.
Looking ahead to 2020, global IT traffic was estimated to reach 44 zettabytes.
Additionally, the world will see the proliferation of 50 billion smart connected devices, actively collecting, analyzing, and sharing data.
(Source: IBM, Forbes, Grazitti Interactive, TNW, CISCO)
Big Data Statistics by Global Spending
The investment in big data has witnessed a steady and substantial rise over the years, reflecting its growing importance across industries. In 2015, spending on big data reached 122.0 billion USD, marking the initial steps of a significant trend.
This trend continued with investments increasing to 130.1 billion USD in 2016 and 149.0 billion USD in 2017.
The upward trajectory persisted as spending surged to 168.8 billion USD in 2018 and 189.1 billion USD in 2019.
By 2022, the commitment to big data had substantially intensified, with investments reaching a remarkable 274.3 billion USD. These increasing financial allocations underline the widespread recognition of big data's potential to drive innovation, enhance decision-making, and transform industries.
(Source: FutureCIO)
Industries Served by Big Data and Analytics
Big data significantly impacts various industries and sectors, with its utilization varying in percentage terms. Leading the charge are the Media, Advertising, and Entertainment sectors at 32.0%, and the Healthcare Products, Services, and OTC Medicines sectors closely following at 31.4%. These industries leverage big data to enhance marketing strategies, personalize content, and improve healthcare services.
Meanwhile, Consumer Durables, Non-Durables (12.1%), Government, Associations, Non-Profits, and Public Service (10.2%) sectors also tap into big data for improved decision-making and efficiency.
In the Technology sector, big data usage stands at 5.0%, with Financial Services and Insurance at (4.0%).
The Telecommunications (3.0%), Consulting (2.5%), Automotive (1.9%), Retailers/Wholesalers (1.7%), and Education (1.2%) sectors also recognize their potential to drive innovation and competitiveness within their respective domains. These varying adoption rates reflect the diverse ways in which big data is reshaping industries, optimizing operations, and informing strategic choices.
(Source: Insights Association, 2020)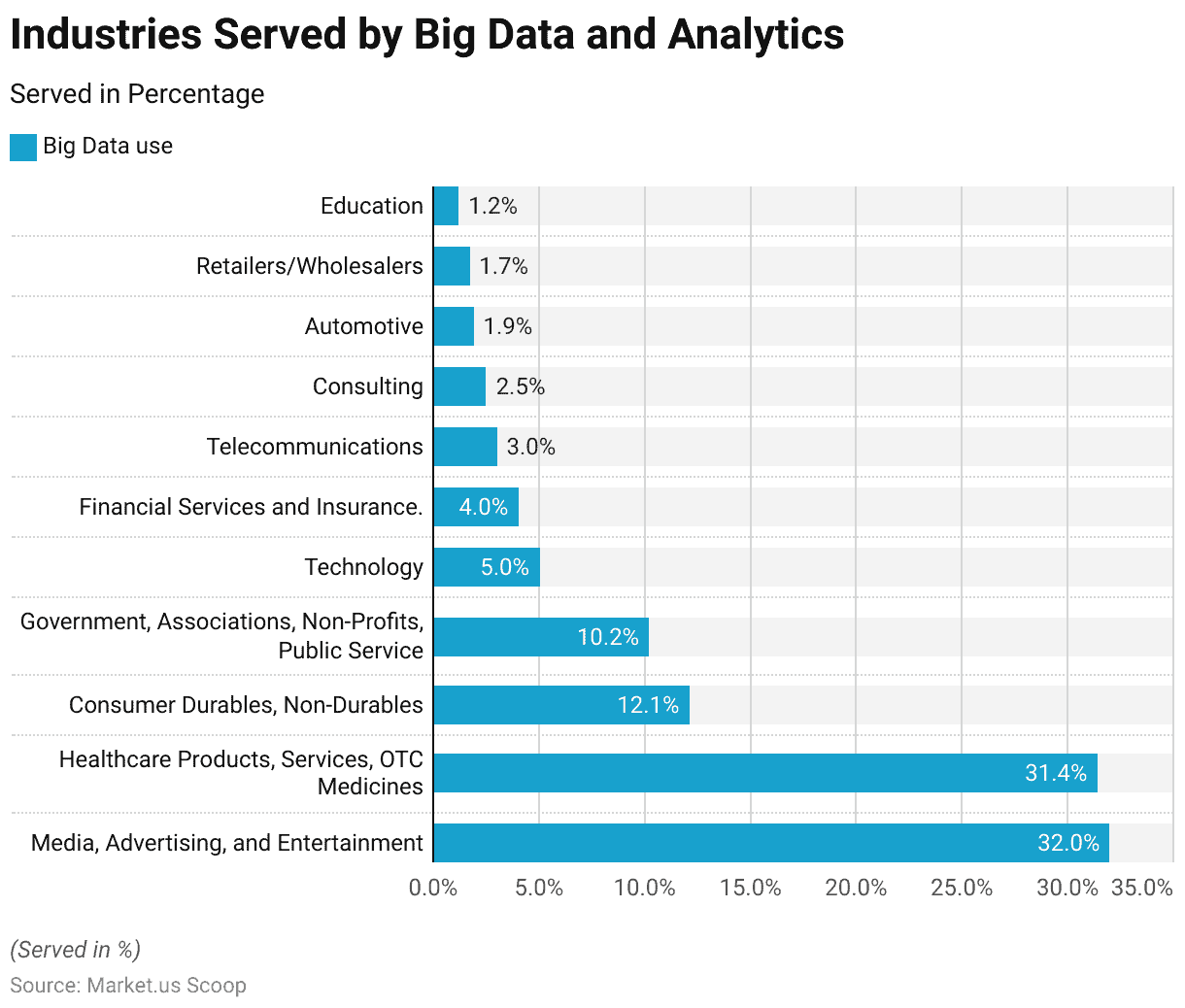 By Data Centers Globally
Data centers, essential hubs for storing and processing digital information, are strategically distributed across various countries, reflecting the global demand for data management. The United States has a substantial 2,701 data centers, highlighting its status as a technological powerhouse.
Germany follows with 487 data centers, demonstrating its strong technological infrastructure, while the United Kingdom closely trails with 456 centers.
China, a burgeoning tech giant, boasts 443 data centers, further emphasizing its technological prowess.
Canada (328), Australia (287), Netherlands (281), France (264), Japan (207), Russia (172), Mexico (153), Brazil (150), India (138), Poland (136), and Italy (131) all contribute significantly to the global network of data centers. These numbers illustrate the widespread need for data storage and processing capabilities, driven by the digital age's ever-growing data demands.
(Source: Statista)
Adoption of Big Data By Companies For Various Purposes
Executives increasingly recognize the pivotal role of data in driving innovation, with 59.5% stating that they actively promote innovation through data.
Nearly half, or 47.6%, are engaged in competitive strategies rooted in data and analytics, while 46.9% view data as a valuable business asset.
A significant portion, 31%, has successfully transitioned into data-driven organizations, and 28.3% have cultivated a culture prioritizing data utilization.
Notably, in 2020, 64.2% reported using data to fuel innovation, marking a 4.7 percentage point increase from the previous year.
However, the competitive aspect dipped slightly, with 45.1% claiming competitiveness through data and analytics, a 2.5 percentage point decrease.
Encouragingly, half of the surveyed executives, or 50%, now manage data as a critical business asset, reflecting a 3.1 percentage point growth from 2019.
Moreover, 37.8% have succeeded in establishing data-driven organizations, representing a substantial 6.8 percentage point increase from the previous year.
However, the cultivation of a data culture saw a minor decline, with 26.8% reporting this achievement, down 1.5 percentage points from the previous year.
(Source: NewVantage Partners, 2020)
Big Data Statistics by Benefits
Leveraging big data, Netflix achieves impressive cost savings of $1 billion annually in retaining its customers.
The potential for businesses to save a staggering $1 trillion through the Internet of Things (IoT) by 2020 represents a significant financial impact.
Looking ahead, the projected influence of Artificial Intelligence (AI) is substantial, with an estimated financial impact of $40 billion by 2025.
Companies that harness big data experience an 8-10% increase in profits, underscoring the value of data-driven strategies.
Moreover, information presented in the form of narratives is 22 times more memorable than raw facts, highlighting the power of storytelling in conveying data.
Recognizing the importance of data, 70% of businesses emphasize the critical role of data warehouse optimization in achieving success.
Data analytics deliver a range of benefits, including a 25% acceleration in innovation cycles, 17% enhancements in business efficiencies and productivity, a 13% boost in research and development effectiveness, and a 12% improvement in products and services. These insights illuminate the multifaceted advantages of data-driven approaches to the business landscape.
(Source: TechJury-2021, Grazitti Interactive, Informa, Entrepreneur-2019, Chicago Analytics Group, Forbes, Chicago Analytics Group)
Big Data Statistics by Cost
Annually, the United States grapples with a staggering cost of $3.1 trillion due to subpar data quality, significantly impacting its economy.
91% of companies express concern that inadequate data quality leads to revenue wastage.
Furthermore, 79% of corporate leaders believe that failing to adopt big data strategies risks their competitive standing and jeopardizes their long-term survival.
To address this, 83% of enterprise executives actively pursue big data initiatives to secure a competitive edge.
Additionally, businesses that incorporate big data practices enjoy a 10% reduction in overall operational expenses, highlighting the tangible benefits of data-driven approaches. These insights underscore the far-reaching implications of data quality, its potential impact on revenues, and the critical role of big data in sustaining competitiveness and cost efficiency.
(Source: IBM, Chicago Analytics Group, Forbes, Entrepreneur-2019)
Big Data Statistics by Investments
Big Data In the realm of big data investment in 2020, various sectors exhibited distinct priorities.
A significant portion, 53.6%, was dedicated to transformation initiatives, strongly emphasizing using big data to drive substantial organizational changes.
Innovation was another prominent focus, with 26.8% of investments geared towards fostering new and creative solutions.
A smaller but noteworthy allocation of 8.5% was dedicated to competition-related strategies, indicating the role of big data in gaining a competitive edge.
Meanwhile, cost-saving endeavors accounted for 6.1% of investments, underlining the potential for big data to optimize operations and reduce expenses.
Lastly, regulation-related investments represented 4.9% of the total, demonstrating the importance of compliance and data governance in the evolving landscape of big data utilization. These allocations reflect the multifaceted impact of big data across sectors, encompassing transformation, innovation, competition, cost-efficiency, and regulatory adherence.
(Source: NewVantage Partners, 2020)
By Challenging Aspects
A substantial portion of data, specifically 88%, tends to be overlooked and not thoroughly examined. For most companies, just 12% of their data receives comprehensive analysis, indicating a significant untapped potential.
A noteworthy 40% of businesses frequently grapple with managing unstructured data, emphasizing this challenge.
Furthermore, 95% of businesses find managing unstructured data a pressing need.
There is a level of uncertainty regarding data accuracy for 27% of individuals.
(Source: Big Data Made Simple, Forbes, IBM)
By Positive Aspects
On a positive note, a solid 80% of leaders actively assess the impact of their investments in data analytics.
Among these leaders, 60% possess predictive analytics capabilities, and a substantial 85% have various shared resources for analytics purposes.
A near-universal consensus prevails, with 99% of organizations recognizing the pivotal role of data in achieving marketing success.
These leaders, who rely heavily on data-driven insights, are 166% more inclined to base their decisions on data.
For 75% of leaders, growth represents the primary source of value derived from data analytics, while they are 2.2 times more likely to have established formal career paths incorporating analytics. These insights illuminate the significance of data in decision-making, the challenges of managing unstructured data, and the value it brings to organizational growth and development.
(Source: iView Systems, Chicago Analytics Group, iView Systems, Chicago Analytics Group)
Conclusion
Big Data Statistics – Big data has become a defining feature of our modern world, characterized by its vast Volume, Velocity, and Variety. It plays a pivotal role across diverse sectors, enabling innovation, enhancing efficiency, and driving critical insights. While its potential is immense, big data presents data quality and privacy challenges.
Organizations invest heavily in big data analytics, contributing to a thriving market, and emphasize data-driven decision-making. The future promises even more data, requiring ethical considerations and responsible management. Big data statistics reveal a data-driven evolution where information serves as the currency of progress, reshaping industries and decision-making processes worldwide.
FAQs
What is big data?
Big data refers to extremely large and complex datasets that exceed the capabilities of traditional data processing tools. It is characterized by the Three Vs: Volume, Velocity, and Variety.
What are the key challenges in managing big data?
Challenges in managing big data include ensuring data quality, addressing privacy and security concerns, scaling data processing infrastructure, and extracting meaningful insights from the data.
How is big data used in businesses?
Businesses use big data for various purposes, including customer analytics, market segmentation, product development, supply chain optimization, and fraud detection.
What are some benefits of using big data in decision-making?
Big data enables data-driven decision-making, leading to improved insights, more accurate predictions, cost savings, and enhanced competitiveness.
How does poor data quality impact businesses?
Poor data quality can lead to financial losses, decreased customer satisfaction, and erroneous decision-making, costing businesses trillions of dollars annually.
What are the emerging trends in big data analytics?
Emerging trends in big data analytics include the integration of AI and machine learning, edge computing, increased focus on data privacy, and the use of cloud-based solutions.
Tajammul Pangarkar
Tajammul Pangarkar is a CMO at Prudour Pvt Ltd. Tajammul longstanding experience in the fields of mobile technology and industry research is often reflected in his insightful body of work. His interest lies in understanding tech trends, dissecting mobile applications, and raising general awareness of technical know-how. He frequently contributes to numerous industry-specific magazines and forums. When he's not ruminating about various happenings in the tech world, he can usually be found indulging in his next favorite interest - table tennis.