Content Marketing Statistics By Market Value, Adoption, Challenges and Opportunities
Content marketing is a marketing strategy that focuses on the creation, publication, and distribution of valuable, relevant, and consistent content to engage and attract a specific audience. The primary goal of content marketing is to establish trust and credibility with your target audience to drive profitable customer actions.
Content marketing differs from traditional advertising in that it does not explicitly promote a brand, product, or service. Instead, it provides informative, entertaining, or educational content that adds value to the audience's lives. Businesses can build long-term relationships with their audiences in this way, which can lead to increased brand awareness, customer loyalty, and sales.
Some common types of content used in content marketing include:
Blog posts and articles
Videos
Podcasts
Infographics
E-books and whitepapers
Webinars and online courses
Social media posts
Email newsletters
Case studies
Interactive content (quizzes, polls, etc.)
Businesses can use content marketing to reach their target audience, establish thought leadership, generate leads, and support various stages of the customer journey. Businesses can cultivate relationships with their audiences and ultimately influence their purchasing decisions by consistently providing high-quality content.
Market Value
According to the market.us The Global Content Market size is expected to be worth around USD 25.41 billion by 2032 from USD 5.86 Billion in 2023, growing at a CAGR of 15.8% during the forecast period 2023 to 2032.
Content Marketing Statistics
According to Kyle Byers, Director of Organic Search at Semrush, "Understanding what your target audience needs and values will be the key to content advertising achievement in 2023."
He has a valid point. According to our data, this is one of the many important factors influencing the success of content marketing.
When asked, "Which variables lead to achievement in content marketing?" survey respondents responded as follows:
47% conduct audience research.
46% engage in search engine optimization (SEO).
45% are producing more content and doing so more frequently.
44% reported that improving the standard as well as the worth of their writing has resulted in success.
42% said that updating existing material has increased the value of their content marketing.
40% said creating more visual and video content improved their content marketing, while 41% said evaluating their rivals influenced the success of their strategy.
Aside from these essential content marketing components, participants had a lot to say about what strategies improve content ranking the most:
55% produce more content and publish it more frequently.
53% are working to improve the standard of their content, while 37% prioritize research-based content.
36% said they are working to improve their technical SEO.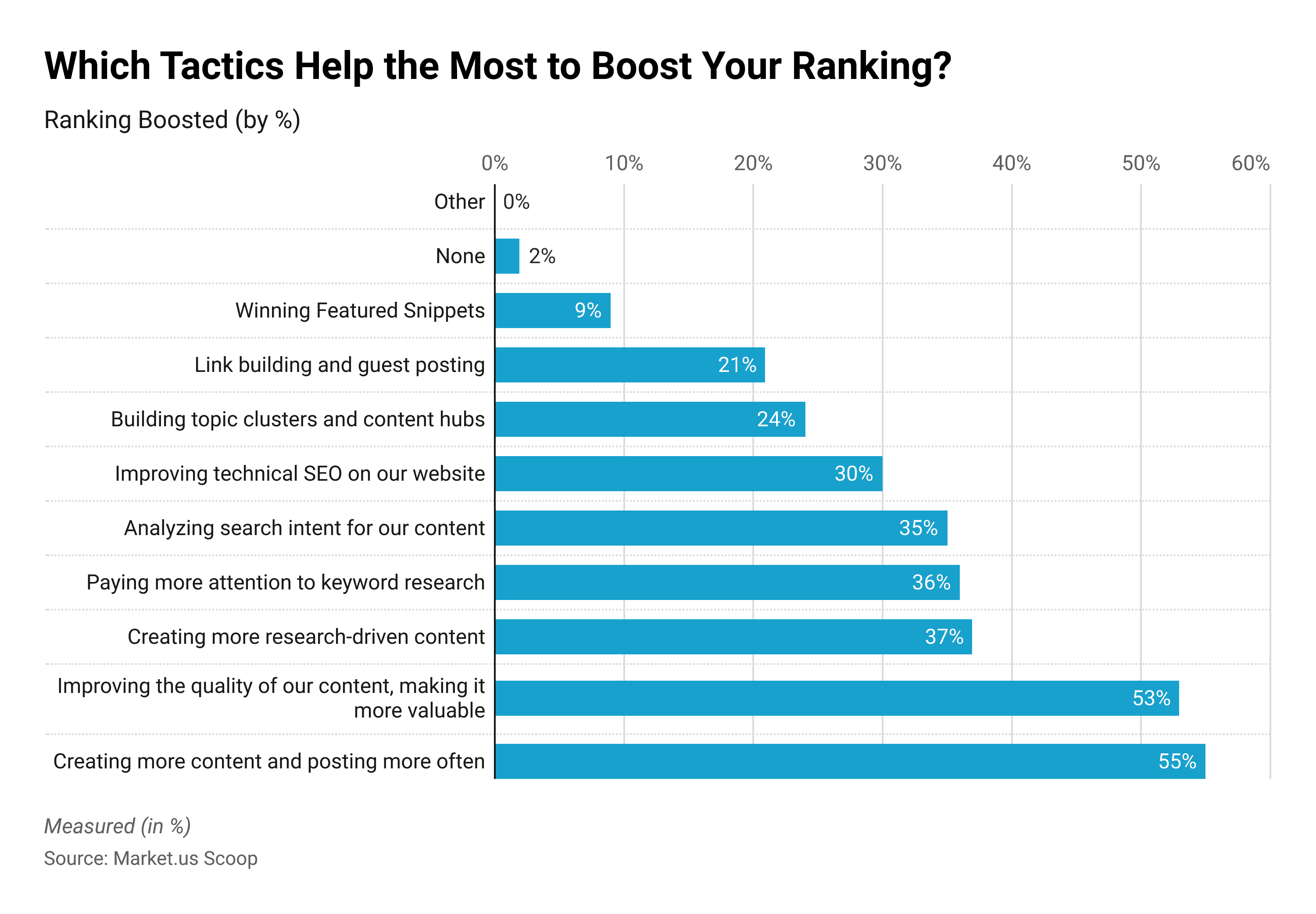 Content Development and Content Teams
As a result, content created by dependable human content professionals and content teams—whether an internal resource or an agency—remains a good investment.
More than just writing requires a human touch. Respondents ranked the following tactics as the most effective in propelling blog content up the SERPs:
Conducting research and incorporating related keywords in addition to primary keywords (45% of respondents)
Customer question analysis and response in blog posts (38% of respondents)
Including more visuals, such as images and videos, on their blogs (33% of respondents)
Before beginning to write, 27% of respondents conduct a thorough search intent analysis.
(26%) are focusing on link-building for their blog posts.
Content Promotion
73% of people use social media (organic posting).
Email marketing is used by 53% of people.
51% spend money on paid social media ads.
33% put money into organic research.
29% prefer sponsorships (events, webinars, and podcasts).
28% make use of public relations and media outreach.
25% rely on influencer marketing
11% promote their content through guest posting.
Social Media is the Most Popular Tactic (56%)
Challenges
Every type of marketing presents challenges in terms of time, resources, expertise, and competitors. Recognizing these challenges and confronting them with thoughtful solutions is the most effective way to overcome them and achieve success.
Among the top challenges were "attracting high-quality leads with our content" (41%), "creating enough traffic to promote our content" (39%), "creating content that resonates with our audience" (31%), and "proving the ROI of our content" (30%).
Changes in SEO/search algorithms (64%) are among B2C marketers' top concerns, followed by changes in social media algorithms (53%), and data management/analytics (48%).
47% of people seek relief from internet-enabled devices due to digital fatigue.
(Source: EY survey, Photo courtesy of CMI, Semrush, State of Content Marketing 2022)
Content Marketing Trends to Watch in 2023
In 2023, the short-form video takes center stage.
Short-form video is the most popular marketing trend, has the highest ROI, and is expected to expand the most in 2023. Marketers intend to spend more money on short-form videos than on any other trend.
90% of advertisers who use short-form videos plan to boost or sustain their investment in 2023, while 21% intend to use short-form videos for the first time that year.
This corresponds with the kinds of videos that consumers prefer to watch, with 73% preferring to watch short clips to learn about something they are interested in.
This consumer behavior has made short-form videos, in particular, the primary form of media utilized in any content approach for the fourth year.
More brands will emphasize their values in their marketing content.
In their marketing content, more brands will emphasize their values.
According to a recent Google Cloud study, 82% of clients prefer a brand's values to match their own. Furthermore, according to the same study, 75% of consumers would abandon a brand because of competing values.
As a result, it's no surprise that 30% of marketers are producing content that represents their brand's values, making it one of the most popular marketing trends. The trend has the fifth-highest ROI and is expected to grow in 2023.
As stated by Giusy Buonfantino, Vice President of Consumer Packaged Goods at Google Cloud, the COVID-19 pandemic increases the importance of values in marketing.
"COVID-19 compelled people to reconsider their priorities, elevating concepts such as community service, equity, and sustainability," Buonfantino wrote in a blog post announcing the findings.
According to Buonfantino, today's consumers are looking for more than just savings or convenience; they want to feel good about spending their money with a company whose values align with their own.
According to a Google Cloud study, most consumers (52%) are interested in sustainability. Consumers want to know how businesses manage their resources and whether their materials are responsibly sourced.
Influencer marketing will continue to be important for reaching audiences online.
According to the Digital Marketing Institute, nearly half of consumers base their purchasing decisions on recommendations from influencers.
Furthermore, one in every four marketers is utilizing influencer marketing, which has the second highest ROI of any trend.
Influencer marketing is expected to grow significantly in 2023, with 17% of marketers investing for the first time. So, what makes influencer marketing so effective?
According to Nielsen Scarborough, 42% of Americans seek the advice of others when making purchasing decisions, and they prefer advice from people they can relate to.
Influencers are perceived to be more relatable than brands and companies, and they use this relatability to form strong bonds with their audience.
So, if you want to humanize your brand and connect with customers on a deeper level, influencer marketing is the way to go.
In 2023, funny, trendy, and relatable content will be critical.
In 2023, relatable content will increase substantially, as 46% of social media marketers will use it for the first time. 49% of those who use it intend to increase their investment, while 43% intend to maintain their current level.
Furthermore, funny content will receive the second-highest investment of any content type in 2023, with 33% of social media marketers intending to use it for the first time next year.
If you're not sure what's popular with audiences or what's making people laugh this year, don't be afraid to turn to influencers.
Influencers are constantly tapping into what their target audience cares about and what gives them a laugh, in addition to being relatable.
Social media remains the most effective way to reach Generation Z.
Social media is the most effective way to reach Generation Z consumers. We discovered that 93% of Generation Z spend an average of four hours per day on social media, and 57% have discovered a new product on social media in the last three months.
Furthermore, 28% of Gen Z customers purchased a product via a social media app. Furthermore, social media is the most common marketing channel through which Gen Z consumers discover new products, and it is their preferred channel for product discovery.
Strategic SEO methods are Necessary
Although SEO is not a new concept in marketing, it remains an important component of content marketing strategies, particularly for web content. 29% of advertisers use websites for attracting and converting leads.
SEO has the fourth-highest ROI, and most marketers who use it (88%) plan to increase or maintain their investment in 2023.
In terms of where marketers will invest the most money in 2023, SEO comes in third place, trailing only short-form videos and influencer marketing.
B2B Content Statistics
According to 71% of B2B marketers, content marketing has become more important to their company in the last year.
40% of marketers in the B2B sector have a reported content marketing strategy; 33% have a strategy but it is undocumented; and 27% have no strategy at all.
Only 29% of B2B marketers believe their company is highly or extremely effective with content advertising.
A documented content marketing strategy is used by 64% of those who say their organization is extremely successful with content marketing.
In 2023, 47% of B2B marketers expect their company to hire or contract content producers.
46% of B2B marketers say that in their organization, one group (or person) handles all types of content (which includes advertising, thought leadership, brochures, SEO content, and so on).
In-person events were used by 49% of B2B marketers in the previous 12 months; in-person events also generated the most effective content marketing outcomes over the past 12 months; online meetings came in a close second, according to research reports.
In 2023, 57% of B2B marketers expect to invest in social media/community building, up from 37% the previous year.
Short articles/posts are adopted by 89% of B2B content marketers, making them the most popular type of content; video comes in second, with 75% using video, up from 66% the previous year.
78% of B2B marketers anticipate video investment in 2023, up from 69% the previous year.
About Content Marketing Career
Many content marketers are "ready to leap when the right opportunity presents itself, implying that the Great Resignation may be far from over."
54% believe content marketers should be paid more.
The median salary for content marketers in the United States who work for an employer (rather than being self-employed) is $82,738.
Women in content marketing earn roughly 80 cents on the dollar compared to men – the median content marketing salary in the United States for women is $79,891 and for men is $99,265.
In content marketing, 31% of women hold director-level or higher positions, compared to 48% of men.
Only 23% of content marketers say they see a clear path to advancement within their current company.
57% of content marketers intend to change jobs in 2023 or are unsure of their next steps.
24% of content advertisers report being highly or highly stressed at work; women indicate more stress (32% higher than men) and lower satisfaction with their jobs (11% lower than men).
A content marketing strategy is used by 84% of businesses.
SEMrush polled over 1,500 marketing agencies and businesses to find out if they had a content marketing strategy. They do, according to 84% of respondents. However, only 11% of respondents believe their strategy is excellent.
Other interesting tidbits were also included in the survey. For example, 49% of those polled said social media was the most difficult skill to master. This is followed by SEO (44%), then strategy (42%
SEMrush is the Source
35% of businesses lack dedicated content marketing teams.
Surprisingly, only 35% of organizations have a full-time person or team dedicated to content marketing. This is especially true for small businesses with 1 to 99 employees. 50% of small businesses do not have dedicated content marketing personnel.
The more people an organization devotes to content marketing, the larger it becomes. 40% of large organizations (1,000+ employees) would have two to five people working on content.
(Source: Content Marketing Institute)
Organic Search Statistics
As we've seen, the majority of content marketers conduct keyword research and invest in SEO. They invest in organic search, in other words. Let's see what we can learn more about this marketing channel.
According to Ahrefs, 90.63% of pages receive no organic search traffic from Google.
Brightedge reports that 68% of internet searches begin with a search engine.
71% of B2B researchers conduct a generic search rather than a branded search.
As reported by Google, 53% of consumers always conduct research before purchasing to make sure they have selected the best possible choice.
Within one year of publication, only 5.7% of pages will appear in the initial 10 search results.
Mobile devices account for almost a third of global searches on the internet.
69% of marketers proactively invest in SEO.
In general, the more backlinks a website has, the more genuine Google traffic it receives.
According to Ahrefs, the typical #1 ranked page will also appear in the top 10 for almost 1,000 other relevant keywords.
(Sources: Google, Ahrefs, Perficient)
Visual Content Marketing Statistics
When assessing the effectiveness of content marketing, images are an excellent starting point.
This is because content with images receives more views, making it an excellent way to reach a larger audience. Images additionally assist in propagating your message further because content with images is more likely to be shared.
There are numerous image types to choose from. Infographics are a good place to start. They are the most commonly shared content type, according to OKDork. According to Forbes, 84% of those who use data visualizations find them effective.
Video Content Marketing Statistics
According to the State of Inbound report, marketers are investing heavily in video. YouTube videos are a priority for 48% of marketers. And 46% intend to concentrate on Facebook videos.
That is not surprising given the effectiveness of video. 40% of millennials trust videos, and half of those aged 18-34 would stop what they were doing to watch a new video.
According to the CMI's content marketing statistics, video is used by 72% of B2B marketers and 76% of B2C marketers. It's quite effective: According to Aberdeen Group, marketers who use video generate 66% more leads per year.
According to Wyzowl (an animated explainer video company):
Video is now used as a marketing tool by 87% of businesses. (This figure has risen dramatically from 63% in 2017 to 81% in 2018.)
Video is important to 91% of video marketers as part of their marketing strategy. This is up from 82% in 2017 and 85% in 2018.
According to 83% of marketers, video provides a good ROI (up from 78% in 2018).
90% of video marketers believe that competition and noise have increased over the last year.
Despite this, 99% of people plan to use video in 2019, with 88% planning to spend more than they did in previous years.
Interactive Content Marketing Statistics
53% of marketers say they use interactive content.
Compared to static content, 93% of marketers accepted that multimedia material is more effective at educating buyers.
According to 88% of marketers, interactive content is effective in differentiating their brand from competitors.
63% of respondents stated that they use multimedia materials to educate their target audience.
The percentage of interactive posts has risen by 33%.
The most popular quiz in the last five years has received 5.4 million interactions with others.
81% of advertisers agree that multimedia content is far more effective than static content at capturing people's attention.
After using interactive content, 66% of marketers reported increased audience engagement.
According to 79% of marketers, integrating interactive material with other advertising tactics improves message retention.
According to 79% of marketers, interactive content can be reused numerous times, resulting in repeat readers.
Non-gated interactive content, according to 75% of marketers, provides a taste of the brand and promotes leads.
According to 68% of marketers, multimedia content makes it simple to reuse passive content.
Interactive content converts twice as well as passive content.
Interactive assessments are used by 54% of marketers, making them the most common type of content.
Contests, games, quizzes, dynamic infographics, and assessments are the top five most successful types of multimedia content for the top of the funnel.
Calculators, interacting white papers, interacting eBooks, interacting lookbooks, and wizards are the top five most efficient types of multimedia content for the middle of the funnel.
Landing pages, social media platforms, microsites, and blogs are the most common places where interactive content is used.
Configurators are the most efficient type of interactive content for the bottom of the funnel.
Global traffic will increase 12-fold between 2017 and 2022, according to research on Virtual Reality (VR) and Augmented Reality (AR).
Mobile Content Marketing Statistics
For an immediate need, three out of every four phone users use mobile search.
88% of mobile users who search for local information act within a day of discovering results.
If a website takes more than three seconds to load, 53% of mobile users will abandon it.
People interact with brands twice as much on mobile as they do anywhere else.
Adults in the United States spend an average of three hours and 35 minutes every day on their phones.
Mobile traffic is growing at a rate of 125% (compared to 12% for desktop traffic).
Google is the source of 81% of mobile search queries.
Email Marketing Statistics
There are 3.9 billion email users worldwide.
Every day, American workers will receive an average of 126 emails.
In the next four years, nearly 60 billion junk emails will be sent each day.
Mobile devices account for up to 61.9% of all email opens.
Outside of normal business hours, 82% of employees check their email.
Email campaigns are used by 87% of marketers to nurture their audiences.
Including videos in emails can boost click-through rates by 300%.
At least half of the marketers polled believe their email campaigns are poor to average.
35% of business professionals check their email on the go.
The Apple iPhone is the most popular mobile client for reading emails, accounting for 29% of all opens. Gmail comes in second place with 27%.
Conclusion
Content marketing is an effective marketing strategy. It involves the creation and sharing of valuable, relevant, and consistent content in order to attract and retain an audience that has been clearly defined. Content marketing's goal is to generate profitable customer actions, like lead generation and sales. This can be achieved by building brand recognition, establishing thought leadership, and engaging the target audience.
Statistics show that content is a key strategy for all businesses, and the majority of marketers use content marketing to reach out to their customers. Consumers prefer to read articles and watch videos about businesses than to see traditional advertising. Content marketing also generates more backlinks and leads than paid search advertising.
FAQ's
What is content marketing?
Content marketing is the strategy of creating and sharing relevant, consistent, and valuable content to attract an audience that has been clearly defined. Content marketing's goal is to encourage profitable customer action such as sales and lead generation by building awareness of the brand, establishing thought leadership, and engaging with your target audience.
Why is content marketing important?
Content marketing allows businesses to become thought leaders in their field, gain trust from their audience and generate sales and leads. Businesses can offer value to their audiences by creating relevant and valuable content. They will also position themselves as industry experts and drive sales.
What types of content can be used in content marketing?
Content marketing can include a variety of types of content, such as blog posts, videos, and infographics. It also includes social media posts, case studies, whitepapers, and podcasts. It is important to create content aligned with the audience's interests and needs, and that provides value.
How do I measure the success of my content marketing efforts?
The success of content marketing may also be evaluated using a variety of metrics. Website traffic, lead generation, and sales revenue are examples of these. Setting specific goals and monitoring relevant metrics is what you need for evaluating the efficiency of your content marketing efforts.
How do I create a content marketing strategy?
To develop a content marketing strategy, you must first identify your target audience. You must additionally determine their needs and interests, set particular targets, create a content calendar, and choose the best channels to distribute content through. Effective content advertising tactics must be consistent and appropriate.
Tajammul Pangarkar
Tajammul Pangarkar is a CMO at Prudour Pvt Ltd. Tajammul longstanding experience in the fields of mobile technology and industry research is often reflected in his insightful body of work. His interest lies in understanding tech trends, dissecting mobile applications, and raising general awareness of technical know-how. He frequently contributes to numerous industry-specific magazines and forums. When he's not ruminating about various happenings in the tech world, he can usually be found indulging in his next favorite interest - table tennis.