Generative AI Statistics – Quantifying the Impact of Generative AI
Generative AI Statistics: Since 2022, creativity has been undergoing rapid technological adaptation. Generative artificial intelligence (AI), a creative phenomenon sweeping the internet, is now readily available online. The term "generative AI" refers to computers and algorithms that employ deep learning to create art, music, and other creative output on the user's demand. Since 2022, creativity has been undergoing rapid technological adaptation. Generative artificial intelligence (AI), a creative phenomenon sweeping the internet, is now readily available online.
The term "generative AI" refers to computers and algorithms that employ deep learning to create art, music, and other creative output on the user's demand. It is a sort of machine learning, but it is more sophisticated because each generative AI will produce distinct sets of creative pieces based on the exact user input and a large number of data sets that they have been fed. Midjourney, Dall-E, and the still-popular ChatGPT were the most well-known 2022 instances. The last two were created by OpenAI, a rapidly developing firm primarily financed by Microsoft.
Generative AI Statistics
49% of US adults are interested in AI-powered search.
31% of respondents in the United States are dubious of AI-powered search results.
Despite current economic challenges, 63% of company decision-makers aim to increase or maintain AI spending.
Sixty-one percent of respondents (Global Audience) are suspicious of AI technologies.
In the first two months of 2023, Darktrace security researchers reported a 135% increase in social engineering attack emails.
Eighty-two percent of employees are concerned about hackers using generative AI to send phishing emails.
Americans who are aware of AI-generated news articles such as those from ChatGPT saw it as a large advance, a medium advance, and no advance at all.
Over three years, VC firms invested $1.7 billion or more in generative AI, with AI medicine discovery and software development receiving the most funding.
Generative AI techniques will be employed to develop more than 30% of newly discovered drugs and materials by 2025, up from 0% currently. Early AI models, such as ChatGPT, aim to boost creative work.
By 2025, AI will be responsible for 30% of large companies' outbound marketing messaging, up from less than 2% in 2022.
A major blockbuster film is predicted to be made in 2030 in which AI will generate 90% of the film, up from 0% in 2022.
In the United States, AI may replace 7% of occupations, while it will improve 63% of jobs while leaving 30% unaffected.
From 2018 to 2022, the most often used categories in Generative AI were interfaces using natural language or 2D-media production, accounting for 29.3% and 18.8% of VC-backed deals, respectively, and 23.6% and 11.4% of total invested dollars.
When it comes to AI content, 35% of marketers consider 'risk' and 'governance' issues to be a challenge.
56% of adults in the United States believe AI-generated information is biased or misleading.
According to 62% of US adults, using AI in work can save both time and money.
AI should replace superfluous duties at work, according to 47 % of US adults, to boost efficiency and productivity.
43 % of US adult workers believe AI-generated written material can be as good as human-authored content.
Generative AI Market Size
The generative AI market around the world involves making and using smart computer systems that can create original things like music, art, stories, and other media. This is also known as creative AI or art AI. These systems learn from lots of data and then make new stuff that's similar to what they learned.
In 2022, the generative AI market was worth USD 10.6 billion worldwide. From 2023 to 2032, this market is expected to grow faster than any other, with a growth rate of 31.4% each year. By 2032, it's predicted to be worth USD 151.9 billion.
Emerging Sectors and Future Projections for Generative AI
Generative AI in Fashion:
2022 Market Value: USD 69 million
Estimated growth (2023-2032): 36.9% CAGR
Projected 2032 Value: USD 1,481 million
(Source: Market.us)
---
Generative AI in Animation:
2022 Market Value: USD 0.9 billion
Estimated growth (2023-2032): 35.7% CAGR
Use Case: Creating backgrounds, visuals, and environments
Projected 2032 Value: USD 17.7 billion
(Source: Market.us)
---
Generative AI in Business:
2022 Market Value: USD 1.2 billion
Estimated growth (2023-2032): 33.5% CAGR
Projected 2032 Value: USD 20.9 billion
(Source: Market.us)
---
Generative AI in Music:
2022 Market Value: USD 229 million
Estimated growth (2023-2032): 28.6% CAGR
Projected 2032 Value: USD 2,660 million
(Source: Market.us)
---
Generative AI in Healthcare:
2022 Market Value: USD 0.8 billion
Estimated growth (2023-2032): 37.0% CAGR
Projected 2032 Value: USD 17.2 billion
(Source: Market.us)
---
Generative AI in Fintech:
2022 Market Value: USD 865 million
Estimated growth (2023-2032): 22.5% CAGR
Projected 2032 Value: USD 6,256 million
(Source: Market.us)
---
Generative AI in Marketing:
2022 Market Value: USD 1.9 billion
Estimated growth (2023-2032): 28.6% CAGR
Projected 2032 Value: USD 22.1 billion
(Source: Market.us)
---
Generative AI in Gaming:
2022 Market Value: USD 922 million
Estimated growth (2023-2032): 23.3% CAGR
Projected 2032 Value: USD 7,105 million
(Source: Market.us)
---
Generative AI in Conference:
2022 Market Value: USD 112.5 million
Estimated growth (2023-2032): 18.5% CAGR
Projected 2032 Value: USD 588.7 million
(Source: Market.us)
---
AI Market Size
According to Market.us, the artificial intelligence (AI) market will increase rapidly over the next decade. Its current worth of roughly 100 billion US dollars is predicted to more than double by 2030, reaching nearly two trillion US dollars. The AI market encompasses a wide range of industries. Supply chains, marketing, product development, research and analysis, and other sectors will all incorporate artificial intelligence into their business structures in some way. Chatbots, image-generating AI, and mobile applications are just a few of the significant trends in AI that will emerge in the next years.
In 2022, the worldwide market for Artificial Intelligence (AI) held a robust valuation of USD 129.28 billion, as reported by market.us. However, this is merely the tip of the iceberg. The AI sector is forecasted to leap forward at a breakneck speed. From 2023 to 2032, it's predicted to surge dramatically, reaching an astounding USD 2745 billion. This exponential growth represents a Compound Annual Growth Rate (CAGR) of 36.8%, showcasing the irresistible momentum of AI's adoption across the globe.
Generative AI Use Cases for Marketers
AI solutions utilized by 58.9% of marketers to optimize current content include ChatGPT, word, Jasper, Copy.ai, Frase, and Quillbot.
57.1% of businesses use artificial intelligence tools to develop lengthy content (blogs, white papers, and eBooks).
55.4% of marketers use artificial intelligence tools to develop short-form content for social media and product descriptions.
48.2% of marketers utilize Generative AI technologies to develop content ideas for the future.
46.4% of marketers use Generative AI to produce long-form content headlines, while 44.5% use generative AI for keyword study.
Employing Generative AI saves their company time as well as cash, according to 88% of marketers.
AI content is as excellent as or better than human content, according to 88% of marketers.
Regional Analysis
The United States, in particular, has been at the forefront of AI research and development, especially generative AI. The region boasts a robust ecosystem of technology firms, startups, and academic institutions that are pushing innovation in this field. Numerous AI-driven enterprises may be found in major AI hotspots such as Silicon Valley, Seattle, and Boston. Healthcare, finance, and technology in North America were early adopters of generative AI, using it for applications such as medication development, financial modeling, and content generation.
Europe has also seen considerable advancements in generative AI. AI research and development centers are active in countries such as the United Kingdom, Germany, France, and the Nordic countries. European organizations have concentrated on legislative frameworks and ethical issues associated with AI, culminating in efforts such as the General Data Protection Regulation (GDPR). In the region, generative AI has been used in sectors such as creative arts, design, and customer service automation. Furthermore, Europe has been investing in AI startups and encouraging academic-industry collaboration.
Asia Pacific has emerged as a prominent actor in the adoption and development of artificial intelligence (AI) technologies such as generative AI. China, in particular, has made significant expenditures in AI research, thanks to government funding and initiatives such as the "Made in China 2025" program. Chinese firms have been at the forefront of generative AI applications like natural language processing, computer vision, and self-driving cars. Other countries in the region, such as Japan and South Korea, have been actively involved in AI research and application, notably in industries such as robotics and manufacturing.
While the adoption of generative AI in Latin America is still in its early stages in comparison to other regions, there are indicators of development and potential. AI-related startups and research projects have increased in countries such as Brazil, Mexico, and Argentina. Healthcare, agriculture, and customer service are among the sectors where generative AI is being researched. However, problems such as a lack of resources, infrastructure, and investment can stymie wider adoption.
AI, including generative AI, is gaining popularity throughout the Middle East and Africa. Countries such as the UAE, Israel, and South Africa have invested in AI research, development, and innovation centers. Generative AI is being used in a variety of industries, including cybersecurity, smart cities, and agriculture. However, due to factors such as economic disparities, infrastructure limitations, and the availability of trained AI expertise, adoption rates may vary across the region.
(Source: Goldman-Sachs-predicts)
(Source: Insider Intelligence)
AI for Science, Medical Sciences, and Mental Wellness
More than half of Americans see the deployment of artificial intelligence in operations as a positive development. Pew Research Center is a nonpartisan research organization.
AI-assisted surgery is regarded as a major medical advancement by 56% of those who are aware of it, moderate medical progress by 22%, and non-advance by 5% of those who are aware of it.
People who are familiar with artificial intelligence-based skin cancer diagnosis had a favorable attitude, with 52% considering it a big medical advancement and 27% considering it a minor one.
In comparison to other applications, fewer Americans (30%) perceive AI-assisted pain medicine decisions to be significant, while 37% consider them to be minor.
Among US adults who are aware of mental health chatbots, 19% consider it a major advancement, 36% consider it a small advancement, and 25% do not consider it an advancement.
(Source: World Economic Forum)
ChatGPT Statistics
53% of employees believe their company is already using or considering using ChatGPT.
ChatGPT is used by 16% of consumers, with 59% wanting to use it.
ChatGPT is unknown to 35% of clients.
It is valuable to 86% of ChatGPT users, who utilize it for a variety of purposes.
The top five industries that use ChatGPT are telecommunications, insurance, software development, engineering, and management consulting.
Instead of using search engines, 68% of users use ChatGPT to answer questions.
According to 63% of ChatGPT users, AI advancements will help enhance the workplace.
Half of ChatGPT users have worries about the influence of AI tools on the creative industry.
46% of ChatGPT users are concerned about AI bias.
50% of users would pay for ChatGPT's premium edition.
(Source: GWI)
3 Applications of ChatGPT and Generative AI in Retail
Creation of Content: Retailers use it to create descriptions for products, marketing copy, blogs, and social media posts. You can even translate your website copy into a variety of languages.
Plugins and Chatbots: Customized purchasing assistants on retail websites could be a potential use case for generative AI. Similar technology, however, is now accessible in the form of ChatGPT plugins.
Image Rendering: AI can turn 2D apparel photographs into 3D renderings. By making [listings] more interactive or producing a more enhanced image, you may enhance conversions and shopping.
Global AI Adoption: Revenue Boosts by Business Function
Sales and Marketing: AI may help sales and marketing by boosting consumer insights, enabling tailored marketing campaigns, and increasing lead generation and conversion rates. AI-powered solutions may evaluate consumer data, forecast customer behavior, tailor marketing messages, and optimize pricing methods, all of which can lead to increased sales revenue.
Operations and Supply Chain Management: AI can improve demand forecasting, inventory management, and logistics to optimize operations and supply chain management. AI algorithms can examine historical data, market trends, and external factors to optimize production and distribution, decrease expenses, and limit stockouts or overstocking, ultimately leading to increased operational efficiency and cost savings.
Customer Service and Support: Chatbots and virtual assistants powered by AI can handle client questions, give real-time help, and resolve issues quickly. This raises customer happiness, decreases response times, and increases client retention, resulting in increased income from repeat business and positive word-of-mouth recommendations.
Product Development and R&D: AI can help to speed up product development and research by automating data analysis, running simulations, and spotting patterns or trends. This allows firms to bring new goods or features to market more quickly, improve innovation, and achieve a competitive advantage, potentially leading to more income from new product releases.
Finance and Risk Management: Artificial intelligence can improve financial operations by automating monotonous processes, improving fraud detection, and improving risk management. Artificial intelligence (AI) systems can evaluate financial data, find anomalies, identify potential hazards, and deliver real-time insights for better financial decision-making. This can lead to cost savings, risk reduction, and better income protection.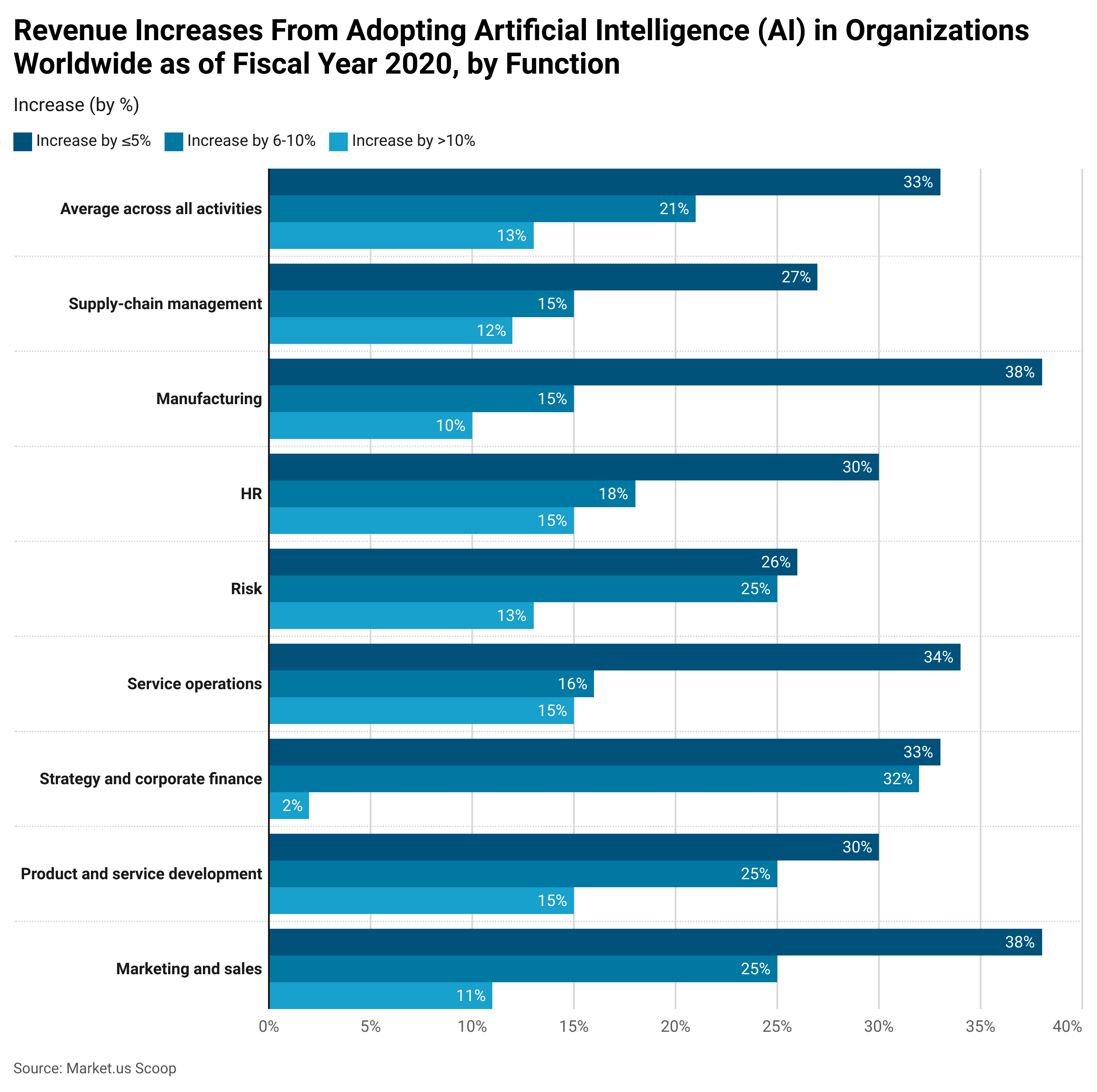 ChatGPT has almost one million users. 5 days after its initial release.
DALL-E, which generates graphics using OpenAI, took around 2.5 months to achieve 1 million users.
Within the first month of its availability, GitHub Copilot, an AI-based programming tool for developers, attracted 400,000 subscribers.
In the United States, Gen Z has the greatest rate of generative AI use in the workplace, at 29 %.
The technology industry is the most active in using OpenAI, followed by education.
According to 48% of people, neither Photoshop nor generative AI should be utilized in social media advertising.
(Source: Greg Brockman, Co-Founder of OpenAI, Sam Altman, Co-Founder of OpenAI, Microsoft, Statista, Today's Enterprise Apps)
Expected Adoption of Generative AI
By September 2023, generative audio tools will be available, attracting over 100,000 developers.
By 2025, 30% of outbound messages from large enterprises will be generated synthetically, up from less than 2% in 2022.
By 2025, generative AI will account for 10% of all data generated, up from less than 1% in 2021.
By 2025, generative AI approaches will be used to discover more than 30% of new medications and materials.
By 2030, a huge blockbuster film will be made in which AI will generate 90% of the content, from text to video.
By 2024, 60 % of data utilized in the creation of AI and analytics projects will be generated synthetically.
(Source: stateof.ai, Gartner)
Generative AI Models
GPT-3: One of the most well-known generative AI models is OpenAI's GPT-3 (Generative Pre-Trained Transformer 3). It features 175 billion characteristics and is scheduled to be published in June 2020. GPT-3 can generate coherent and contextually relevant text in response to prompts and has been utilized in a variety of applications such as writing, translation, code production, and others.
Creative Applications: Generative AI has found widespread use in creative fields such as painting, music, and narrative. To produce new artworks, compositions, and tales, artists and musicians have used generative AI models. Based on the patterns and styles acquired from existing works, these models can develop new and creative content.
Deepfake Technology: Deepfakes, a type of generative AI, have received attention and prompted concerns. Deepfake technology may generate incredibly realistic films or photographs in which someone's face is manipulated or superimposed onto another person or item. This has concerns for privacy, disinformation, and the possibility of misapplication.
Style Transfer: Generative AI can also be used for style transfer, which is when the style or qualities of one piece of content are applied to another. A generative AI model, for example, can transfer the creative style of a famous painting to a photograph, resulting in a new image that blends the content of the photograph with the style of the painting.
Text Generation: Text generation has seen substantial progress thanks to generative AI models. Given a prompt, they may write comprehensible paragraphs, stories, and even complete articles. While the results are frequently spectacular, it's crucial to remember that generative AI models can sometimes provide misleading or erroneous data, so careful examination is required.
Legal and Ethical Challenges: The rise of generative artificial intelligence has brought legal and ethical concerns. Intellectual property rights, copyright infringement, and the possibility of misuse or harmful activity have all been brought to the forefront. Because of the rapid improvements and intricacies involved, regulating the usage of generative AI raises issues.
Dataset Bias and Fairness: When generative AI models are trained on huge datasets, any biases or unjust representations in the training data can be reflected in the generated outputs. To prevent repeating social or cultural prejudices, efforts are being made to eliminate dataset biases and assure fairness in generative AI systems.
According to Gartner, the two areas of AI that have received the most money from venture capital firms in the previous three years have been AI-enabled medicine research and AI software coding.
Private investment in AI-related firms will reach $93.5 billion in 2021, more than tripling from the previous year.
According to CB Insights, more than two-thirds of generative AI businesses have yet to get a Series A (or later) round of funding.
(Source: McKinsey)
AI's Impact on Businesses and Performance
78 % of customer care representatives are optimistic about AI.
AI deployment has resulted in cost savings for 79 % of executives.
Dialpad Ai-enabled contact centers are more than twice as efficient.
According to 66 % of customer service workers, utilizing AI improves corporate performance.
Deloitte developers discovered a 20% gain in code development speed by using Codex, a code-generating tool.
(Source: Dialpad, McKinsey, HBR)
Other AI generative stats
The most popular search engine for ChatGPT is China, followed by Nepal and Singapore.
OpenAI's AI detection software's classifier can correctly recognize 26% of AI-written text while misunderstanding human-written text as AI-written 9% of the time.
The GPT-3 language model was created with the help of 175 billion parameters.
(Source: Wired, OpenAI)
---
AI's Future Potential
The future of AI is quite exciting, with enormous potential to revolutionize various facets of our life. Here are a few important areas where AI is predicted to have a large future impact:
Automation: Artificial intelligence will continue to automate repetitive operations across industries, resulting in enhanced efficiency and productivity. Manufacturing, shipping, customer service, and data analysis are all examples of this.
Healthcare: AI has the potential to transform healthcare by assisting in early disease identification, tailored medicine, and medication discovery. It is capable of analyzing massive volumes of medical data, assisting in diagnosis, and even providing virtual medical aid.
Autonomous Vehicles: The advancement of self-driving automobiles and other autonomous vehicles is accelerating. AI is critical to these vehicles' ability to comprehend their environment, make judgments, and travel safely.
Natural Language Processing: Natural language processing (NLP) systems driven by AI will continue to evolve, allowing for more advanced voice assistants, translation tools, and language understanding skills. This will improve human-computer interaction and help to overcome linguistic hurdles.
Robotics: Artificial intelligence and robotics are combining to produce smart robots capable of completing complicated tasks. These robots can be used to aid humans in a variety of tasks in areas such as manufacturing, healthcare, agriculture, and even home settings.
Cybersecurity: As cyber dangers evolve, AI will become increasingly important in detecting and mitigating these risks in real-time. AI-powered cybersecurity solutions can detect patterns, anomalies, and probable breaches, hence improving digital system security.
Ethical and Responsible AI: Addressing ethical problems and ensuring responsible research and deployment are equally important aspects of AI's future. To manage AI systems, efforts will be made to minimize biases, preserve openness, safeguard privacy, and develop ethical rules.
AI-assisted Creativity: Artificial intelligence (AI) techniques are rapidly being used to support and augment human creativity in industries such as art, music, and content creation. AI algorithms can create unique artwork, produce music, and even assist in the creation of articles or books.
Conclusion
To summarize, AI holds enormous promise and has already made important contributions to a variety of industries. While the future path of AI is uncertain, responsible development, ethical considerations, and collaboration are critical to realizing AI's promise for human benefit. We can construct a future in which people and machines collaborate to create a wealthier and more inclusive society by embracing AI's strengths while resolving its problems.
FAQ's
Q1: What is Artificial Intelligence (AI)?
The development of computer systems or computers that can do tasks that normally require human intelligence is referred to as artificial intelligence. Speech recognition, problem-solving, learning, decision-making, and other tasks may be included.
Q2: What are the different types of AI?
Narrow AI (also known as Weak AI) and General AI are the two major forms of AI (also known as Strong AI).  Narrow AI is meant to accomplish specific activities and is limited to those tasks, whereas General AI has human-like intelligence and can understand, learn, and perform any intellectual task that a human can do.
Q3: What are some applications of AI?
AI has numerous applications across various fields, including:
Healthcare: Artificial intelligence can help with medical diagnostics, medication discovery, personalized medicine, and patient monitoring.
Finance: Artificial intelligence (AI) is utilized for fraud detection, algorithmic trading, credit scoring, and risk assessment.
Transportation: Artificial intelligence is used in self-driving cars, traffic prediction, and logistics optimization.
Customer service is provided through the use of AI-powered chatbots and virtual assistants.
AI is being used in education for individualized learning, intelligent tutoring systems, and educational analytics.
Manufacturing: Artificial intelligence (AI) enables robotics automation, quality control, and predictive maintenance.
Q4: How does AI learn?
Machine learning is the process by which AI systems learn. Machine learning is training a model on a vast amount of data and allowing it to understand patterns, make predictions, or complete tasks without being manually programmed for each occurrence. This can be accomplished using a variety of strategies such as supervised learning, unsupervised learning, and reinforcement learning.
Q5: What are the ethical concerns surrounding AI?
AI presents several ethical considerations, including:

Job displacement: In some industries, AI automation may replace human workers, resulting in unemployment.
Fairness and bias: AI systems might inherit biases from the data on which they are taught, resulting in unjust outcomes or discrimination.
Privacy and data security: The collecting and use of personal data by AI systems raises privacy and data security problems.
Autonomous weapons: The development of artificial intelligence-powered weaponry raises ethical concerns about their use and its effects.
Q6: Can AI surpass human intelligence?
While AI has made considerable advances, obtaining or surpassing human intelligence (known as Artificial General Intelligence) is still a work in progress. Some experts believe it is possible in the future, while others are less optimistic. The timescale and plausibility of AGI are hotly debated questions.
Tajammul Pangarkar
Tajammul Pangarkar is a CMO at Prudour Pvt Ltd. Tajammul longstanding experience in the fields of mobile technology and industry research is often reflected in his insightful body of work. His interest lies in understanding tech trends, dissecting mobile applications, and raising general awareness of technical know-how. He frequently contributes to numerous industry-specific magazines and forums. When he's not ruminating about various happenings in the tech world, he can usually be found indulging in his next favorite interest - table tennis.