Google Search Statistics – Market Share, Growth Rate, and Facts
Google is a titan in a world of information, where knowledge is the key to success. It provides access to an abundance of knowledge by using just a few keys. California-based Google offers digital products and services, including online search, advertising, cloud computing, and software. Google Sites ranked number one amongst multi-platform websites in the United States as of February 2023. It had just over 274,49 million unique users and a market share of 61.4% of the top U.S. search engines. Alphabet Inc., a conglomerate of American companies, was formed in 2015 as the parent company for Google and other companies that were previously owned or linked to Google. Alphabet, with more than 190 000 full-time workers, had a market capitalization of 1.22 trillion U.S. dollars in March 2023. (Source: Statista)
Google processes on average above 40,000 searches every second, which is equivalent to over 3.5 Billion searches per day, and 1.2 Trillion searches worldwide. Google has been tracking the number of searches each year since its inception.
Key Google Search Statistics
Google Is the Most Searched Website
Google is the site that receives the most visitors. Google is accessed over 89.3 billion times per month. (Source: Similarweb)
Google is used every day by billions of users to do their searches. Google is more than just a search tool.
Google offers many other services. Google Shopping and Google News are also included. Gmail, Google's popular mail service, is also available.
Google organic search traffic in the US is 16.3% from searches for "Google".
Google's Curious Facts
Google was initially called "Backrub" before it was renamed.
Google's first data center was built in co-founder Larry Page's dorm room.
Google took one month in 1999 to crawl and index 50 million pages.
In 2012, it took less than a minute to complete the same task.
Every day, 16% to 20 % of the questions that are asked have never been asked.
Each query must travel an average of 1,500 miles from the user's computer to a data center and back.
Google uses 1,000 computers to answer a single query in just 0.2 seconds.
Google Search Index contains over 100 million gigabytes of data.
The company's homepage is purposefully kept simple to maintain fast loading times.
Google processes over 40,000 search queries per second.
The "I'm Feeling Lucky" button costs Google around $110 million per year in lost ad revenue.
The "I'm Feeling Lucky" button bypasses search results and goes directly to the first-ranked page.
The company's search algorithm takes over 200 factors into account when ranking web pages.
Google receives around 2 million search queries every minute.
The search engine can recognize and translate over 100 languages.
Google's autocomplete feature is based on real-time data from users' searches.
Google's first doodle appeared in 1998 as a tribute to the Burning Man festival.
Google's search results prioritize mobile-optimized websites due to the increasing number of mobile users.
Google's Knowledge Graph feature provides quick answers to users' queries directly on the search results page.
The search engine employs various algorithms like Panda, Penguin, and Hummingbird to maintain the quality of search results.
Google Leads the Search Engine Market
This next statistic shouldn't surprise you, since Google is the most popular website on the planet. Google is the market leader in search engines. By March 2023, Bing held 8.23% of the worldwide search market, while Google dominated with approximately 85.53%. In contrast, Yahoo's market share stood at 2.44%.
Comparing the Google search engine with other popular search engines Bing held 2.88% and Yahoo! The total market share was 1.51%. YANDEX and Baidu followed with 1.27% and 1.16% respectively.
Google was introduced in 1997 and all other search engines struggled to catch up. Google has maintained a high market share in the search engine market over the last decade. It makes most of its revenues through advertising.
Google's services have expanded over time to include mobile devices, productivity tools, and mail. Google will also have one of the largest tech company revenue in 2021.
How Many Google Searches Are Conducted Per Day?
Google is processing over 99,000 searches per second, according to the latest data. More than 8.5 billion search queries are made every day. (Source: Internet Live Stats)
Google processed just over 10,000 searches per day in 1998. Google processed the same number of searches in one second by the end of 2006, compared to 1998. In less than 10 years, Google has gone from being a little-known search engine to a part of everyday life for millions of users around the globe.
According to experts Google's popularity and success as a search tool can be attributed to its ability to provide quality and relevant results to its users. This is achieved by analyzing the search intentions of its users and matching them with websites that provide the most accurate results.
Google Lens Usage
Google, as the king search engine, makes it easy for users to make queries.
Google Lens is a new search option that users can use in addition to the traditional channels of desktop and mobile browsers.
Google Lens, launched in 2017, is an app powered by artificial Intelligence and machine learning. It allows users to identify objects using their smartphone camera. They only have to point their camera at the object, and then ask Google what it's called.
The features of the app are constantly being updated. Google Lens recognized up to one billion items just a little more than a year after it was launched. It is proving to be very popular with all it has to offer. It is used today to answer eight billion questions every month.
Its search feature isn't just limited to images. Google Lens can also translate text (it supports over 100 languages) and read out loud text. This is especially useful for those who find it difficult to read small text.
Number of Mobile Google Searches
Google Search is not an exception. Mobile devices are gaining in popularity everywhere. Even Google prioritizes mobile. We can see from the Google search data that 63% of the organic US search traffic comes from mobile devices.
Mobile search is Google searches performed on a mobile device, such as a tablet or smartphone. In the United States, mobile searches have been increasing since the third quarter of 2013. Mobile searches are usually less complex and may include quick facts rather than complex topics.
What Is the Most Searched Query on Google?
Google, reported that "Wordle was the top keyword globally in 2022". It was followed by "India Vs England" (which is a topical search) and "Ukraine". The most popular searches vary from topic to topic. Johnny Depp was the most searched person, while Euphoria was the most searched television show.
The location of the user also affects what they search for. In the United States "Wordle", was the most popular search, but "election results" came in second place, and "Betty White" in third. The top Google searches for the United Kingdom were slightly different. The top Google searches in the United Kingdom were also "Wordle", but the second and third queries were "World Cup" as well as "Queen Elizabeth."
How Often Do We Use Google Search?
Google answers our questions multiple times a day. 84% of respondents used Google at least three times per day. (Source: Moz)
Google has undergone many changes over the last few years. Google has added many new features to its search results. The updates have made it easier to answer quick queries thanks to Snippets or Knowledge Panels.
Videos and images are more relevant to what we're searching for, even if this was the original preference of the searcher. Google has also added a "People Also Ask" box, which helps searchers to dig deeper into their original query, by showing them questions that may be relevant.
Almost Half of All Product Searches Begin on Google
Google, like other search engines, is the starting point of almost half of all product searches. Google is the starting point for 46% of all product searches. Amazon has surpassed Google in product searches with 54% of all searches beginning on Amazon. Jumpshot shows that Amazon and Google switched places between 2015 and 2018 when it came to the platform users prefer for starting their product searches.
It can be very useful to marketers who are trying to understand the buyer's journey, and how they can improve the lives of customers. Marketers can better understand their impact on the buyer's journey by knowing where the product searches begin. This can help marketers to ensure that they are providing the correct information to customers to assist them in making the right purchasing decision, whether they are running Google Ads or trying to rank organically.
Importance of the First SERP Page
You're likely to only look at the first page of Google results when you are searching for something. According to an analysis of 4,000,000 Google search results, only 0.63% click on the second Google search result page. If users are unable to find the information they need on the first page of Google search results, they will likely change their query rather than click the second page. (Source: Backlinko)
The same study also found that clicking on the organic result at the top of the list is 10 times more likely than clicking on the result at the 10th position. Plus, improving organic rankings by just one position can increase click-through rates by 2.8%. It is becoming more and more apparent that organic rankings are important. You want to be visible to users, so ranking higher is important. You should aim to be on page one of Google's SERPs, especially if you are a business. This Google search statistic shows that if you go beyond the first page of Google, your visibility will be drastically reduced.
Organic Searches' Results
In 2019, organic search produced 23% of all site visits. According to the report, organic search decreased year-over-year during Q2 2019. The report shows that organic search traffic has declined across all devices but is most noticeable on mobile phones. (Source: Merkle)
This drop could be because of the growth of paid search and site visits. It doesn't necessarily mean that organic results are less important. But other sources of traffic are becoming more visible. Organic traffic plays a crucial role in making organic results highly valuable. By customizing your results to address specific user queries, you increase the chances of acquiring new clients.
Google procedures more than 40,000 searches every second, converting to over 3 billion searches per day, and 1 trillion searches per annum. Google has been around for over 20 years. The chart below shows how many searches have taken place each year.
Google was founded in 1998 and served ten thousand search requests per day. In 2006, the same number of searches was completed in just one second. Google was answering 3.5 million searches per day in September 1999. Google was only one-year-old when it launched.
By mid-2000 the volume of searches had increased fivefold, with 18 million searches on average per day. Google had received over 200 million searches per day by the time its IPO announcement was made in April 2004.
Amit Singhal (Senior Vice President, at Google, responsible for the development and implementation of Google Search) revealed in August 2012 that Google's Search engine finds more than 30 trillion exceptional URLs, crawls over 20 billion websites a day, and processes 100 billion queries every month. This translates to 3.3 billion search requests per day and 38,000 thousand searches per second. This number was confirmed by Google Zeitgeist 2012, which reported 1.2 billion searches in 2012.
In today's information-driven world, Google reigns supreme as a powerful source of knowledge, offering access to vast amounts of information through a few simple keystrokes. This California-based tech giant delivers digital products and services such as online search, advertising, cloud computing, and software. As of February 2023, Google Sites claimed the top spot among the most visited multi-platform web properties in the United States, attracting over 274.49 million unique visitors and holding a 61.4% market share among leading U.S. search engine providers. In 2015, Alphabet Inc. was established as the parent company for Google and several other companies that were previously owned by or affiliated with Google. With a workforce of over 190,000 full-time employees, Alphabet's market capitalization was valued at 1.22 trillion U.S. dollars in March 2023. (Source: Statista)
Google Search Growth Rate
Google's growth rate in search volume has been declining since 2009 and 2010. It is estimated that the current rate of growth is around 10%.
As per Oberlo's Google Search Statistics 2023, Google receives 89.3 billion visits each month. As of January 2022, Google holds a dominant 91.9% market share. The search engine processes more than 8.5 billion queries daily. Additionally, Google Lens is utilized 8 billion times monthly.
The growth in the initial phase was incredible, with an increase of 17,000% between 1998 and 1999. This increased to 1000% between 1999-2000, and then 200% between 2001 and 2000. Google search continued growing at rates between 40-60% between 2001 and 2009. It then started to slow, stabilizing between 10-15% in recent years.
Dominance: Google Search is the leading search engine worldwide, with an overwhelming market share.
Usage: As of 2023, Google Search is used approximately 4.8 billion times a day and around 144 billion times a month.
Users: Google Search has over 85.5% of the search engine market share, making it the primary choice for internet users globally. (Source: Statista)
Global Reach: Google Search is available in more than 150 languages and over 190 countries, making it accessible to a vast majority of the world's population.
Mobile Searches: With the rise of mobile devices, over 60% of Google searches are performed on mobile devices.
Ads and Revenue: Google Ads generate significant revenue for the company, with billions of dollars generated annually. Google's ad platform is a key driver of the company's overall revenue.
Organic Search: A significant portion of Google Search traffic comes from organic search results, indicating the importance of search engine optimization (SEO) for websites.
Search Features: Google Search is continuously evolving, adding new features, and improving its search algorithms to provide users with the most relevant and useful results.
Although Yandex and Baidu may be growing faster than Google, the gap between Google and other search engines is so large that even a moderate growth differential does not impact Google's leadership globally in any significant way.
Alphabet Q1 Earnings Report 2023
Source: CNBC
Date: April 25, 2023
Alphabet, the parent company of Google, reported strong financial results for the first quarter of 2023. The company's total revenue surged to $63.3 billion, representing a 23% increase compared to the same period in 2022. This growth was driven by robust performance in advertising and the expansion of Google's cloud services.
Key highlights from Alphabet's Q1 2023 earnings report include:
Google's advertising revenue contributed significantly to the total revenue, reaching $53.4 billion, up 20% from Q1 2022.
Google Cloud revenue reached $7.2 billion, experiencing a 32% growth compared to the same quarter last year, reflecting the company's continued investment in cloud infrastructure and services.
Alphabet's "Other Bets" segment, which includes non-core businesses like Waymo and Verily, generated $1.1 billion in revenue, up from $0.9 billion in Q1 2022.
The company's operating income increased to $20.1 billion, up 26% year over year, demonstrating Alphabet's ability to maintain profitability amidst its rapid growth.
User Behaviour Statistics
Users choose the autocomplete suggestion 23% of the time.
Google's autocomplete suggestions can save you time. Google statistics on search words show that 23% of users use this option. One explanation was that sometimes; the searchers don't know exactly how to Google what it is they are looking for. Google can help them find the information they are looking for, or at least point them in a good direction. (Source: Backlinko)
Google search stats show only 0.44% of users visit the second page of results.
There are typically 10 to 15 results, including ads. It is sufficient for the average user to find relevant information, or change their query. Google's algorithm is not a problem for the vast majority of users. According to the latest Google search statistics, only 0.44% of users visit the second Google page to find a specific thing. (Source: Backlinko)
65% of searchers click on organic results.
Search engine results pages often have a lot of paid advertisements. Google statistics on search results show that 65% of users click organic results. A further 10% of searchers click on multiple organic listings for the same query. This means that most people find the information they are looking for with their first click. (Backlinko)
The average time for the first click is 14.6 seconds.
The time it takes for a user to choose an option depends on the query. According to the latest research, average times vary from 9.8 seconds (how to cut hair yourself) to 22 seconds (supplements for treating back pain). Google data shows that on average it takes 14.6 seconds for users to click one Google result. (Source: Backlinko)
Google users find the information they are looking for without having to modify their initial search terms.
Google's algorithm advances at a lightning-fast speed. It's not just the algorithm that is changing. Only 15% of search terms initially entered do not produce desired results. Google's latest keyword search trends show that 85% of users do not change their original search query. The autosuggest feature and algorithm improvements are important, but the user's behavior is equally as important. Google has been part of our lives now for more than two decades. Users have an improved understanding of search. (Source: Backlinko)
Over 50% of Google searches end without a click.
CTR has decreased since Google introduced featured snippets. Does this mean users aren't finding relevant information or the desired information? Google's latest search statistics show that the truth is quite the opposite. Users are finding answers to their questions without having to click on another page by using the concise summaries that appear in the answer boxes. Over 50% of searches are zero-click searches, where users don't want in-depth details. (Source: SingleGrain)
In 2019, 48% of web searchers already used voice to conduct searches.
Since 2019, voice input has been the second-most popular method of input, with 48%. It is just behind the mobile web browser. 85% of smartphone owners use voice commands while 39% prefer intelligent speakers. Google voice search statistics confirm that 36% of users use Apple Siri or Google Assistant. Amazon's Alexa is second, with 25%. Microsoft's Cortana is third with 19%. (Source: Search Engine Land)
Google Assistant is used by 55% of teenagers in the US.
As digital natives, teens all over the globe use voice commands to conduct their searches. In the US, more than half of teenagers use voice search every day. Google's latest trends reveal that adults who use voice commands feel more tech-savvy. In 52% of voice searches, the primary reason is to get directions while driving. In 51% of cases, voice search is used to make a call or send a text. (Source: Marketing Dive and Search Engine Land)
Google Brand Statistics
Google celebrates its birthday on September 27
Google was founded on September 4, 1998. Google's history shows that, before 2006, Google celebrated the birthday of its company on two other September dates, but neither was the 4th. The first birthday Doodle was the most commonly cited reason why the 27th was chosen. (Source: Econsultancy, Telegraph)
In 2021, Google's brand value was around $458 billion.
The value of this tech giant is constantly increasing, and it ranks third among the 10 most valuable brands in the world. Amazon ranks first with $683.8 Billion, Apple is second with $611.9 Billion, Google is third at $457.9 Billion, and Microsoft is fourth with $400.2 billion. Google was valued at around $323.6 billion in the year prior. Google ranked fourth in the list at that time, behind Amazon, Apple, and Microsoft. Microsoft and Google swapped places in 2021 as Google's valuation increased by 42% while Microsoft's was only 26%. (Source: Statista, Kantar)
Google Sites will be the most popular web property for multi-platform in 2021, with 271.8 million users.
Google Sites ranked first in popularity among multi-platform websites across all of its properties including Google Search and YouTube. Google's search statistics reveal that the US will have 271.8 million unique visitors in 2021. Other top-five sites include Verizon Media, Facebook Sites, Microsoft Sites, and Amazon Sites. (Source: Statista)
Google has made more than 200 acquisitions in its history.
Google trends show that Google has excelled in this area. Around 2010, the group made an average of two acquisitions a month. Google has made some of the most expensive and impressive acquisitions, including Android ($50m, 2005), YouTube (1.6bn, 2006), DoubleClick (3bn, 2007), Waze (1bn, 2013), and Nest (3bn, 2014). (Source: CNBC)
Google recorded the highest revenue in 2020.
In 2020, the brand's revenue was the highest ever recorded. It was an incredible jump of $182 billion from the $160 billion it had in 2019. Even with the popularity of Google, it had not yet reached $100 billion in revenues until 2017. In 2016, the company's revenue was $89.98 Billion, and $74.54 Billion a year earlier. (Source: Statista)
Google has a market share of 91.86%.
Google is once again the market leader in search engines according to a July 2021 analysis. Google's search engine statistics show that the company has a 91.86% market share. Bing is next with only 2.34%. Baidu is third, with 1.48%. Yahoo! follows in second place. With 1.47%. Yandex is ranked 5th with a share of 1.38%. (Source: StatCounter)
Google has 87.76% of the desktop search engine market.
Google still leads the market with an impressive 87.76% share as of June 2021. Bing is second with 5.56% and Yahoo follows closely behind with 2.71%. (Source: Statista)
Google is the most popular mobile search engine.
Google developers are aware of the importance of mobile experience in optimizing search engines. Google's search engine held 95,533% of the market share for mobile devices as of July 20,21. Baidu was in second place with 1.96% and Yandex came in third with 1.29%. Yahoo, DuckDuckGo, and Bing also made the list, each with less than 1%. (Source: StatCounter)
Google holds 95.45% of the Indian market.
Google is truly a global service. It is the number one search engine in many countries other than the US where it has 82,95 % of the market. Google's popularity in India is high, with a share of 95% or more for a long time. In Brazil, it has 95,58% of the market. It is also above 90% in Italy and Spain. In Russia, Google competes with Yandex – a major local player – and still has a 48.78% market share. In China, the share is only 5.03%. (Source: Statista)
In Africa, Google Chrome is used on mobile devices to the tune of 84%.
Google's latest search statistics reveal that only 9% had mobile Chrome usage below 50%. Africa had the highest percentage of mobile Chrome users across all continents. Asia came in second with 76.4% followed by North and South America at 74.5% each. Oceania ranked second with 67.1% and Europe ranked third with 65.3%. (Source: ONELY)
In 2020, there was 2.9 million apps and games available in the Google Play Store.
Google has removed a number of apps over the last few years for two main reasons. The company first removed those apps that did not meet Google brand standards. The second item on the list is to clean up the Play Store of all low-quality applications. Google Trends continues to follow the rule of 'quality over quantity'. (Source: Business of Apps.)
Top 5 Domains with the Most Visits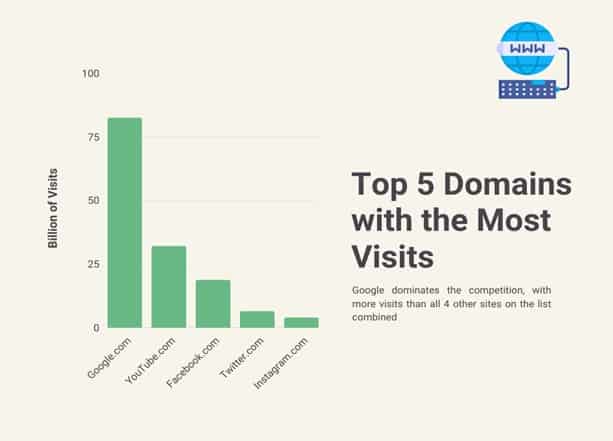 Conclusion
This detailed guide shows how Google dominates internet usage for billions of users. We tried to cover every aspect of Google searches, but if you still have questions, we're happy to answer them. You can Google it.
Frequently Asked Questions
What Is the Most Searched Query on Google?
As of May 2023, the top searches on Google include "YouTube" and "Amazon." Following these are other popular keywords such as "Facebook," "Wordle," and "Google."
How Many Google Searches Are Conducted Per Day?
The most recent data indicates that Google handles over 99,000 searches every single second, according to Internet Live Stats. This amounts to more than 8.5 billion searches per day (Source: Internet Live Stats).
How much Google earn from search?
In a recent earnings announcement, Google revealed that its "search & other" revenues experienced a 1.87 percent increase year over year, rising from approximately $39.6 billion to $40.4 billion. This growth is considerably smaller compared to the 24.28 percent surge observed in Q1 2022 and the 30.11 percent increase in Q1 2021.
Tajammul Pangarkar
Tajammul Pangarkar is a CMO at Prudour Pvt Ltd. Tajammul longstanding experience in the fields of mobile technology and industry research is often reflected in his insightful body of work. His interest lies in understanding tech trends, dissecting mobile applications, and raising general awareness of technical know-how. He frequently contributes to numerous industry-specific magazines and forums. When he's not ruminating about various happenings in the tech world, he can usually be found indulging in his next favorite interest - table tennis.