Market Research Industry Statistics: Emerging Analysis Broadly
Introduction
Market Research Industry Statistics: The market research industry is a vital component of modern business strategy, serving as the "eyes and ears" of organizations by offering crucial insights into market dynamics, consumer behavior, and competition. Its core functions encompass market analysis, consumer behavior analysis, competitor assessment, product development support, marketing optimization, and strategic planning.
Evolving with technology, it has transitioned from traditional data collection methods to online surveys, social media analysis, and AI-driven data analytics. While facing challenges like data privacy and information overload, the industry also presents opportunities for specialization, ethical data practices, and advanced analytics, ensuring its continued importance in guiding businesses through a complex and data-driven marketplace.
Editor's Choice
In 2022, the global market research sector generated an impressive total revenue that exceeded $82 billion, representing growth of more than double compared to 2008.
In 2021, North America played a dominant role in contributing to the industry's revenue, contributing over half of the global total. Europe closely followed, accounting for approximately one-fourth of the global market share.
Notable market research firms include Nielsen Holdings (USA), Kantar (UK), IQVIA (USA), Ipsos (France), and GfK Group (Germany)
IQVIA led the industry in terms of revenue in 2021.
In traditional quantitative research methods, online surveys emerged as the most widely used globally in 2022, employed by over 90% of market research professionals.
Concurrently, phone and face-to-face interviews constituted 80% and 39% of quantitative research methods.
Regarding qualitative research techniques, online in-depth interviews stood out as the predominant approach, accounting for more than two-thirds of such research conducted in 2022.
Market Research Industry Statistics by Size
The market research industry has experienced notable growth and fluctuations in market size over the past decade. In 2011, the market size stood at $39.47 billion, remaining relatively stable in 2012 at $39.52 billion.
However, a significant uptick occurred in 2013, reaching $43.2 billion, followed by further growth in 2014, when it reached $46.09 billion.
Subsequently, in 2015, there was a minor dip to $44.03 billion, but the market rebounded to $44.42 billion in 2016.
The most substantial leap occurred in 2017, with the market size surging to $66.37 billion, showcasing remarkable growth.
This upward trajectory continued in 2018, reaching $70.44 billion, and in 2019 when it peaked at $73.38 billion.
Although 2022 figures indicate a market size of $82 billion, the industry's journey over the past decade underscores its dynamic nature, with periods of expansion and stabilization shaping its evolution.
Europe demonstrated the most substantial increase in market research revenue in 2021, while Africa and the Middle East were the only regions that experienced a decline in growth rate.
(Source: Statista)
Market Research Industry Statistics by Key Players
Throughout 2021, Nielsen held its top spot as the leading market research company for the sixth year, reporting a revenue of $5.24 billion.
Other prominent players in 2021 included IQVIA, which generated $5.21 billion; Gartner, with $4.73 billion; Salesforce, at $3.9 billion; and Adobe Systems, with $3.87 billion in revenue.
(Source: ESOMAR)
Nielsen Holdings
Nielsen Holdings, a prominent market research company in the United States and a global leader in market measurement, achieved a global revenue of nearly $3.5 billion in 2021.
Nielsen's revenue consistently grew from 2006 to 2017, reaching its peak at $6.57 billion in 2017.
However, it experienced a slight decline in 2018, 2019, and 2020, followed by a substantial decrease in 2021.
Operating under the name The Nielsen Company, it is headquartered in New York City, with approximately 6,200 full-time employees in the United States in 2021.
The company analyses consumer viewing and purchasing habits and serves notable clients like The Coca-Cola Company and Walmart.
Despite recent reductions, the cost of revenue for Nielsen Holdings remained significant, exceeding $1.2 billion in 2021.
One of Nielsen Holding's primary competitors, Ipsos, independently generated a global revenue of approximately $2.15 billion in 2021.
(Source: Statista)
Kantar Group
Kantar Group, headquartered in London, serves as a data and consulting company with a global presence spanning 100 countries, engaging in diverse research activities.
Market research is indispensable for businesses, equipping them with vital insights for effective strategy development tailored to their target markets.
In 2021, Kantar secured its position as the fifth-largest global market research firm based on revenue.
During that same year, the company generated nearly $606 million in market research revenue within the United States.
When considering geographical breakdown, most of Kantar's research revenue stemmed from regions outside the United States.
Kantar achieved a remarkable global research revenue of approximately $3.7 billion in 2022.
The number of full-time employees at Kantar in North America exhibited significant fluctuations from 2007 to 2022.
In 2022, Kantar employed approximately 4,700 full-time personnel in the North American region, marking the highest employment level within this timeframe.
(Source: Statista)
Ipsos
In 2022, Ipsos achieved a revenue of approximately 2.41 billion euros, marking a noteworthy increase of approximately 250 million euros compared to the previous year.
Despite its origin in France in 1975, Ipsos embarked on an extensive global expansion, particularly in the 1990s.
It has consistently competed with significant global market research industry players regarding research revenue. It has become a prominent employer in the United States market research sector.
Following the 2019 general election in Australia, Ipsos faced a setback. Several Australian newspapers ceased using them as their primary source for political polling due to their inaccurate prediction of the closely contested election. Nevertheless, Ipsos continues to provide valuable data and insights in other areas of polling and research.
The number of Ipsos employees worldwide has fluctuated over the past decade. In 2012, there were 15,297 employees, and this figure steadily increased over the following years, reaching 17,059 in 2013.
However, by 2014, the number had dipped slightly to 16,530. Subsequent years saw relatively stable employee numbers, with 16,450 in 2015 and 16,598 in 2016.
A slight upward trajectory resumed in 2017, with 16,664 employees that year, and a more substantial increase to 18,127 in 2018.
This growth continued into 2019 when there were 18,448 employees.
However, in 2020, the numbers dropped to 16,472, likely influenced by external factors such as the global pandemic.
The workforce rebounded in 2021, reaching 18,266 employees, and further expanded in 2022, totaling 20,156 employees worldwide.
(Source: Statista)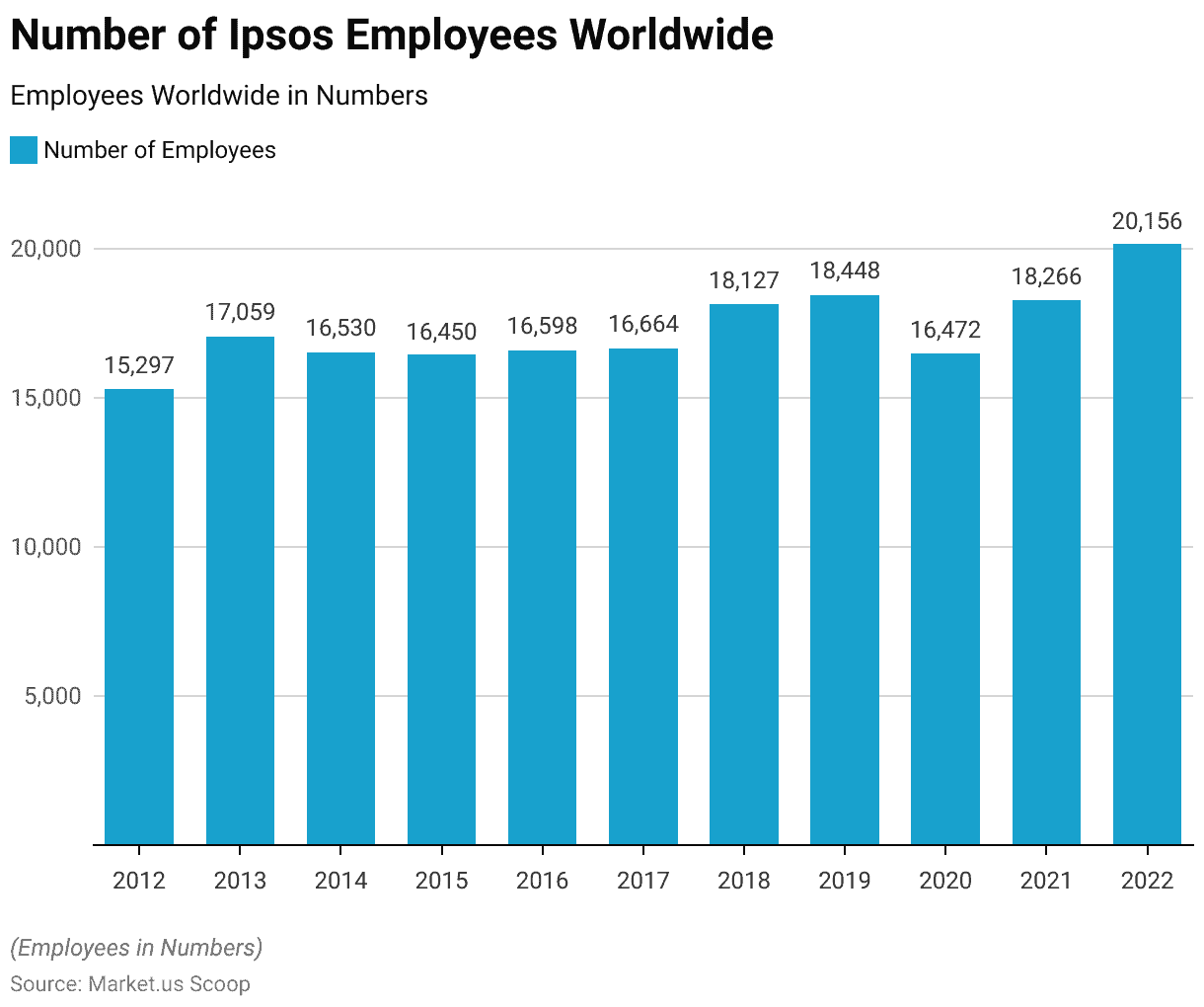 GfK Group
The income of GfK Group, measured in million Euros, exhibits a pattern of fluctuations over six years from 2010 to 2015.
In 2010 the income stood at 84 million Euros, followed by a slight increase to 88.1 million Euros in 2011.
However, 2012 saw a noticeable dip in income to 64.1 million Euros.
Subsequently, there was a gradual recovery, with an income of 72.5 million Euros in 2013, followed by further growth to 78.9 million Euros in 2014 and 80.1 million Euros in 2015.
These fluctuations likely reflect shifts in market dynamics, economic conditions, and business strategies during this period, contributing to GfK Group's income variations.
(Source: Statista)
Gartner Inc.
Gartner Inc., a leading IT advisory and benchmarking service player, is renowned for its 100+ "magic quadrants" enterprises use to assess and bolster their technology credibility.
Their recent Q4 2021 earnings report exceeded Wall Street expectations, with a remarkable return on equity exceeding 100%.
Since April 2021, Gartner's stock price has surged by a remarkable 181%, driven by the growing demand for digital expertise.
Gartner operates in two key segments: Global Technology Sales (GTS), constituting 80% of their contract value at $3.4 billion in fiscal 2021, and Global Business Sales (GBS), contributing 20% at $874 million.
Revenue composition leans heavily towards research (80%), with consulting (8%) and conferences (4%) making up the rest.
Notably, 91% of Gartner's revenue stems from subscription services, providing a robust recurring revenue model.
Geographically, 64% of sales come from the U.S. and Canada, with a significant presence in the Europe, Middle East, and Africa regions accounting for 24% of sales.
(Source: Yahoo Finance)
Market Research Industry Statistics by Regional Analysis
In 2015, Europe recorded revenues of $16.43 billion, while North America led with $19.45 billion.
Asia-Pacific and Latin America generated $5.91 billion and $1.49 billion, respectively, while the Middle East and Africa contributed $0.76 billion. The United States accounted for a significant portion of North America's revenue.
By 2016, Europe's revenue decreased slightly to $15.82 billion, while North America maintained its position at $19.83 billion.
Asia-Pacific's revenue rose to $6.44 billion, and Latin America reached $1.47 billion, with the Middle East & Africa at $0.86 billion.
In 2017, North America's revenue substantially increased to $41.02 billion, outpacing Europe's $15.95 billion.
Asia-Pacific, Latin America, the Middle East, and Africa also experienced revenue growth. This trend continued in 2018, with North America at $44.21 billion and Europe at $16.56 billion.
By 2019, North America's revenue climbed to $47.76 billion, while Europe's revenue decreased slightly to $15.83 billion.
In 2020, there was a notable surge in revenue across regions, with North America leading at $48.01 billion, followed by Europe, Asia-Pacific, and Latin America.
The Middle East and Africa also saw an increase. In 2021, the growth continued, particularly in North America and Europe, which reported revenues of $62.64 billion and $29.71 billion, respectively. These figures reflect the dynamic shifts in revenue among these regions over the years.
(Source: Statista)
Market Research Industry Statistics by Spending
Spending According to Different Activities
Organizations in this sector exhibit a varied focus in allocating their spending. Customer relationship management (CRM) and customer satisfaction surveys claim the largest share at 20.7%, underscoring the emphasis on maintaining and enhancing customer relationships.
User experience surveys follow closely behind, with a significant allocation of 14.2%, highlighting the priority placed on optimizing user interactions.
Audience research commands 13.4% of spending, reflecting a commitment to understanding and catering to specific target audiences.
Meanwhile, investments in usage and behavioral studies stand at 11.7%, and market measurement closely trails at 11.6%, demonstrating the significance of data-driven insights for decision-making within this domain.
These allocations underscore the multifaceted nature of research spending in this sector, emphasizing the importance of a balanced approach to gathering valuable insights.
(Source: ESOMAR)
Spending According to Different Industries
Market research spending across different industry sectors reveals diverse priorities. Pharmaceutical companies allocate a significant portion at 16.6%, reflecting their commitment to research and development.
Media and entertainment groups follow closely at 15.5%, emphasizing the importance of understanding audience preferences and trends.
Consumer goods producers allocate 14.9%, emphasizing consumer behavior and market dynamics.
Research institutes, at 1.8%, and tourism and recreation, at 1.6%, have more modest allocations, indicating their research objectives may be narrower or more specialized.
Non-profit organizations allocate the least, at 0.9%, which aligns with their typically constrained budgets. These varying percentages reflect how different sectors prioritize market research to inform decision-making and strategy within their respective domains.
(Source: ESOMAR)
Market Research Industry Statistics by Methods
– Quantitative Research
In 2022, among traditional quantitative research methods, online surveys emerged as the dominant choice in the global market research industry.
A substantial 85% of professionals reported using online surveys regularly, while 9% employed them occasionally.
Mobile surveys followed, with 47% using them regularly and 33% occasionally.
Proprietary panels and online communities were also frequently utilized, with 32% and 26% reporting regular use, respectively.
In contrast, Computer-Assisted Telephone Interviewing (CATI) and face-to-face surveys were used less frequently, with 13% and 12% respectively employing them regularly.
Other methods like Computer-Assisted Personal Interviewing (CAPI), automated measures/people meters, mail surveys, Interactive Voice Response (IVR), neuroscience measurements, and biometrics had lower regular usage rates. These findings underline the significant prevalence of online surveys as the preferred quantitative research method in the industry, reflecting the influence of digital advancements in the field.
(Source: Statista)
– Qualitative Research
In 2022, online in-depth interviews conducted with webcams emerged as the most widely adopted approach within traditional qualitative research methodologies in the global market research industry. Approximately 15% of professionals reported using this method, reflecting its growing popularity in the digital age.
In-person focus groups were a close second, with 58% employing this traditional method, highlighting its enduring relevance.
In-person Individual Depth Interviews (IDIs) followed, with 42% of researchers utilizing this face-to-face approach.
Telephone IDIs and online community discussions were also common, with 27% and 25% reporting their usage.
Other methods, such as mobile research, in-store or shopping observations, and bulletin board studies, had varying levels of adoption.
These findings underscore the diversified landscape of qualitative research techniques, with online in-depth interviews via webcams gaining prominence alongside well-established methods like in-person focus groups and IDIs.
(Source: Statista)
Market Research Industry Statistics by Client Response in Sector
Here's a comprehensive breakdown of various survey types and their average response rates. In-person surveys lead the pack with an impressive 57% response rate, underscoring the effectiveness of face-to-face interactions.
Mail surveys follow closely, garnering a respectable 50% response rate, indicating the enduring relevance of traditional postal surveys.
Email surveys exhibit a response rate of 30%, showcasing their popularity as a digital survey medium.
Online surveys, conducted through web forms, capture a slightly lower but substantial response rate of 29%.
While widely used, telephone surveys yield an 18% response rate, reflecting the challenges of phone-based data collection.
In-app surveys, delivered through mobile applications, secure a 13% response rate, highlighting their unique place in the survey landscape. These response rates provide valuable insights for survey designers, helping them choose the most suitable method for effective data collection.
(Source: Pointerpro)
Most Demanded Skills By Market Research Clients
The findings highlighted distinct preferences in skill development priorities in a survey encompassing 3,342 respondents, comprising both buyers and suppliers in the market research field.
Notably, 70% of buyers strongly emphasized nurturing business knowledge as a vital skill.
In contrast, 56% of suppliers echoed this sentiment.
What stands out is that for suppliers, the paramount skill for development was identified as market research expertise, garnering a substantial 70% agreement.
Conversely, among buyers, the significance of market research expertise in skill development was acknowledged by a comparatively lower proportion, precisely 34%.
(Source: GreenBook)
Market Research Industry Statistics by Challenges
Within organizations, a notable 23% lack a well-defined strategy for market research.
The primary hurdle hindering market strategists is the prevailing uncertainty, which impedes the progress of 34% of them.
Meanwhile, 26% of market researchers encounter obstacles due to budget limitations in executing their research strategies.
Additional challenges include effectively communicating return on investment, inspiring team members, contending with internal priorities, and addressing gaps in skills and expertise.
(Source: Qualtrics)
Conclusion
Market Research Industry Statistics – The market research industry is at the forefront of transformative change, offering invaluable insights to businesses in an ever-evolving global landscape. It has exhibited significant growth, driven by technological advancements like AI and big data analytics. However, challenges such as data privacy and ethical considerations demand ongoing attention.
The industry's future is promising, marked by even more profound insights and global expansion. To thrive, industry players must remain agile, embrace diversity in methodologies, and uphold ethical standards. As a trusted ally, market research will continue to empower businesses with the insights needed to make informed decisions and succeed in a dynamic marketplace, shaping the industry's future.
FAQs
1. What is market research, and why is it important?
Market research is the process of gathering, analyzing, and interpreting information about a market, including its size, trends, and consumer preferences. Businesses must make informed decisions, identify opportunities, and understand their target audience better.
2. What are the primary methods of conducting market research?
Market research employs both quantitative and qualitative methods. Quantitative research includes surveys, experiments, and observational studies, while qualitative methods encompass focus groups, in-depth interviews, and ethnography.
3. How is technology influencing the market research industry?
Technology, including artificial intelligence, big data analytics, and mobile research tools, is revolutionizing market research by enabling faster data collection, deeper insights, and more efficient analysis.
4. What are some emerging trends in the market research industry?
Emerging trends include using AI for predictive analytics, increased focus on mobile and geo-location data, and a growing emphasis on sustainability and ethical research practices.
5. How can businesses benefit from market research?
Market research helps businesses make informed decisions, refine their products and services, identify competitive advantages, and tailor their marketing strategies to meet customer needs effectively.
Tajammul Pangarkar
Tajammul Pangarkar is a CMO at Prudour Pvt Ltd. Tajammul longstanding experience in the fields of mobile technology and industry research is often reflected in his insightful body of work. His interest lies in understanding tech trends, dissecting mobile applications, and raising general awareness of technical know-how. He frequently contributes to numerous industry-specific magazines and forums. When he's not ruminating about various happenings in the tech world, he can usually be found indulging in his next favorite interest - table tennis.