Harnessing Webcams for Successful Hybrid Working Strategies Fostering Collaborative Culture, says Market.us
---
---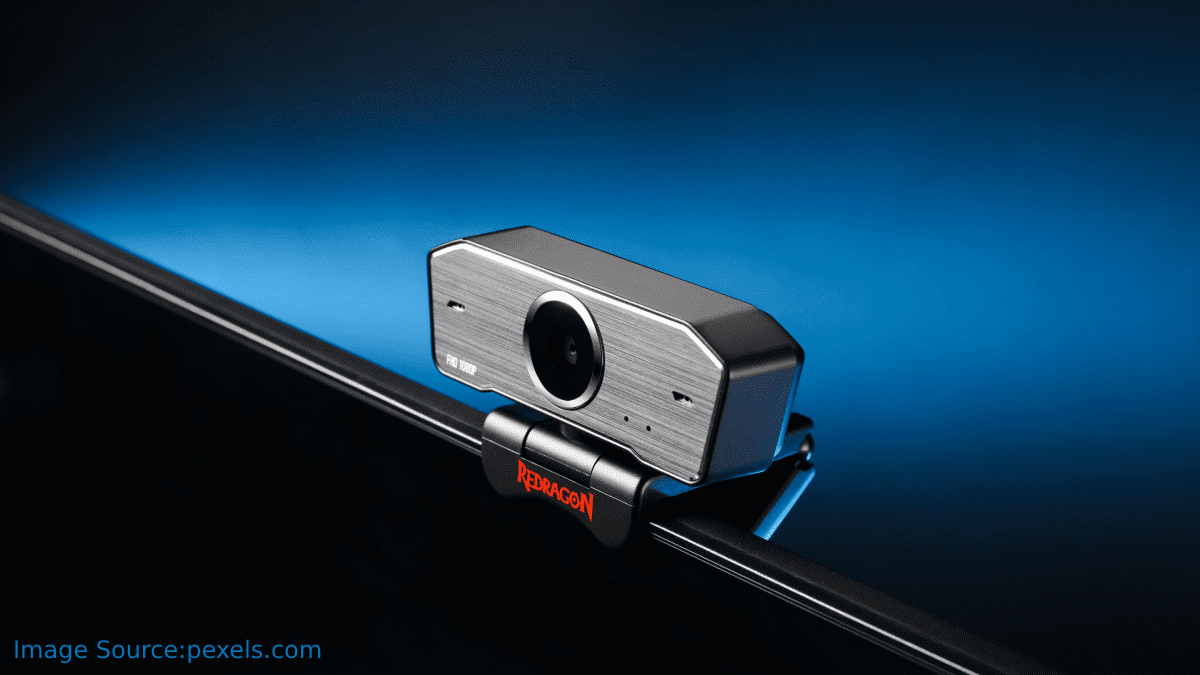 Webcams for Video conferencing technology and devices are becoming increasingly important for business resilience and growth as more organizations adopt the hybrid model of work. Video conferencing technology makes virtual meetings more accessible to all employees and fosters a collaborative culture.
The Capgemini Research Institute has found that 70% of companies plan to have at least 70% of their employees work remotely over the next few years. A recent PwC survey found that more than 60% of executives intend to spend more on virtual collaboration tools and training managers to support remote work. More than half (55%) of employees want to work remotely at least three days per week.
According to the latest report by Market.us," The Global Webcams Market is expected to grow at a CAGR of roughly 8.8% over the next ten years and will reach USD 12.55 Bn in 2032, from USD 5.4 Mn in 2022."
The report highlights the key trends shaping the Global Webcams Market in the upcoming years. This report provides qualitative and quantitative analysis in terms of market dynamics, competition scenarios, opportunity analysis, recent developments, market growth, etc., for the forecast year up to 2032.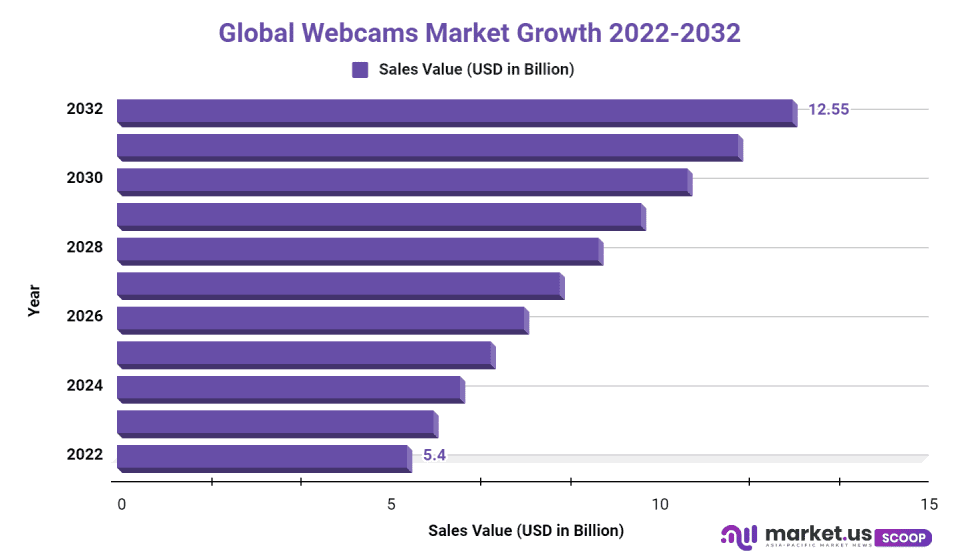 Gaurav Yadav, a senior research analyst at Market.us, said," The market is seeing an increase in webcams used for visual marketing and video conferencing. Thanks to the hybrid work culture, it is the most useful business communication tool in the corporate world. The forecast period will see a rise in demand for webcams due to the trend toward virtual workplace communication among professionals. Manufacturers of webcams are driven to create new features and technology in response to changing customer requirements."
Click here to check 200+ pages of in-depth market analysis reports on the Webcams market.
Schools were closed due to the COVID-19 pandemic, which forced educators and students to adapt to new learning and teaching methods. Many schools, colleges, and institutes still offer online classes, even after the pandemic. They leverage this technology to create hybrid-mode classes that require webcams.
COVID-19 required all companies around the world to allow employees to work remotely. This WFH has created a hybrid work culture after the pandemic. It mandates that employees use a webcam to communicate with each other and for all activities.
The webcams can be used in a variety of industries such as banking, financial and insurance (BFSI), manufacturing and retail, construction, transportation, and automotive for live monitoring, videoconferencing, visual marketing, entertainment, live events, and video conferencing.
Other growth-inducing factors include the incorporation of webcams into unmanned aerial vehicles (UAVs), image sensors, and cloud compatibility. Manufacturers are also offering variants with higher storage and resolution, which will help drive the market along with rising consumer spending.
Many businesses depend on their video conferencing exchanges for success. However, many companies are still using outdated setups. For Instance, Kandao, a VR and 3D imaging company has developed a range of award-winning 360-degree and 180-degree cameras to address this problem. They aim to make remote attendees feel more at home in video conferences so they can feel like they are there.
Kandao's latest product is the Meeting Pro video conference camera. The Meeting Pro measures approximately the same size as a water bottle and can be placed in the middle of conference tables to act as a communication hub. The Meeting Pro provides a clear view of the entire room, so that remote attendees can see all participants. Intelligent tracking features highlight the speaker and show a close-up view to other attendees. A variety of microphones are pointing in every direction to ensure that everyone is able to hear the speaker, regardless of where they are sitting at the table.
The market for external webcams has seen a significant increase in video-conferencing, e-Learning, and traffic management applications.
Logitech launched two new product lines in September 2022: the Zone Vibe headphones and Brio 500 cameras. These products were created to meet the evolving needs of hybrid employees. The brio 500 series (Brio 500, Brio 505) is a new class of webcams that addresses the most common video conferencing problems. This webcam class is for customers who want enterprise-grade audio quality and visual quality, personalization, and more engaging video conversations.
Additionally, there are significant advances in external webcams that are increasingly being sought after by a new category of consumers, such as video bloggers and online streaming vendors. Many external webcams have been specifically designed for streaming and vlogging.
---
---
Media Enquires
If you require any further information about a related market, please get in touch with us. we're happy to help you
+91 7008 614 496
+91 7008 614 496