Linear Actuator Market Achieving New Heights, Thanks to Rising Demand for Automation and Technological Advancements
---
---
Linear actuators create motion in a straight line. This is in contrast to the circular motion of an electric motor. Linear actuators are used in industrial machinery and machine tools, as well as in computer peripherals like disk drives and printers, valves, dampers, etc. 
Linear actuators offer many benefits, such as a simple design and minimal moving parts. They can also achieve high speeds. The power source for actuators can be either electric current, hydraulic fluid, or pneumatic pressure.
According to the latest report by Market.us, "The global Linear Actuator Market was valued at USD 18.33 Billion in 2022 and is expected to witness a growth of 7.4% from 2022-2032 and reach USD 37.43 Billion by 2032."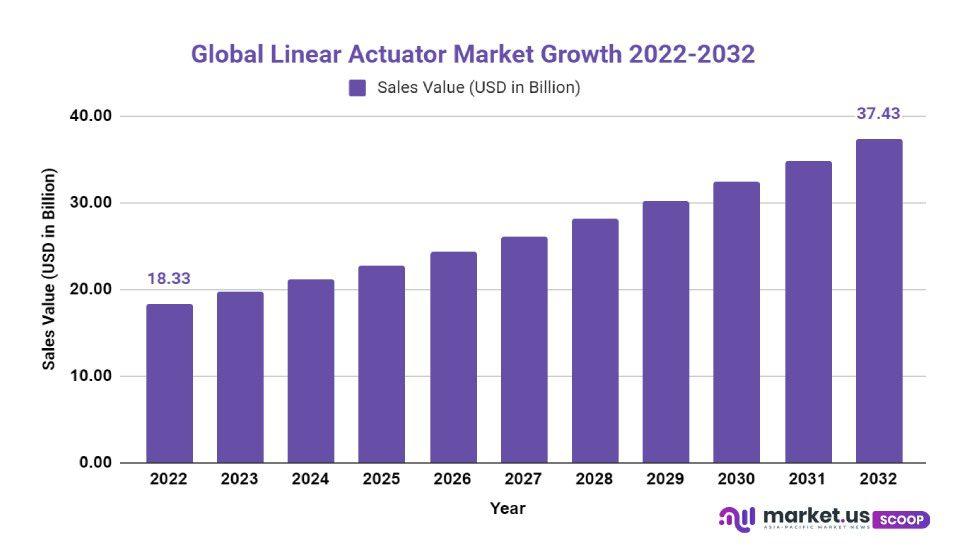 Gaurav Yadav, a senior research analyst at Market.us, said, "The global linear actuator market is growing due to technological advancements in actuators and increased automation in the manufacturing industry. An actuator is also widely used in many sectors, such as the military and construction." 
He added," Another factor that will support the growth of the global actuator market is its wide application. Linear actuators are also safer than other substitutes, easier to install, and quieter to operate. This is another reason to expect growth in the global linear actuator market."
The linear actuator market is witnessing robust growth owing to the increasing demand for automated systems in various industrial applications. The growing adoption of robotic systems and increased awareness about the benefits of automation are among the key factors driving the market.
The linear actuator market is expected to grow at a steady pace in coming years due to increasing demand for automation across industries like automotive, healthcare, and manufacturing. With the rise of Industry 4.0, Robotics, and the Internet of Things, the demand for linear actuators is expected to increase. The market is segmented into electric and pneumatic linear actuators, which are expected to dominate due to their high precision and low maintenance costs.
There are several factors that can act as restraints for the linear actuator market growth. Some of these include High-cost Linear actuators can be relatively expensive, particularly the high-end, precision models. This can be a barrier to adoption in some applications, particularly in developing countries or small- and medium-sized businesses.
Maintenance requirements Linear actuators require regular maintenance to ensure smooth operation and longevity. This can be costly and time-consuming and may serve as a barrier for certain industries or applications. Limited life span Linear actuators are mechanical devices and have a finite lifespan. This may limit the adoption of linear actuators in some long-term or critical applications.
Linear actuators are used mainly in industrial automation to improve the accuracy and performance of machines. These actuators are classified on the basis of their type (mechanical or electronic), motor (electric or hydraulic), and application. Electronic actuators dominate the market due to their reliability, low maintenance cost, easy upgradeability, and high operating frequency.
The major drivers of the linear actuator market include increasing demand from the automotive industry for autonomous vehicles and the increase in industrial applications such as robotics, aerospace, and manufacturing. Other key factors driving the growth of the market include technological advancements in actuators, a growing focus on safety and durability across various industries, and increasing interest in green technologies.
This is mainly due to the increasing adoption of industrial robots and increased demand for automated systems. Some of the key reasons for this growth include the increasing demand for smart manufacturing, increasing use of 3D printing, and rising healthcare spending.
Several factors are driving the growth of the linear actuator market. One of the main drivers is the increasing demand for automation in various industries. As automation is being adopted to increase efficiency, reduce labor costs, and improve product quality, industries such as automotive, healthcare, and manufacturing are increasingly turning to linear actuators as a means of achieving this.
The rise of Industry 4.0 and the Internet of Things is another key driver of the linear actuator market. These technologies rely heavily on automation, which requires precise and reliable actuators. This is increasing the demand for linear actuators across the globe.
Advancements in technology are also driving the growth of the linear actuator market. Linear actuators have become more precise, efficient, and reliable as technology has progressed. This has led to their increasing adoption in a wide range of applications and has opened up new opportunities for the linear actuator market to grow.
Additionally, the increasing adoption of robotics and automation in the healthcare industry is fueling the market's growth. Governments of various countries are taking initiatives to promote industrial development and automation, contributing to market growth.
---
---
Media Enquires
If you require any further information about a related market, please get in touch with us. we're happy to help you
+91 7008 614 496
+91 7008 614 496