Robust Growth in Healthcare Information Systems Driven By IT Adoption, says Market.us
Digital health records and personal records are the most popular healthcare information systems. The increased investment by governments in digitalization and the development of healthcare infrastructure have led to significant growth in the global healthcare information market.
One example is My Health Record, which allows Australians to track their health online. The digital health record can improve patient care as it allows for the analysis of past medical records and the creation of health records. Government initiatives encourage the adoption of record platforms between hospitals, clinics, and diagnostic labs. This will increase global health information system growth.
The rise in healthcare spending and improvements in IT infrastructure are the main drivers of market growth. Remote monitoring of patients is also very popular. The Lancet journal predicts that global health spending will rise to USD 18.3 trillion by 2040.
According to Market.us, "The Global Healthcare Information System Market size is expected to be worth around USD 11,97,051.55 million by 2032 from USD 3,58,940.00 million in 2022, growing at a CAGR of 12.80% during the forecast period from 2022 to 2032."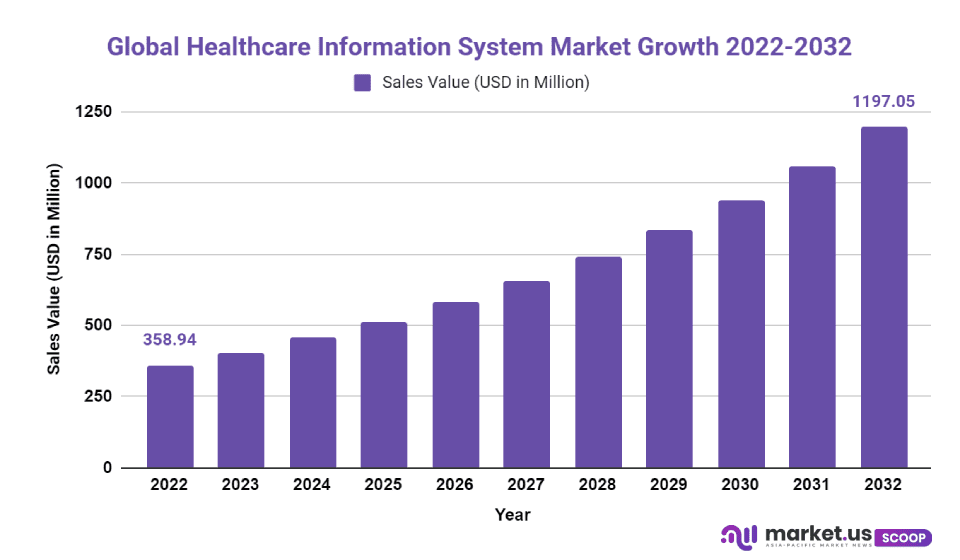 Gaurav Yadav, a senior research analyst at Market.us, said, " The main driver of the global market for healthcare information systems is the growing adoption of information technology within the healthcare industry. The healthcare information system offers data management and security for healthcare data and can dramatically impact the quality and cost of healthcare operations."
Providers can reduce healthcare costs and improve outcomes by using point-of-care solutions, population health management, and patient-centered management. It is possible to create patient portals and patient registries as well as other patient-centered management tools.
Technological advances in healthcare IT infrastructure are one of the main factors driving the market growth. This includes big data and IoT. New technologies are being developed by companies that result in a rise in healthcare IT solutions for cybersecurity and AI. These technologies include machine learning (ML), data interoperability (DI), and AI. They all look promising.
The rising incidence of chronic diseases, an aging population, and increased traffic accidents are all contributing factors to the increasing number of hospitalizations. It is essential to efficiently manage and store vast amounts of patient-related information.
Due to the increasing demand to reduce paperwork, the global market for information systems in healthcare is expanding. Digitalization is key to the growth of this market.
Key factors for the growth of the market are partnerships, product launches, and collaborations. To improve its healthcare information system, Allscripts Healthcare Solutions entered into a partnership with the US Orthopedic Alliance.
The Revenue Cycle Management segment held more than 60% market share in 2021 based on applications. The government's involvement is expected to make this segment even more popular.
The Affordable Care Act was created in the United States to help low-income patients pay for their healthcare costs. The growing use of healthcare insurance will see the segment continue to grow in the future.
This segment is expected to grow positively due to the growing need for revenue cycle management. This segment is expected to grow the fastest over the forecast period. Hospitals also outsource revenue cycle management to reduce operational costs and focus on core operations.
Many healthcare institutions and organizations have developed mHealth programs that allow remote monitoring of patients. Remote monitoring has seen an increase in IT solutions.
Marshfield Clinic Health System in Wisconsin will use mHealth technology in 2019 to remotely monitor patients with congestive heart disease. There are many initiatives around eHealth.
Ketan Mahajan
Hey! I am Ketan, working as a DME/SEO having 5+ Years of experience in this field leads to building new strategies and creating better results. I am always ready to contribute knowledge and that sounds more interesting when it comes to positive/negative outcomes.