The Eyewear Industry Creating New Patterns and Designs to Attract Fashion Lovers says Market.us
---
---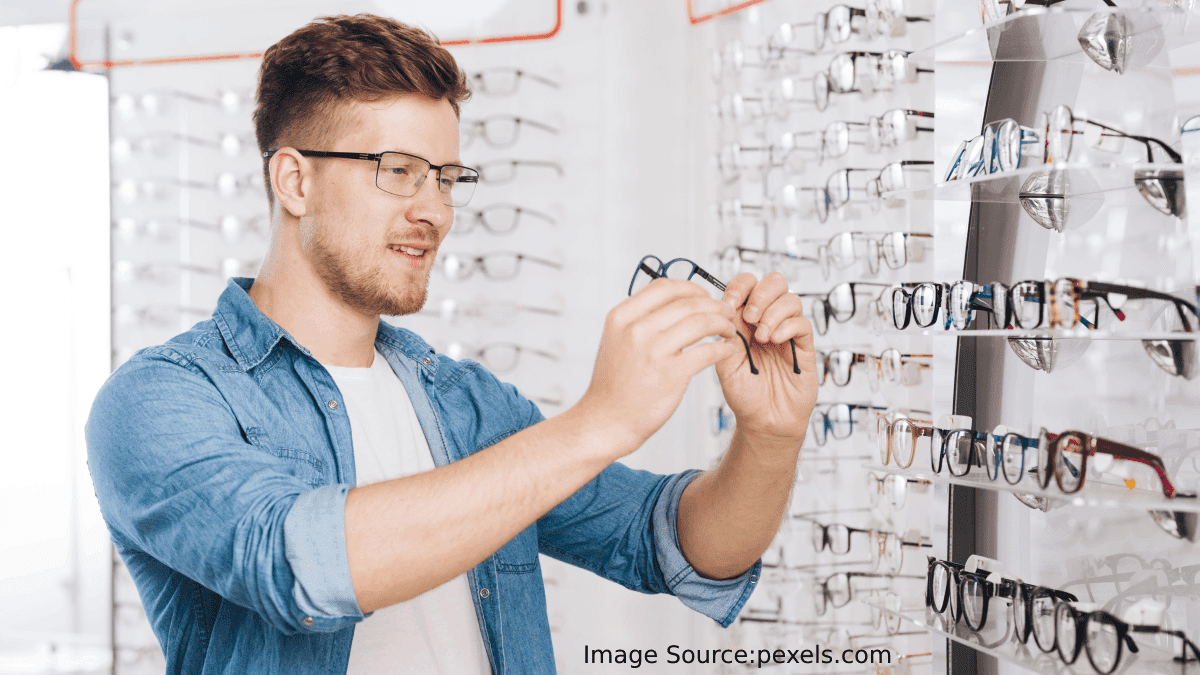 Eyewear growth is strongly supported by the changing lifestyles of millennials and their increasing preference for luxurious accessories. The booming market demand has encouraged manufacturers to focus on creating attractive and affordable eyewear. To keep up with fashion trends.
Market statistics are positively influenced by the continued efforts of market leaders to attract new customers and keep existing ones. E-commerce websites and the rise of social media further accelerate market growth. Eyewear companies advertise on social media platforms like Instagram, Twitter, and Facebook.
This allows them to track audience preferences and offer curated products. These platforms allow companies to use innovative marketing strategies, such as affiliate and influencer marketing, to increase their profits.
According to market.us, "In 2021, the global eyewear market was worth USD 157.9 million. It is projected to grow at an 8.4% compound annual growth rate (CAGR), between 2022 and 2030."
Companies are keen to improve the customer experience through innovative products and new services. Essilor launched the My Vision Check app in July 2021 to allow users to conduct screening at home and book an appointment with their local eye care provider.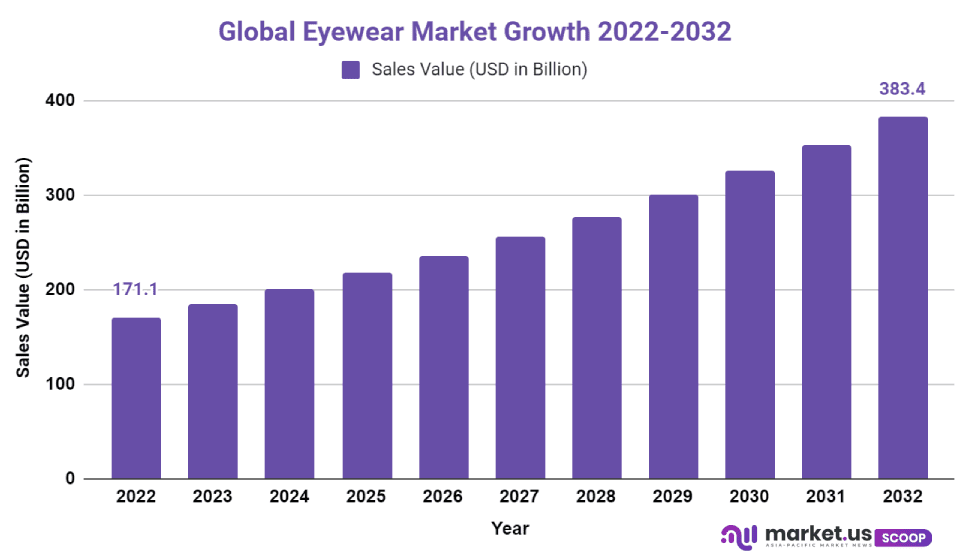 Warby Parker launched a new app called Virtual Vision Test to offer a home vision test similar to the one provided by eye specialists. The app provides a new prescription so that consumers can buy glasses or contact lenses.
Anurag Sharma, senior research analyst at market.us said, "In 2021, the spectacles market accounted for over 55%. This can be attributed to increased product demand due to computer vision syndrome (CVS) and its increasing prevalence. This is mainly due to the growing use of digital screens and mobile phones among the global population. Online learning has become a popular trend, particularly during the pandemic."
Click here to check 200+ pages of in-depth market analysis reports on the eyewear market.
This has led to an increase in CVS cases among children. It also encouraged the adoption of antiglare and antifatigue glasses. The increasing popularity of bright transparent glasses and clear eyeglasses has boosted the demand for spectacles.
Brick-and-mortar dominated the market, capturing a significant revenue share of over 79% in 2021. This is due to increasing awareness about regular eye exams and the use of eyeglasses. Brick-and-mortar stores are now selling eyeglasses. To gain an edge in the market, several companies are expanding their stores.
As people were forced into social isolation, online services gained huge popularity during the pandemic. The e-commerce market is also benefiting from the increased adoption of smart devices and lucrative discounts on online platforms.
It is also possible to compare prices and other features, which have positively influenced its growth. E-commerce websites allow customers to leave reviews on products. This improves the user experience, helps companies understand customer preferences, and stimulates segment growth.
Many local eyewear manufacturers and shops sell cheaper frames and glasses in developing countries. In the coming years, the market will see a decrease in luxury sunglasses sales due to the lack of use in Brazil and India. These emerging countries have limited acceptance of contact lenses and luxury sunglasses due to high import duties. The combination of these factors and the lower penetration of contact lenses in developing countries will limit market growth in the future.
The market will be boosted by the increasing availability of sunglasses and spectacles in both online and retail stores in developed and developing countries. The demand for high-quality sunglasses has increased due to the rising disposable incomes in developing countries. Globally, the market will be driven by a growing brand consciousness.
The number of Americans who wear prescription glasses has increased over the last few years due to the declining number of people choosing LASIK or contact lenses in the United States. Trendy frames are becoming fashionable accessories in developed countries. The forecast period will see this trend increase in value.
Female consumers are increasingly looking for fashionable and branded eyewear, which has increased market demand. Women are more likely to adopt eyewear products due to the rise in female professionals and their economic independence. Celebrities have increased demand for premium and designer eyewear. The overall growth of the eyewear industry has been aided by a greater preference for contact lenses.
The growth of the eyewear industry is aided by an increasing life expectancy and a growing population. The increasing demand for eyewear products is due to the fact that older people are more likely to have vision problems like presbyopia or cataracts.
The market for eyewear is divided on the basis of product type, mode, scale, end user, region, and price. The market for eyewear is classified by product type into prescription glasses/spectacles and sunglasses. Contact lenses are also included. It is divided into online and retail stores based on the method of sale.
---
---
Media Enquires
If you require any further information about a related market, please get in touch with us. we're happy to help you
+91 7008 614 496
+91 7008 614 496